Arguably no USA mountain town is as synonymous with ski culture as Aspen. It's got glitz and glamour — think: Moncler jackets and pop-up bars from New York brands — and a cadre of die-hard skiers who practically live on the slopes. The worlds collide during après-ski, when unbuckled ski boots, cold beer, and tall ski tales reign supreme. It's a tradition that started over 75 years ago, when the ski area first opened, and it remains strong today. By Evie Carrick
But while Aspen will always be first and foremost a ski destination, the party doesn't stop when the snow melts. Hiking and biking trails replace ski runs and the snow-dusted mountains pop against the couleurs du saison — bright green in the spring and yellow-orange in the fall. And, if Aspen's natural beauty and outdoor offerings don't interest you, there's still plenty to do — the mountain town is home to plenty of high-end boutiques and a food and art scene that's on par with the nation's largest cities.
So, slather on some sunscreen — the sun shines year-round in Colorado — and head to the hills of Aspen, a veritable playground for anyone lucky enough to visit.
Time Zone
Mountain Standard Time
Best Time to Go
If you're drawn to Aspen for the skiing, book your trip in February or March when the snow base is reliable, fresh flakes tend to fall, and the weather begins to warm. If you're all about food, there's no better time to visit than during the Food & Wine Classic, which typically takes over the town in mid-June. For a quieter visit, come during the spring or fall shoulder seasons, when the crowds dissipate and the vibe is more relaxed.
Things to Know
Elevation: 7,908-feet
Ski Areas: Aspen Mountain, Aspen Highlands, Buttermilk, Snowmass
Distance From Denver: less than four hours by car
Airport: Aspen/Pitkin County Airport (ASE)
How to Get Around
Buses: Free shuttle buses make stops throughout town and at the base of the town's four ski areas
Taxis: High Mountain Taxi, Downtowner (Aspen's Uber-style taxi service)
Car service: Aspen Star Limo, Aspen Transportation Co.
Best Hotels
The St. Regis Aspen Resort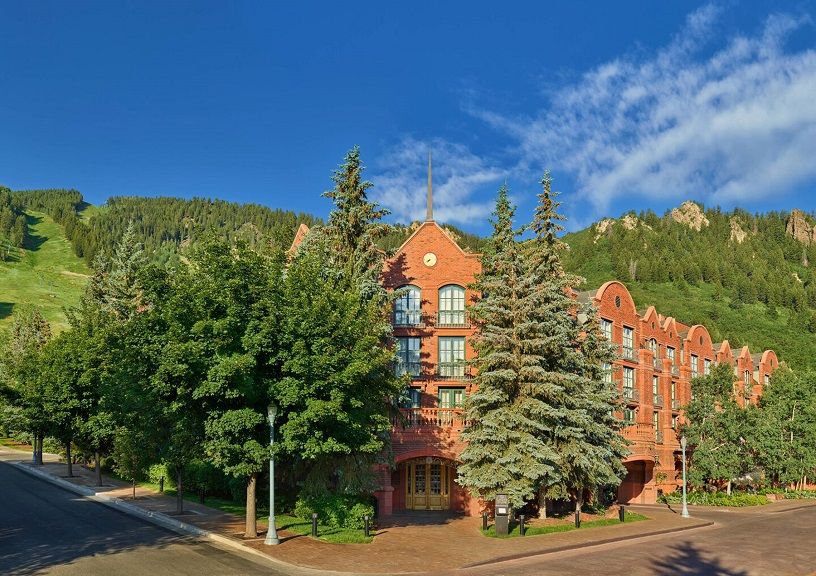 Address: 315 E. Dean St., Aspen, CO 81611
Phone: (970) 920-3300
Website
It's hard to miss this five-star hotel, which is housed in a grand, redbrick building at the base of the Aspen Mountain ski area. Inside, travellers are welcomed into apartment-style rooms (think: full kitchens, fireplaces, and multiple bedrooms) with all the amenities you'd expect from a luxury hotel — a full-service spa, heated outdoor pool, and on-site restaurant.
The Little Nell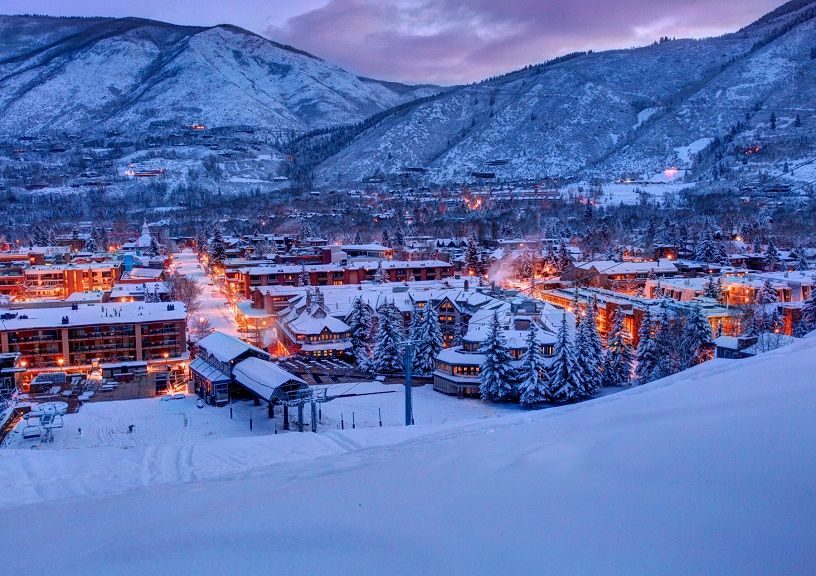 Address: 675 E. Durant Ave., Aspen, CO 81611
Phone: (970) 920-4600
Website
If you're looking for a high-end stay at a ski-in, ski-out property, look no further. This iconic hotel is the only luxury ski-in, ski-out property in town — and its reputation is well-deserved. In the rooms, you'll find marble bathrooms, balconies, and suites with steam showers and fireplaces. And when it's time to leave your cosy Aspen home, it's just a few steps to the lifts of Aspen Mountain and the Silver Queen Gondola.
Limelight Hotel
Address: 355 S. Monarch St., Aspen, CO 81611
Phone: (970) 925-3025
Website
If you visited Aspen in the good ol' days, you probably remember the storied Limelight Lodge (formerly a bar called The Limelight). The hotel remains today, although as you might expect, it's undergone a hefty facelift, evolving into a hip, youthful hotel with sister properties in Ketchum, Idaho and the neighbouring town of Snowmass. Included in your stay at this truly iconic hotel are loaner bikes, ski lockers, and a ski shuttle to make the four-block walk to the lifts that much easier.
W Aspen
Address: 550 S. Spring St., Aspen, CO 81611
Phone: (970) 431-0800
Website
It's a breezy two-minute walk to the base of Aspen Mountain ski area from W Aspen, but even if you never set foot (or ski boot) on the mountain, you'll enjoy 360-degree views from your perch in this sophisticated hotel. Hotel perks include access to the WET Deck, an outdoor patio with a pool, hot tub, fire pits, and mountain views. For a day of shopping, reserve the property's house BMW and cruise around in style.
Hotel Jerome, Auberge Resorts Collection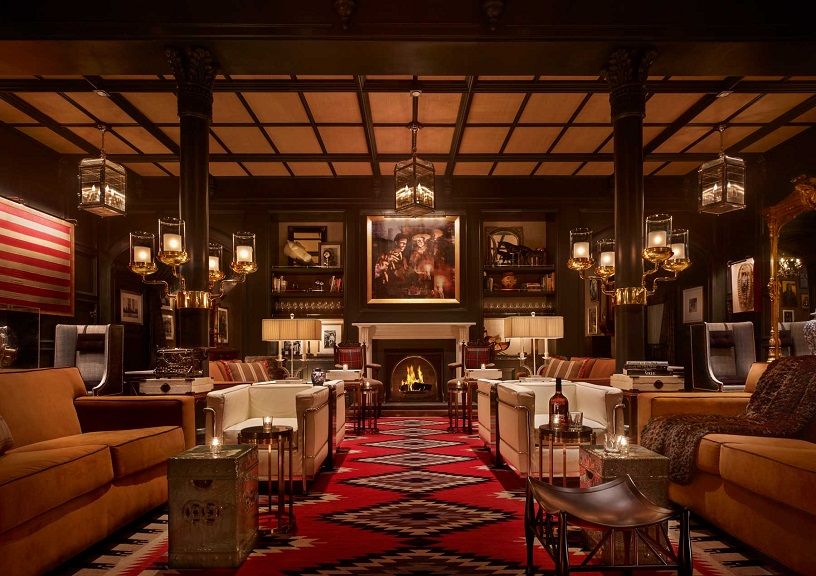 Address: 330 E. Main St., Aspen, CO 81611
Phone: (970) 920-1000
Website
This Main Street property is found in a distinct redbrick building that's been an Aspen landmark since 1889. That means Hotel Jerome has seen it all — from the city's silver boom (and crash) to Hunter S. Thompson's run for Aspen sheriff. The hotel remains a go-to for visitors thanks to its luxurious rooms with floor-to-ceiling windows and buzzy location in the heart of town.
Best Restaurants
Ajax Tavern (French/American)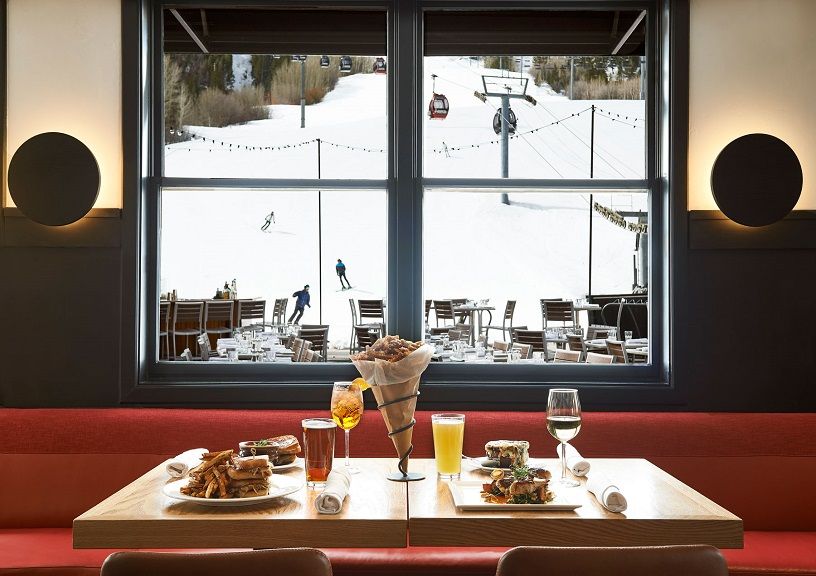 Address: 685 E. Durant Ave., Aspen, CO 81611
Phone: (970) 920-6334
Website
When it comes to après it's hard to top Ajax Tavern, which sits at the base of Aspen Mountain ski area and has a wonderful sun-drenched patio that will entice you to put up your ski legs and order a cocktail. The casual, yet quality menu makes sticking around for dinner a no brainer — especially if you're craving truffle fries and a wagyu double cheeseburger. Indoor and outdoor seating is available, and reservations are recommended.
Jing (Asian Fusion)
Address: 413 E. Main St., Aspen, CO 81611
Phone: (970) 920-9988
Website
Just because you're in the mountains doesn't mean you can't get your sushi fix. At this cosy Asian-fusion restaurant you'll have access to a full raw bar and sushi menu along with dim sum, small plates, and steaks. (We recommend the French onion soup dumplings.) Indoor and outdoor seating is available, weather dependent, and reservations are recommended.
Ellina (Italian)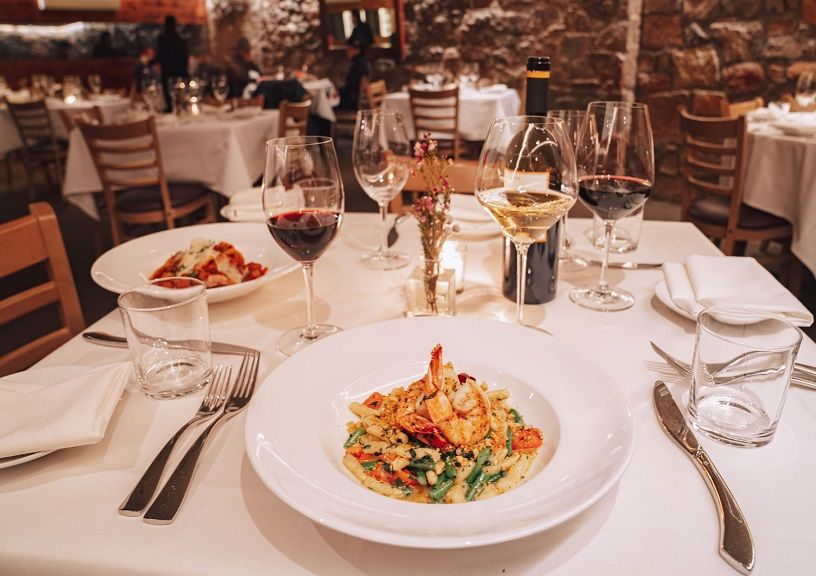 Address: 430 E. Hyman Ave. (downstairs), Aspen, CO 81611
Phone: (970) 925-2976
Website
Ellina, which has been an Aspen mainstay since 2009, is a must for pasta lovers craving a romantic night out on the town. The menu of housemade pasta pairs perfectly with a handful of meat and fish-driven entrees and a list of starters that will leave your mouth watering (try the artichoke heart bruschetta). Seating is indoors and reservations are recommended during the height of the summer and winter season.
The Wild Fig (French)
Address: 315 E. Hyman Ave., Aspen, CO 81611
Phone: (970) 925-5160
Website
If you're craving a cosy evening at a French brasserie, look no further. This intimate restaurant has all the charm and energy you'd expect from its European counterpart with a menu that draws from Spanish, Italian, Greek, and, of course, French cuisine. Indoor and outdoor seating is available, weather dependent, and reservations are recommended.
White House Tavern (American)
Address: 302 E. Hopkins Ave., Aspen, CO 81611
Phone: (970) 925-1007
Website
Sometimes simplicity is where it's at — and while the menu at the White House Tavern is simple (think: French dip, kale salad, and a burger), every menu item is elevated to make the meal a memorable one. The restaurant is housed in a tiny 19th-century miner's cottage, so seating — both indoor and outdoor — is limited, and they don't accept reservations.
Things to Do
Belly Up Aspen
Address: 450 S. Galena St., Aspen, CO 81611
Phone: (970) 544-9800
Website
It doesn't get more up-close-and-personal than the Belly Up, a small live music venue known for giving music lovers an intimate evening with their favourite artists (think Norah Jones, John Legend, and Wyclef Jean). Seating is open and the venue's two full bars keep the drinks coming.
Silver Queen Gondola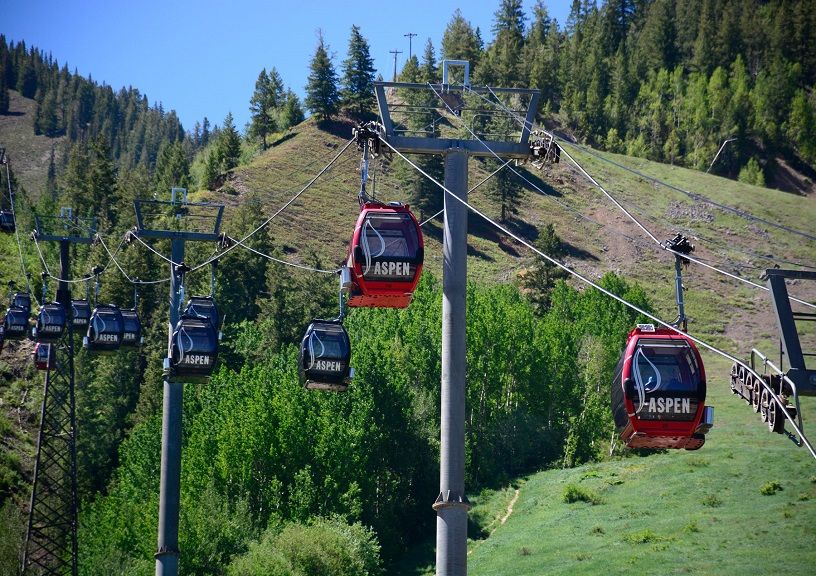 Address: 611 E. Durant Ave., Aspen, CO 81611
Phone: (970) 925-1220
Website
Here's a secret: You don't have to ski to scale Aspen Mountain resort and enjoy the view — all you have to do is hop on the Silver Queen Gondola. The year-round gondola whisks you to the top of the mountain where you can snap a photo, stretch your legs, and grab a bite to eat at the view-laden Sundeck Restaurant.
Aspen Snowmass Ski Resort
Address: 611 E. Durant Ave., Aspen, CO 81611
Phone: (970) 925-1220
Website
We'd be remiss not to include the ski resort on this list since skiing is what put Aspen on the map in the first place. Arguably the best thing about skiing Aspen Snowmass is that one lift ticket gives you access to four separate mountains — Aspen Mountain, Aspen Highlands, Buttermilk, and Snowmass.
Aspen Art Museum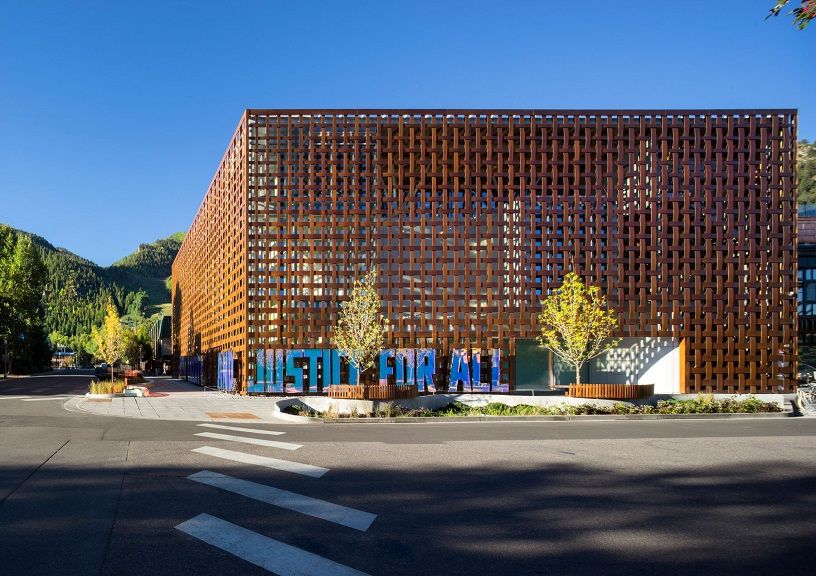 Address: 637 E. Hyman Ave., Aspen, CO 81611
Phone: (970) 925-8050
Website
Aspen is a town of less than 10,000 people, but because it draws visitors from all over the world, it has amenities most small towns could only dream of. Enter, the Aspen Art Museum, a contemporary museum with rotating exhibitions that feature works of art by international artists (hello, Andy Warhol) as well as local talent.
Food & Wine Classic in Aspen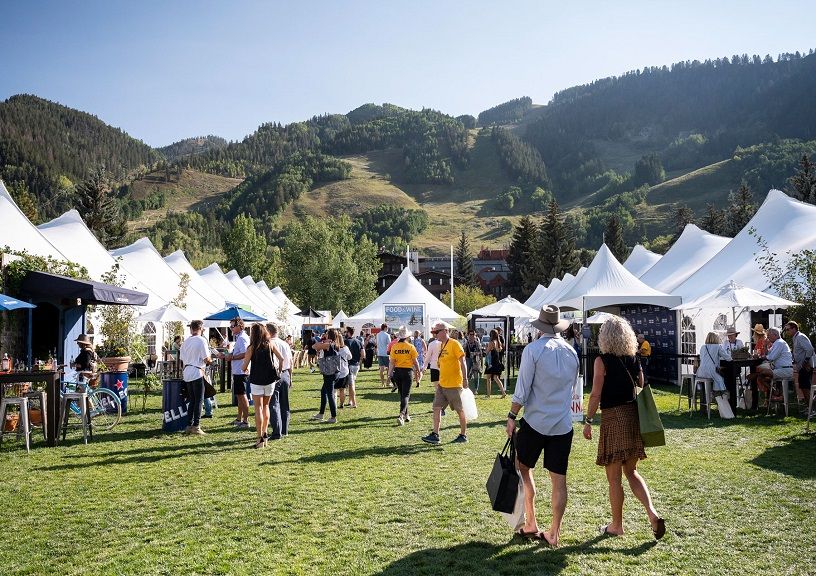 Food. Wine. Aspen. It doesn't sound half bad, does it? Each year, food and drink experts (think Marcus Samuelsson, Guy Fieri, and Martha Stewart) descend on Aspen for a weekend of seminars, demos, and lots and lots of tastings. It's a true must-attend event and a go-to for foodies all over the globe.
Best Shopping
Gorsuch
Address: 419 E. Cooper Ave., Aspen, CO 81611
Phone: (970) 925-7576
Website
Gorsuch is so synonymous with high-end ski fashion that they have three locations in Aspen and one in Snowmass. This is where luxury travellers shop to look their best both on and off the mountain — you'll find top-of-the-line ski equipment, beautiful clothing, and chic home furnishings.
Kemo Sabe Aspen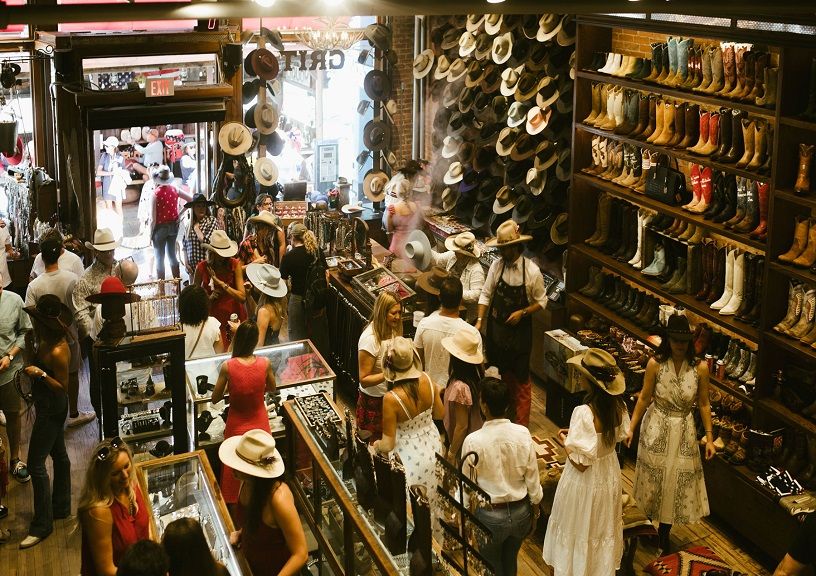 Address: 217 S. Galena St., Aspen, CO 81611
Phone: (970) 925-7878
Website
Wanna look like you belong in the Wild West? Head to Kemo Sabe, Aspen's go-to spot for handmade hats, walls upon walls of cowboy boots, and other high-end Western wear.
Pitkin County Dry Goods
Address: 520 E. Cooper Ave., Aspen, CO 81611
Phone: (970) 925-1681
Website
The tagline at Pitkin County Dry Goods is "Aspen's Original Clothing Store," which makes sense when you learn that the shop opened in 1969 and still outfits Aspenites today. The whole biz — which now has four locations — supplies contemporary fashion for men and women and remains a true, family-owned business.
Explore Booksellers
Address: 221 E. Main St., Aspen, CO 81611
Phone: (970) 925-5336
Website
Explore Booksellers is located in an unbelievably quaint Victorian house on Main Street, but the real magic is found inside, among the historic home's nooks and crannies. For around 50 years the bookshop has been supplying visitors and locals with books that transport you out of the Roaring Fork Valley and into another world.
The Little Bird
Address: 525 E. Cooper Ave., Aspen, CO 81611
Phone: (970) 920-3830
Website
The Little Bird may be a consignment shop, but we'd argue it's unlike any resale shop you've ever been to. The knowledgeable staff inspect every item, curating a selection of luxury and designer clothing that's in tip-top shape. That means you can get your Chanel, Hermes, and Valentino for a fraction of what it originally cost.
Souchi
Address: 205 S, Mill St., #231A, Aspen, CO 81611
Phone: (970) 925-2580
Website
Nothing says "luxe Aspen ski trip" like a cosy cashmere sweater. And for the best cashmere — think pieces that are hand-loomed locally — you'll want to head to Souchi, a women's boutique that specialises in comfy cashmere pieces. In addition to cashmere, the shop sells designer clothing, accessories, and shoes.
Neighbourhoods to Know
Aspen is a small town in every sense; it's physically only four square miles (10 square km). That being said, you'll still find a few distinct neighbourhoods within the city limits:
Central Core: This is the true heart of Aspen — the gondola, restaurants, boutiques, and ski lifts are never more than a few blocks away, making getting around on foot (or ski boot) a breeze. The Central Core community is the go-to spot for visitors to Aspen and includes a mix of both modern and historic buildings.
East Aspen: East Aspen has a more laid-back feel than the "downtown" Central Core. Here, the vibe is residential and family-friendly, with mountain views as far as the eye can see.
Smuggler: To the far east of Aspen, nestled at the base of Smuggler Mountain, is the Smuggler neighbourhood. The views of Aspen Mountain ski area are particularly impressive from here.
West End: The West End butts up against the Central Core, offering travellers a sense of calm without compromising access to the town's amenities. In this mellow neighbourhood, you'll find a pristine blend of historic houses, canopied streets, and a generally slower pace.
Weather
Spring: With temperatures that range from – 6 to 15, spring in Aspen is all about waiting for the thaw. Late season snow gives way to warmer days around April, as the first blooms of the year appear.
Summer: The temperature can still be as low as one degree in the summer (especially in the earlier months), but in general, daytime summer temperatures make it around 20 degrees.
Fall: In the fall, the weather begins to make its way back to minus, prompting the area's famous Aspen trees to turn wonderful shades of gold before the cold weather arrives.
Winter: It can be chilly in the winter, with below-zero mornings, but the midday thaw can also result in ski days in between one and five degrees.
Apps to Download
Aspen Snowmass: The hub for all four of the ski area's mountains. From here, you can buy lift tickets, book lessons, and get updates on parking and lift wait times.
iOs | Android
Downtowner: An Uber-esque app that makes catching a ride across town super easy.
iOs | Android
OrderFood Aspen: Aspen's take on Uber Eats, with easy in-app ordering and payment.
iOs | Android
Related: Why Now Is The Time To Visit The Swiss Ski Village Of Andermatt
This story first appeared on www.travelandleisure.com