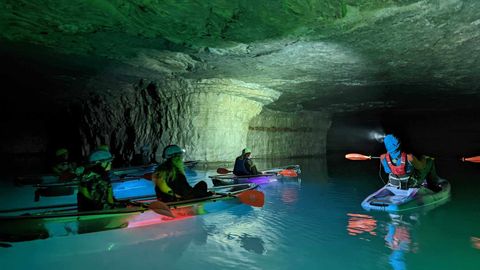 Kentucky may conjure up images of bourbon distilleries, its famous derby, and bluegrass music, but the state also offers visitors a one-of-a-kind water sports experience. By Dobrina Zhekova
SUP Kentucky, a stand-up paddleboard tour company in Rogers, about an hour east of Lexington, offers guests a guided paddleboarding experience through an abandoned limestone mine in the nearby Red River Gorge. To make things even more interesting (and Instagram-worthy), travellers can choose between a clear-bottom kayak or a paddleboard with multicoloured LED lights illuminating the water underneath.
Glass-bottomed kayak tour in Kentucky
"Kentucky has many, many cave systems. I knew I was going to try to find a cave to paddle in," Heather Warman, co-owner of SUP Kentucky, told Travel + Leisure. She explained that after she and her partner founded the company in 2016, they started looking for unique adventures to offer their clients. Then, one day, Warman, a native Kentuckian, drove by the limestone mine and saw a banner advertising kayaking tours. "I had been driving there my whole life and never knew [the mine] was even here. And certainly, I didn't know that it had water in it. And so we went in and discovered it's huge. It has five miles (eight km) of tunnels. And it's all flooded from an underground aquifer," Warman explained.
As it turned out, the mine had been there well before she was even born. It started as a surface mine in the 1800s and was converted into an underground mine in the middle of the 20th century when workers used dynamite to blast out the tunnels. Then, around the 1980s, they hit the aquifers, and water began to seep into the hallways. Eventually, the mine was shut down, and it remained so for about 30 years until SUP Kentucky started offering its Crystal Kayak and SUP Glow Tour.
The mine's tunnels are 60 feet in width and about 30 feet in height. Because there is no wind or waves inside, the waters are always calm, and previous paddleboarding experience is not required. Another unique aspect of the tour, according to Warman, is that unlike other bodies of water in Kentucky, which have muddy waters, limestone acts as a natural filtration system, making the water in the mine crystal clear. During the tour, guests can spot rainbow trout, napping bats, fossils, and even an underground waterfall. SUP Kentucky's groups are limited to eight people, but the company can accommodate a larger group on a private tour.
The easiest way to get to the Red River Gorge Area is to fly into Lexington and drive to the Gorge Underground. The nearby Natural Bridge State Resort Park in Slade is home to a lodge with 35 rooms with private balconies. Two campgrounds and a restaurant are also available to travellers. With many hiking trails, swimming, zip lining, fishing, pedal boating, a sky lift (open April to October), and rock climbing opportunities, the area is brimming with activity year-round.
Once guests arrive at the mine site (Warman recommends getting there 15 minutes early to gear up), they can choose between a clear-bottom SUP board — the company's newest offering — or a kayak. Temperatures in the mine is around 10 degrees Celsius year-round, so dress accordingly. On a hot summer day, for example, when it's around 30 degrees outside, guests can expect a big temperature drop once they enter the cave.
"We do suggest that people wear light athletic layers, so they can take things off if they need to. I usually tell people if you think about a 10-degree day, and you're going to take a brisk walk, you'd want to wear something like that," she added. And that includes thick socks. Guides ask travellers to take their shoes off in the clear kayaks and SUPs, to maintain them clean and, well, "clear."
There are various items available for rent on-site, such as neoprene socks and gloves for USD 2 (INR 163) each or floating phone cases. The company's gift shop also sells sweatshirts for those who forget to bring one.
The minimum age for kids for the glass-bottomed kayak tour is five years old, and Warman explained that children always ride in their own seats for safety reasons. During the 90-minute tour, guests descend about 175 to 200 feet underground; at times, the water gets about 30 feet deep. Expect to spend about 60 minutes on the water. The other half hour is spent taking photos (guides carry cameras and charge USD 5 or INR 407 per photo), loading equipment, and walking to and from the mine.
Warman explained that the water temperature hovers around 5 degrees, which is one of the reasons this tour is guided.
"If you were to fall in and be in the water longer than ten minutes, you could become hypothermic," she said.
The Crystal Kayak and SUP Glow Tour is SUP Kentucky's most popular experience, so booking well in advance is recommended. Warman explained that weekend slots for the glass-bottomed kayak tour often sell out in the summer months in advance. Tickets cost USD 75 (INR 6,116) for adults ages 13 and older for tours between Sunday and Friday and USD 80 (INR 6,524) for Saturday tours. The earliest tour starts at 9 am on Saturdays and Sundays and at 10 am on weekdays.
You can book your spot here.
This story first appeared on www.travelandleisure.com
Main and Feature Image Credit: Courtesy of Sup Kentucky
Related: Vaishnavi Joil, Co-founder Of India's First & Longest Coastal Zipline, Zips Through Her Adventurous Journey
Written By