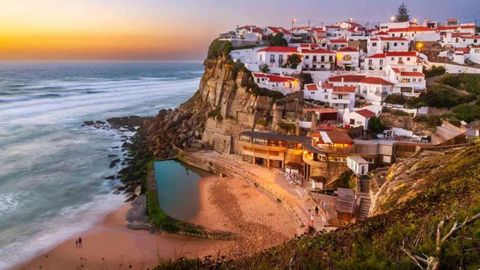 When you hear about Portugal, popular cities like Lisbon and Porto or the beautiful beaches of the Algarve region likely come up. However, the country known for its spectacular seafood, award-winning wines, and milder temperatures is also full of natural, cultural, and historical wonders. By André Aram
Located under an hour from Lisbon, Azenhas do Mar is a stunning coastal town with just about 800 inhabitants. It's situated on top of a cliff by the sea, with white houses that exude a Greek feel.
All you need to about this hidden coastal town in Portugal
Before entering the village, stop at the lookout opposite to observe the Portuguese jewel. If the day is warm and the sea calm, it can be a tempting invitation to bathe in the natural pool at the base of the rocky wall, allegedly carved in the mid-20th century. When the tide is high, the pool becomes invisible, and you'll see only the waves crashing against the immense cliff. The origin of the village is not fully known, but it is linked to the several water mills called azenhas, which gave the place its name; it is speculated the first water mills here were from the Arab occupation period. The local tradition had agriculture, milling, fishing, and shellfish gathering as its main activities, and its development as a seaside resort only happened in the mid-1930s, when the Sintra tramway was inaugurated. If you're in the historical centre (Sintra), a trip to Azenhas will take between 15 and 20 minutes by bus; it's also possible to visit the famous Cabo da Roca, the westernmost point in continental Europe, on the same day. In addition to admiring the scenery, visitors can taste regional delicacies during their trip. Next to the ocean pool lies a popular restaurant set into the rock with several seating options, one of them open with a view of the sea. Besides the beach, it's fascinating to walk around the village, observing the buildings that follow a "soft Portuguese" trend, a local architectural style.
Overall, Azenhas do Mar is a picturesque place, ideal for relaxing, enjoying the beautiful vistas, appreciating the silence, and visiting without haste. It's even possible to stay overnight in one of the houses in the village, available on specific sites for seasonal rentals. The Azenhas do Mar landscape is like a postcard, still unknown to many foreigners and popular among the Portuguese, so much so that it has served as inspiration for renowned writers like José Saramago, winner of the Nobel Prize in Literature. The place is perfect for a relaxing getaway, to feel and listen to the energy of the sea, away from the crowds.
This story first appeared on www.travelandleisure.com
Main and Feature Image Credit: Henrique Feliciano Photography/Getty Images
Related: This Mountain Town In Italy Has Beautiful Views, Charming Piazzas And Tasty Food
Written By