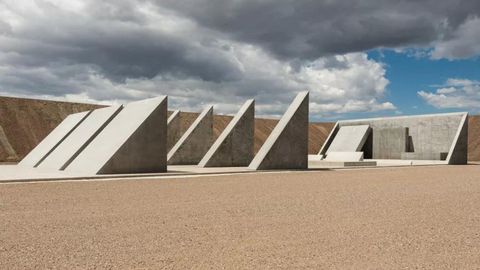 The year was 1972. A 27-year-old artist, Michael Heizer, purchased a plot of land in the Nevadan desert and moved into a trailer on the property. By Stefanie Waldek
It was the start of a 50-year obsession to build a tremendous masterpiece: a 1.5-mile-long (2.4 km) and half-mile-wide (0.8 km) work of land art, appropriately named "City." And that artwork is now open to the public, as of September 2, 2022.
Everything we know about the art piece in the Nevada Desert For "City," Heizer envisioned a work that drew from the urban planning and architecture of ancient civilizations, from the Egyptians to the Mayans. He and his team toiled under relative secrecy in the desert for decades, shaping the land into new formations or using it to make concrete for monoliths and other abstract structures. It is both parts of the landscape, entirely made from its dirt and rocks, and somehow completely separate from it, as a distinctly human-made site. (It should come as no surprise that Heizer was one of the founders of the land art movement, in which artists fuse art with nature, often on a monumental scale.)
After 50 years and UDD 40 million (INR 3,18,84,92,000) in construction costs, Heizer, now 77, feels that the work is ready for the public eye. "This is a masterpiece, or close to it," he told The New York Times.
But experiencing "City" is not a casual feat. Its desert location in Nevada is something of a loosely kept secret, somewhat in the vicinity of another mysterious site: Area 51. The closest paved road is an hour away, and Las Vegas is a few hours beyond that. To see "City," visitors must make advanced reservations through the Triple Aught Foundation, the nonprofit that manages the site along with the Crystal Bridges Museum of American Art in Arkansas, the Glenstone Museum in Maryland, the Los Angeles County Museum of Art (LACMA) in California, and the Museum of Modern Art in New York.
The foundation only issues six passes per day that the site is open, allowing visitors to explore the artwork without the distractions of a crowd. This year, visitation runs from September 2 to November 1 and is completely sold out. Reservations for 2023 will open on January 2, 2023, at 12:01 am PST (January 2, 2023, at 12:30 pm IST), with each ticket priced at USD 150 for adults ( INR 11,956) and USD 100 (INR 7,971) for students. (Residents of Lincoln, Nye, and White Pine counties in Nevada can visit for free, though they'll still need to make reservations.)
"Over the years I would sometimes compare Michael Heizer's 'City' project to some of the most important ancient monuments and cities. But now I only compare it to itself," Michael Govan, CEO and Wallis Annenberg director of LACMA, as well as a board member of the Triple Aught Foundation, said in a statement. "It's an artwork aware of our primal impulses to build and organise space, but it incorporates our modernity, our awareness of and reflection upon the subjectivity of our human experience of time and space as well as the many histories of civilizations we have built."
This story first appeared on travelandleisure.com
Main and Feature Image Credit: Ben Blackwell/Michael Heizer, Courtesy Triple Aught Foundation
Related: Hike This Free Nevada Trail To See Petroglyphs From More Than 3,000 Years Ago
Written By