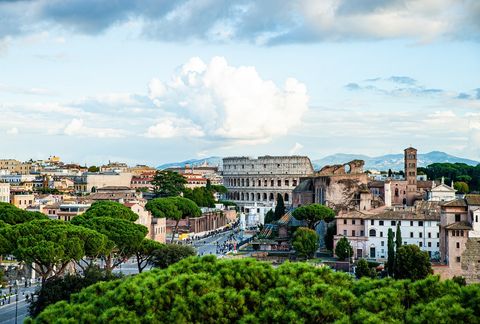 It famously straddles seven hills, but Rome often feels like several cities. There's the ancient one, of course – the Rome of emperors and amphitheatres, still visible today. Then there's grand, baroque Rome, a city of immense squares, florid churches and fountains, each more spectacular than the next. There's the

Dolce Vita

vibe, still, in elegant boutiques, bars, and restaurants, and landmark hotels still on Via Veneto. But Rome is also modern, with formerly residential neighbourhoods such as Testaccio, Monti, and Ostiense now as attractive to tourists for their nightlife as the classic areas. By
It all swirls together into one timeless gumbo. In the space of a day you can go from a Roman emperor's home to a hipster market; you can peel away the layers simply by stepping down into the basement of a church. Of course, all this excess needs some restraint. You should find that in the Vatican; but instead, you'll find Michelangelo's Sistine Chapel there. So when it all gets too much, there are the parks: the Giardino degli Aranci with its sublime views of the dome of St Peter's; the Villa Borghese, whose sprawling grounds contain several museums; and the Via Appia Antica, a Roman road strewn with mausoleums, catacombs, and ancient aqueducts. Even out in nature, Rome can't help but go over the top.
Time Zone
Central European Standard Time
Best Time to Go
Fall is famously stunning in Rome, known for soft-lit afternoons and a warming sun. To avoid the crowds, go in early-to-mid December — the religious visitors start piling in for the Pope's Christmas address after that — or in January and February.
Things to Know
Currency: Euro
(Check the current exchange rate)
Language: Italian
I don't speak Italian: Non parlo italiano
I'm lost: Mi sono perso/a
How much is…: Quanto costa…
I would like…: Vorrei…
How do I get to…: Per andare a…
Calling Code: +39
Capital City: Rome
How to Get Around
Trains: Roma Termini is one of the biggest railway stations in the country, perfectly placed on the high-speed lines for fast access to Naples, Florence, Milan, and beyond. Fast direct trains to Fiumicino airport also leave from here.
Buses: Rome has a decent bus network although there's not much coverage in the historic centre. It's easy to get out to places just beyond the city walls, such as Testaccio, Piramide, and the Via Appia Antica however. The metro system skims the city centre.
Taxis: Taxis are plentiful, withstands at major sites — you can also use the FREE NOW hailing app. Fixed rates are in place for rides from airports Fiumicino and Ciampino, with prices clearly marked on doors.
Car service: Most hotels can arrange transfers; those to and from Fiumicino are normally good value, with prices only a little higher, but with no risk of arguments over fares and supplements at the end.
Best Hotels
Rooms of Rome Address: Via S. Remo, 3/int C3, 00182 Roma RM, Italy
Phone: +39 345 178 1615
Alda Fendi paused her fashion career to launch an art foundation; this hotel, which doubles as a gallery, is the next step. Below the Palatine Hill and near the Bocca della Verità (immortalised in Roman Holiday) it's an 18th-century palazzo stripped to the brick bone and rebuilt by Jean Nouvel. There are mind-blowing Palatine views from the terrace, while guests have out-of-hours access to exhibitions located in the hotel.
Palazzo Manfredi
Address: Via Labicana, 125, 00184 Roma RM, Italy
Phone: +39 06 7759 1380
No hotel in the city can claim such a jaw-dropping view as this modern, tranquil retreat which sits plum opposite the Colosseum. Enjoy the panoramas from the rooftop restaurant; or book a front-facing room to see one of the world's most famous buildings from your bed. This is one place that's worth splashing out for a fabled room with a view.
Inn at the Roman Forum
Address: Via degli Ibernesi, 30, 00184 Roma RM, Italy
Phone: +39 06 6919 0970
History lovers, this one's for you. After breakfast, take a look at the underground level, where archaeologists have dug down to find Roman ruins – part of Trajan's Forum, just around the corner. Then head to the roof terrace, where the views of the Eternal City are endlessly spectacular. Rooms mix the grandiose with the contemporary.
Residenza Ruspoli Bonaparte
Address: Via della Fontanella di Borghese, 56, 00187 Roma RM, Italy
Phone: +39 342 886 1007
Looking for a hotel fit for royalty? This is the place for you – the childhood home of Napoleon Bonaparte III, former French emperor. The staircase is a marble architectural marvel, the ceilings are coffered and the walls are clad in silken damasks. The apartment-sized suites are more modern – so you don't feel like you're sleeping in a museum.
Il Campo Marzio
Address: Via di Campo Marzio, 46, 00184 Roma RM, Italy
Phone: +39 06 8115 7571
Within the grand Palazzo Magnani, an 18th-century mansion in the super-central Campo Marzio area is this intimate, 13-room hotel. With most rooms holding two double beds, it's a great pick for friends and family. Leave room in your suitcase for a few bottles from the in-house liquor store which sells exclusively Italian-brewed booze.
Gigli d'Oro Suite
Address: Via dei Gigli d'Oro, 12, 00186 Roma RM, Italy
Phone: +39 06 6880 3579
One of the mini-hotels that Rome does so well, this former family home now holds six rooms that bring a startlingly contemporary feel to the cobbled street behind Piazza Navona. 'Floating' beds hover under ancient beams; stark white chairs sit beside a carved fireplace. The tiny breakfast room doubles as a bar.
Hassler Address: Piazza della Trinità dei Monti, 6, 00187 Roma RM, Italy
Phone: +39 06 699340
Everyone from Tom Cruise to Princess Diana have been welcomed to the Hassler by owner Roberto Wirth — incredibly, this world-famous grande dame, perched at the top of the Spanish Steps, is still family-owned and run hands-on. It's a sumptuous, marble-drenched affair as you'd expect from one of Rome's fanciest five stars — its slogan, "stairway to heaven," is no mere PR puff. The seventh-floor, guests-only terrace has once-in-a-lifetime 270-degree views of the Eternal City — with the dome of St Peter's straight ahead, the Spanish Steps unfurling beneath, and seagulls swooping overhead.
Villa Spalletti Trivelli Address: Via Piacenza, 4, 00184 Roma RM, Italy
Phone: +39 06 4890 7934
If it feels like you're staying at the home of the Roman aristocracy, that's because you are – the Spalletti family opened their home to guests in 2004, and you'll still find their family photos dotted about. Rooms are super-comfy and traditional, but it's the public areas that are the real draw, from the stately drawing rooms to the garden outside and the spectacular hot-tubbed rooftop.
Baglioni Hotel Regina Address: Via Vittorio Veneto, 72, 00187 Roma RM, Italy
Phone: +39 06 421111
Lady Gaga is rumoured to have stayed here in 2021; back in the day, the buzzing Via Veneto was the heart of the Dolce Vita scene. It may be an art deco grande dame but it's thoroughly modern, with slick décor and neutral palettes. Perched above the city, you'll get panoramic views of Rome from the terrace.
Hotel Locarno
Address: Via della Penna, 22, 00186 Roma RM, Italy
Phone: +39 06 361 0841
Everyone from Federico Fellini to Rupert Everett has spent time at the art deco Locarno, near the Tiber at the Villa Borghese level. Not that you'll want to venture far from the opulent rooms, with their damask walls, sensual heavy drapes and retro herringbone parquet. Stay in for cocktails at the bar to catch some dolce vita.
Fifteen Keys
Address: Via Urbana, 6, 00184 Roma RM, Italy
Phone: +39 06 4891 3446
A converted townhouse in hipster Monti offers 15 guest rooms surrounding a pretty courtyard. The look's contemporary-meets-urban, with exposed stone walls, creams-on-creams and pops of colour from the modern art.
Villa Laetitia
Address: Lungotevere delle Armi, 22/23, 00195 Roma RM, Italy
Phone: +39 06 322 6776
Another hotel owned by fashion royalty, this Tiber-side retreat belongs to Anna Fendi. Past the swarthy naked giants on the door, you're through to a chic retreat of dogtooth floors and painted ceilings, all wrapped in an art nouveau palazzo. Pick from a room in the villa itself or the Garden House – an easy stagger from the Michelin-starred restaurant.
Best Restaurants
Related Items
Imàgo
Address: Piazza della Trinità dei Monti, 6, 00187 Roma RM, Italy
Phone: +39 06 06 6993 4726
This extraordinary Michelin-starred restaurant sprawls over the sixth floor of the iconic Hassler Hotel at the top of the Spanish Steps. The views of the city are incomparable; and the food, by 29-year-old wunderkind Andrea Antonini, matches it. The six-course tasting menu (with multiple amuse bouches) is a stunningly inventive take on traditional Roman and Italian food, from pumpkin flowers stuffed with prawns and spaghetti with mint, pecorino and sea urchin, to a sublime take on Italy's famous rabbit dish, coniglio al cacciatore. Reservations recommended.
Urbana 47 Address: Via Urbana, 47, 00184 Roma RM, Italy
Phone: +39 06 4788 4006
This is in hipster Monti, and it doesn't disappoint. Locally sourced food with an extra zing – like three types of pepper on the cacio e pepe pasta – it also does take-out pasta (or freshly rolled, if you're staying in an apartment). Reservations recommended.
Piperno
Address: Via Monte dè Cenci, 9, 00186 Roma RM, Italy
Phone: +39 06 6880 6629
Family-owned since 1860, this stalwart of the Jewish Quarter — which dates back over 2,000 years and was behind many of the city's most famous dishes — serves some of Rome's most memorable meals from rich-sauced pasta to the city's famous carciofi alla giuda artichokes. Eat outside on the pedestrianised, cobbled square. Reservations recommended.
Aroma
Address: Via Labicana, 125, 00184 Roma RM, Italy
Phone: +39 06 9761 5109
It's all about the view at Aroma, the rooftop restaurant of Palazzo Manfredi hotel, which looks straight onto the Colosseum. It has a retractable roof and glass doors that open up, leaving you to watch circling seagulls in the Colosseum's spotlights. Executive chef Giuseppe di Iorio's tasting menus take you through Roman classics, jazzing them up with modern touches.
Per Me
Address: Vicolo del Malpasso, 9, 00186 Roma RM, Italy
Phone: +39 06 687 7365
Chef Giulio Terrinoni has won a Michelin star for the "striking originality" at his restaurant, 'For Me.' Go for the full 10-course tasting menu at dinner to get a handle on his work; for something more informal, try lunch, where he makes tapas-style "tappi." Reservations recommended.
Agustarello A Testaccio
Address: Via Giovanni Branca, 100, 00153 Roma RM, Italy
Phone: +39 06 574 6585
The Testaccio has long been known for its hearty restaurants. This laidback osteria is one of the best – and serves one of the best cacio e pepe in Rome. Don't miss the rosetta ripiena: bread rolls stuffed with pancetta, pecorino and mozzarella.
SantoPalato
Address: Piazza Tarquinia, 4 a/b, 00183 Roma RM, Italy
Phone: +39 06 7720 7354
Young chef Sara Cicolini has created an ultra-modern take on the "quinto quarto" – the 'fifth quarter,' or Rome's beloved offal. Unlike more traditional places, here it's jazzed up, so you'll get dishes like a frittata poached around a heart of chicken offal; wagyu heart tartare; and oxtail meatballs with a sauce of peanut and cocoa powder.
Bistrot64
Address: Via Guglielmo Calderini, 64, 00196 Roma RM, Italy
Phone: +39 06 323 5531
Stanley Tucci raves about the cacio e pepe at this restaurant, run by Japanese chef Kotaro Noda, who's won a Michelin star for his imaginative takes on classic Roman dishes. It's much cheaper than your average high-class restaurant, though; his five-course tasting menus start at just €50 (INR 5,174). Reservations recommended.
Roscioli Salumeria con Cucina
Address: Via dei Giubbonari, 21, 00186 Roma RM, Italy
Phone: +39 06 687 5287
This is a true Roman institution – a deli-restaurant hybrid using top-quality ingredients. Sit at the counter to watch platters of everything from cold cuts to anchovies being prepared, and try the pizza rossa, straight from the Roscioli family's own bakery. Reservations recommended.
Pipero
Address: Corso Vittorio Emanuele II, 250, 00186 Roma RM, Italy
Phone: +39 06 6813 9022
Ciro Scarmadella is the young chef at the helm of this super-sophisticated Michelin-starred restaurant, but maître d' and host Alessandro Pipero is the one whose name it bears. Try the innovative seven-course Carta Bianca ('carte blanche') tasting menu, or stick with the more traditional à la carte. Reservations recommended.
Flavio al Velavevodetto
Address: Via di Monte Testaccio, 97, 00153 Roma RM, Italy
Phone: +39 06 574 4194
This Testaccio restaurant does a mean gricia, cacio e pepe, and amatriciana; but you're not really here for the food. This is one place you'll want to eat inside since it's dug into the side of the Monte Testaccio: a grassy hill formed by a pile of Roman rubbish dumb of terracotta amphorae – which you can see through a glass wall in the main room.
Armando Al Pantheon
Address: Salita de' Crescenzi, 31, 00186 Roma RM, Italy
Phone: +39 06 6880 3034
Forget the touristy location, right by the Pantheon; this is the real, Roman deal, going back three generations. In a tiny, wood-lined room, and on tables outside, the Bib Gourmand holder serves classic Roman pasta dishes, seared pajata, and the signature dessert – a sour cherry tart. Reservations recommended.
Il Goccetto
Address: Via dei Banchi Vecchi, 14, 00186 Roma RM, Italy
Phone: +39 06 9944 8583
There are hundreds of wines (literally – over 800 at the last count) to choose from at this gorgeous, old-timey bar in a building dating back to the 16th century. There's a rotating selection by the glass; pair yours with their extremely elevated bar snacks.
Things to Do
Colosseum
Address: Piazza del Colosseo, 1, 00184 Roma RM, Italy
Phone: +39 06 3996 7700
All roads famously lead to Rome – and once you get there, sometimes it feels like all roads in Rome go past the Colosseum. The great amphitheatre is every bit as spectacular as you imagine – book a ticket that includes a guided tour of the underground area, to see the gateways and holding pens for the animals and gladiators before they were sent out to fight.
Forum
Address: Via della Salara Vecchia, 5/6, 00186 Roma RM, Italy
Phone: +39 06 3996 7700
The sprawling Roman Forum has several entrances but start from the one behind Piazza Venezia for the most spectacular route, walking through the Grand Arch of Titus and through the ancient city, the Colosseum looming at the other end.
Vatican City
Address: Viale Vaticano
Phone: +39 06 6988 4676
A jurisdiction of its own in the middle of Italy, the Vatican dominates Rome. Visit St Peter's basilica — the largest church in the world — to see Michelangelo's "Pietà," a heartrending tribute to motherhood, as well as his giant dome. Leave the best part of a day to explore the Vatican Museums, home to masterpieces such as the ancient sculpture group Laocoön, Raphael's frescoes and, of course, the Sistine Chapel.
Trevi Fountain and Quirinal Hill
Address: Piazza di Trevi, 00187 Roma RM, Italy
Early mornings and late nights are the best time to see the Trevi Fountain, the city's most outrageous monument to the baroque age. While you're there, head up the nearby Quirinal Hill – the highest of the seven – to the grand piazza outside the presidential palace, for superb views.
Villa Borghese
Address: Piazzale Napoleone I, 00197 Roma RM, Italy
Phone: +39 06 841 3979
Set within the Villa Borghese gardens – with some of the loveliest grounds in Rome – is this superb art gallery that occupies a grand 17th-century villa. The marble-clad interiors are glorious, but even they're outshone by the contents: a room full of Caravaggios and the hall of lifelike Bernini sculptures for starters.
Mausoleo di Augusto
Address: Piazza Augusto Imperatore, 00186 Roma RM, Italy
The mausoleum of Rome's first emperor, Augustus, was once the grandest, highest building in the city. Over the centuries it lost its marble cladding, its roof and much of its elegance, but following a 13-year restoration, it reopened to the public in 2021 – ancient Rome's newest site.
Walk the Tiber
The Tiber has one of Europe's loveliest riversides, studded with historical remains and buildings and shaded by trees. The stretch from the Foro Boario – where two ancient temples sit opposite the Bocca della Verità – up to the marble Ponte Sisto, is lovely, passing the grand synagogue and the mid-river island, Isola Tiberina. Or go from the grand Piazza del Popolo, past the Mausoleo di Augusto and the ancient Ara Pacis monument, across the Roman bridge to the Castel Sant'Angelo – the castle-like mausoleum of the emperor Hadrian, which then became the Pope's fortress.
Basilica di San Clemente
Address: Via Labicana, 95, 00184 Roma RM, Italy
Phone: + 39 06 774 0021
This church not far from the Colosseum is a prime example of Rome's layered history – and here you'll get to peel back time, tier by tier. The current church is medieval; underneath is an early Christian basilica from the fourth century, and below that is a mithraeum (an ancient Roman temple) and a Roman house.
Baths of Caracalla Address: Viale delle Terme di Caracalla, 00153 Roma RM, Italy
It's just off the tourist map (literally), beyond the Circus Maximus, which means this jaw-dropping Roman bath complex is rarely visited. Wander the sprawling complex to see mosaics still in situ, hulking walls and arches, and – if it's having a special opening – the underground mithraeum.
Le Domus Romane di Palazzo Valentini
Address: Foro Traiano, 85, 00186 Roma RM, Italy
Phone: +39 06 2276 1280
This lesser-known site has a fantastic sound-and-light show taking you straight back to ancient Rome. Ruined Roman houses in the bowels of a grand palazzo have not only been excavated – so you walk above them on glass floors – but projectors show you how it would have been 2,000 years ago.
Cripta dei Cappuccini
Address: Via Vittorio Veneto, 27, 00187 Roma RM, Italy
Phone: +39 06 8880 3695
A memento mori warning to the Dolce Vita set, this church crypt on the famous Via Veneto houses the remains of 3,700 bodies – assumed to be capuchin monks. But it isn't gruesome – the bones and skulls have been arranged artistically, into altarpieces, chandeliers, and even a Grim Reaper skeleton brandishing a scythe.
Giardino degli Aranci
Address: Piazza Pietro D'Illiria, 00153 Roma RM, Italy
Phone: +39 06 6710 5457
Follow the avenue of skinny pine trees to watch the sunset over St Peter's. This lovely little park atop the Aventine hill has prime views of the city skyline – and points straight towards Michelangelo's famous dome.
Best Shopping
Via Condotti Address: Via dei Condotti
This street – the flashiest in Rome – offers world-class window shopping. Most designers have branches on Via Condotti (technically Via dei Condotti, though it's never referred to as such) and its cobbled side streets.
Laura Bosetti Tonatto
Address: Via dei Coronari, 57, 00186 Roma RM, Italy
Phone: +39 06 686 4224
Italy's best known 'nose' and parfumier to the great and good including the Queen of England, Laura has created dozens of exclusive perfumes and scents at her laboratory on trendy Via dei Coronari.
Ape Camiceria Artigianale
Address: Via di Pallacorda, 1, 00186 Roma RM, Italy
Phone: +39 06 689 2401
Master tailor Piero Albertelli made elegant clothes for royals and celebrities across the globe. Although he passed away in 2018, his team continues, making made-to-measure shirts, coats and sweaters. There's a ready-to-wear collection, too.
Lisa Corti
Address: Via dei Coronari, 197, 00186 Roma RM, Italy
Phone: +39 06 6871645
Lisa Corti was born and brought up in Ethiopia, and she pays homage to her upbringing with her bright, highly patterned textiles. You'll find everything from throws and curtains to tablecloths and bed covers; as well as interiors there's also a collection of kaftans and kurtas.
Mondelliani
Address: Via dei Prefetti, 11, 00186 Roma RM, Italy
Phone: +39 06 679 3481
This eyeglass brand has been going strong since 1961, and it shows in the retro designs. You'll find bright colours, the odd leopard prints and even octagonal frames – they're design objects in themselves.
Ferdinando Codognotto
Address: Via dei Pianellari, 14, 00186 Roma RM, Italy
Phone: +39 335 824 0400
Artists and artisans tend to have been squeezed out of the city centre in recent years. Wood sculptor Ferdinando Codognotto is one of those who remain – his extraordinary works of art can be seen around the city, while his workshop is on a cobbled street behind Piazza Navona.
Ibiz
Address: Via dei Chiavari, 39, 00186 Roma RM, Italy
Phone: +39 06 6830 7297
Elisa Nepi handcrafted brightly coloured bags, made from vegetable-dyed Tuscan leather (which she personally selects). Try her two-tone satchels, over-shoulder bags and wallets.
La Grotta Dipinta
Address: Via dei Chiavari, 73, 00186 Roma RM, Italy
Phone : +39 339 272 5780
Step back in time into this mosaic workshop, where pots of tesserae line the shelves and ancient designs are propped up against the walls. Artisans Tiziana Ferraresi and Francesca Nicosia split the large tesserae over a spiked tree stump – just as the ancient Romans used to do. They teach mosaic classes, too.
SBU
Address: Via di S. Pantaleo, 68-69, 00186 Roma RM, Italy
Phone: +39 06 6880 2547
'Strategic Business Unit' isn't the most authentically Italian-sounding name, but these slick jeans, button-downs and t-shirts bear all the hallmarks of Bel Paese fashion. The ultra-soft denim comes from Japan, though it's tailored in Italy.
Peperita
Address: Le Tartarughe Eat & Drink, Piazza Mattei, 00186 Roma RM, Italy
Phone: +39 392 413 2158
Rita Salvadori grows 80,000 chilli pepper plants on her biodynamic Tuscan farm, including some of the spiciest strains on the planet. They're sold here, at this great little café and deli – try her chilli-laced salt and jam.
Neighbourhoods to Know
Trastevere: On the Vatican side of the Tiber – the Ponte Sisto bridge is the entrance point – Trastevere is one of the centre's trendiest neighbourhoods, with exceptional restaurants and buzzing bars alongside quiet lanes and cobblestone streets that feel far from a city. This has always been an area of artists and artisans, and there's still a boho feel to the air.
Testaccio: A port of ancient Rome, this Tiber-side district south of the city centre used to be best known as the location for the city's slaughterhouse. Today, that slaughterhouse hosts modern art exhibitions, and there's a slew of trendy bars straddling this and Ostiense, the district next door. As a working-class area, its restaurants have always been top-notch.
Monti: Hipsters love Monti, the former down-at-heel neighbourhood sitting between Termini railway station and the Colosseum. Back in ancient times, this was the Suburra (slums); more recently it was the Red Light district. But in the last couple of decades, its cobblestone streets have been transformed by artisans, bars, and boutique stores, making it Rome's nightlife capital, spiralling off from Piazza della Madonna dei Monti.
Vatican City: This is of course the seat of the Catholic faith, and life revolves around the church here in the Vatican, an independent city-state within Rome. You're here for the museums and St Peter's Basilica of course, but there are other finds, such as the Auditorium Conciliazione concert hall and its chic Chorus Caffe.
Campitelli: If you're here for all things ancient, this is where you'll spend most of your time. Campitelli is home to the most famous parts of ancient Rome, including the Forum, the Palatine, and the Campidoglio; the Colosseum skims its edge.
Campo Marzio: If you're looking to splash some cash, you'll want Campo Marzio. One of the most ancient areas of Rome, it pairs sites such as the Mausoleo di Augusto and the Ara Pacis with the chic shopping streets around Via Condotti and the Spanish Steps, and finishes at Via del Corso, where you'll find the high-street stores.
Weather
Fall in Rome is spectacular – so much so that there's a name for the city's warm and sunny October days: ottobrata, where temperatures can hit the 70s in the sun. Winters are mild, although January temperatures can plummet to the 40s, and it can rain. Spring, like fall, is a beautiful time to go, with trees in blossom and temperatures in the 60s. Summer is hot and humid – so much so that most Romans abandon the city for the month of August.
Apps to Download
Scooterino: Ride-sharing app to beat Rome's notorious traffic – on a Vespa
FREE NOW (was MyTaxi): Taxi-hailing app
Street Art Roma: Maps out Rome's street art
iOs only
Probus Rome: Bus schedules, routes, live updates
Related: Orlando Travel Guide: Things To Do, See, Eat And Explore
Written By