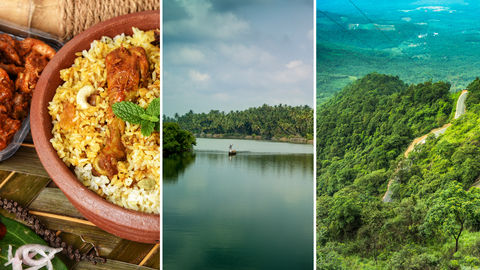 India has had a long-standing affair with Biriyani. Whether it is late-night cravings, match-day meals, or just comfort food — the masala-filled goodness is loved by all. Today, we are going to travel all the way to the Malabar Coast, to trace the journey of the famous Malabar Biryani and what makes this exotic dish the underdog among all different variations of Biryanis. By Amitha Ameen
View this post on Instagram
According to legends, the introduction of Biryani to India has been credited to the Turkic conqueror and founder of the Timurid Empire, Tamerlane. It is believed that he used to serve the slow-cooked meal to his soldiers at the front lines. Another story credits Mumtaz Mahal for the birth of Biriyani.
View this post on Instagram
No visit to the Malabar region is complete without digging into a scrumptious plate full of delectable Biryani served all the way from Kozhikode (Calicut) to Kasargod. There have been many accounts of the history of the Malabar Biryani and that only a few remain privy to the secret ingredients that make the Biryani what it is today. Kerala's northern region is known as the 'Spice Coast of Malabar' so it is only fitting to imagine that this region could perhaps be the birthplace of the Malabar Biryani.
The Malabar Coast used to serve as the landing point for Arab traders for many centuries. Over the years, these traders married local women in the region, thereby creating a new Muslim community called Mappilas, and the blending of these two cultures is believed to have been the reason behind Malabar Biryani's birth.
View this post on Instagram
Malabar's culinary capital is Thalassery and is one among the four places (Kozhikode, Kannur and Mahe) that's famous for Biryanis. The Biryani in each region tastes different and employs different methods of cooking. The soul of the Thalassery Biryani lies in the masalas. Along with this, chicken, small-grained rice and ghee are used to make the dish; and, the rice and chicken are cooked separately and then layered, closed with a lid bound by dough, and then hot charcoals are placed above it. The slow-cooked dish is then served with coconut and coriander chutney, raita, and date pickle. Ask anybody and they will tell you that Thalassery's best Biryani can be found in Paris. Not the French city, but an inconspicuous shack on the city's Logan Road.
View this post on Instagram
Eventually, a bunch of cooks migrated from Thalassery to Calicut and this led to the birth of a brand-new dish called Malabar Biryani. The Biryani in Calicut includes more ingredients and spices like tomato and coriander along with the staples like onion, ginger, garlic, and green chilli. And, hands down, the best place to indulge in is The Paragon Restaurant, considered the capital of the best Biryani in Calicut.
While there are many different Biryanis and methods of making them in today's day and age, and more often than not the real recipes of Biryanis are a closely-guarded secret handed down to generations in the same family lines, the Malabar Biriyani stands out of the crowd for its universal appeal with its tender meat and aromatic goodness. And today, the Malabar Biriyani is often the choice meal for any celebrations and serves as the perfect comfort food when needed.
Related: Gordon Ramsay To Feature Malabari Cuisine On His Show 'Uncharted'
Written By