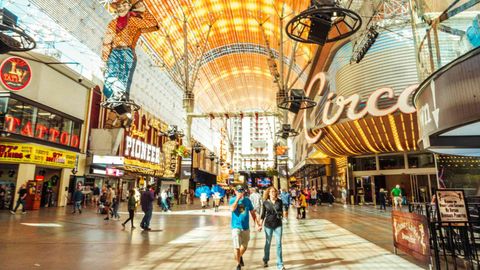 Call it cliché, but we believe Las Vegas has something for everyone. With entertainment options ranging from celebrity chef-helmed restaurants and enticing casinos to thrill rides, professional sports, and the great outdoors, we'd bet big money that Las Vegas has what you're looking for.
To create a thorough list of things to do in the Nevada city, we enlisted several Las Vegas experts, including assistant chef concierge for Wynn Las Vegas, Angelica Miozza; comic performer Colin Cahill, who plays Blue Jackson in Spiegelworld's Atomic Saloon Show at the Venetian; and long-time resident and vice president at Kirvin Doak Communications Natalie Mounier. Here are 30 ideas to help you better plan your next Las Vegas escape.
The best things to do in Las Vegas to plan your next escape
Sway to the music at the Bellagio Fountain show This expansive fountain show occurs multiple times a day, every day of the year; check the schedule once you arrive in town to make sure you catch it. The romantic spectacle is free, and onlookers line the sidewalk, mesmerised by the beauty of the dancing fountains and the music that plays along with the show.
Observe the Las Vegas Strip from above To enjoy panoramic views of the city, hop on High Roller, the largest observation wheel in North America. You'll ride in one of 28 spacious air-conditioned cabins for 30 minutes, at one point reaching 550 feet above the Strip. Cabins hold up to 40 guests, so grab some friends (and a cocktail or two) for the ride. Note that glass and coolers are not permitted.
Take a walk under the sea At Shark Reef Aquarium, you can walk through an underwater glass tunnel as more than 2,000 sea creatures swim around you. The Mandalay Bay attraction includes jellyfish floating gracefully, friendly sea turtles, and sharks gliding through a shipwreck. Book an early-entry guided tour for an additional fee if you'd like to feed a stingray.
Go skydiving indoors Travellers can experience skydiving, without the airplane, on the exhilarating Vegas Indoor Skydiving attraction. You can fly on your own (even kids can try it, so long as they're 40 pounds or more), or get a group of six to ten friends or family members for a twenty-minute party with private training and your own block of time in the wind tunnel.
Shop the best travel experiences here
Play around at Topgolf Whether or not you're an avid golfer, this is a fun venue in which to spend a couple of hours or more. Topgolf Las Vegas offers climate-controlled hitting bays, plus music, HDTVs, and a pool (must be 21 and over) with cabanas. This is a favourite spot for the Wynn's Angelica Miozza, who comes to test her golf swing. There's also a sports bar, restaurant, and complimentary golf clubs.
Drive a Ferrari, Lamborghini, or go-cart At Exotics Racing, driving is extremely exciting, whether you choose a supercar, go-kart, or off-road experience. Steer an exotic car around a racetrack for the thrill of it, or have fun racing a go-kart on an outdoor track. You can even choose a specially built Baja race truck for the ultimate off-road experience.
Stroll through an indoor garden Visitors are dazzled by the intricate designs, colours, and beauty of the Bellagio Conservatory & Botanical Gardens. Each season, the 14,000-square-foot garden is transformed with floral displays, living plants, and water features. In addition to unique designs for each season, a special Lunar New Year garden is created each year.
Ride a gondola and stroll through St. Mark's Square At the Venetian Resort, a gondola ride takes you through a replica of Venice, complete with the Rialto Bridge, a sparkling Grand Canal, and a serenade by your gondolier. Once off your boat, browse the upscale Grand Canal Shoppes, enjoy the street performers, or grab a gelato while you take in the atmosphere of "Italy."
Book your stay at The Venetian® Resort Las Vegas via Booking.com
Book your stay at The Venetian Resort via Agoda.com
Catch the light show on downtown Fremont Street The largest video screen in the world is suspended 90 feet above Fremont Street for this dazzling free-light show with concert-quality sound. The show begins every hour between 6 pm and 2 am, every day. And while you're in the downtown area, check out the SlotZilla zip line, which has the option to fly over the street like a superhero, landing at the historic Golden Gate Hotel and Casino.
Experience Illuminarium At Illuminarium Las Vegas, 4K laser projection, 3D audio, and special effects create immersive experiences not to be missed. Travel to outer space via images captured by the James Webb Space Telescope, or to the African savanna, where incredible animals roam. Check the website for what experiences are available during your Las Vegas visit.
Tee off at the only golf course on the Las Vegas Strip
Enjoy the gorgeous surroundings of the 18-hole championship course at the Wynn Golf Club. The lush landscape was designed by legendary architect Tom Fazio, who partnered with his son Logan to revisit and enhance his original work. Mature trees, lakes, and streams add both beauty and challenge to the course.
Take a master class at Wynn Las Vegas
"For those who love immersive experiences, I recommend attending one of Wynn's Master Classes, which provide an intimate experience with the resort's world-class chefs and industry experts," Angelica Miozza told Travel + Leisure. "Some of my favourites include learning how to bake baguettes alongside our master baker; filling dumplings with a master dim sum chef; and creating remarkable floral arrangements with the head of horticulture."
Take a side trip to Red Rock Canyon
About 17 miles (27.35 km) west of the Strip, you can find miles of hiking trails at Red Rock Canyon National Conservation Area. The preserve is also a great place for rock climbing, mountain biking, picnicking, and horseback riding, all while surrounded by gorgeous scenery. There's a 13-mile (19.31 km) scenic drive with access to sandstone hills, canyons, and parking areas for exploring the natural and cultural history of the area.
Watch a professional sports game
Depending on the season, visitors can see the WNBA 2022 Champions Las Vegas Aces, the Las Vegas Lights FC soccer team, Las Vegas Raiders football, the XFL Vegas Vipers, or the Vegas Golden Knights NHL team. "In recent years, Las Vegas has been building its credibility as a sports destination," Miozza said. "And as a local, I can tell you we're very excited to see this year's pivotal Grand Prix, as well as the Super Bowl in 2024."
Get a Las Vegas history lesson at the Mob museum
The Mob Museum is located downtown in the city's former federal courthouse, and its interactive exhibits highlight notorious gangsters like Al Capone and Bugsy Siegel, plus famous FBI agents, including J. Edgar Hoover and Eliot Ness. Visit the onsite Prohibition-era-styled Speakeasy for a cocktail after your Mob history lesson.
Experience Vegas deep into the night
They say New York is the city that never sleeps, but Vegas doesn't seem to, either. Night clubs and cocktail lounges abound, and there's always a themed party or DJ set to experience. The city has lots in store for LGBTQ+ travellers, too — Visit Las Vegas suggests year-round Pride events and RuPaul's Drag Rice Live as some of the options.
Score tickets to a live show
Cahill called his Atomic Saloon show "one of my all-time favourite sexy circus comedy cabarets." There's also Cirque du Soleil's Beatles LOVE show at The Mirage, Mystere at Treasure Island, "O" at the Bellagio, and Awakening at the Wynn. Head to Caesars Palace to see world-class talents like Adele and the newest resident headliner, Garth Brooks. And if you've got kids in tow, they can see a show, too.
Book your stay at Caesars Palace Hotel & Casino via Booking.com
Book your stay at Caesars Palace Las Vegas via Agoda.com
Show off your skills at the Pinball Hall of Fame
This museum houses the world's largest pinball machine collection, with vintage machines from the 1960s, 70s, and 80s. The machines are all restored to like-new condition, and they're available for visitors to enjoy — it's a pretty inexpensive way to have fun at 25 or 50 cents a play.
Watch the free show at Las Vegas Lake of Dreams
"Staged outdoors with open-air patios for viewing, the Lake of Dreams show is something guests or visitors to Las Vegas may not know about," Miozza told T+L. "The complimentary multimedia experience blends colourful puppetry, an immersive soundtrack, and state-of-the-art sound and lighting." The show runs multiple times every night, starting at dusk.
Snap a few photos for the 'gram
About 10 miles (16.09 km) south of the Strip is Seven Magic Mountains, a group of neon-coloured totems created by Swiss artist Ugo Rondinone, and a very popular site with shutterbugs. Next, head downtown for a self-guided mural tour, or visit the Museum of Selfies at the LINQ Promenade. And, of course, there's the Welcome to Las Vegas Sign — a must for every visitor.
Join an immersive show at a rum distillery
At the Lost Spirits Distillery, guests walk through elaborate Victorian settings and sample rum while cast members perform all around them in an immersive theatre experience. To extend your time here, book an elaborate 16-course tasting menu dinner, which is served in a room themed after "20,000 Leagues Under the Sea."
Dance to live tunes
Comedian Colin Cahill says, "If you're looking to scoot your boots, my favourite bands to dance to are The Bronx Wanderers and The Spazmatics, both at South Point and Original Chaos, who you can catch at venues all over town." For more live music venue options, Visit Las Vegas has you covered.
Visit the MSG Sphere — once it opens
"Vegas is all about revamping the old and building the new," Cahill says, specifically pointing to the expected fall opening of MSG Sphere, a 17,500-seat structure for concerts and sporting events. With a wraparound LED display and spatial audio system, the venue will provide immersive experiences that utilize visual effects, movement sensations, intense lighting, and even scent and wind simulations.
Visit the Las Vegas Arts District
When Cahill isn't playing Blue Jackson in the Atomic Saloon, he enjoys spending time in the Las Vegas Arts District. Located about a mile (1.6 km) from downtown and the Fremont Street Experience, this area features shops, restaurants, bars, coffee houses, galleries, a theatre, live performances, and First Friday events.
Ride FlyOver
"My family and I love FlyOver," Mounier told T+L. "It makes you feel like you're flying over the most iconic places in the US, Canada, and Iceland; you're sitting inside a spherical screen, surrounded by the most amazing views. As the film dips and turns throughout the locales, the seat moves with you, like you're flying via helicopter. There are special effects, too — when you fly through a cloud, you feel a light mist on your face."
Go on another adrenaline-pumping thrill ride
Head to the Stratosphere for the Big Shot ride and the X-Scream rollercoaster, which dangles you above the Las Vegas Strip. Or, ride the Big Apple Coaster in New York — it speeds up to 67 miles (107.82 kmph) per hour.
Shop 'til you drop in a classic Vegas shopping centre
Instead of losing money in the casino, why not exchange money for goods? Great places to do the latter include the Forum Shops in Caesars Palace, the Cosmopolitan Shops, designer shops at the Encore, MGM Grand, and more. At the Downtown Container Park, you can shop, snack, and catch a free concert in one spot.
Take a wellness break
A spa visit makes for a relaxing and refreshing escape from the hustle of Vegas, and we recommend Caesar's Palace Qua Baths & Spa. This venue offers three Roman baths, an Arctic Ice Room, and a range of massage and skin care services. Or head to Wynn Las Vegas, where Wynn Living Well offers massages, vitamin IV drip therapies, and other innovative treatments. There's also the spa at The Mirage and Four Seasons Spa.
Ride the Las Vegas Monorail
The Strip often surprises first-time Las Vegas visitors — it's not as easy to walk from one end to the other as you'd think. So, if you're trying to get from point A to point B here, consider taking the Las Vegas Monorail. It's a convenient mode of transportation that connects MGM Grand to the Sahara Hotel, with stops at Harrah's, Caesar's Palace, and more.
Try your luck in a Vegas casino
There are more than 100 casinos in Las Vegas, so no trip here would be complete without wandering through one of these dens of smoke, drinks, and slot machines. Belly up to a blackjack, poker, or craps table and try your luck, or stand back and observe someone else playing — somehow, even just watching casino action is a thrill in Las Vegas.
Book your stay at Bellagio via Booking.com
Book your stay at Bellagio Hotel via Agoda.com
(Hero and feature image credit: Taylor McIntyre/Travel + Leisure)
This story first appeared on travelandleisure.com
Related: 25 Fun Things To Do In Las Vegas With Kids That The Whole Family Will Enjoy
Written By