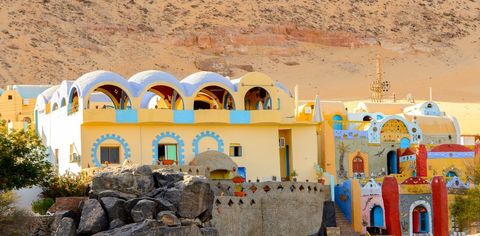 When we say Egypt, what comes to your mind? Chances are it's the pyramids, the grandeur of which have titillated people from around the world for centuries. But if you're looking to explore the lesser-known, include Nubian village in your itinerary. By Nishita and Siddharth Sharma (That NomadCouple)
A scenic boat ride from Aswan takes you to the rich and gripping history of the oldest civilisation of ancient Africa, Nubian Village. Visiting this village was the best thing we could have done for ourselves! Days later, the chromaticity and vibrancy of this village still put us in a good mood; the jokes and chuckles that we shared with the locals, despite the absence of a common language, still bring a big smile on our faces; the sense of youthful exuberance that persisted in the elderly still melts our hearts; the voyage on the vast stretch of the Nile still helps us find our calm; the thought of local Nubian food still stimulates our palates. These precious little memories, and so much more, will forever be stored in the reservoirs of our memories.
View this post on Instagram
We reached Aswan from Luxor via train, from where we hopped on a boat to reach Nubian Village. The minute we stepped out of the train station, we were buttonholed by plenty of boat owners. EGP 250 to 300 (approximately INR 1,180 to 1,420) should be perfect for a 45-minute one-way boat ride down the Nile River, we thought. Also, it wasn't a tight squeeze; we had the entire boat to ourselves!
View this post on Instagram
As we start to mosey around the village, we realise the hued village is not only painted in various lively colours but is also adorned by peculiar shapes drawn by the locals—both outside and inside the houses. The triangles represent the three most crucial roots of life: Earth, represented by neon green; the Sun, represented by a gorgeous yellow; and the sky and Nile, represented by a bewitching blue. The most famous house at Nubian Village is the one with a giant mummified crocodile hung at the entrance.
View this post on Instagram
Nubians are real badass! We keep cats, dogs, or cows as pets, but these gutsy fellas are known to raise crocodiles. Almost every house had a crocodile. We also witnessed crocodile
mummies
! We paid these not-so-small babies a visit, too. Lovely families took us through the entire mummification process while we sipped on Egyptian tea. We took photos and even stroked the crocodiles gently. While the entrance is free, it's customary to tip the homeowner. Nothing extravagant, though—just a small amount to show gratitude.
View this post on Instagram
We were fortunate enough to be invited by a very hospitable family to live in their stunning guesthouse, Fadiloos Anay, overlooking the river Nile. Upon our arrival, we learned that Mohammad, the owner, didn't speak English. And we don't speak Arabic. But there's nothing that the language of love cannot solve, right? Of all the people we met in Egypt, including those who knew decent English, we spoke to Mohammad the most.
It all started with using Google Translator. Sentence by sentence at first, from which we progressed to using hand gestures. Eventually, one glimpse spoke volumes that no translator—or even words—could ever express! The unspoken words, the glittering eyes, and the heart-melting smiles spoke a thousand words. That day, we learned how language can never be a barrier and how pure love can bridge the gaps that our minds create.
View this post on Instagram
We strongly recommend spending a night or two at Nubian Village. If you have the time, abstain from a day-tour. There are a plethora of options to choose from: you can either pre-book your stay or even choose a place upon arrival. Spending time and sharing meals with the locals, we feel, is the best way to learn about a place's culture. And at Nubian Village, you get exactly this. The place changed us, and we hope it changes you, too.
Nishita and her husband, Siddharth Sharma, are travel bloggers based in India. Together, they are popularly known as That NomadCouple.
Related: Here's Why You Need To 'Dream Escape' To The White Desert Of Egypt
Written By