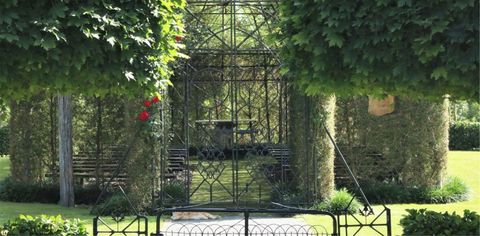 The world developed a whole new appreciation for outdoor weddings with lots of room to roam after enduring the coronavirus pandemic. Finding the perfect venue in a destination people are happy to travel to can be tough, but not if you book the dreamy, straight-out-of-a-storybook Ōhaupō TreeChurch in New Zealand. By Stacey Leasca

The Ōhaupō tree church on New Zealand's North Island Dairy farmer Barry Cox was in the midst of creating a garden in the central North Island town of Ōhaupō. While tending to the land and planting some 4,000 trees, Cox decided the land "needed a church." But, rather than build any old structure, Cox decided to make the church a part of the land. And in 2015, he opened the three-acre garden, including a church grown from trees to the public.
"I walked out my back door one day and thought, 'That space needs a church — and so it began," Cox told Stuff in 2015. "I cleared the area in April 2011 and made the iron frame, drawing on all the research I had done over the years of studying churches. I wanted the roof and the walls to be distinctly different, to highlight the proportions, just like masonry churches," he says. According to the website, beyond the iron frame, the church is made out of Alnus Imperialis trees used for the roof canopy, Purple Dodonaea for the walls, and Camelia Black Tie, Acer Globosum, and Thuja Pyramidalis throughout.
Inside, church-goers will find a marble altar, a gift from the Catholic church where Barry was an altar boy. Though the church can house up to 120 guests, it's also an idyllic spot for an elopement or a small wedding, as the outdoor area seats 60 people. With plenty of space for all to be comfortable, it's the perfect place for the bride, groom, and their loved ones to experience something truly magical together.
As for Barry, he's just happy people like his gardens.
"I like that the [garden] visitors enjoy and appreciate my Tree Church," he told Stuff. "I find that gardeners and those passionate about trees are generous people who simply want to share and enjoy with like-minded others. Visitors have said that they find the Tree Church relaxing and their worries disappear. I find that sort of feedback immensely rewarding."
Related: The 9 Best New Zealand Wellness Escapes, According To A Local Expert
Written By