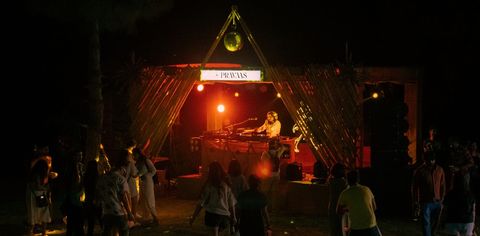 As Pravaas, a multi-sensory experience curated in lesser-known destinations, begins registrations for its third edition, Travel + Leisure India & South Asia recalls the time when the hills of Kasuali came alive with good music, food, and more during its second stint. By Bayar Jain
I first heard about Pravaas, a platform that curates multi-sensory journeys at offbeat locations, when a colleague visited Jai Vilas Palace in Gwalior for its first edition. I found myself wondering what makes these 'journeys' special. With a train ticket from New Delhi to Kalka in hand and a small suitcase in tow, I began my journey for the second edition of Pravaas, held in Kasauli, looking for answers.
View this post on Instagram
Curated by Cymbal and Chef Prateek Sadhu, along with Undersounds Entertainment Pvt Ltd (a young firm founded by Nakul Mehan and Aaryaman Scindia that specialises in creating unique live and digital experiences by combining unthinkable locations, unique creators, authentic content and a forward-thinking audience), Pravaas is brought to life in collaboration with native communities, in an effort to uplift them. Limited to 200 people, each edition of Pravaas (meaning 'journeys' in Marathi) brings research-driven, region-inspired experiences that are a blend of music, food, and more to the fore. Its two-day Kasauli edition took place at Amaya Homes.
One with nature
View this post on Instagram
Amaya Homes is a short, picturesque 40-kilometre drive from Kalka Railway Station. A newly-opened private sanctuary, Amaya Homes is set amidst 20 acres of terraced forests. It aligns with Pravaas' aim of providing access to undiscovered sites of a region. The cement-less homes here open to verdant views, stone paved walkways, and mountain trails aplenty. Tunes echoing amid the pine trees led me to an open space aptly named the Sunset Cliff.
The Sunset Cliff is where the spotlight was at the second edition of Pravaas. Artists such as Alboe, Amaya, Discokid, Dualist Inquiry Live, Lifafa, Okedo, Pia Collada, Sanyas I, and Tech Panda x Kenzani performed here over the two days. The canopied stalls lining the space teased with their offerings: Khoya+, with its slow perfumed candles; WLTH, with its herbal supplements; 11.11/eleven eleven, with its hand-spun clothing range; WOKE Cold Brew, with its caffeine brews; and more. My eyes, however, were transfixed at the silhouette of pine trees melting into the horizon behind the stunning stage, creating a mesmerising halo.
Post sunset, the party would turn neon within the forests at The Simba Uproar Stage. More cutting-edge artists like Film, Hamza Rahimtula, Jay Pei Live, Kaleekarma, Kohra, Paloma, Schlick, Unnayanaa, Varuu, and Vridian, helped bring the place to life.
One with flavours
What's a party without an indulgent spread? Luckily, Chef Prateek Sadhu—famous for his love for all things local—dotted the event with region-inspired 'journeys' or menus.
View this post on Instagram
My first culinary journey was The Forager's Table served at Amaya's restaurant. I was greeted to tables decked up in Ikai Asai's artisanal tableware. Think glistening silverware, cane baskets, and handmade centre-pieces with dried foliage (such as the needles from pine trees and pinecones) to match. This was accompanied by a seven-course meal, featuring some of the region's local ingredients and fresh forage. Ranging from mushroom siddu, fiddlehead ferns paired with raambaan, lingdu and hay-cooked potatoes, gucchi and bhaang kadhi with native sornu rice, to pine-smoked beetroot with a mustard chilli tadka—the meal sang with local Himachali flavours in every bite.
The second culinary journey drove this native concept even deeper with The Himachali Dham experience. Served amid pine forests at a bamboo and wheat grass seating, the dham was served in true traditional style, as a collaborative dinner. The feast comprised of all local delicacies: mutton ke pakode, palak aur bhaang ke pakode, madra, kadhi pakode, sarson aur methi ka saag, kaddu ki chutney, salted gud ice cream and more.
View this post on Instagram
The Chef's Tuck Shop, the third culinary journey at this edition of Pravaas, stirred things up. It began at Dharampur station, from where a memorable Toy Train Express meandered through 33 tunnels and countless trees to stop at Barog Station. Here, the regular sit-down meal was replaced by a pop-up meal, complemented with music by Digging In India, and a feeling of timelessness. The menu featured street-style finger-food such as smoked pulled lamb burger, potato chips with bhaang seed salt, Amaya garden salad, khatmore ki chutney and burrata, and Himalayan creamery milk cake with buttermilk caramel.
Bottomless drinks made each culinary journey all the more delicious. While Stranger & Sons kept parched throats at bay with cocktails infused with locally-foraged berries and pocket-sized gimlet mixers, Simba kept things fresh with its craft beers and pint-sized bottles. Sepoy & Co added to the fun with a range of botanical mixers and drinks.
One with self
View this post on Instagram
Even amid the infectious party vibes here, one had the chance to enjoy a space of their own. The Moulding Creativity workshop organised by The Shilaroo Project in collaboration with Ikai Asai was one such lesson in introspection. Held at a hut-like barren stone structure shadowed by creeping vines, the guided clay with artist Virangna served as a segue towards a calmer mood. The sessions also doubled as an introduction to hand-building and moulding techniques, with the finished products transforming into personal keepsakes.
Moments of introspection could also be found at The Leisure Room by Travel + Leisure India & South Asia, the official media partner of Pravaas. A quiet space that was draped in travel stories from Himachal Pradesh and picturesque destinations from around the world, this corner worked wonders in igniting the wanderlust. The bottom-line being: all journeys are special.
The Pravaas journey continues…
With the stellar Kasauli chapter of Pravaas behind us comes the promise of another exciting journey. The destination remains a secret for now, but soul-stirring, local experiences are sure to follow. Stay tuned!
Related: Why The Pravaas Journey In Gwalior Was A Lesson In Luxe Experiences & Fine Dining
Written By