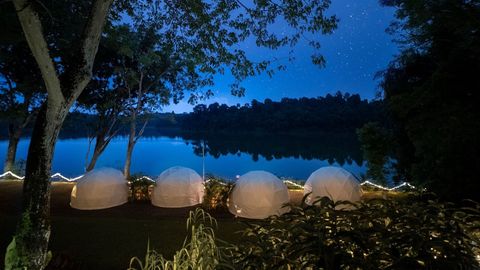 Trust the Singapore Zoo to take glamping to a whole new level. This April, the renowned zoo brings back its Glamping in the Wild programme, which offers more sneak peeks behind-the-scenes in the heart of the rainforest.
With its new itinerary and experiences, the programme offers guests an opportunity to get up close with the residents of the zoo. The refreshed programme also boasts behind-the-scenes tours to thrill the heart of any animal lover looking for a meaningful respite amidst nature.
What's new with glamping in the wild Part of the new programme includes a special feeding session with Singapore Zoo's enigmatic herd of Asian Elephants. The up-close experience also includes a meeting with their carers and a backstage pass to the zoo's Wildlife Nutrition Centre. Here, guests get an insight to how the animal experts work towards catering to the appetites and nutritional needs of the 15,000 animals that call the Singapore Zoo, Night Safari and River Wonders home.
Also included are visits to the Wildlife Healthcare and Research Centre of the zoo to interact with veterinary experts. The Glamping in the Wild programme also includes a private guided tour to Wild Africa for a session with the zoo's carnival species as well as priority seats to the Splash Safari presentation. A dinner serves as a prelude to the evening. A weekend stroll will allow guests to chance upon native wildlife such as the Spotted Wood Owls or Sunda Colugos that reside in the parks. As night falls, guests can retreat to the cosy comfort of their dome tents, surrounded by the soothing sounds of Upper Seletar Reservoir.
The adventure continues the next day with Singapore Zoo's signature Breakfast in the Wild before encounters with the zoo's animal ambassadors including enigmatic Orangutans, an inquisitive Tamandua, boisterous Coatimundis and vibrant Macaws. Naturally, these meetings are subject to weather and animal conditions. Singapore Zoo's Glamping in the Wild programme kicks off on April 1, 2023. The experience costs SGD 1,699 (INR 1,04,965 – at the time of writing) per tent (sleeps up to 4 persons). For those of you who prefer getting up close with aquatic animals, there is also a River Wonders' Glamping with the Manatees experience which is available from April through August this year.
(Images: Mandai Wildlife Group)
This story first appeared here
Related: 15 Best Hotels In Singapore That Showcase The High Life
Written By