The Philippines is an Asian paradise dotted with rice fields and spectacular white sea shores throughout its 7,640 alluring islands. These untamed islands feature some of the clearest turquoise lagoons, unique foliage, tropical woods and blistering volcanoes that add to the beauty of the archipelagic country.
While its seascapes are breathtakingly dreamy, its historic landmarks, forts and cathedrals are equally magnificent. This makes the Philippines one of the most beautiful places to visit. However, if you plan your trip well in advance, you can make it much more enjoyable. So, guide the travel enthusiast in you and explore this tropical wonderland where water, wood and fire meet in one place.
Explore the Philippines like never before with this travel guide
Before getting to know about some of the best things to do in the Philippines, travellers must keep a few aspects of the country that will make their trip more seamless. Have a look.
Travel documents for tourists
Your passport should be valid up to at least six months after your permitted stay in the Philippines.
You must have proof of stay, such as a hotel reservation or travel itinerary, for the Philippines visa department to verify your purpose of visit.
Your application for a visa through the Philippine Online Visa Application System (OVAS) should be complete.
Remember to carry a Singapore-issued identification card (Permanent Resident IC, PE Pass, ePass, S-Pass, Work Permit, Student Pass, or Dependant's Pass).
You must have a return ticket to your place of origin or outbound tickets to the next country you will head to.
A vaccination certificate against COVID-19 is a must, as well. Also, it is advised by WHO to get vaccinated against hepatitis A and B, typhoid, cholera, polio, T-DAP and chickenpox.
Travel tips
The best time to visit the Philippines is from December to April.
In the Philippines, the older generations' churches are highly devout. Thus, tourists are advised to dress according to the protocols if they plan to visit them.
Keep pocket change if you are planning to travel by local transport in the Philippines because it's likely for them to not have it.
The official languages of the Philippines are Filipino and English. You should know at least one of them to communicate with the locals.
Restaurants in the Philippines provide free water service to their visitors. So, think twice before buying a bottle of water.
The Philippines is an extremely safe country to be in. However, you must follow the Philippine government-issued travel advisory and not do anything which is stated to be risky and unethical to ensure personal safety.
Make sure to have travel insurance in case of any mishap or immediate requirement for medical services.
The Philippines allows tourists to drive on a valid driver's license issued by their country of origin. However, the licence issued must be in English. If it's not, you will need to have an international driving permit.
Book your luxury experiences here
How to commute
Flight
The Philippines have domestic airports in almost every city. You can book a flight ticket to whichever city or island you prefer to explore. Some of the common airlines are Cebu Pacific, Philippine Airlines, Philippines AirAsia and Skyjet Airlines.
Ferry
You can also opt to travel via sea by hopping on a ferry which has great inter-island frequency. However, since they are weather-dependent, ferries may get cancelled owing to adverse climatic conditions.
Metro
Tourists can avail the Light Railway Transit (LRT) and Metro Rail Transport (MRT) that connect major cities of the Philippines such as Metro Manila — the national capital region — Makati, Quezon, Parañaque, Pasay, Muntinlupa and Davao city. It is a budget-friendly means to commute faster and with ease.
Bus
The Philippines have many public and private bus facilities, which you can use to travel if you have some time in hand to explore the streets.
Tricycles
One of the most famous means to commute for shorter distances is via tricycle when in the Philippines. They are cheaper and have great frequency.
Here are some of the best things to do in the Philippines
Visit the Chocolate Hills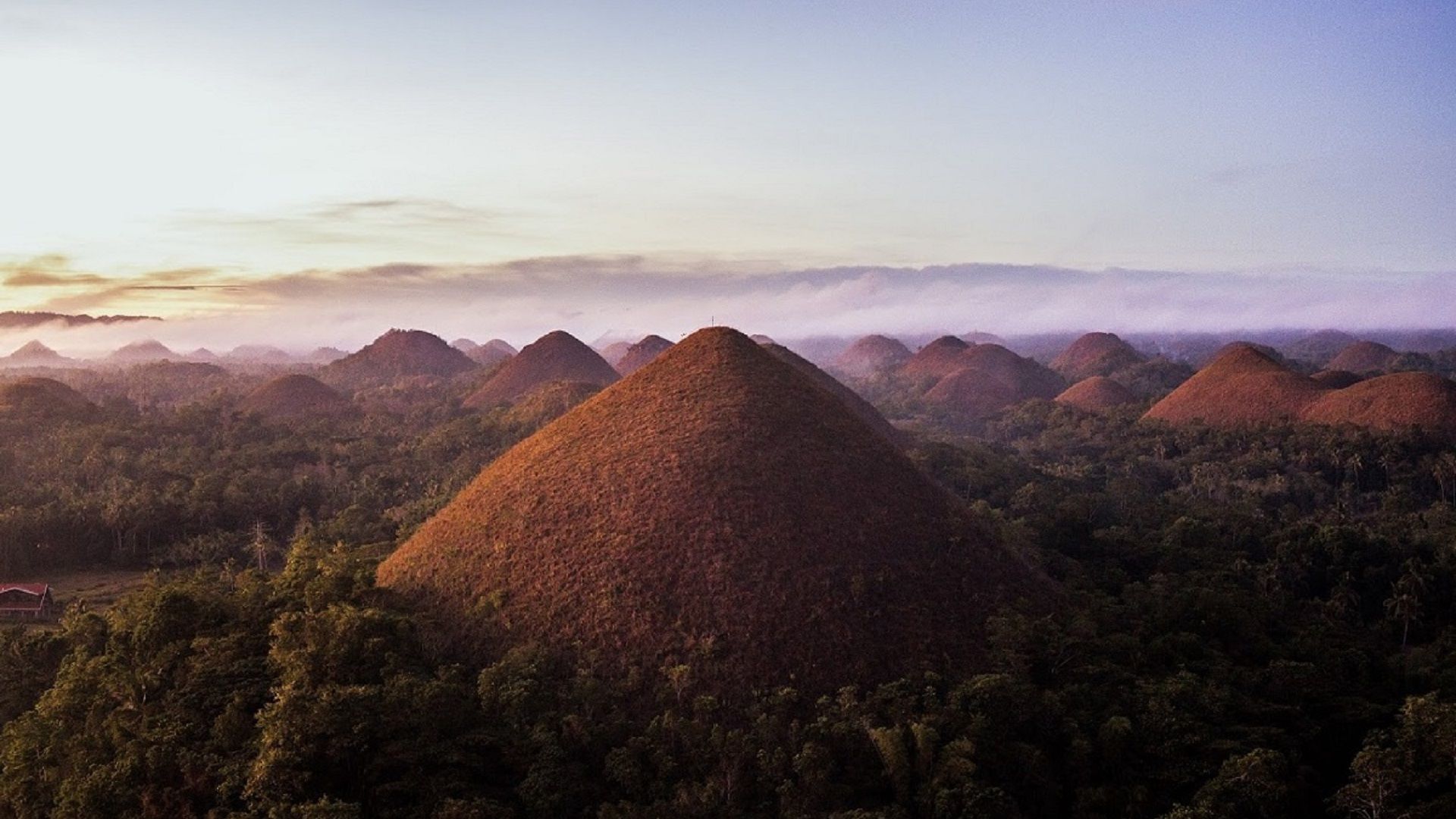 When in the Philippines, a trip to Bohol's most iconic hills, which have distinctive beauty and trekking pathways, is a must. These hills get their name 'Chocolate Hills' because, during summers, the green vegetation on over 1,200 peaked mounds dries out and appears chocolate-brown in colour.
You can soak in magnificent panoramic views of this National Geological Monument from any of the two observation decks — Chocolate Hills Complex (around 4.8 kilometres away from Carmen town) and Sagbayan Peak, which provides a 360-degree view of the hills.
Visitors must pay an entry fee to access both decks. However, the charge of viewing the majestic place from the Chocolate Hills Viewpoint Complex is approximately INR 74.40 (PHP 50).
Marvel at the wonder of San Agustin Church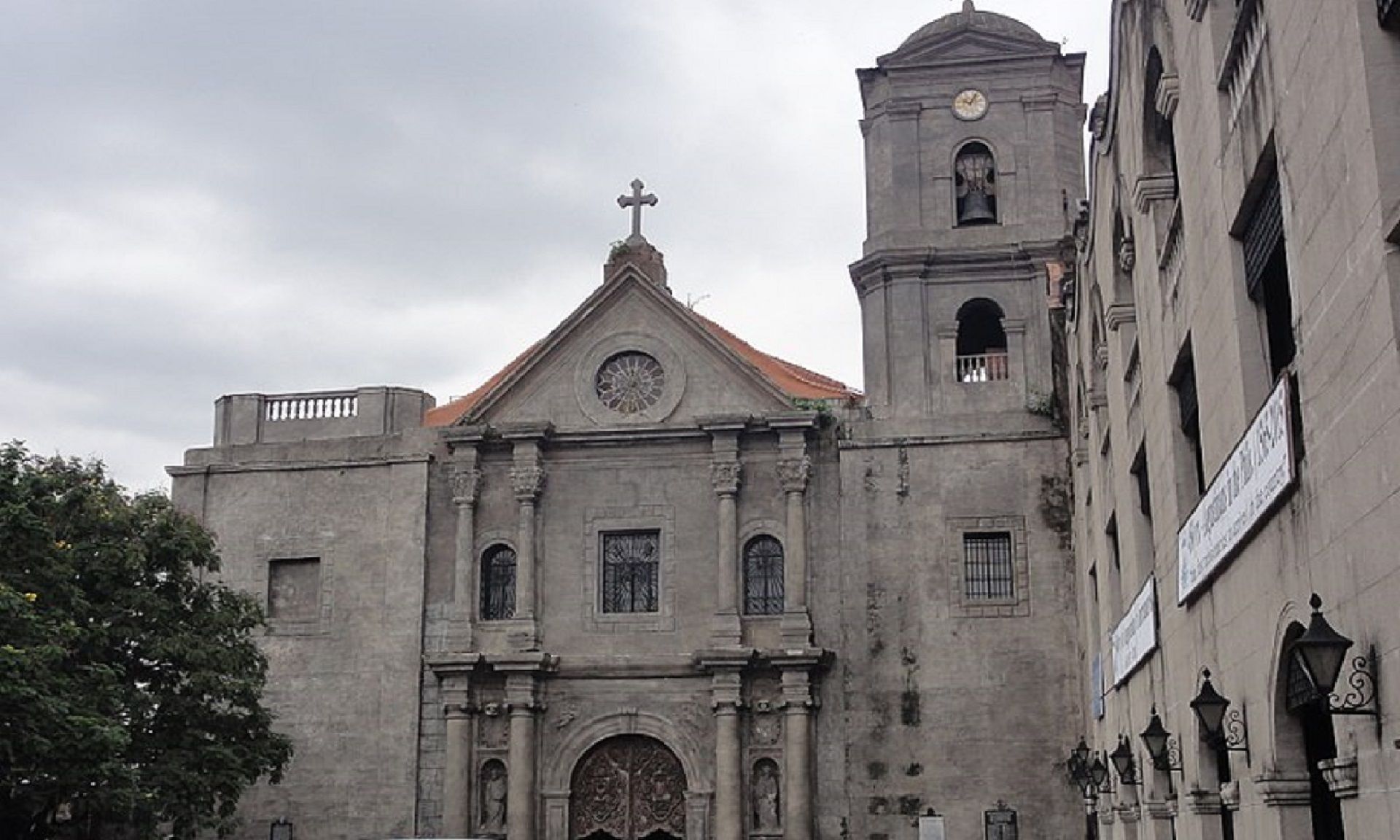 Offer your prayers at the oldest church in the Philippines. Situated in Manila, San Agustin Church is known for its interiors that exhibit a massive collection of Spanish-era artefacts, church ornaments, paintings, furniture and statues. Visitors will also notice the towering façade and vaulted ceiling inside the church.
Stroll around the back gardens and the tropical cloisters to take in the serene atmosphere of the place. Additionally, tourists can explore the recently rebuilt San Agustin Museum, a treasure trove of artefacts that offers a glimpse into the mythical riches of Old Manila such as paintings, wooden statues, crucifixes, altars, furniture, vintage missals and other religious art brought here from churches across the nation.
Set on an adventure at Hinagdanan Cave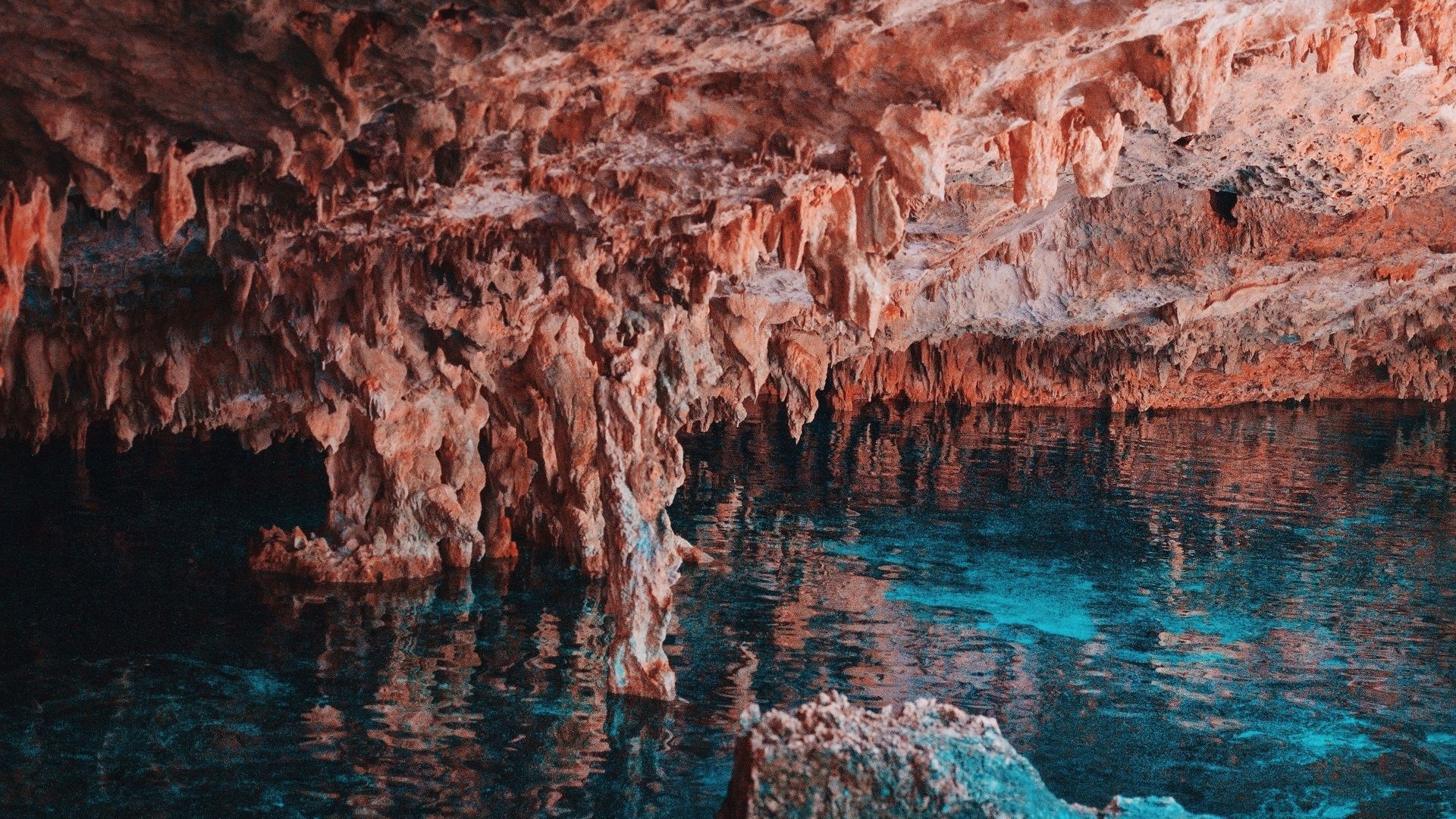 This mysterious karst cave in Bohol features water lagoons and numerous stalactite and stalagmite formations. Book an eco-tour to these caves with a volunteer tour guide or just relax in the cool water, glimmering in the sunrays streaming through the narrow gaps of the limestone-made cave.
If all this is still not enough for the traveller in you, visit nearby attractions like the Dauis Church, Bikini Beach and Bingag Beach.
Before entering the cave, visitors have to pay a specified charge. Also, you have to pay an additional fee if you want to swim in the cave's lagoon.
Ifugao rice terraces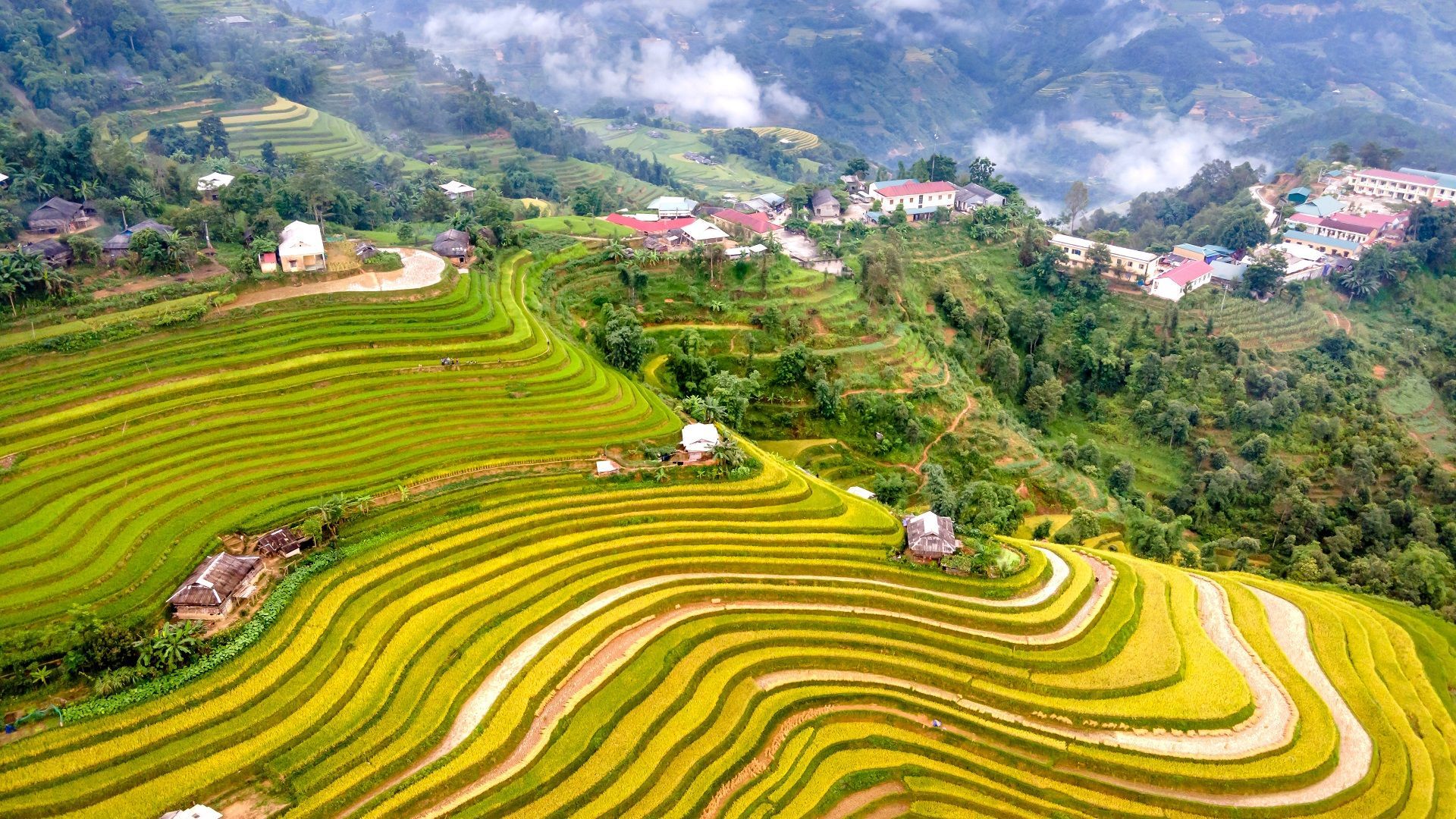 Hike to the Banaue rice terraces in northern Luzon and get enthralled by the beautiful landscape created by the Ifugao people. This irrigated rice terrace system has existed for over 2,000 years and includes several villages.
You can plan a picnic here for a lovely time at this enchanting place. Visitors can choose from the many guided tours, which start at INR 296.49 (PHP 200) and visit various places in and around the UNESCO World Heritage Site.
Visit one of the world's largest shopping malls Shop till you drop, as the Philippines is home to some of the world's largest shopping malls, each of which is spread over more than 460,000 sq metre area and has over 1,000 stores. These malls not only exhibit almost all luxury brands from around the globe but also have various activities such as Kiddie carts, bowling and lotto at SM North EDSA mall, children play centre at SM Megamall, and ice skating at SM Seaside City for leisure and entertainment.
Water activities at Panagsama Beach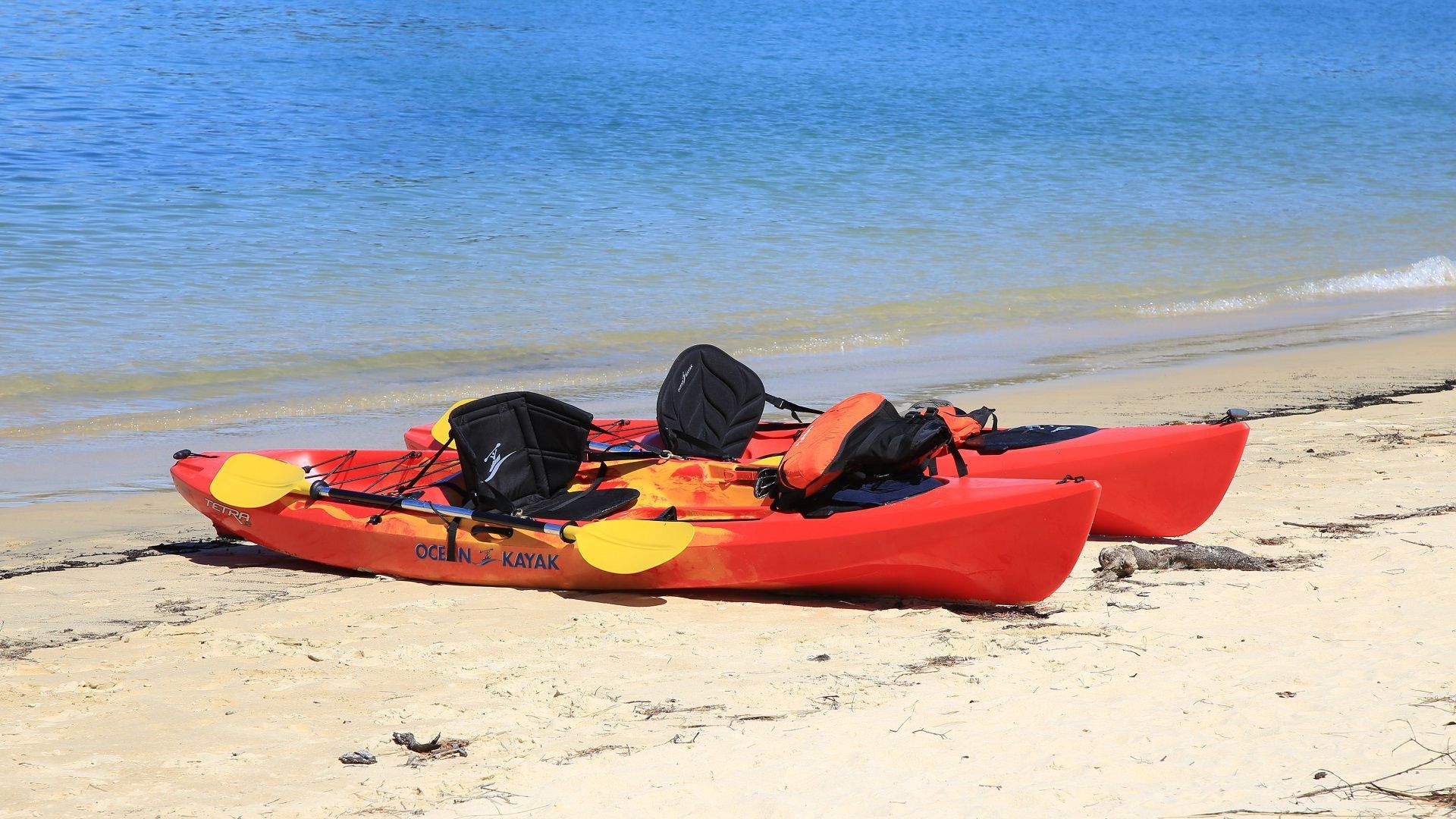 Have a fun-filled kayaking experience at the famous Panagsama beach enriched with crystal-clear turquoise water and vibrant marine life. You can explore their Sardine Run diving sites in Moalboal, which lets you swim amid a school of these fishes who migrate to Panagsama Beach of Cebu Island. Divers can also notice several other fish species swimming amid beautiful corals as well.
Travellers can also avail of a glass-bottom boat to watch the marine life beneath them while they paddle through the calm waters. All these excursions are paid, which you can pre-book with your travel partner to avoid last-minute queues.
Explore Honda Bay One of the most stunning islet groups with white sand beaches is at Honda Bay, which is on the western side of Palawan island. Each islet has something unique to offer to all kinds of travellers — be it Luli Island, Snake Island or Pandan Island. Tourists can opt for either a tranquil time or a thrilling day where you can enjoy boating, diving, snorkelling, swimming and cruising.
Visit the Puerto-Princesa Subterranean River National Park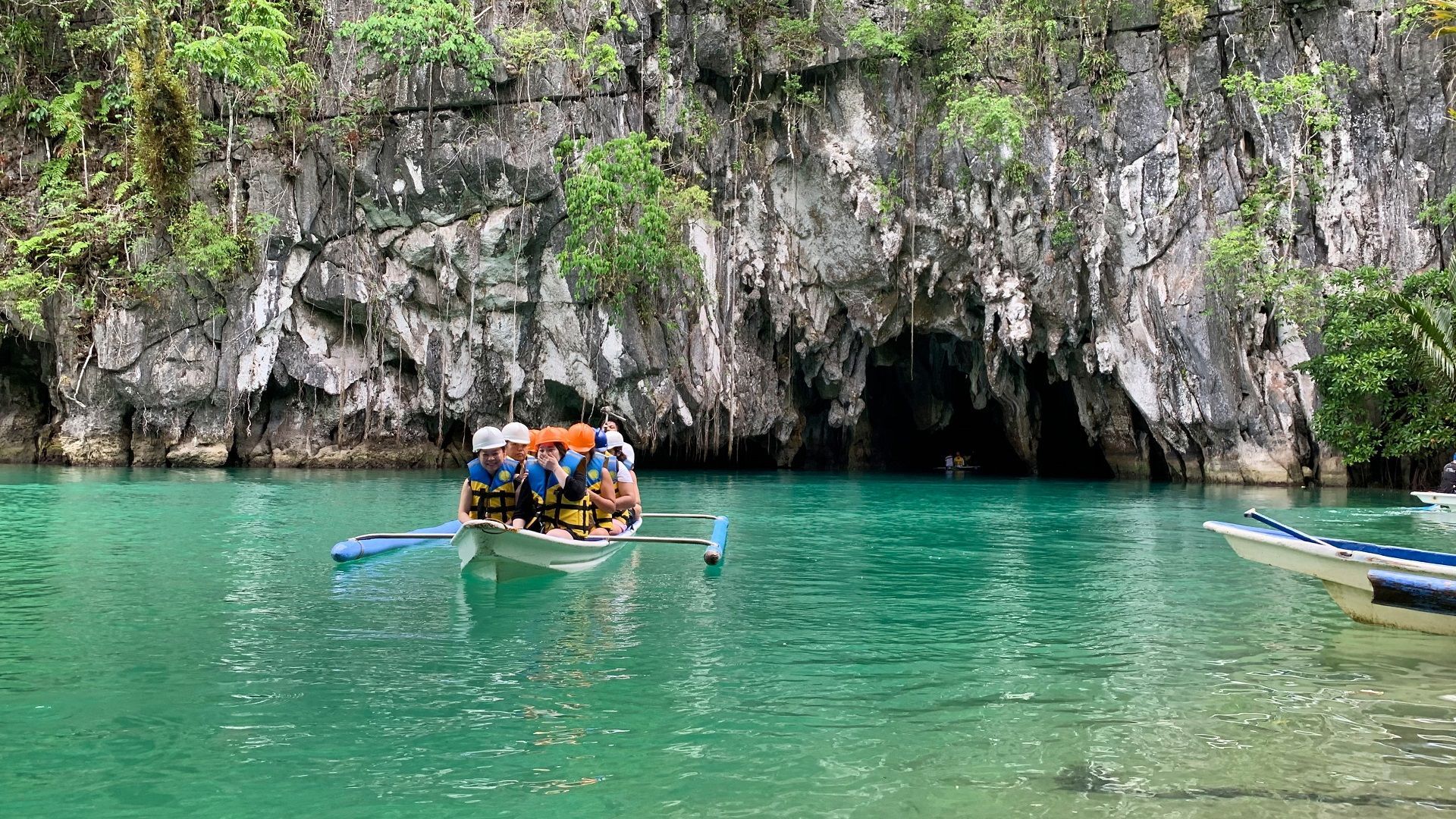 Owing to the karst-like landscape of this national park, it was listed as a UNESCO World Heritage Site in 1999. Visitors can take a pump boat on an excursion to witness an underground world of cathedrals, the most stirring caves, water lagoons, old-growth forests and diverse species of bats, fish, snakes, crabs, giant spiders and swallows. It is recommended to pre-book your tickets for this activity as only a limited number of people are allowed to enter the site per day.
Walk across the Bamboo Hanging Bridge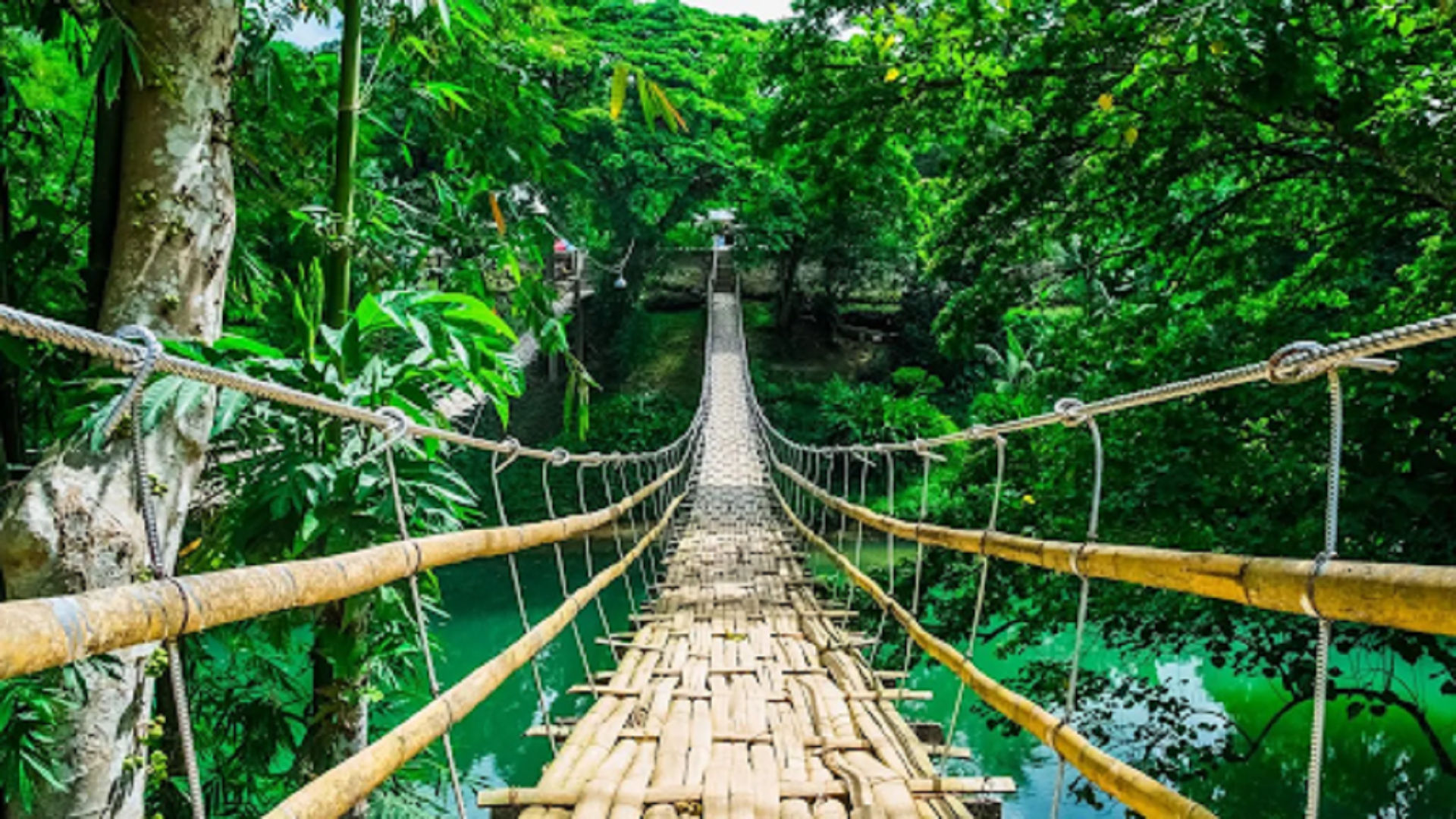 One of the free things to do in the Philippines is to visit the renowned Tigbao Hanging Bridge in Bohol. Made of bamboo and steel, it is known to be one of the most unique places in the country. The two sets of bridges hang around 25 metres above Loboc River where you can click your favourite tropical-themed Instagram-worthy pictures amid lush greenery.
Tourists can stop by some of the small souvenir shops on the far side of the bridge to buy something to remember the place by.
Watch a live show at the Manila Ocean Park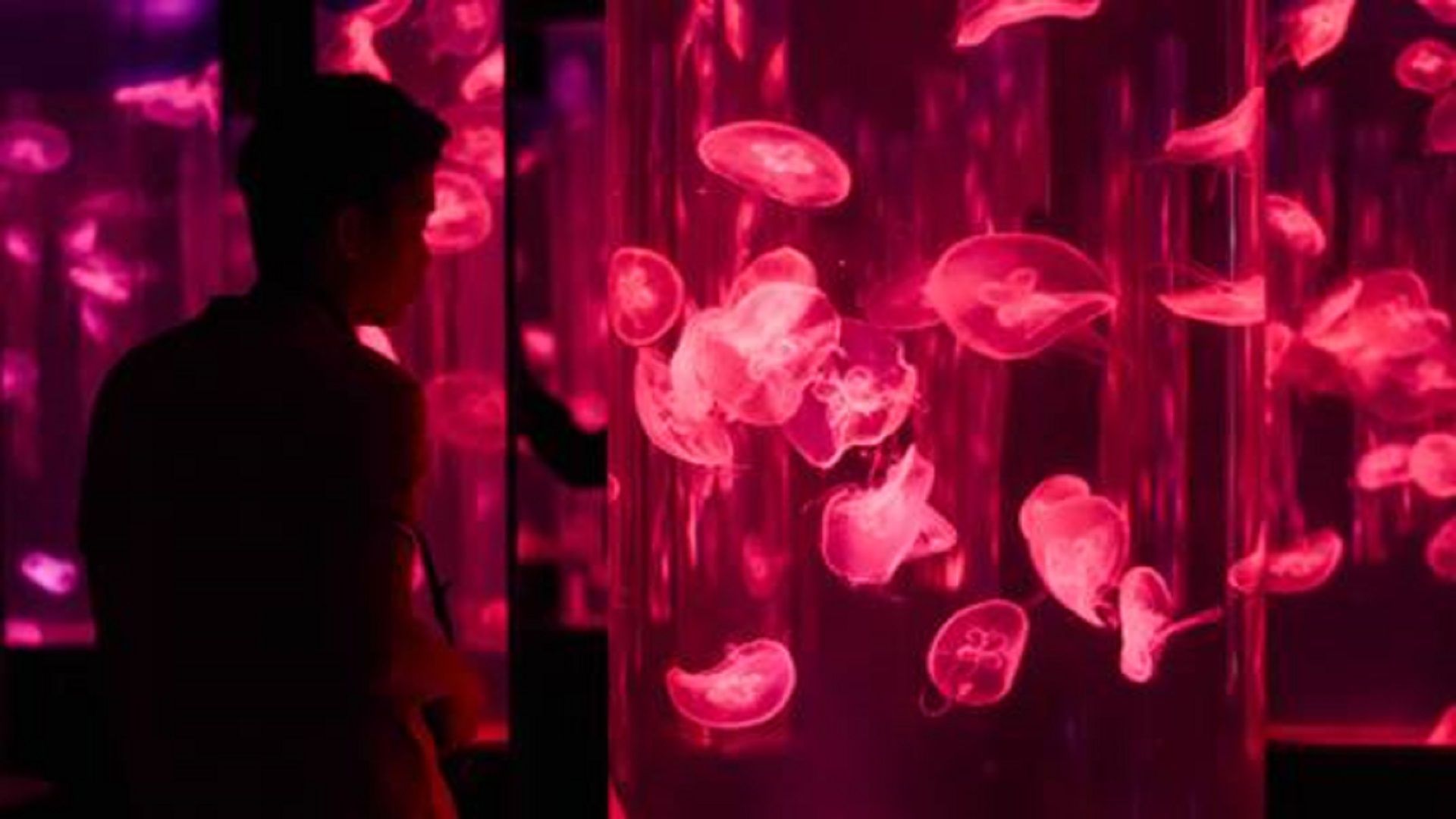 Watch the most beautiful creatures at this marine-themed park that offers various shows, such as All-Star Bird Show, Penguin Talk Show, Jellies Exhibit and Sea Lion Show, as well as exhibitions. Not just this, you can also explore its oceanarium to meet winsome marine creatures.
Neon Ride, Trails to Antarctica, World of Creepy Crawlies, Augmented Reality Encounter, and Birds of Prey Kingdom are some other activities visitors can partake in at the park.
Before visiting Manila Ocean Park, make sure to check their official website for various events, packages and guided tours.
Watch the Mayon volcano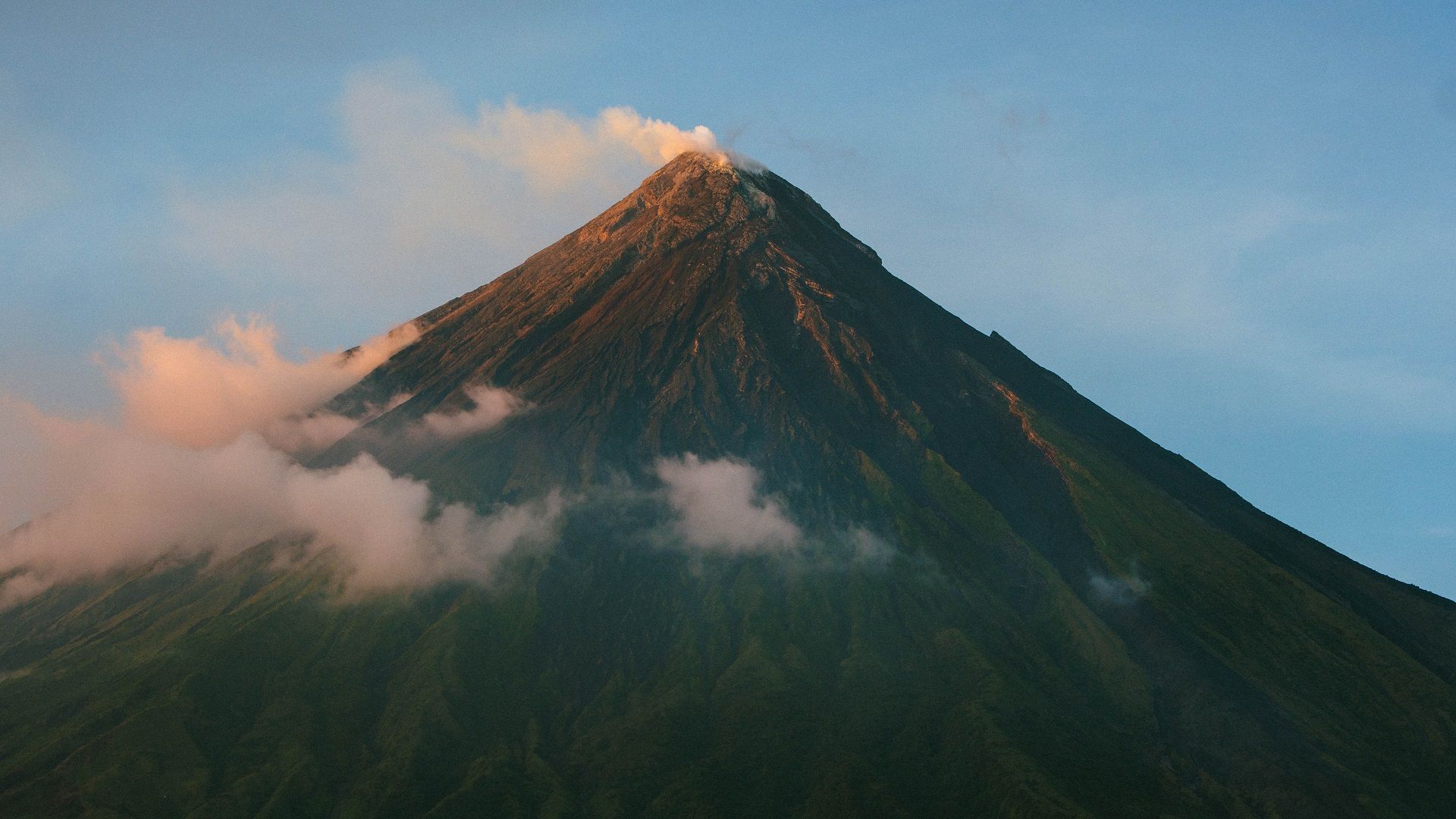 Watch the perfectly conical and fierce Mayon volcano in the southern Philippines, elevated at a height of 2,462 metres above sea level. It is one of the most active volcanoes in the Philippines which has erupted more than 51 times in the last four centuries. The Mayon Volcano Natural Park, which houses several species of flora and fauna, covers an area of around 5,775.7 hectares and encircles three cities and six towns. While touring around the park, you can also pre-book adventure activities such as ATV riding, camping and hiking to explore the lava trails near Mount Mayon.
Pork belly is a comfort food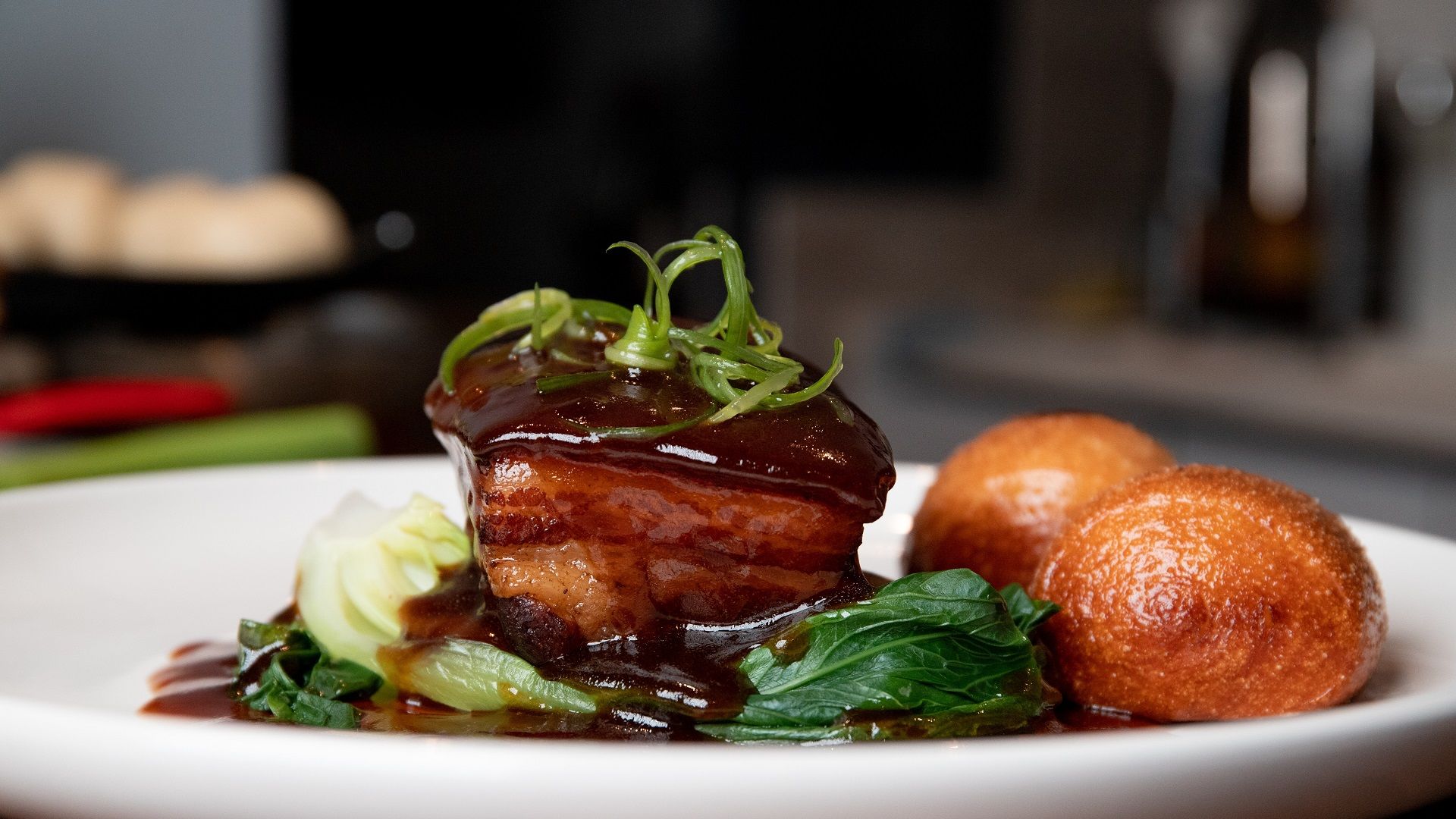 When you're craving some good food, do not give pork belly a miss. It's a common Filipino dish which is crunchy and juicy. You can get this dish in every possible restaurant or takeaway kitchen in major cities because people in the country love this delicacy, and it's their comfort food.
Some of the best restaurants where you can try pork belly are Livestock Restaurant and Bar, Khao Khai, Paradise Dynasty and Duck & Buvette.
Savour a Philippine mango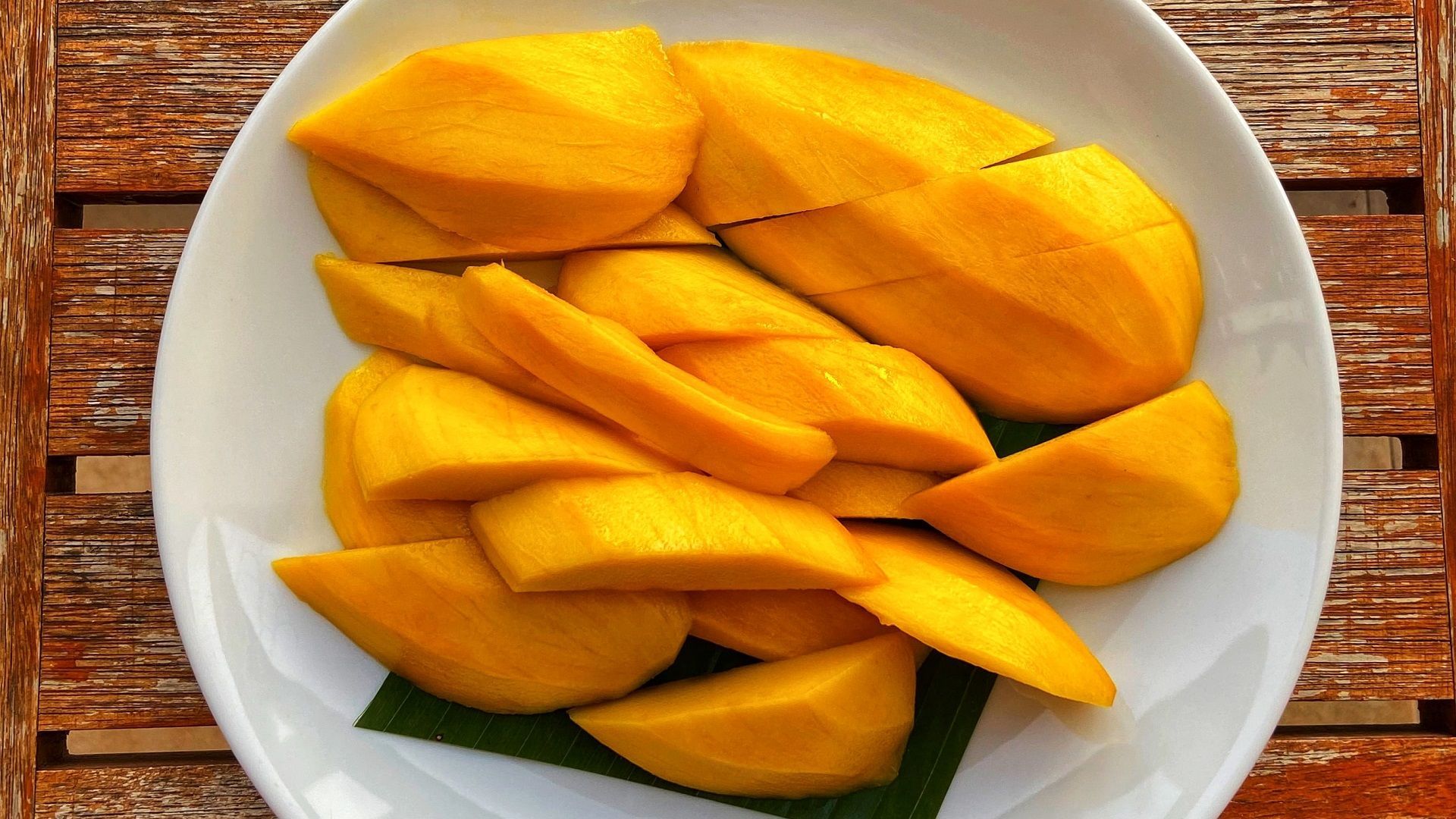 If you love the 'king of fruits' as much as you love to travel, then the Philippines will surprise you with the abundant flavourful mangoes, for it is the national fruit of the country.
Visit Danao Adventure Park
Last but not the least, all adventure sports lovers must plan a trip to the Danao Adventure Park, an eco-tourism destination that has some of the best paid adventurous activities to do in the verdant valleys of the Philippines. Categorised into three groups — extreme, economic and educational — they include bungee jumping, skybike, zipline, rappelling, parasailing, ATV riding, wall-climbing and rafting.
While the entrance fee to the adventure park is approximately INR 59.41 (PHP 40), opting for the activities requires separate tickets such as The Suislide costs approximately INR 520 (PHP 350), Root Climb with Rappel costs about INR 595 (PHP 400), The Plunge is around INR 1,040 (PHP 700) and Skyride costs approximately INR 372 (PHP 250).
(Main and feature image credit: Jules Bss/Unsplash)
Related: These Underrated Beach Destinations In Asia Make For The Perfect Weekend Getaway