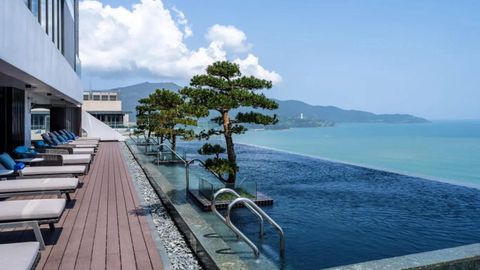 Palms are sweaty, knees weak, arms are heavy—and it's only because you're in your thirties now. But hey, you still want to travel, so here's the millennial's travel guide to the city of Da Nang, Vietnam.
The city of Da Nang in Vietnam is currently at a sweet spot. It's only recently that the city has started to realise its potential for tourism thanks to its stunning coastal location and rich history. Big hotel chains have started building resorts and popping up seaside, but Da Nang isn't a crowded tourist hotspot. While nearby attractions like Hội An definitely have a lot of tourists, Da Nang itself still bears its local charm as it slowly transforms to accommodate foreigners who have yet to discover what it has to offer.
That's why it's the perfect time to go. Right now, the city is in the process of gentrification. Though I hope that it still keeps its local charm even when it becomes a big tourist destination, there's no better time to experience the true culture and beauty of Da Nang than right now, weak knees and back pain be damned.
So close your eyes to ignore your dwindling bank account and book a flight. Here's the millennial's travel guide when visiting the Vietnamese coastal city of Da Nang.
The Millennial Travel Guide to Da Nang
Stay at the seaside Hilton Garden Inn As a millennial, we are burdened by the horrible economy and skyrocketing prices that make our money seem to lessen in worth every five seconds. Staying at the Hilton usually means breaking your bank because YOLO or maybe you got a sweet bonus so you can splurge, but rest easy. Hilton's Garden Inn line of properties is more affordable but doesn't skimp on the quality, and their property at Da Nang is a great example of this.
Located oceanside, Hilton Garden Inn Da Nang is in a great part of the city where everything is easily accessible. Head towards the river and you'll see the more urban side of Da Nang but walk down the coast and you'll find a lot of local attractions like streetside bánh mì and fishermen out on their basket boats. Hilton Garden Inn is a perfect "base" of origin when wanting to explore Da Nang. Your knees can't take too much walking so staying at a good location where everything is accessible is important.
It also helps that their rooms and amenities are top-notch. I've always said that the bed is the make-or-break factor in a hotel. Fortunately, Hilton Garden Inn's beds will make you feel like you're sleeping on a cloud, ensuring your back will have no problems at all. Your only problem will be the difficulty in waking up.
Their rooms with balconies also provide you with enough space to be able to go out to enjoy the ocean breeze. It's even better when you opt for an ocean view. Despite how comfortable it is, don't just be stuck in your room. You can head up to the T&Co. Rooftop Pool & Bar to wade in their infinity pool and take in a breathtaking view of the city and the beach. Afterwards, nurse a drink while lounging poolside, preferably during sunset. It's not just for the golden hues but you can also see the oceanside come alive as Da Nang locals start making their way to the beach and setting up their roadside coffee shops.
Book your stay at Hilton Garden Inn Da Nang via Agoda.com
Book your stay at Hilton Garden Inn Da Nang via Booking.com
Enjoy local Vietnam delicacies at Together & Co. It's a no-brainer that you have to try out the local cuisine when you're there. Just spend a few minutes walking around the vicinity of Hilton Garden Inn and you'll find numerous places you can eat at. But if you don't want to leave the comfort of the hotel, they've got Together & Co. on the fifth floor. Aside from being the place where guests will congregate for breakfast, they also serve some of the famous local cuisine of Vietnam. Craving those popular spring rolls or want to warm your cold heart with some pho? Together & Co. has it. If you're craving something other than Vietnamese food, you also don't have to stress. Together & Co. also serves some Western fare.
Fortunately, Vietnamese cuisine isn't too adventurous and is actually quite healthy since there's always a ton of veggies, so your ageing aching body will thank you.
Grab a coffee Vietnam has a great "drinking" culture, and I don't mean alcohol (as if your millennial self can drink like you're a college student). Take a stroll around the city and you'll frequently find small tables and chairs in front of a shophouse. That's a coffee shop, and they're as plentiful as the 7–11s here in Bangkok. The locals love to congregate here to just drink coffee and tea—and I mean they drink coffee and tea at the same time— to just converse and chill, so don't miss the chance to just take things slow and have a cup of joe with some of your buddies. Protip: try the coconut milk coffee. It will change your life.
Visit the historic Hội An and Ba Na Hills Both Hội An and Ba Na Hills are just an hour or so away from Da Nang, so don't miss a chance to visit them. The historic city of Hội An is filled with shops and museums so you can do your souvenir shopping while also learning about the culture and history of the city and the country. Hội An also gives you a glimpse of the Chinese, Japanese, and French influences. On the way there, you can also take a ride on one of the basket boats where the "drivers" will throw a full-on rave on the water. I'm not even joking.
Meanwhile, Ba Na Hills features the famous bridge that's held up by a statue of two giant hands. Here, you'll see more of the French influences on the country. It even has an old French church there. It's perfect for Instagram pics that would undoubtedly be, as the kids these days say, "lit".
And of course, take a stroll and swim at the beach It's just in front of Hilton Garden Inn so it would be a missed opportunity to at least not take a stroll down the pristine and sandy beach of Da Nang. The coastline and the trees are actually reminiscent of Miami except it's less busy. Here's hoping that it doesn't get too crowded once people start flocking to Da Nang. And if there are too many people for your liking because you've already transformed into a reclusive elder with a major "get off my lawn" attitude, it helps that the Hilton Garden Inn is just nearby for you to retreat to.
Book your stay at Canvas Danang Beach Hotel via Agoda.com
Book your stay at Canvas Danang Beach Hotel via Booking.com
Other protips when travelling to Da Nang
Grab is an app we use a lot here in Thailand, and fortunately, it also works in Da Nang. There's no need to download it if you already have it. You can use it to book rides to get around the city or even have food delivered to you—y'know, when your knees start hurting from all the walking.

Visit Hội early in the afternoon and then stay for a bit as night falls to get on the lantern boats that are reminiscent of Disney's

Tangled

. If you're a millennial who loves

Tangled

like me, you don't want to miss this. The crowds get so much bigger at night so it's best to get out of there when the crowds start coming.

Like Chatuchak Market, bartering is the name of the game with the shops at Hội An. Prove you're a Bangkokian and show 'em how bartering is done.

I was told by one of the kind-hearted and concerned hotel staff that drinking warm water could help if I couldn't fall asleep. This was after I ordered coffee at 8:30 p.m. at night. Caffeine has no effect on me so it was fine, but it's good to know that Vietnamese coffee is stronger than your regular Starbucks latté, so drink responsibly or stay awake until 4 a.m.
Shop the best travel experiences here
This story first appeared here.
[Hero image: Hilton Garden Inn Da Nang]
Related: Head To These Restaurants In Vietnam If You're Looking For A Meat-Free Meal
Written By