With its many wats, night bazaars and markets, traditional villages and lush craggy hills on the outskirts, Chiang Mai is the largest city in Northern Thailand. Attracting tourists for its cultural delights and modernism with an old-world charm, the city makes for a popular travel destination in Thailand, offering an unforgettable and wholesome experience for everyone. With umpteen epicurean delights and adventures waiting to be unravelled in its laps, there are many places to visit in Chiang Mai, each making for an exhilarating time.
While the city of Chiang Mai gives a peek into the everyday lives of its people and the heritage of the Lanna culture, the lush countryside is a scenic paradise brimming with waterfalls, peaceful villages, elephant sanctuaries and hefty rainforests. While the beautiful wats speak of the city's historic past, its markets promise a shopping extravaganza and local cuisines ensure that both your belly and your heart are fully satiated.
If you want to explore a different part of Thailand other than Bangkok, Chiang Mai should be on your travel bucket list. And to ensure planning a vacation to this gorgeous city is a fuss-free experience for you, we've curated this ultimate travel guide that would surely be your saviour. From the best time to explore this city to everything you can do, this has it all.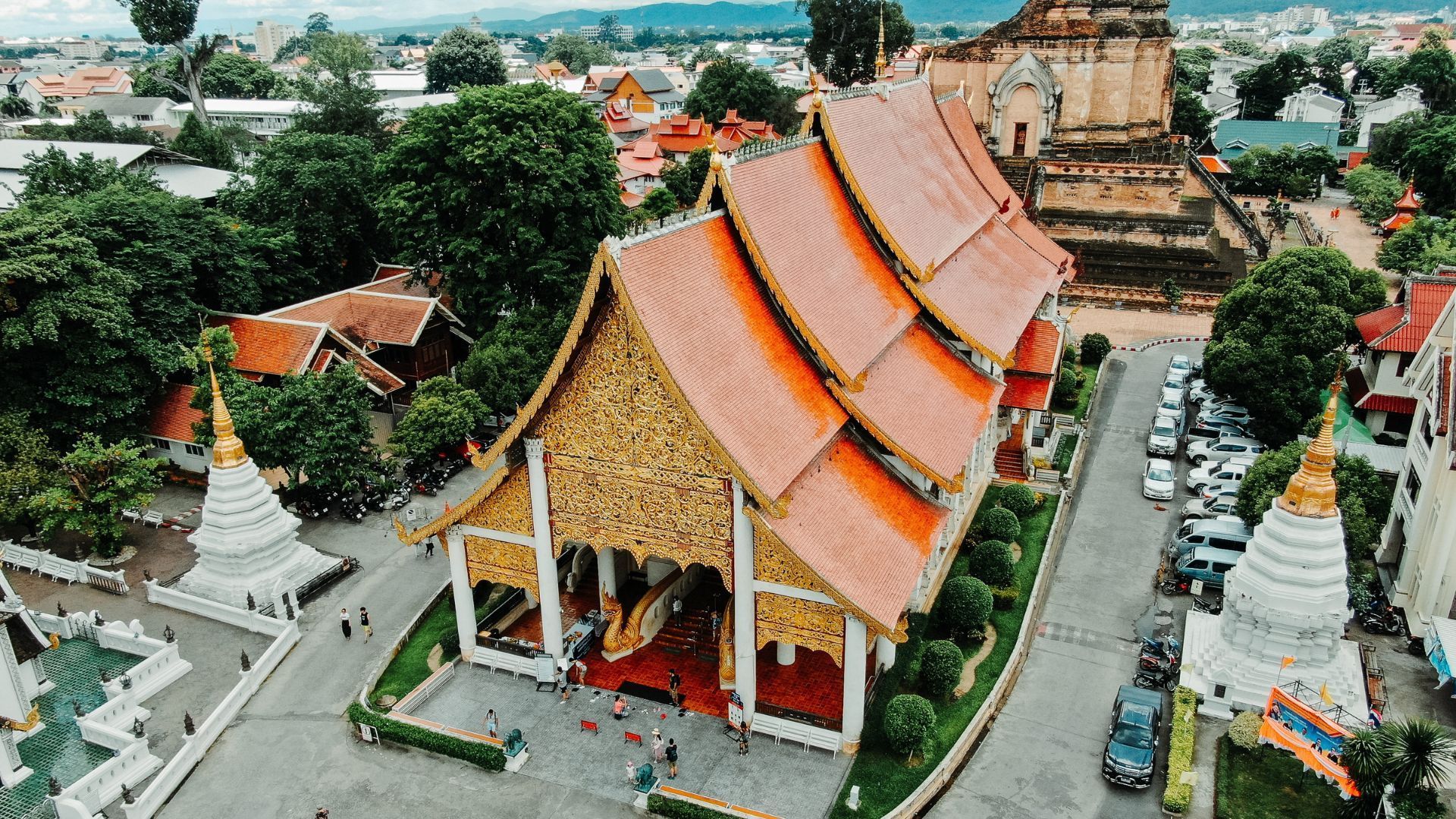 Best time to explore Chiang Mai
Since Chiang Mai is located in a mountainous area, the weather in the city is relatively cooler when compared to other parts such as Bangkok. Its three main seasons are hot (March to May), rainy (June to October) and cool (November to February).
The temperatures during the hot season often rise beyond 32°C and even go up to 40°C in the month of April. Additionally, air pollution is high during this time due to forest fires and farmers burning agricultural land to prepare for the next crop. This is why the hot months aren't considered an ideal time to visit Chiang Mai. However, the Thai New Year, Songkran, also falls during this time and attracts a lot of tourists for the unparalleled festive cheer.
Book your luxury staycation here
With temperatures falling to 32°C during the day and 23°C at night, the rainy season also makes for a pleasant time. It doesn't rain all day to mess up your plans and pours in short intervals during the afternoon or at night, although the humidity rises. Additionally, the city is less crowded and the landscape is greener than ever making this season also suitable to visit, especially, if you're looking for a quiet downtime. Carrying umbrellas and raincoats is a must.
The best season to explore Chiang Mai is the cool season when the temperatures drop down to around 28°C and further come down at night to 10°C. December and January are the best months with excellent weather and beautiful cherry blossoms in full bloom. This season is also the time for the Loy Krathong festival so make sure to plan ahead and be a part of it. The tourist footfall is also high which means that the prices of accommodation and flights are also relatively higher.
Best places to visit in Chiang Mai
Wat Phra That Doi Suthep
Located on the outskirts of the city on a mountain is Wat Phra That Doi Suthep, one of the most popular tourist attractions in Chiang Mai. Its gold-plated chedi is a stunning work of art while the entire temple is one of the most significant places in Thailand, both historically and spiritually. A steep climb of 300 stairs leads you up where the view from the temple's terrace is simply breathtaking. Various other statues built throughout the complex, a museum, souvenir and food stalls complete the entire experience.
Wiang Kum Kam
Nothing speaks of the past better than the ruins of an ancient city and Wiang Kum Kam does just that. Set along Chiang Mai's Ping river, Wiang Kum Kam is an archaeological site that has the remains of an ancient city and temple built under the reign of King Mangrai in 1286. The major attractions at this site include exquisite architecture, Buddhist scriptures, stone tablets, pottery and earthenware.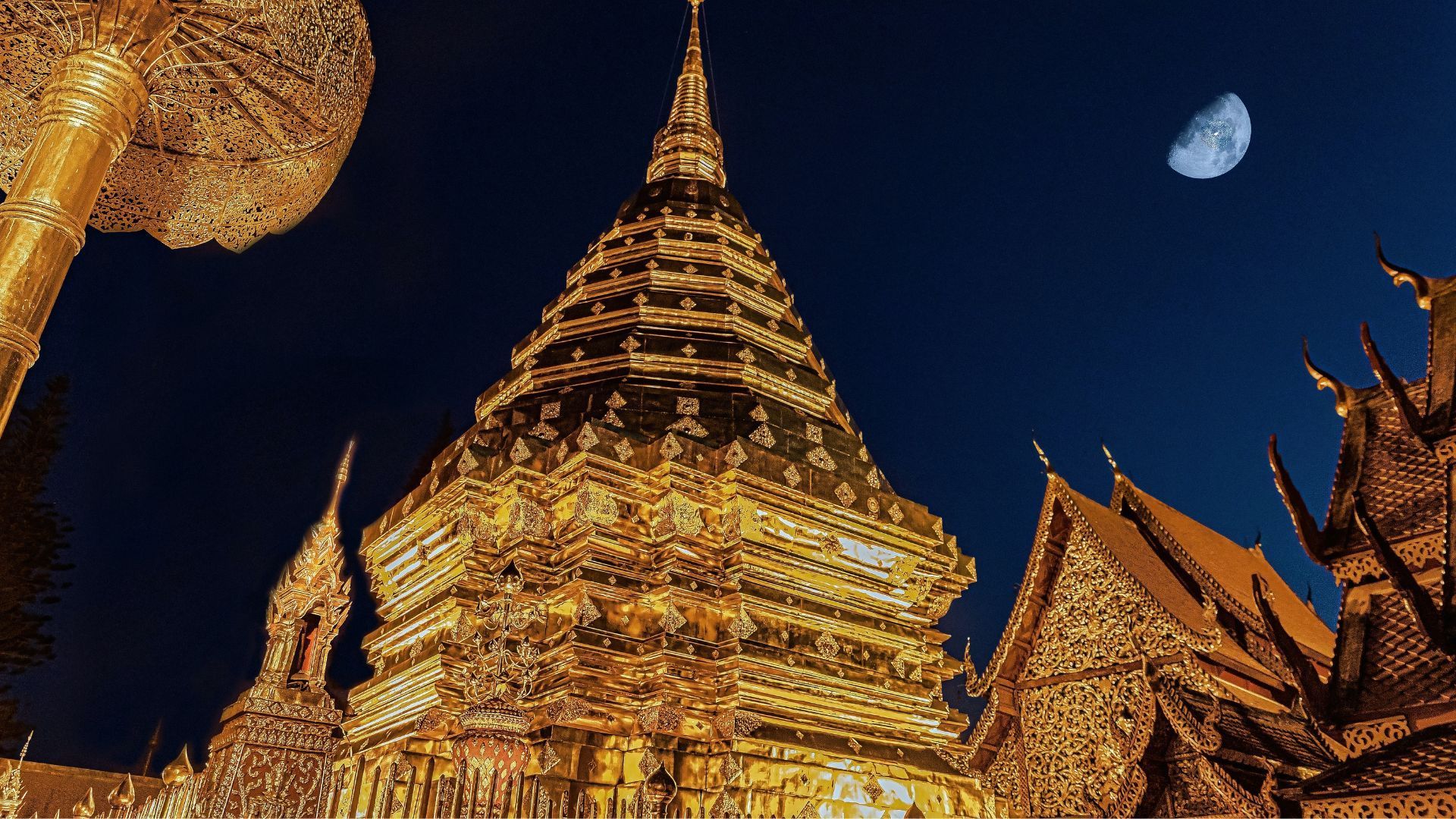 Book your stay in the riverside area
Queen Sirikit Botanic Garden
Situated in the Mae Rim district is the Queen Sirikit Botanic Garden, a haven for nature lovers. Housing a humongous variety of flora available in Thailand, this garden is set amid rainforests and even has some exotic species of plants from different tropical forests of Asia. The walking trails made in between let you enjoy the lush greens, learn about flowers and take in the breathtaking beauty. In fact, the journey to this garden is also quite beautiful owing to the picturesque landscapes en route.
Royal Park Rajapruek
The Royal Park Rajapruek is a huge public park and agriculture research centre that's one of the most popular places to visit in Chiang Mai. It was built in the memory of late King Bhumibol Adulyadej and offers many sites for people to explore. The entire space is divided into different sections catering to a wide variety of plants and flowers. For instance, while the Orchid Garden showcases a collection of rare orchids, the Thai Tropical Garden houses different varieties of exotic flowers and plants. Similarly, the Butterfly Sanctuary is home to various species of butterflies and the International Gardens display plants and landscaping designs from different countries. Additionally, the park also features the Ho Kham Luang Royal Pavilion that's dedicated to the life and works of the late king.
Book your stay near the Royal Park Rajapruek
Doi Inthanon National Park
Doi Inthanon is the highest peak in Thailand, situated 2,565 metres above sea level. Also known as the 'Roof of Thailand', the mountain range consists of a park which is a sanctuary for a variety of animal and bird species (over 360) amid lush greens and rustic woods. Apart from the flora and fauna, the park also has waterfalls. Doi Inthanon also has a shrine dedicated to the royalties and there are traditional village markets around for you to understand the historical significance of the site.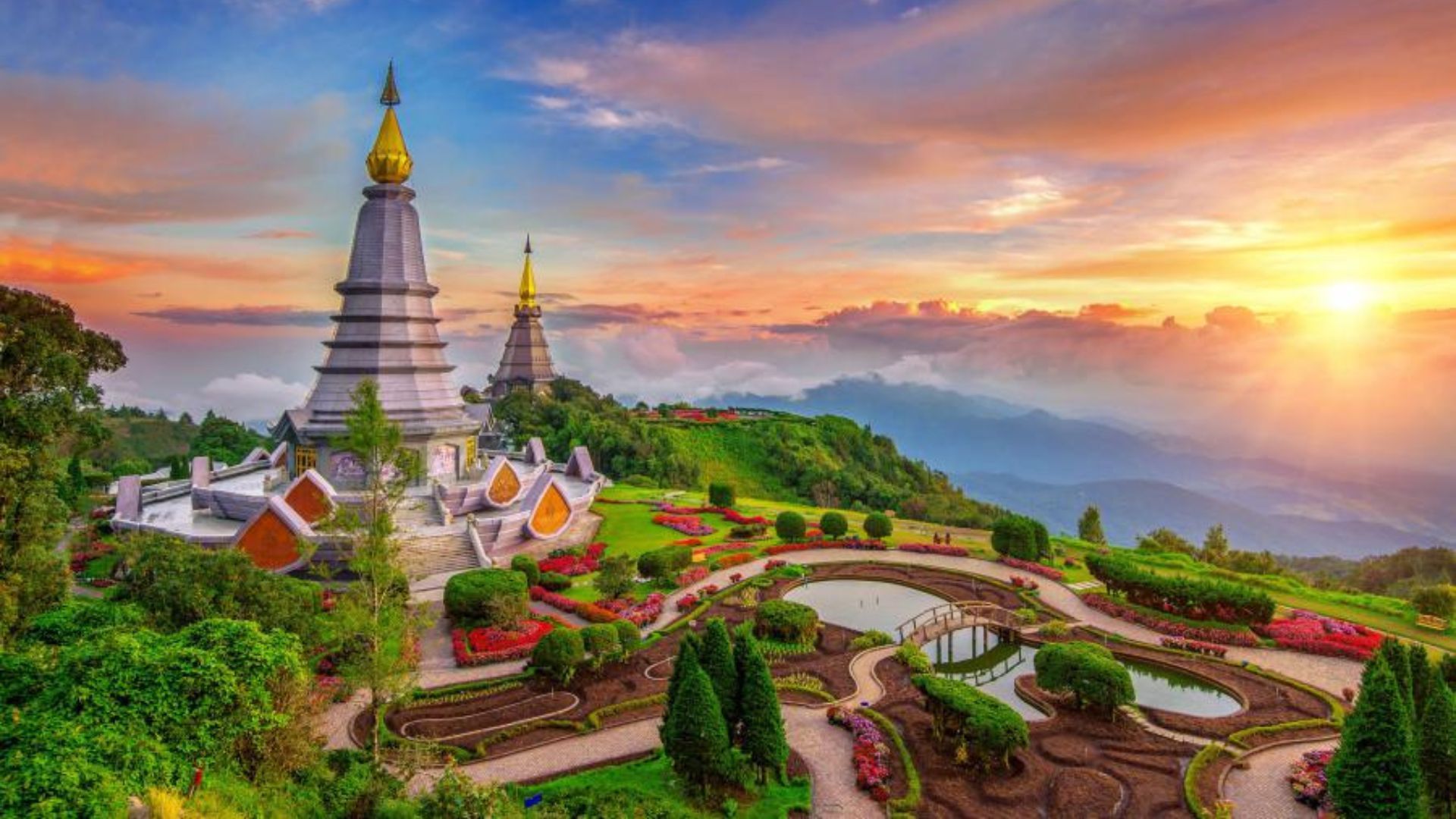 Chiang Dao Cave
Situated on the outskirts of the city amid the rocky mountains is the vast stretching Chiang Dao Cave, offering a stunning mix of natural and man-made creations to revel in. It is a cluster of limestone caves with caverns and intermingling passages to explore making it an exciting place to visit in Chiang Mai. While a few caves have been illuminated with lights to enhance visibility, the upper caves are rather dark and require one to take a lantern-carrying guide along to lead them. Additionally, the entire site also has many religious idols and statues, shrines, natural limestone and frozen water structures and a fish pond that takes your experience a notch higher.
Doi Pui Village
A local village of the Hmong Hill tribe nestled between natural greens and pristine skies, Doi Pui attracts a high tourist footfall owing to everything that it has to offer. Providing an insight into the lives of this tribe, this place allows you to mingle with the locals and shop at their local markets selling traditional silver-embroidered clothes, musical instruments, bamboo craft items, tea, handmade jewellery and other goods. You can enjoy their local cuisines or a cup of coffee at small restaurants and food stalls and let the natural beauty rejuvenate you. The weather is usually cool and pleasant here throughout the year.
Bo Sang Umbrella Village
Popular for a wide range of handcrafted products and picturesque surroundings, a visit to the Bo Sang Umbrella Village is a treat to the eyes. It is one of the top places to visit in Chiang Mai as you can see a lot of hand-painted, colourful umbrellas and fans; shop at the various souvenir stores and showrooms and get to learn about the traditional industries at the workshops.
Lanna Folklife Museum
The Lanna Folklife Museum is a heritage museum dedicated to the lives of the Lanna people from the northern parts of Thailand. Situated inside Chiang Mai's municipal court in the old city, the building from the outside resembles colonial architecture since its renovation. From artwork and textiles to sculptures and other artefacts, the exhibits inside depict the history, culture and lifestyle of the city and its people making this museum one of the best places to visit in Chiang Mai.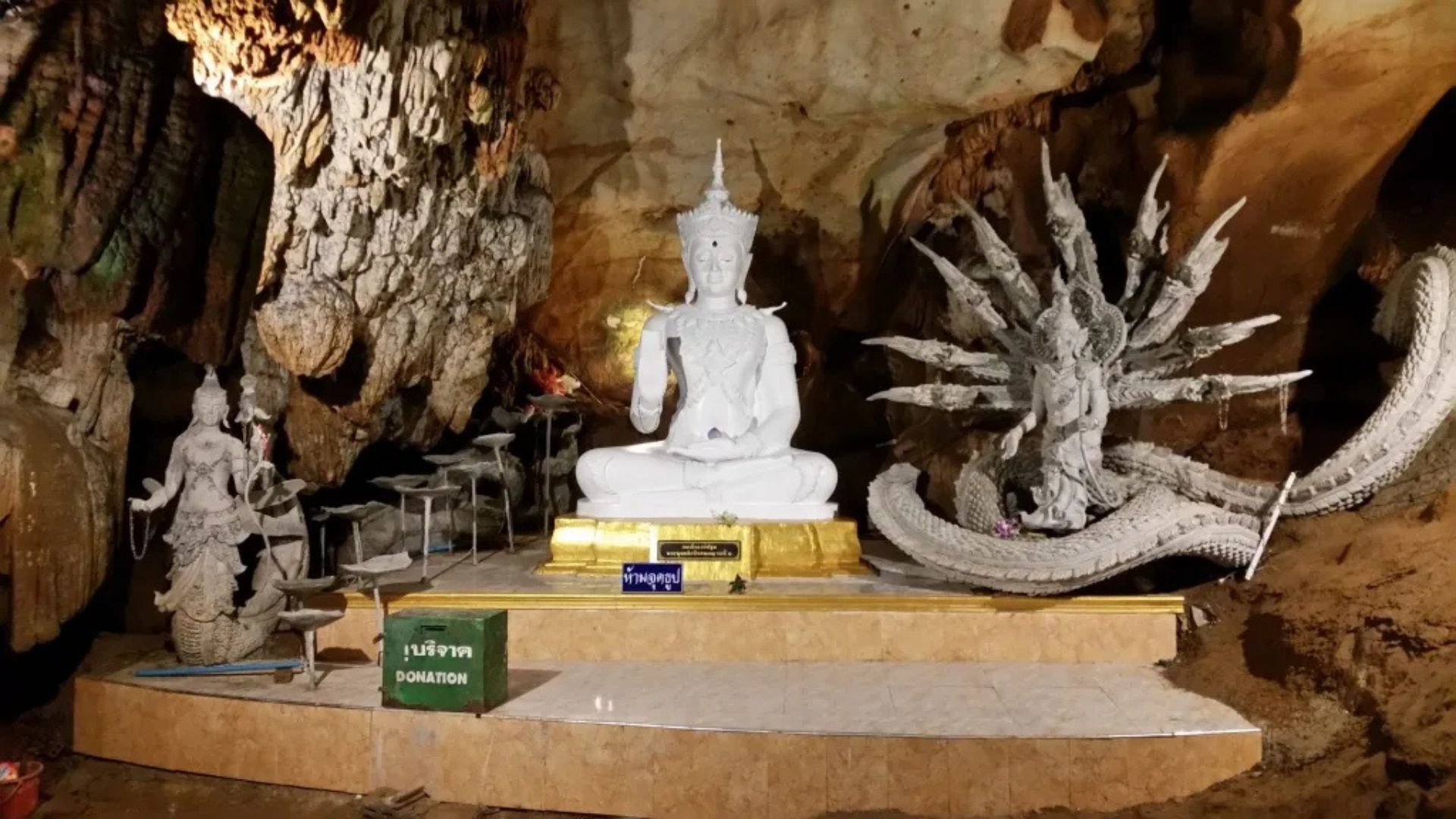 Sunday Walking Market
If you happen to be in Chiang Mai on a Sunday, you just cannot miss out on the Sunday Walking Market at Rachadamnoen Road. It starts early in the evening and is on till midnight. It is popular for its street side shopping and food stalls selling a range of products and delectable street food respectively. You can buy unique handicrafts made from silk, metal, wood, ceramic, paper and glass and all kinds of things ranging from traditional to modish. When tired after shopping, you can relish mouth-watering delicacies too. If you want to avoid crowds, you can instead check out the Saturday Walking Market at the Wualai Road which is a less crowded version of the Sunday edition.
Book your stay in the nimmanhaemin area
Elephant Nature Park
Elephant Nature Park is a sanctuary unlike any other in Thailand. It is a home to rescued elephants that allows you to spend time with them in their natural habitat. It is committed to its rehabilitation and tries to educate people about their abused past in the tourism industry. At this sanctuary, riding elephants is prohibited as the focus is on their well-being and protection. You can volunteer to help around the place, play and bathe with the elephants and feed them as well.
Things to do in Chiang Mai
Visit Chiang Mai's old city temples
Some of the top tourist attractions in Chiang Mai are its various temples especially, in the old city. A great place to visit and experience, while the old city's narrow streets are swamped with historic architectural delights and shops, a lot of beautiful temples are built there too. It's easy to get around the lanes on foot hence, it is easy to visit famous old city wats such as Wat Chedi Luang, Wat Phan Tao and Wat Phra Singh.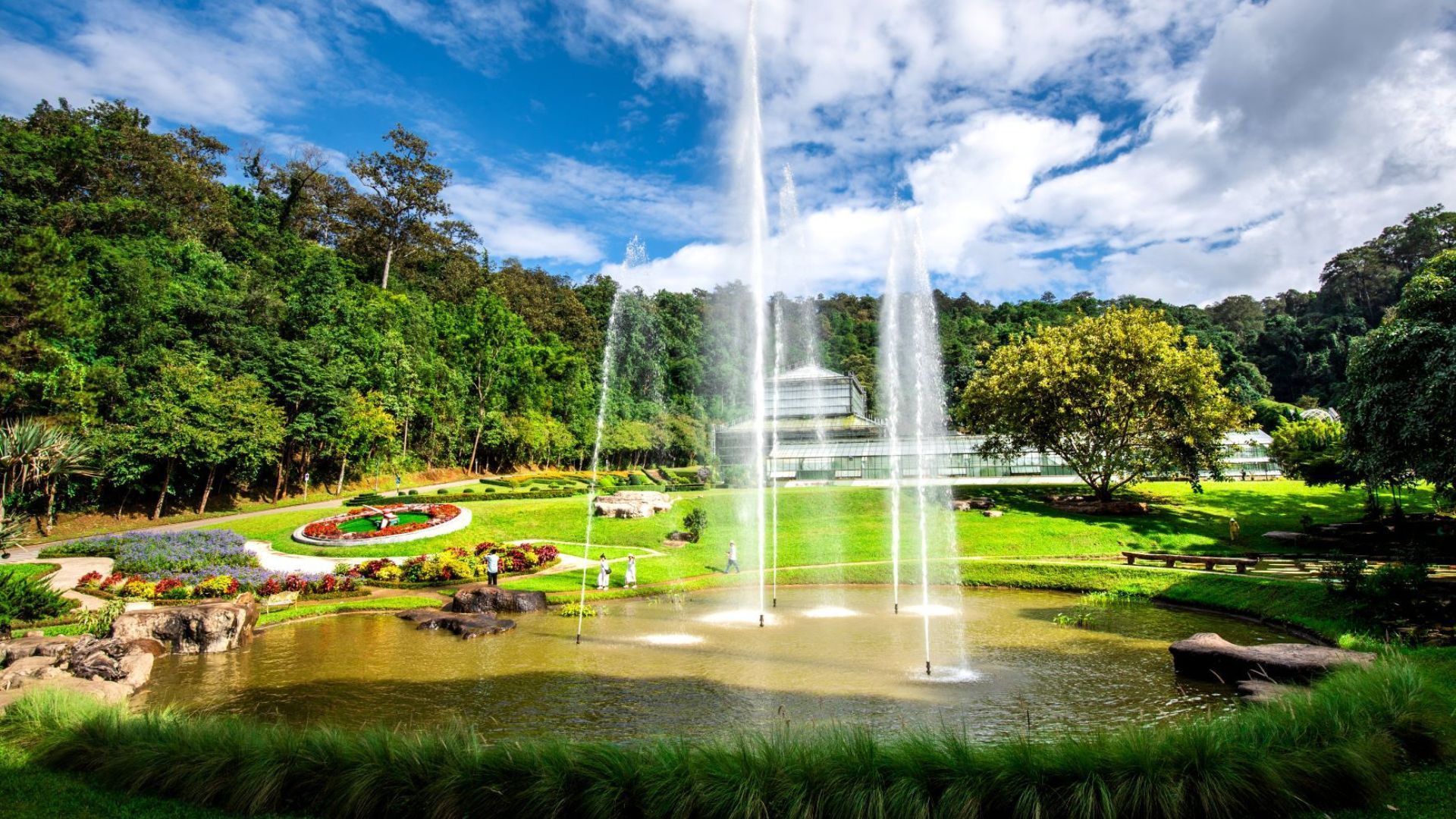 Go shopping at the Night Bazaar
One of the most popular things to do when in Chiang Mai is to revel in the glory of the city's night bazaars. A shopper's paradise and heaven for food lovers, these night bazaars have a spirited and exhilarating vibe as it is buzzing with locals, tourists and vendors alike. Whether you're looking for clothes or home and living items, souvenirs or local handicrafts, there's nothing you wouldn't find here. And food served at various stalls and restaurants offers you an unbeatable sensory experience. These markets are usually open from the evening till midnight.
Book your luxury experiences here
Explore waterfalls
Another attraction that Chiang Mai is famous for apart from its wats and night bazaars is its beautiful waterfalls. The areas around the city have plenty of waterfalls and some of the most famous ones include Bua Tong Sticky waterfall, Huay Kaew waterfall (near Chiang Mai Zoo) and Monthathan waterfall. All waterfalls offer scenic views of the surroundings with other activities such as hiking, climbing the waterfall and swimming in clean freshwater streams or pools.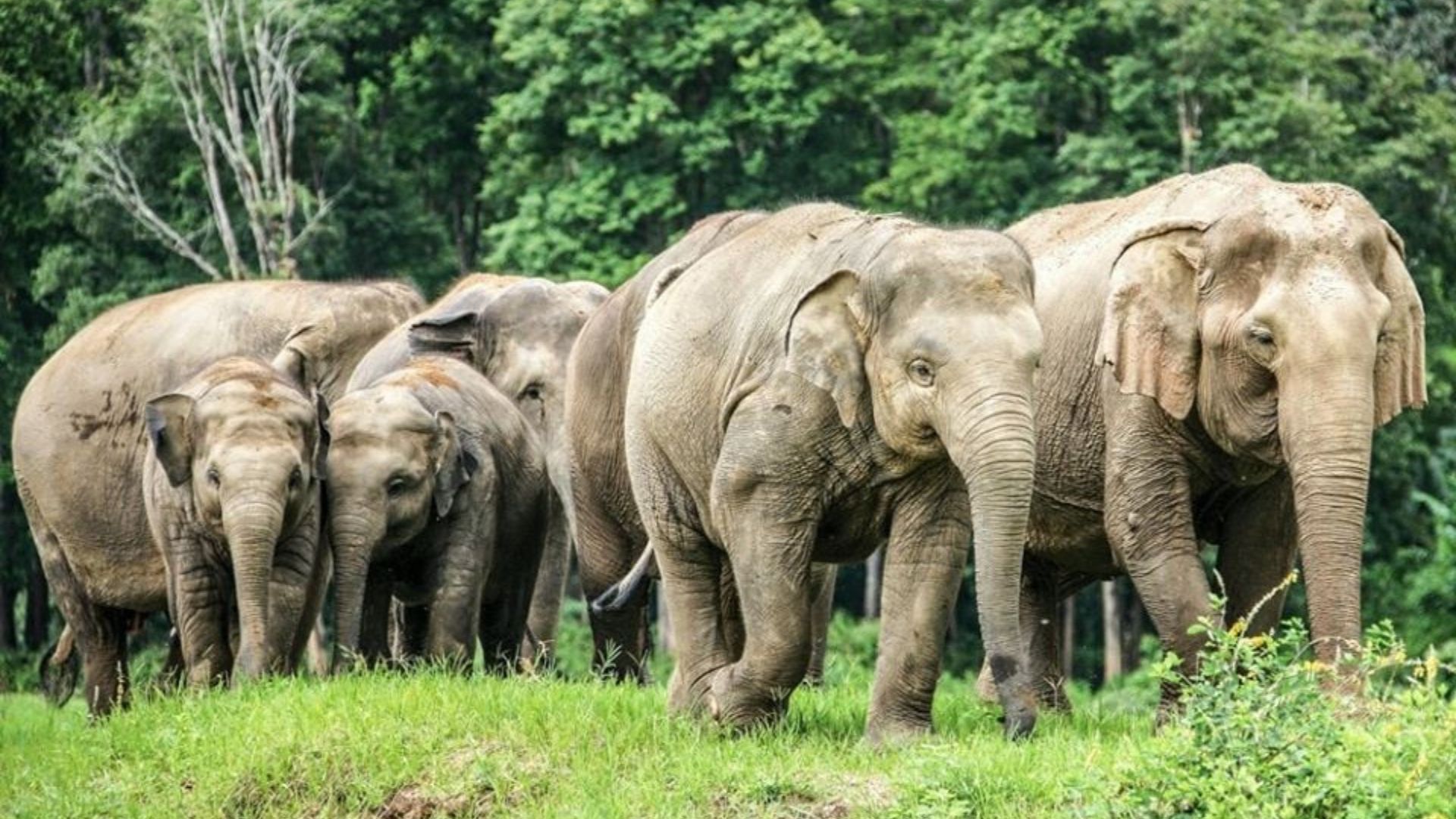 Rejuvenate at the Huay Tung Tao Reservoir
Located in the Don Kaeo sub-district, the Huay Tung Tao reservoir is popular for its spectacular views. This place promises great leisure time when you simply want to relax with your loved ones just like on a picnic. You can spend the entire day here indulging in various activities such as paddle boating, pedal boating, fishing, ring swimming, parachute jumping, paintball and gaming zones. The place also has a variety of restaurants serving delicacies for you to savour, making it for a relaxing getaway and an amazing place to visit in Chiang Mai.
What to eat in Chiang Mai Much like other cities in Thailand, Chiang Mai too is famous for its extensive variety of foods, drinks and dishes. Served across bars, restaurants, stalls and streetside carts, the food available in the city ranges from local and authentic Thai cuisine to continental delicacies from around the world. Moreso, if you want a taste of the city's street food, the markets and night bazaars are the best options to check out soul-satiating food. Listed below are some of the local and cultural dishes one must try when in Chiang Mai.
Khao Soi — famous and must-try yellow curry noodle soup flavoured with coconut milk, fried egg noodles, chicken or beef and garnished with spring onions.
Gaeng Hung Lay — a slow-cooked Northern Thai dish made of ginger curry, pork, tamarind and Indian spices, served with sticky rice.
Sai Oua (Ua) — grilled pork sausage cooked with garlic, chillies, Thai spices and herbs such as lemongrass, galangal and kaffir lime leaves.
Nam Prik Ong and Nam Prik Noom — mild and flavourful red chilli dip (made with stir-fried chillies, cherry tomatoes, ground pork, shrimp paste, spring onion, and coriander) and spicy green chilli dip (made with roasted green chillies and garlic) respectively.
Tam Khanun — a refreshing, spicy and nutty jackfruit salad made with garlic, shrimp paste, chillies, lemongrass and other herbs.
Khanom — sweet treats wrapped in banana leaves with a base of sticky rice and coconut milk. Its variants also include layers of custard, black beans and banana.
Naem — pork sausages made with ground pork skin, garlic, sticky rice, chillies and spices wrapped in banana leaves.
Larb Kua — pan-fried meat salad made by chopping chicken, beef, fish or pork with innards and blood chunks that are quickly stirred in hot oil. It is flavoured with dried chillies, larb curry, herbs and spices and served with sticky rice.
Miang Kham — a traditional do-it-yourself finger food that comes with betel leaves to be stuffed and fillings such as sliced shallots, green or red chillies, garlic, lime, ginger, dried shrimp and coconut along with sweet syrup.
Discover more dining experiences here
What to shop in Chiang Mai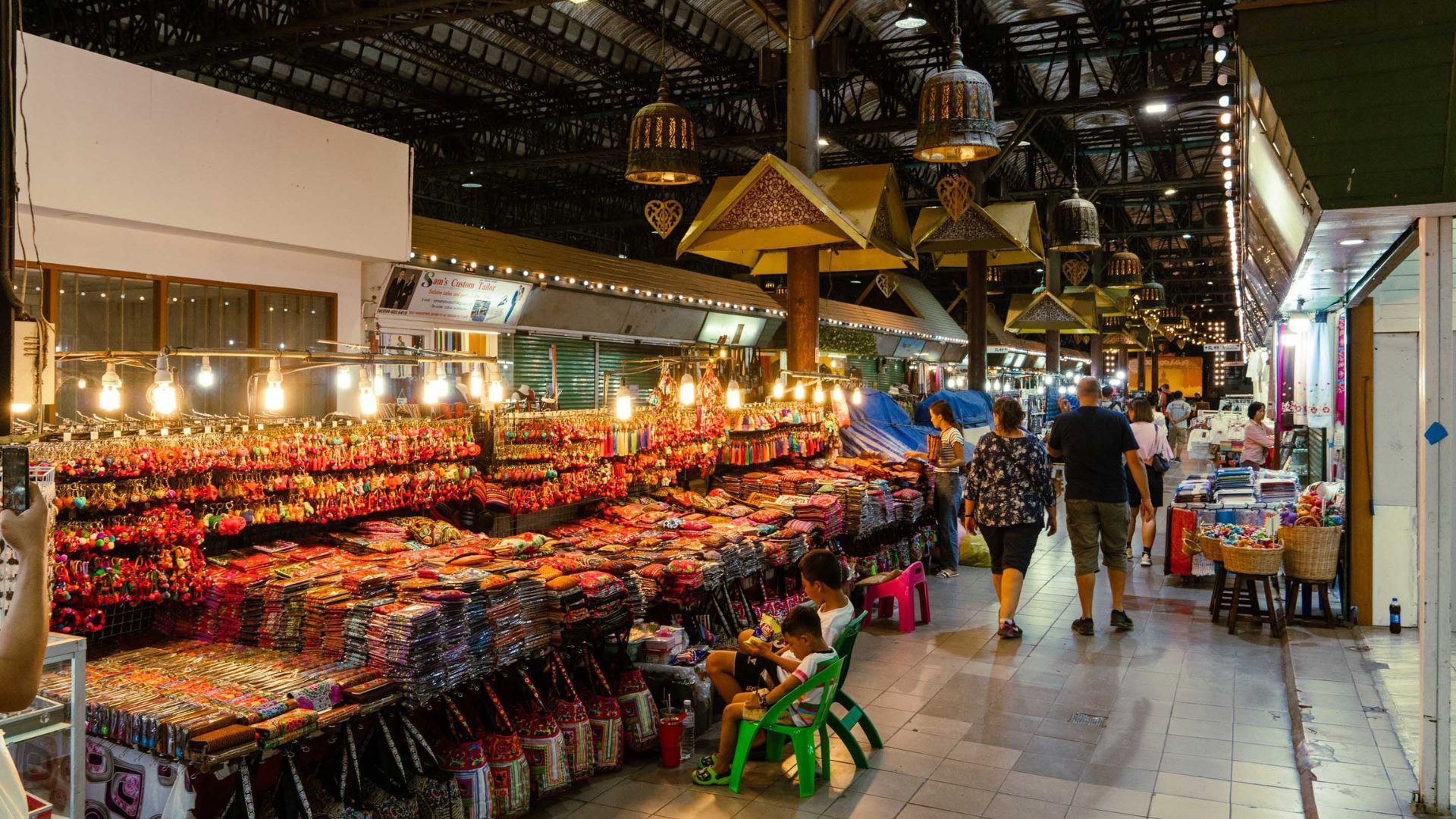 Chiang Mai is yet another popular city in Thailand that makes for a great shopping destination owing to a plethora of different malls, flea markets and night bazaars. However, more than malls (unlike Bangkok), Chiang Mai is famous for its markets selling unique handicrafts and goods at affordable prices. You can shop for international brands at malls such as the Central Plaza at Chiang Mai airport, Maya Lifestyle Shopping Centre and Central Festival Mall.
However, if you have a penchant for traditional handicrafts, artefacts, historic souvenirs and other goods at cheap prices, the bazaars and village markets should be your stops. Some of the most famous markets where you can shop till you drop include Sunday Walking Market, Chiang Mai Night Bazaar, Anusarn Market, Kat Rin Kham Night Bazaar, Bo Sang Umbrella Village, Wualai (Saturday) Walking Street and Warorot Market.
Thai silk, traditional Northern Thai ensembles, Thai lanterns, local snacks, herbs and spices, Thai umbrellas, wooden handicrafts, handmade bags and artefacts, antique trinkets and souvenirs are some of the things that you can splurge on when shopping in Chiang Mai.
Book your stay in the night bazaar area
(Main and Featured Image Courtesy: Wat Phra That Doi Suthep/Facebook)
Related: 8 Resorts & Hotels In Thailand Where 'The White Lotus' Could Take Place
Frequently Asked Questions (FAQs)
Question: How much time is required to explore Chiang Mai?
Answer: Anywhere between three to five days is enough to explore Chiang Mai.
Question: Are there any free things to do in Chiang Mai?
Answer: While the city has a lot of markets and malls for you to explore for free, it also has many wats that charge no entrance fee; however, donations in the boxes are appreciated. A few waterfalls are also free to enjoy and splash in, such as the Huay Kaew Waterfall.
Question: Where to stay in Chiang Mai?
Answer: Old city, riverside, night bazaar area and Nimmanhaemin (Nimman) are some of the top areas to stay in Chiang Mai.
Question: How to roam around in Chiang Mai?
Answer: There are multiple ways for you to get around the city including taxis, motorcycle taxis, tuk tuk, songthaew, samlor, public bus and rented vehicles like cars, scooters and bicycles.
Question: What to wear in Chiang Mai?
Answer: What you wear in Chiang Mai depends on the season you're visiting the city in, or the place. When travelling in the hot or monsoon season, carry light and breezy clothes and for the cool season, ensure you pack some warm clothes as well. When visiting wats and religious places, wear clothes that keep your shoulders and knees covered.