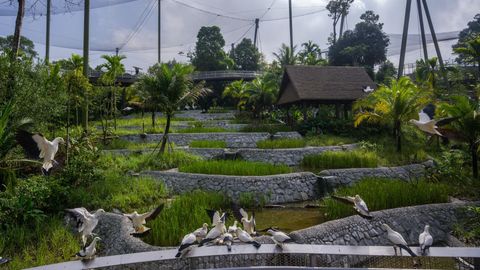 Singapore is set to get a new addition to its travel itinerary. Bird Paradise, a park dedicated to avian creatures, will open on May 8, along with some other spots around Mandai Wildlife Reserve.
The new park will be located within the integrated nature and wildlife destination of Mandai Wildlife Reserve, which is located in Northern Singapore and is home to the Singapore Zoo, River Wonders and the Night Safari.
Everything you need to know about Bird Paradise, the new park in Mandai Wildlife Reserve The park is spread over an area of 17 hectares and will be home to 3,500 birds across more than 400 species. Bird Paradise will be an immersive experience, with naturalistic mixed-species habitats. The park will have eight large walk-through aviaries for guests to explore, which reflect different biomes of the world. These include African rainforests, South American wetlands, Southeast Asian paddy fields and Australian dry eucalypt forests, among others.
Book your stay at Hotel Telegraph on Booking.com here
A key highlight is the Heart of Africa, where visitors will find themselves in the forested valleys of continental Africa. Visitors will travel through a dense misty forest with meandering streams, to observe birds showcasing their natural behaviours. Bamboo forests and rice terraces of Southeast Asia will be found in the Wings of Asia section, where bamboo also provides a major food source for animals in the habitat. Look out for unique birds such as the critically endangered Baer's Pochard and endangered Milky Stork here. Penguin Cove, another indoor habitat at Bird Paradise, will house species such as Gentoo Penguin, King Penguin, Humboldt Penguin and Northern Rockhopper Penguin.
Bird Paradise also aims to conserve and educate along with entertain, and hence the transitional zones between the aviaries will have information about birds and their habitat. This is not all — a much-loved feature of Jurong Bird Park, feeding sessions, will be back with new species of birds. These include starlings, African hornbills and barbets at Heart of Africa, pelicans at Wings of Asia, and the lories at Lory Loft. You can also enjoy presentations showcasing the talents of these birds, as well as guided tours that teach you more about these avian creatures and their life in the wild. Proceeds from the sessions will go towards conservation projects that the Mandai Wildlife Group supports both within Singapore and across the region.
Book your stay at Marina Bay Sands on Booking.com here The tours at the park also include visits to the Avian Health and Research Centre, Avian Nutrition Centre as well as a Breeding and Research Centre. Not just that, a 2,000-seater amphitheatre is also set to enchant with free-flying
demonstrations and refreshed presentations. You can even look forward to some dedicated family fun areas, such as Tree Top Play and Egg Splash, for dry and wet play, respectively.
Mike Barclay, Group CEO of Mandai Wildlife Group, said, "We have designed Bird Paradise to offer guests an array of carefully themed and choreographed walkthrough aviaries that will bring visitors even closer to some of the most stunning bird species in the world." He added that the support facilities, which are of the highest standard, include a state-of-the-art avian hospital and an extensive breeding facility.
Book your stay at Hilton Singapore Orchard on Booking.com here
Jean Choi, Chief of Sales & Marketing, Mandai Wildlife Group, added, "We are excited for Indian travellers to make new memories with fresh offerings across all our wildlife parks, which are now conveniently located in one single destination. Plus, there's nostalgia at Singapore Zoo, too, with a jubilee birthday coming up this year. We look forward to welcoming everyone at Mandai Wildlife Reserve."
Bird Paradise: Opening date, fees and other details Opening date: May 8, 2023
Address: Bird Paradise, 20 Mandai Lake Road, Singapore
Time: 9:00 am to 6:00 pm (last entry at 5:00 pm)
Ticket Price: SGD 48 for adults, SGD 33 for children (aged 3 to 12 years old)
Know more about the park here
Book your stay at The Serangoon House on Booking.com here
Hero and Featured Image credit: Mandai Wildlife Group
Related: Singapore Airlines' First-class Suites Might Be The Best Way To Fly — What To Know
Written By