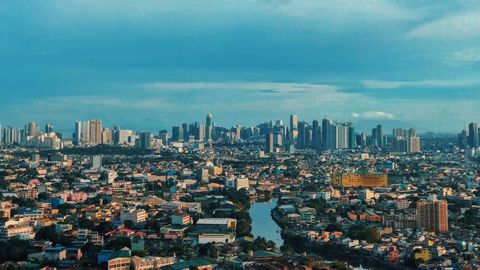 Welcome to Manila, where rich history and modern luxury blend seamlessly in a vibrant tapestry. This dynamic capital of the Philippines, often referred to as the 'Pearl of the Orient', offers an enchanting journey through time, with remnants of Spanish colonial architecture juxtaposed against contemporary skyscrapers.
Explore the bustling markets, savour exquisite cuisines, and unwind in lavish accommodations that cater to your refined tastes. Wander through Intramuros, the walled city that witnessed centuries of change, or enjoy the captivating sunset along Manila Bay. With opulent shopping and cultural experiences, Manila promises a symphony of delights. Get ready to embark on a luxurious adventure, discovering the best things to do in Manila.
Best time to visit Manila
The best time to visit Manila is during the drier months of January to April. Though temperatures are high during March and April, it is a good time to visit the Philippines as rainfall is rare.
Best things to do in Manila
Intramuros Intramuros, situated south of Pasig River and east of Manila Bay, stands as a historic gem, built by the Spaniards 400 years ago as their Asian stronghold. This walled city, spanning 0.67 square kilometres, boasts a 4.5 km wall, moats, cannons, and bulwarks that defend against pirates and invaders. Even the Dutch, the Portuguese and the Chinese failed in their attempts to penetrate the fortress city.
Once home to power and religion, it hosts San Agustin Church & Museum, Fort Santiago, Manila Cathedral, Casa Manila Museum, and the Rizal Shrine, making it a must-visit among the best things to do in Manila. Founded by Miguel Lopez de Legazpi in 1571, Intramuros is a captivating blend of history and architecture, revealing the Philippines' complex past.
Details of timings and fees of different sites: https://intramuros.gov.ph/hours/
Things to do in Manila with Family & kids
Manila Ocean Park Manila Ocean Park, situated behind Quirino Grandstand in Ermita, is among the world's top public aquariums. It showcases a diverse collection of marine creatures like birds, fish, penguins, and sharks. The highlight is the Oceanarium, featuring 14,000 aquatic life from over 270 species in Southeast Asia, including the Philippines.
This seven-part attraction includes an 82-foot glass tunnel offering a unique underwater view. The water originates from Manila Bay and is distilled for aquatic life. Adjacent to the park is Hotel H2O, an aquatic-themed urban resort with marine-themed suites and a spa. It's a fantastic choice for families seeking things to do in Manila with kids.
Timings: 10 AM to 6 PM
Entry Fee: INR 1,006/ ticket
Address: Quirino Grandstand, 666 Behind, Ermita, Manila, 1000 Metro Manila, Philippines
Best things to do in Manila at night
Wine & Dine at Manila Bay Manila Bay, a bustling harbour and the Port of Manila, facilitates seamless trade with neighbouring countries due to its strategic location along the city's western coast. Stretching 190 km, its baywalk along Roxas Boulevard spans 2 km and is famed for its stunning sunsets. The baywalk offers more than just sunset views; it's a lively area lined with restaurants, cafes, and bars, perfect for enjoying the bay's scenic beauty along with a fantastic glass of wine and a meal to remember.
Beyond its trade significance, Manila Bay holds historical weight, hosting battles like the Battle of Manila Bay in 1898 and the liberation of Manila in WWII. For a memorable experience, explore the baywalk's offerings during dusk – a highlight of things to do in Manila at night.
Places to dine at: Sunset Bar, Harbour View Restaurant, The Aristocrat Restaurant, Admiral Club.
Book your stay at Admiral Hotel Manila - MGallery via Booking.com
Book your stay at Admiral Hotel Manila - MGallery via Agoda.com
Free things to do in Manila
Rizal Park
Spread across 60 hectares, Rizal Park, formerly known as 'Luneta,' is Manila's iconic central park. It holds historical significance as the site of José Rizal's execution by Spanish colonial authorities. The park features open lawns, gardens, ponds, and monuments of Filipino heroes. The Rizal Monument stands as a symbol of national pride.
The Central Lagoon hosts busts of heroes and a musical fountain. Concerts and cultural events, like the classical Concert at the Park, are held here. At dawn, t'ai chi and arnis martial arts practices take place. The park also houses a Lapu-Lapu statue, the Manila Orchidarium, and a map of the Philippines. A flagship of courage, it hosts political rallies and national events. Truly among the top things to do in Manila.
How to reach: Nearest bus stop: Kalaw Avenue
Nearest metro line: United nation Avenue
Timings: 9 AM to 6 PM
Entry: Free
Malacanang Palace Malacañang Palace, the official residence and workplace of the Philippine President, also offers history enthusiasts and families a glimpse into its complex. Located in San Miguel, Manila, this colonial-style structure overlooks the Pasig River. Originally built in 1750, the palace complex includes mansions and neoclassical buildings.
Purchased by the state in 1825, it became the seat of government after an earthquake in 1863. Now a museum, visitors can delve into the political history of the country, featuring displays about the Philippines' 16 presidents since 1899. Exploring Malacañang Palace is one of the best things to do in Manila with family.
Timings: Tuesdays to Sundays, 8 AM to 5 PM
Entry: Free
Shop the best travel experiences here
Things to do in Manila for couples
Diving Beyond the Philippines' renowned white sand beaches lies an equally enchanting underwater realm waiting to be explored. Manila offers an exhilarating scuba diving experience that's a must for adventure seekers. Dive into the depths alongside majestic sharks, schools of vibrant fish, and captivating coral islands.
Nearby diving spots provide encounters with an array of marine life, including sharks, turtles, jacks, and a myriad of colourful species. Immerse yourself in stunning coral reefs teeming with unique critters like scorpionfish, moray eels, and nudibranchs. If you and your partner are seeking thrilling aquatic escapades, scuba diving is among the top things to do in Manila for couples.
Some of the best scuba diving sites around Manila: Anilao, Apo Reef, Coron, Donsol, Romblon
The best time to scuba dive in Manila: Between December and April, as this is the dry season.
Book your stay at Raffles Makati via Booking.com
Book your stay at Raffles Makati via Agoda.com
Budget things to do in Manila
National Museum of Fine Arts The National Museum of Fine Arts is a treasure trove of 19th-century Filipino masterpieces, contemporary artworks, and colossal sculptures. Housed in the monumental Old Legislative Building, this Manila gem boasts 29 galleries showcasing the works of renowned artists like Juan Luna and Félix Resurrección Hidalgo.
Designed by Ralph Harrington Doane, Antonio Mañalac Toledo, and Juan M. Arellano, the building itself is a masterpiece, constructed between 1918 and 1926. Formerly the National Art Gallery, it's a popular spot for art enthusiasts, with exhibitions spread across two floors. For an enriching experience that's easy on the pocket, exploring this museum is among the pocket-friendly things to do in Manila.
Famous paintings: Portrait of a Lady by Juan Luna Y Novicio, La Barca de Aqueronte by Felix Resurreccion Hidalgo, The Burning of Manila by Fernando Amorsolo Y Cueto, Rape and Massacre in Ermita by Diosdado M. Lorenzo, among others.
Timings: Tuesday to Sunday, 10 AM to 5 PM
Entry: Free
Best shopping places in Manila
Silahis Arts And Artifacts Silahis Center in historic Intramuros offers a unique shopping experience, blending an antique store, art gallery, and handicraft shop. The multi-storey building showcases an array of artefacts, from Oriental ceramics to folk art, reflecting the richness of Filipino culture. The atmosphere is museum-like, and there's no entry fee.
The friendly staff let you browse at your leisure, ready to assist if you're interested. Set in the heart of the city, Silahis Center is a cultural haven. Exploring its diverse collection is among the top things to do in Manila City for those seeking to immerse themselves in local art and heritage.
Things to buy: Fine crafts, folk art, Oriental ceramics, textiles, antiques, books, prints and sculpture.
Timings: Daily 7 AM to 9 PM
Address: 557 M. De Santos St, San Nicolas, Manila, 1010 Metro Manila, Philippines
Book your stay at Hilton Manila via Booking.com
Book your stay at Hilton Manila via Agoda.com
(Hero and feature image credit: Alexes Gerard/Unsplash)
All currency conversions were done at the time of writing
Related: Locals In Manila, Take Note On How To Explore Your City Like A Tourist
Frequently Asked Questions (FAQs)
– What is the budget required for a trip to Manila?
You can expect to spend around USD 94 (INR 7,768) per day on your vacation in Manila.
– What are the best cultural places to visit in Manila?
Intramuros, National Museum of Fine Arts, Rizal Park, and Manila Bay, among others.

– Are there any beaches in Manila?
While there aren't many beaches in Manila, Philippines, there are plenty of lovely shores and coves just outside of the reaches of the outer suburbs.
– Is there any dress code in Manila?
Avoid shorts, mini-skirts, mid-riff shirts or tube tops. Pack sundresses, lightweight pants, T-shirts, comfortable blouses, polo shirts and jeans. The majority of attractions in Manila require walking and exploration, so comfortable walking shoes should be included.
– What are the best things to buy in Manila?
Fine crafts, folk art, Oriental ceramics, textiles, antiques, books, Philippine pearls, prints and sculpture.

– What are the best festivals to celebrate in Manila?
Bamboo Organ Festival (February), La Loma's Lechon Festival (May), Flores de Mayo (May), Filipino Heritage Festival (May), and The Independence Day Celebrations (June) are some of the festivals that can be enjoyed here.
– What are the best hotels in Manila?
Shangri-La Hotel at The Fort, Grand Hyatt Manila, The Peninsula Manila, The Manila Hotel, The Conrad Manila and Raffles Makati are a few of the hotels that travellers can stay at.
– How to visit Delhi to Manila by road?
The total straight line distance between New Delhi and Manila is 4,754 km. If you travel at a consistent speed of 50 km per hour you can reach Manila in 95.1 hours.
Written By