Think Indonesia and its stunning beaches are the first things that come to mind. However, the country has much more to offer. Take its capital city, Jakarta, for instance. With one of the best nightlife scenes in Asia, iconic structures, and a vibrant performance and visual arts heritage, the long list of the best places to visit in Jakarta attracts all kinds of travellers.
Situated on the northwest coast of Java island, Jakarta is the largest city in Southeast Asia. The megapolis is a melting pot of cultures and languages as towering skyscrapers are juxtaposed with humble neighbourhoods. To make the best of your trip to this city of contrasts, keep this Jakarta travel guide handy. It includes everything you need to know — from places to visit and must-try dining spots to nightlife and the best accommodations.
How much can a trip to Jakarta cost?
Expect to spend around USD 106–USD 171 (INR 8,660 – 13,889) per day as a couple on a trip to Jakarta. This includes food, travel, sightseeing and accommodation expenses. If you're looking to spend a luxury vacation in Jakarta, you might have to shell out around USD 212–USD 717 (INR 17,321 – 58,582) per day for two people. Besides travel, food and sightseeing expenses, this estimate includes average stay tariffs for luxury hotels or vacation rentals.
Best time to visit Jakarta
Jakarta experiences tropical weather, which means the city is hot and humid and witnesses rainfall throughout the year. The average annual temperature in Jakarta is 30 degrees Celcius. And, it receives an average of 85 mm of rain per year. The capital city has mainly two seasons — the dry season, which goes on from June to September, and the wet season, which lasts from October to April. The latter is also considered the winter season.
Hence, the best time to visit Jakarta is from May through October. This is when the rain is less frequent and the temperature is warmer.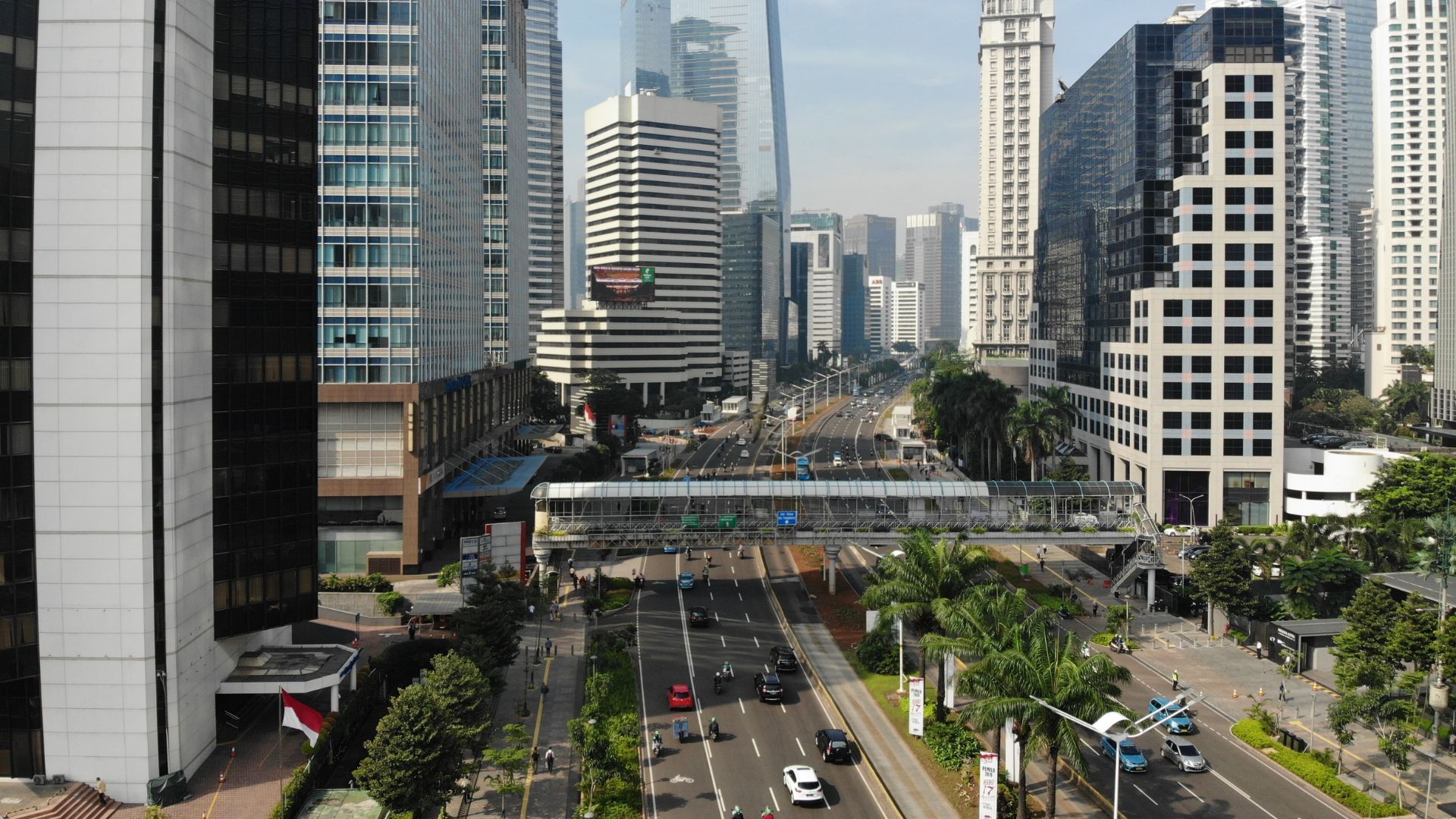 How to reach Jakarta
The primary airport of the province is the Soekarno-Hatta (CGK) Airport, which is less than 30 km away from the greater Jakarta area. Jakarta Halim Perdana Kusuma (HLP) Airport, at a distance of just 7.6 km from the city, is another nearby airport.
Visitors coming to Jakarta from other Indonesian cities, such as Bali, can avail of a combination of transportation modes, including bus, ferry and train services.
The best places to visit in Jakarta
The National Monument
Also known as Monas, the National Monument is one of the most popular tourist attractions in Jakarta. The tower that is located in the heart of Merdeka Square was built to memorialise Indonesia's independence in 1945. Completed in 1975, the 132-metre-tall structure houses the Museum Sejarah Nasional (the National History Museum).
You can catch a breathtaking view of Jakarta from the Observation Deck of Monas, situated at a height of 115 m above ground level. Additionally, you can take a stroll around the garden of Merdeka Square and explore some prominent places situated in the compound, such as the Istana Merdeka (the Presidential Palace), the new National Library and the Museum Nasional (The National Museum).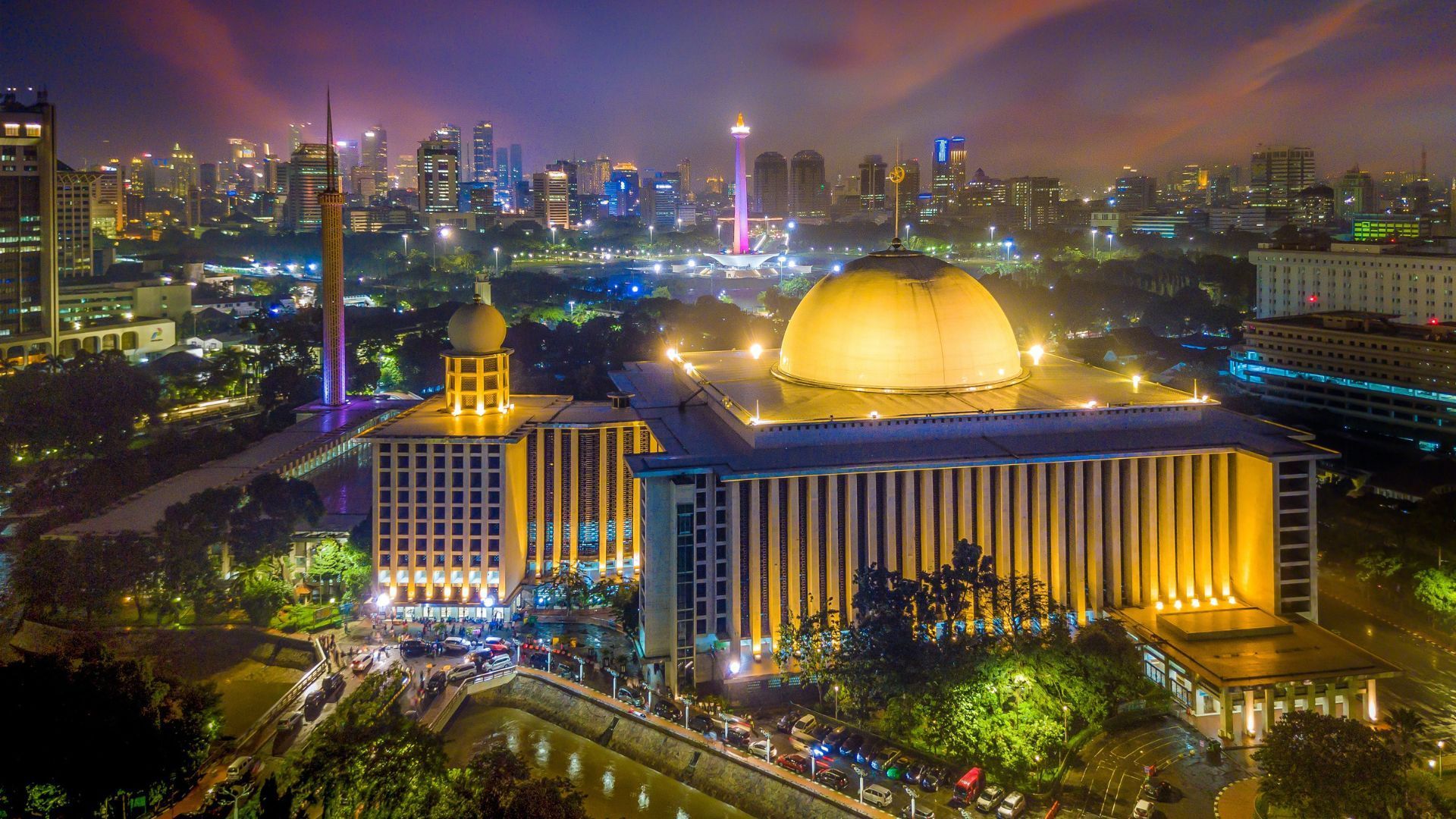 Istiqlal Mosque
Situated in central Jakarta, this is the largest mosque in South East Asia with a capacity to accommodate around 1,20,000 people. Most of the Islamic celebrations in the country are broadcast from this mosque. Named after the Arabic word for independence, Istiqlal, the mosque was also built to commemorate Indonesia's freedom struggle.
Museum Layang-Layang
The Jakarta Kite Museum is the perfect place to discover the kite festivals of Indonesia. It is structured as a cosy, traditional Indonesian house, complete with a courtyard, and contains around 600 kites.
Starting with a film on the history of kite-flying, this museum tour takes visitors through the art of kite-making with various workshops and kites on display. It is the perfect place for a fun bonding session with your family. Take part in their various classes to learn all about kite making, kite painting and much more. They even offer ceramics making, umbrella painting and other workshops.
Jin De Yuan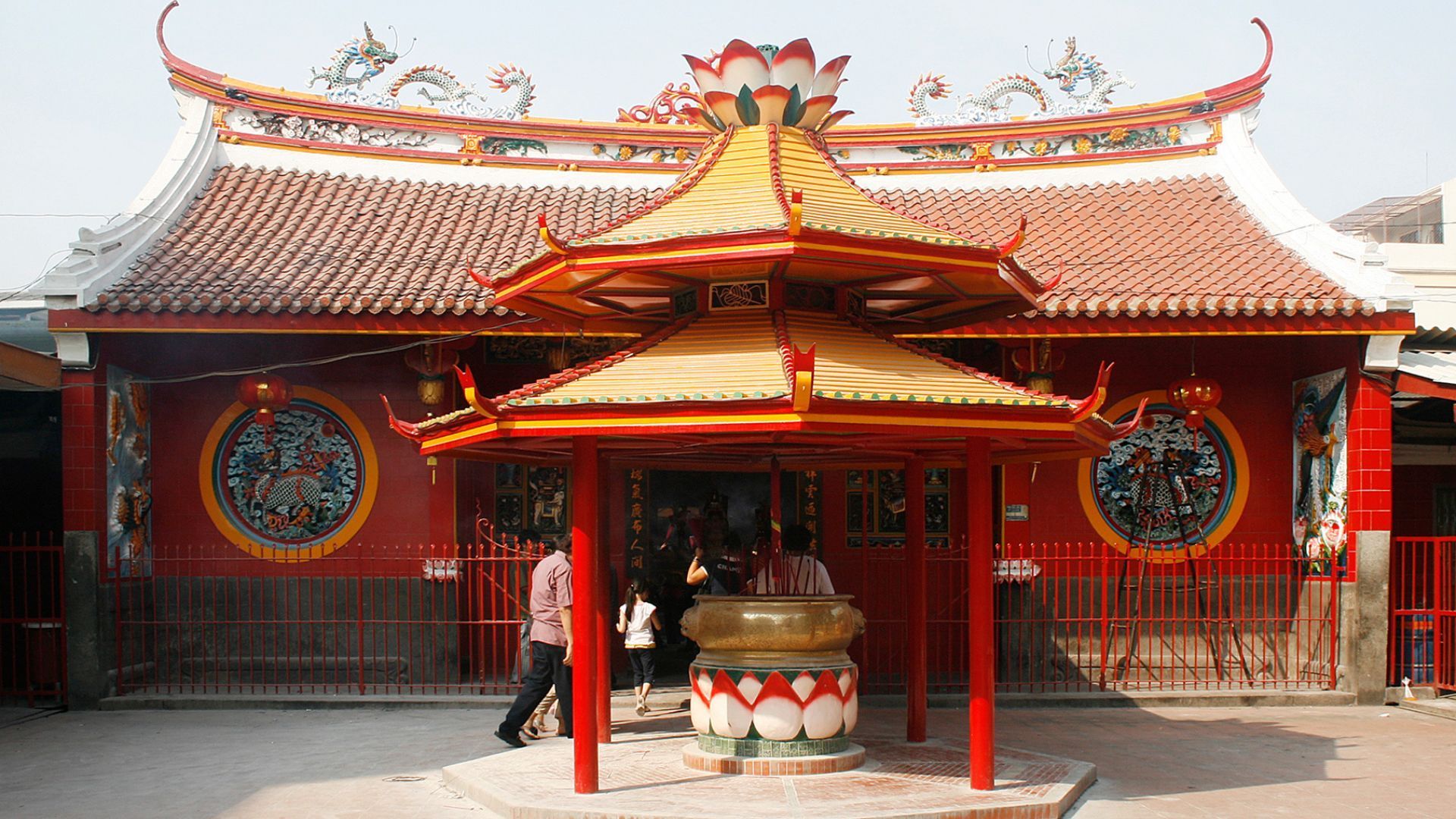 This is the oldest of the 140 Chinese temples in Jakarta. Located in Chinatown, the Jin De Yuan is locally known as Glodok. Spread over 3,000 sq m of land, the temple is dedicated to Goddess Kwan Im. It is revered for its distinct red pillars, yellow waterlily-inspired crown, fine carvings, dragon paintings and fine calligraphy on the pillars.
While the temple attracts tourists throughout the year, it's during the Chinese New Year celebrations (around January or February) that the Jin De Yuan experiences the most footfall, especially by devotees.
Do note that the road leading to the temple is narrow and muddy, so plan your visit accordingly.
Jakarta Cathedral
Located right across the Istiqlal Mosque is this neo-gothic-style catholic cathedral, dedicated to the Virgin Mary. Brick walls, iron spires, a cross design, paintings and statues are some of the beautiful elements that adorn the Jakarta Cathedral. Considered one of the top tourist attractions in the country, it is visited by architecture enthusiasts and devotees alike, especially during Easter and Christmas.
Jakarta Chinatown
The Glodok Village, located in West Jakarta, is one of the busiest areas in the city and will give tourists one of the most authentic Chinese experiences. The narrow streets and alleyways here are lined with fresh fruit, vegetable and spice stalls, traditional Chinese food and medicine shops, electronics malls and temples like Dharma Bhakti Temple and Tan Seng Ong Temple.
Also, while you're here, consider walking over to the Pasar Asemka (a morning wholesale market for accessories, dolls and stationery) and Pasar Pagi (a traditional market for vegetables, fruits, meat and fish).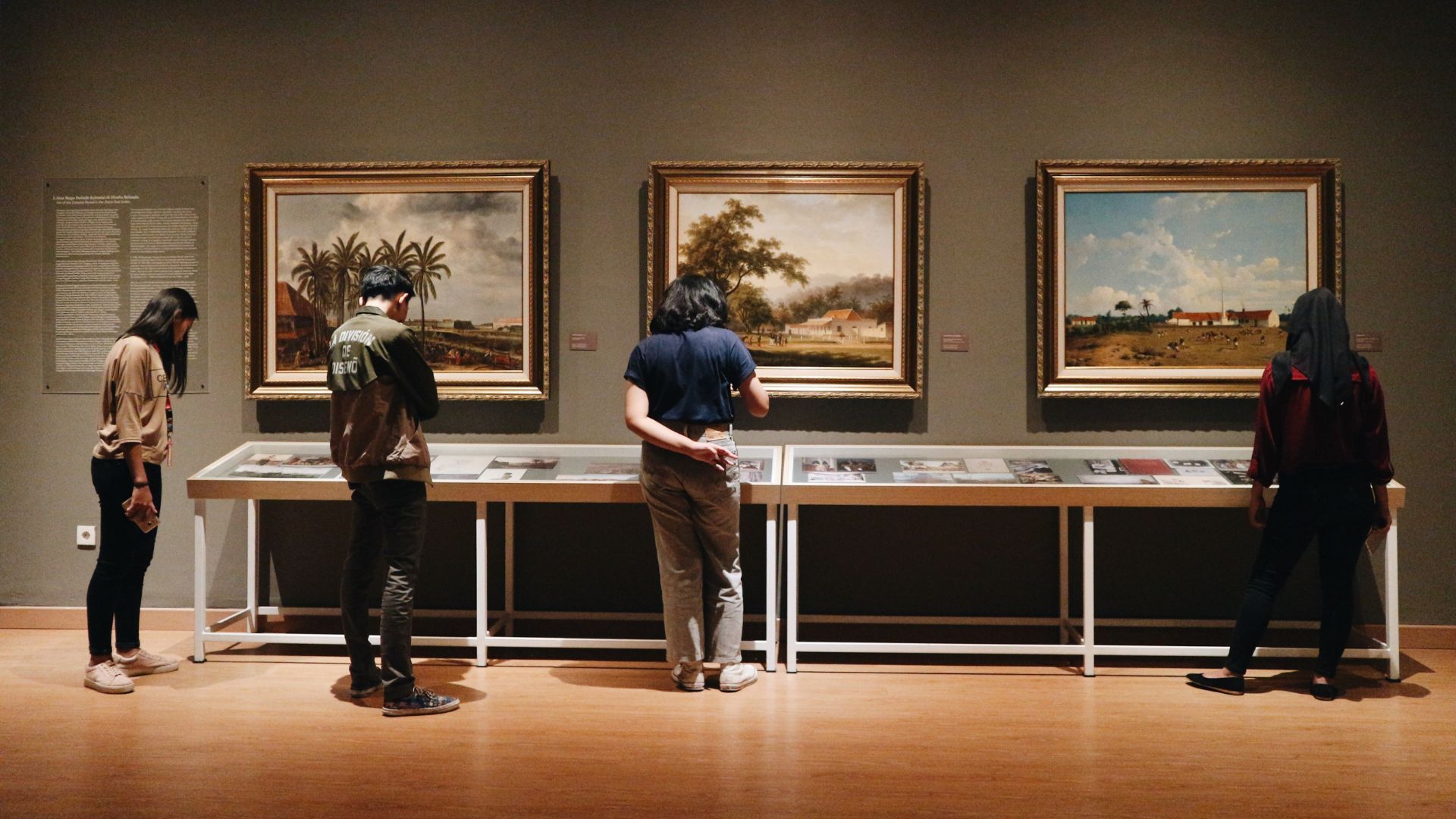 National Gallery of Indonesia
Locally known as the Galeri Nasional Indonesia, the museum is a treat for art lovers. Located in central Jakarta, the gallery houses some of the most notable artworks by both local and international artists, such as Raden Saleh, Hendra Gunawan and Hans Hartung. Photography is permitted, so tourists can take back some of the best memories home. The National Gallery has over 1,700 pieces of art on display to promote Indonesia's culture and recreation.
Ancol Beach City (Ancol Mall)
Head to this magnificent entertainment centre, specially built as a recreation spot about 15-20 km away from the main city of Jakarta. The complex is spread over 58,000 sq m of land and offers a vast range of shopping and dining options. You can enjoy various music events and concerts at this venue by the beach.
It has an international stadium, a concert hall, a pantai (sunset beach) and an auditorium. Visit the Ancol Dreamland resort and explore the aquarium, dolphin shows and gondola ride.
Taman Mini Indonesia Indah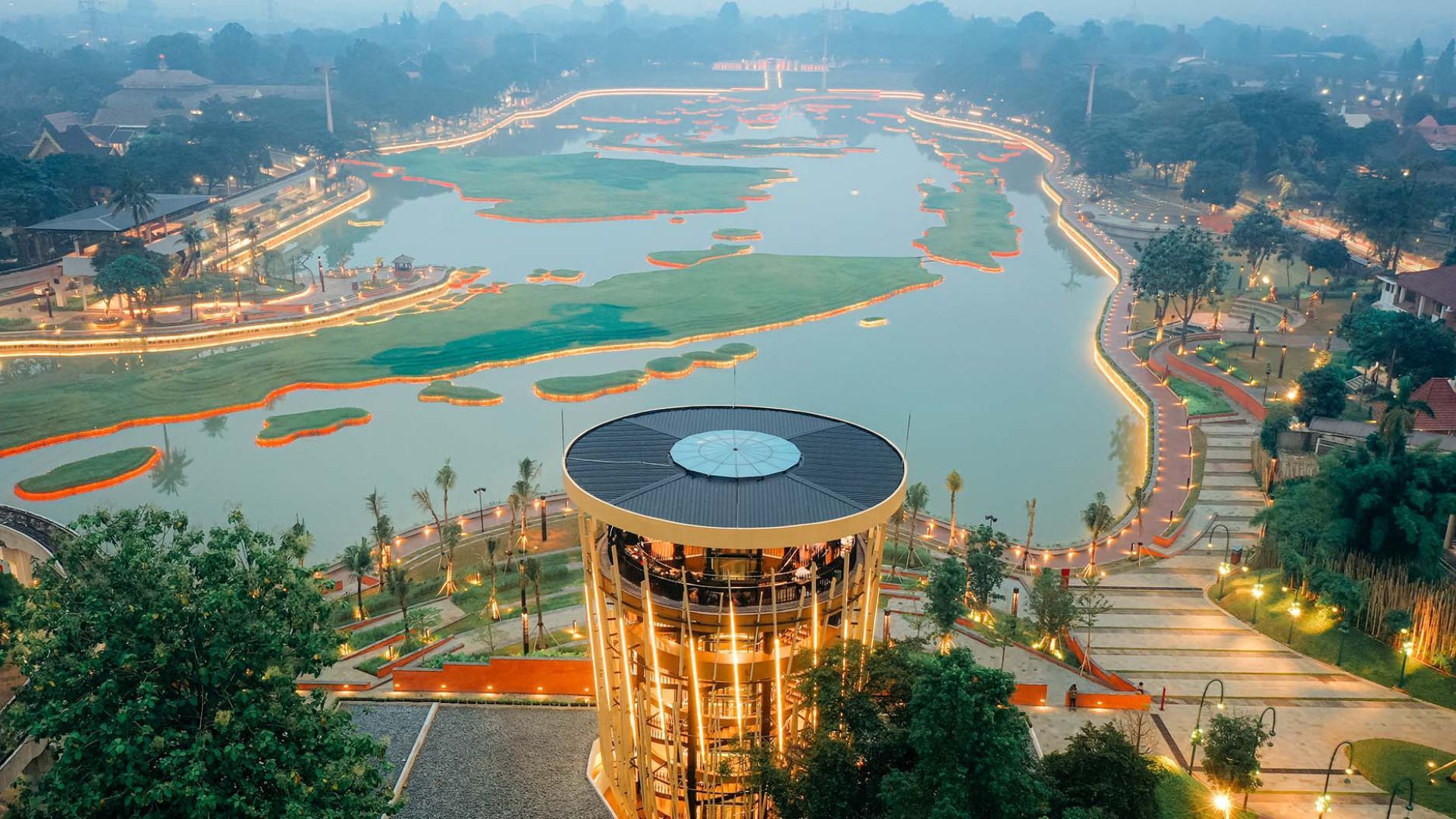 Located in East Jakarta, this tourist park is perfect for those seeking to experience the history of Indonesia first-hand. The Taman Mini Indonesia Indah (TMII) is a walk-through experience that showcases the lives of Indonesian people through thirty-three miniature provinces on display. One of the biggest attractions is the lake, a miniature version of the Indonesian archipelago, in the middle of the park.
Additionally, you can hop on a cable car ride, visit museums and catch a show at the Keong Mas IMAX Theatre and Tanah Airku Theatre.
Nightlife in Jakarta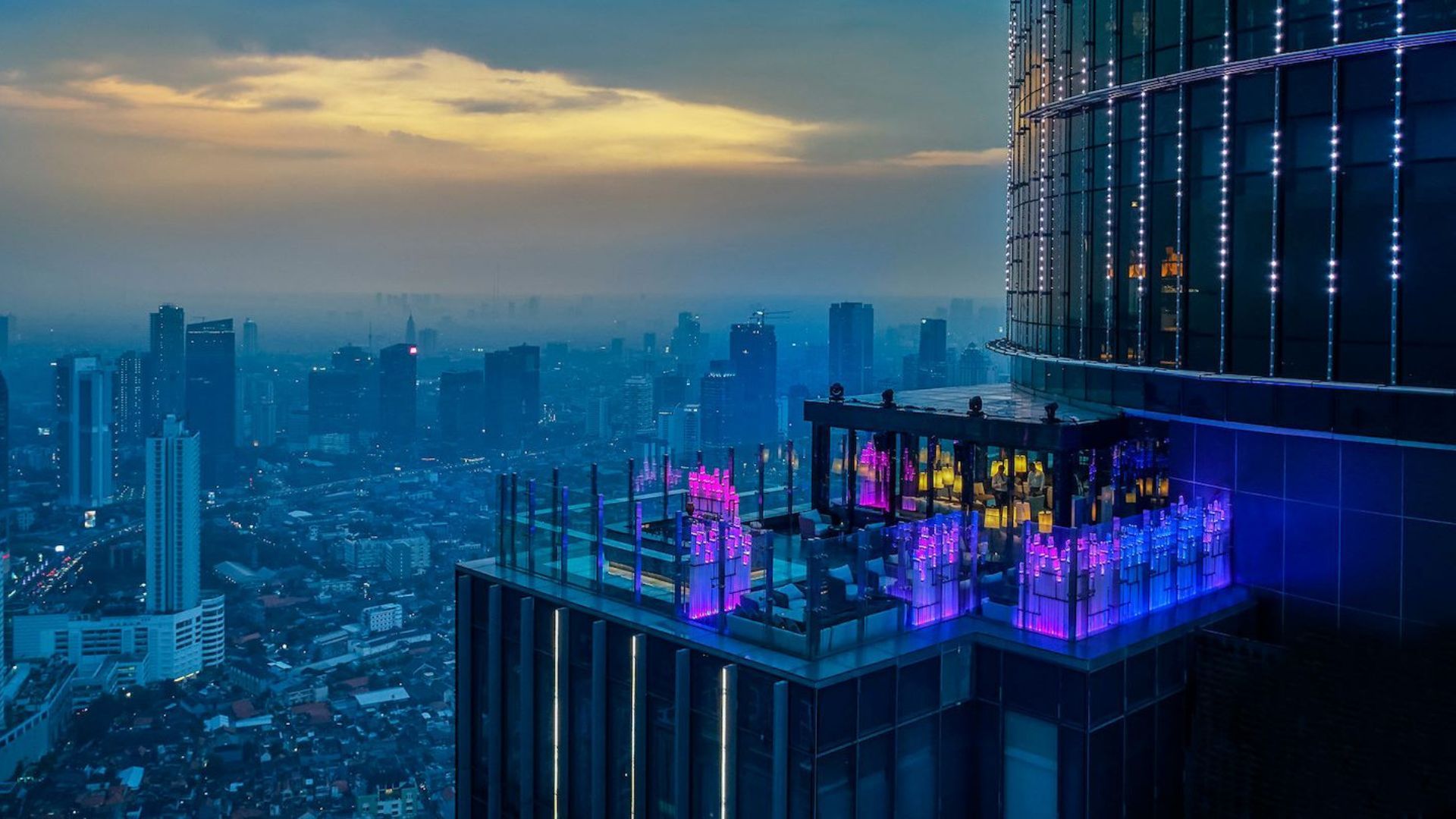 As one of the most popular metropolitan cities in Indonesia, Jakarta offers exciting nightlife scenes. There are upscale restaurants with mesmerising city views, quintessential nightclubs and open-air cafes for a peaceful meal.
When partying in Jakarta, take note of the information below.
Numerous party places in Jakarta have strict dress regulations. Men must dress formally, wearing a shirt and decent shoes. For women, a dress and high heels are required.
The entry fee for a club can be anywhere between IDR 1,00,000 (INR 557) and IDR 3,00,000 (INR 1,671) on a weekend, and alcohol is heavily taxed in Indonesia.
Henshin
Try out the unique Nikkei dining at the highest rooftop bar in Jakarta. The fine-dining restaurant situated on the 67th, 68th and 69th levels serves a fusion of Peruvian flavours cooked with Japanese technique. Enjoy the 360° views of the city while dining in the al fresco lounge-style seating.
Colosseum Club
Dance the night away at one of the most happening nightclubs in Jakarta. Spread over 1,000 sq m of floor area, the neon lights and breathtaking visuals at the venue are super impressive. With one of the best audio systems in the world, the club is known for its pulsating musical performances by DJs and EDM artists. It also hosts several exciting events on weekends.
Caspar Restaurant and Cocktail Bar
World-class mixology and traditional Spanish cuisine are why you must dine at Caspar. The restaurant provides cutting-edge entertainment where you can enjoy handcrafted cocktails. DJs, live performances and several exciting events create a vibrant ambience during after-hours (10 pm to 2 am) at this glam lounge.
Costéss Cafe And Bar
Located in Jakarta Selatan (south of the city), this place is equally charming both during the day and at night with its versatile menu. Costéss is situated on the 17th floor, offering a striking view of the city. It serves scrumptious Chinese and Italian dishes with handcrafted cocktails.
Valhalla
Valhalla, located in the Senopati neighbourhood of South Jakarta, is the city's first superclub of an international calibre. In order to support Indonesia's EDM music industry, Valhalla frequently invites Indonesian DJs and hosts live music performances. Additionally, the club has a capacity of 600 people and offers a range of seating options, including high tables and cosy lounges. The colourful laser lights give the club its striking appearance.
What to eat in Jakarta
When in Jakarta, street food is the best way to indulge in pure Indonesian cuisine. Here are some delicious dishes you must try to get a real taste of the city.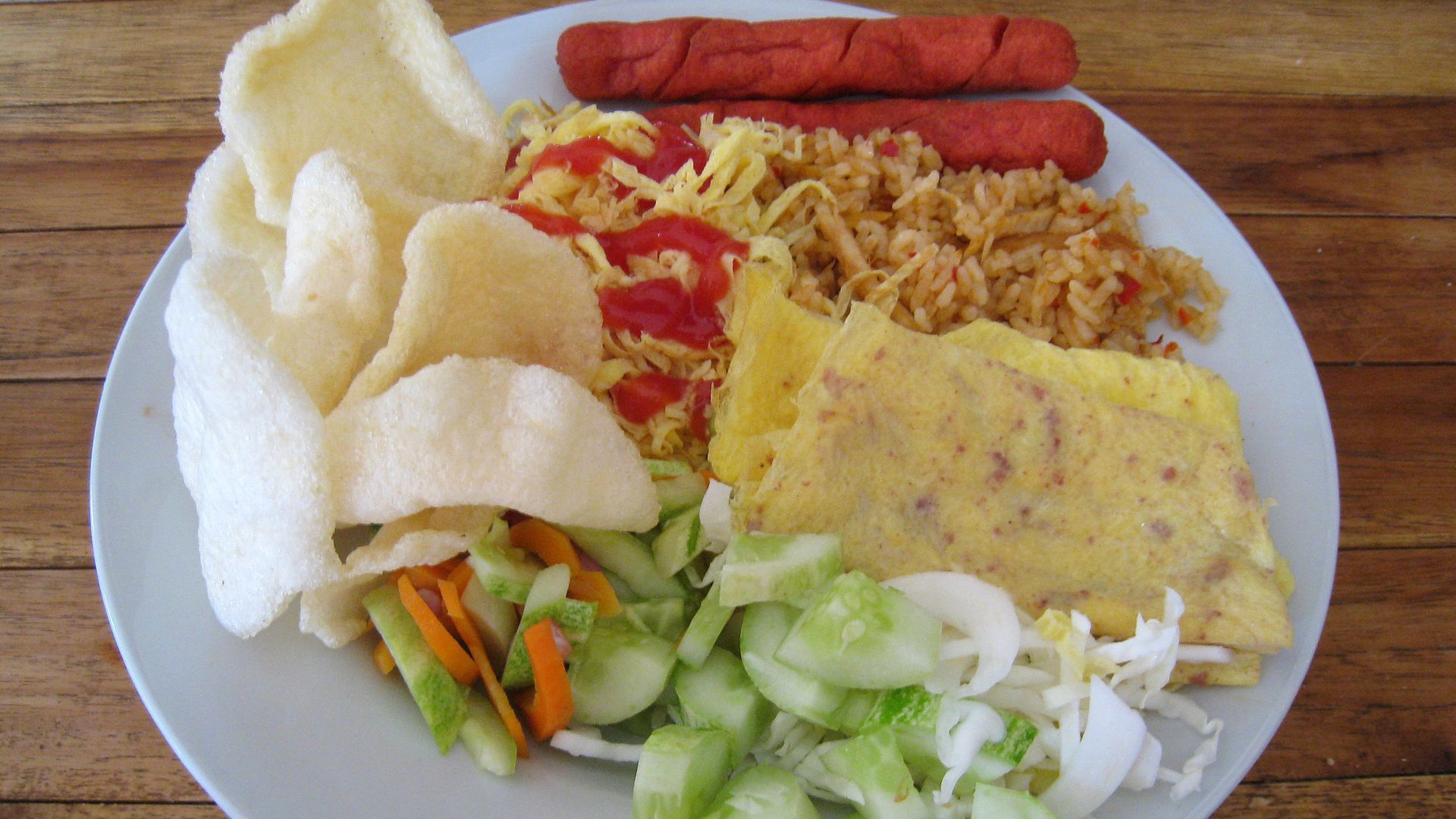 Nasi Goreng
One of the most popular dishes of Indonesia, Nasi Goreng is the country's take on the humble fried rice. It is prepared with rice mixed with kecap manis (sweet soy sauce) and terasi (dried shrimp paste) and served with a fried egg on the side. One of the best restaurants to try this dish at is Nasi Goreng Kambing Kebon Sirih, located in central Jakarta near the National Monument.
Ketoprak
Start your day in Jakarta with this unique tofu salad. It's a traditional dish prepared mainly with fried tofu, steamed rice cakes and rice vermicelli noodles. The signature dish also contains bean sprouts, cabbage and cucumbers mixed with a dash of sweet soy and peanut sauce. The salad is topped with fried shallots and krupuk (a Javanese cracker).
Martabak
An Indonesian stuffed pancake, Martabak is a popular dessert. It usually has a crispy crust and varies in thickness. Traditionally prepared with sprinkled peanuts, cheese and chocolate sprinkles, it also comes in savoury varieties.
Where to shop in Jakarta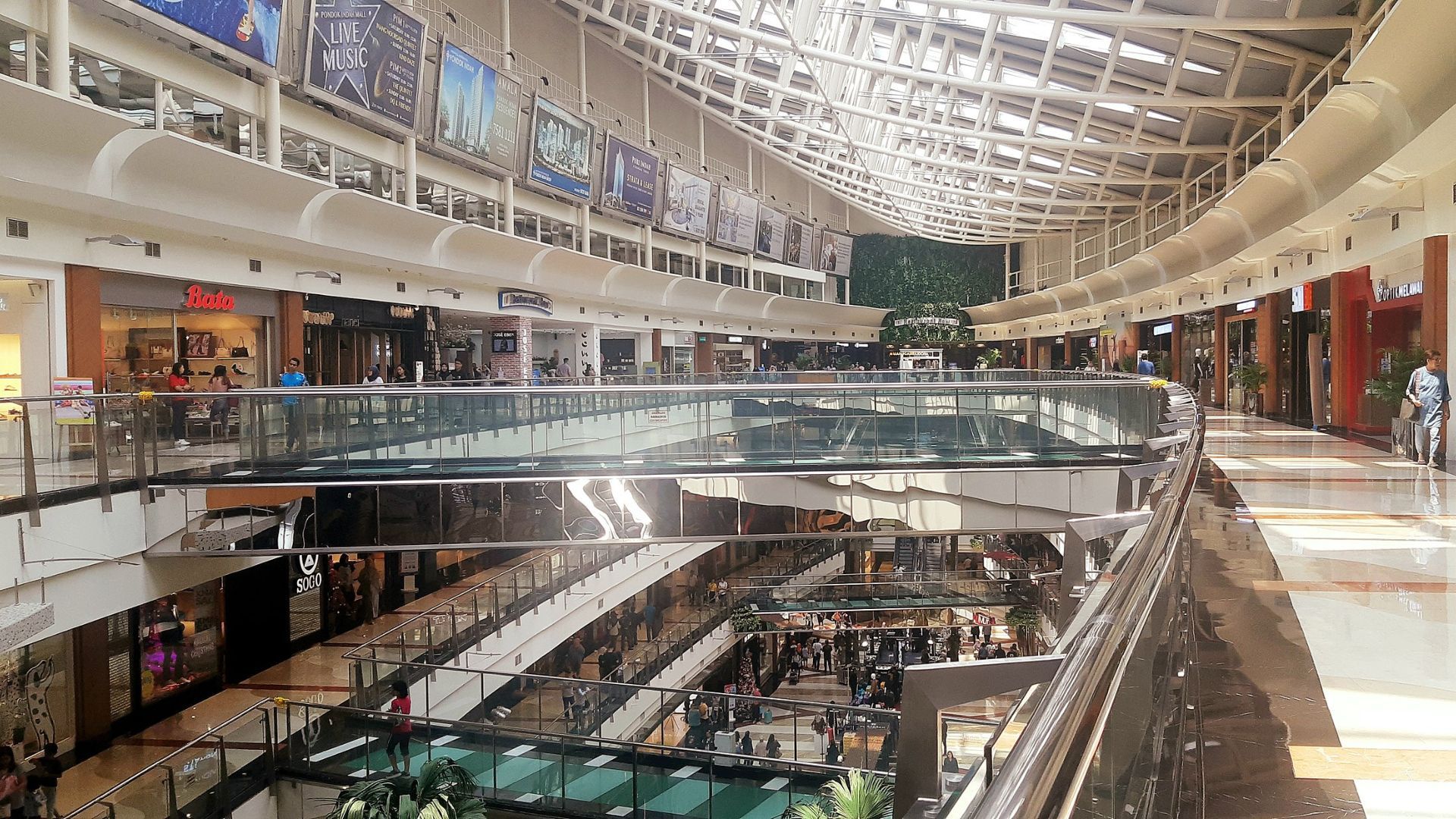 Grand Indonesia Mall
A premium place to go on a shopping spree, the Grand Indonesia Mall is a must-visit. It is located in Bundaran, an upscale area in the central part of the city. The mall consists of two sections — the eight-storey East Mall and the nine-storey West Mall. Flagship stores, international brands and boutiques, like Cotton On, H&M, Gramedia, Pull & Bear and Levi's, are lined up in the complex. You can visit over a hundred F&B stalls at the mall, including Jakarta's only microbrewery, Paulaner Brauhaus.
Pondok Indah Mall
Located in the upscale neighbourhood of Pondok Indah, this mall is a shopper's paradise. Locally known as PIM, the mall consists of three buildings — the old PIM 1, the PIM 2 and the new Street Gallery — connected via pedestrian walkways. The mall also has its own shuttle bus service, a disabled room, a prayer room, a nursing room and a self-driving valet. Other than checking out some of the most well-known brands across categories, you can also catch a movie at one of the two cinemas and visit the supermarket and department store here.
Jalan Surabaya Flea Market
If malls are not your scene, check out this street-side market in the upscale residential area of the Menteng district in central Jakarta. Mainly famous for antiques, you can find things like vinyl records, Indonesian masks, porcelain pieces, wooden crafts and other vintage objects. This is a good place for souvenir shopping.
Where to stay in Jakarta
Hotels in Jakarta
More Hotels in Jakarta
Hero & Feature Image Credit: Yohanes Budiyanto/Creative Commons Attribution 2.0 Generic/Wikimedia Commons
Related: 11 Asian Destinations You Can Visit From India Under INR 1 Lakh
Frequently Asked Questions (FAQs)
Question: How many days are enough to explore Jakarta?
Answer: Typically, three days are enough to explore Jakarta. You can cover the top tourist attractions, enjoy some of the best street food items, dine at sky-high restaurants, and splurge at high-end malls. Plan a longer stay if you also want to spend a day at Ancol Beach City.
Question: What should I know before planning a trip to Jakarta?
Answer: It's necessary to get yourself acquainted with the Indonesian currency, intercity transportation, regional customs, weather patterns, culture and etiquettes of the province before making travel plans to Jakarta.
Question: What are do's and don'ts in Jakarta?
Answer: Learn some phrases in the local language (Indonesian) to communicate your basic needs with locals. Indonesia doesn't have a strict dress code but it's crucial to dress as required in places of worship, like mosques and cathedrals. Basic etiquette must also be maintained in Jakarta, which includes showing respect to the locals, their way of life and places of worship. One must not litter.
Question: Do you need to carry cash in Jakarta?
Answer: A visitor should carry a some Indonesian Rupiah (IDR) when visiting Jakarta as it may be needed for purchases from neighbourhood stores, local eateries and for emergencies, if necessary.
Question: What are the most famous historical places in Jakarta?
Answer: The National Monument, Istiqlal Mosque and Jakarta Cathedral are some of the most prominent historical places in Jakarta.
Question: Are there any beaches in Jakarta?
Answer: Ancol beach is the closest beach to Jakarta city.
Question: What are the best malls in Jakarta?
Answer: Grand Indonesia Mall and Pondok Indah Mall are some of the best shopping malls in Jakarta.