Clear blue water, soft beach and nothing but the open ocean, Maldives is a paradise that has been all the buzz lately! The island nation has become a gram-worthy spot and Janhvi Kapoor's latest adventures to the Maldives just prove how picturesque and serene the country truly is! The actress has shared glimpses of her island escape from her personal gallery and one can't help but be mesmerised by the Islands' natural beauty. Maldives is a group of islands situated in the Indian Ocean, this tropical destination has become the go-to escape for travellers across the world! Almost every beach-lover dreams of relaxing in the iconic water villas and playing on the white sand beaches. The country spans over 90,000 square kilometres. However, Maldives only has 298 square kilometres dry land! That's not all, with over 1000 islands, only 200 islands are inhabited. The Maldives is a natural wonder that has come into the limelight recently and has become the vacation destination for many celebrities, including Janhvi Kapoor.
Book Your Stay At Royal Island Resort at Baa Atoll Biosphere Reserve Image Credit: @janhvikapoor/Instagram
Maldives is an exciting place to explore and there is a whole lot of activities you can do around the country. If you are a thrill-seeker, then water activities should be at the top of your list. Maldives is the best place for snorkelling, fishing, water skiing, scuba diving and dolphin-watching tour. For a relaxing vacation, just simply stay in one of the many beautiful resorts on the beach and laze around the water. You can also go island hopping and see Baros, Mirihi, Alimathaa and Meeru. You can even check out Hukuru Miskiy, a mosque made of coral stones, or visit the Maldivian president's office, Muliaage Palace.
Book Your Stay At Kandolhu Maldives
How to reach Maldives and the best time to visit:
View this post on Instagram
Since Maldives is an island, you can't reach the country by road. The best way to reach the Maldives is by aeroplane. Male International Airport is the main airport in the country where most international flights land. It is also known as Velana International Airport. The non-stop flight from India to Maldives would take about five hours to reach. You can also take a cruise to the Maldives from Mumbai or Kochi, it can take from five to seven days to reach there.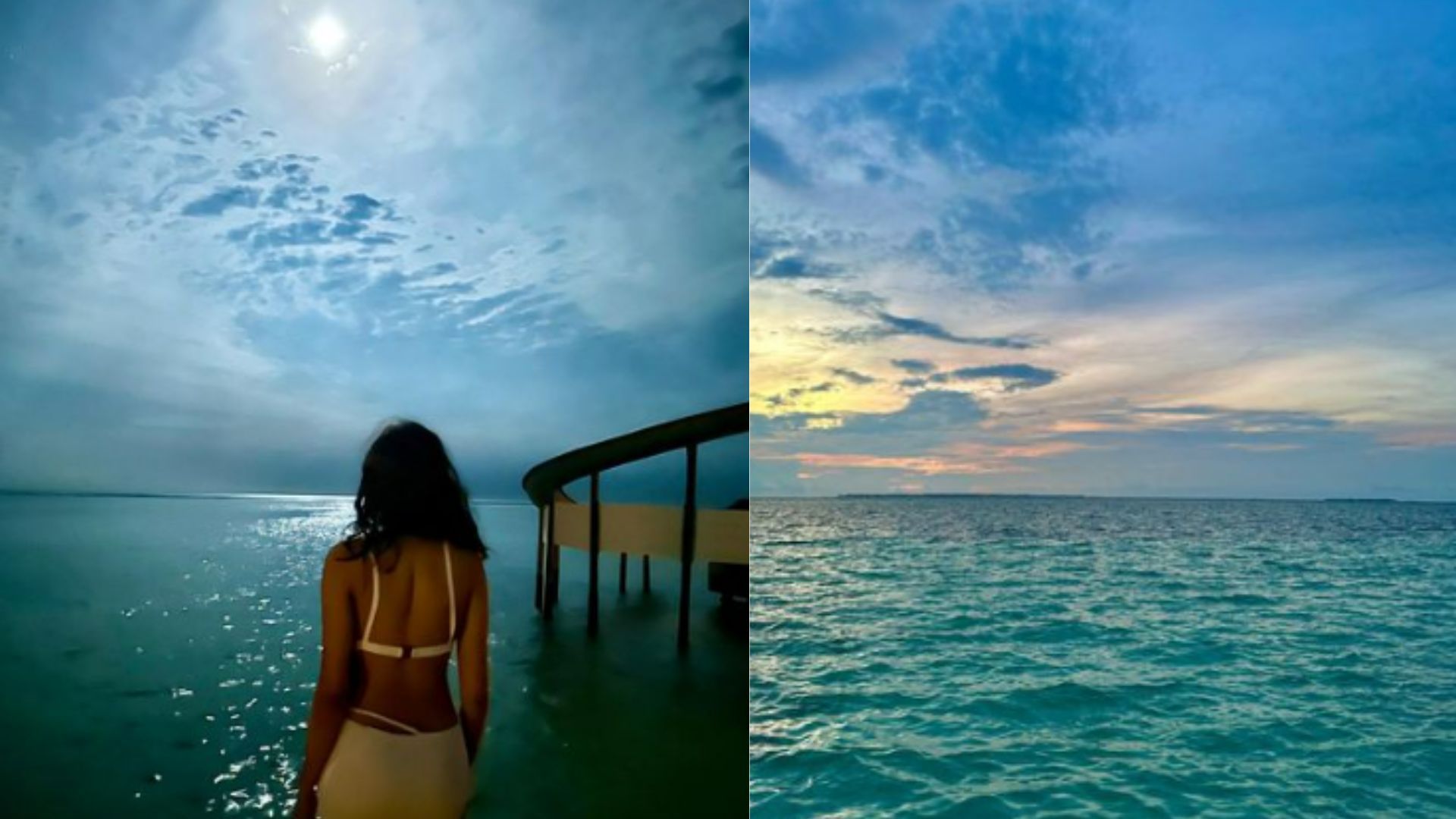 The ideal time to visit this tropical island is the months from November to March. You can escape the freezing cold of the winter months by relaxing in the pleasant and sunny weather of Maldives. The island nation is surrounded by beaches and the temperature ranges between 29 degrees Celsius to 31 degrees Celsius. This is the peak season for visiting the archipelago.
View this post on Instagram
Here and feature image credits: Courtesy of Janhvi Kapoor through her Instagram
Related: Kashmir Through The Eyes Of Samantha