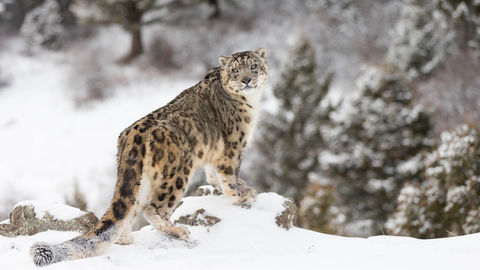 New viral video of snow leopards, raises hopes of the increasing population of the endangered species across Himachal Pradesh. By Tanvi Jain
The rare spotting of a snow leopard in the Spiti valley of Himachal Pradesh has risen hopes of the increasing population of the endangered species. Recently, a video of a snow leopard in front of an SUV in Hikkim village, and another atop a mountain in Kibber, grabbed much attention on social media.
Although, the exact number of snow leopards is difficult to ascertain, the wildlife wing of the forest department has reportedly estimated it to be over 100. Moreover, as per a recent survey by the wildlife wing and the Nature Conservation Foundation of India, Mysore, as many as 49 leopards were spotted across seven places, including Miyar, Thandi, Chandra and Bagha in upper Spiti region in Lahaul and Spiti district.
Usually found at altitudes of 9,800 feet and 17,000 feet, the habitat of snow leopards ranges from Kibber wildlife sanctuary in Lahaul and Spiti to Pangi in Chamba district. They have also been spotted in Lippa Asrang in the upper reaches of Kinnaur and the Great Himalayan National Park.
Snow leopards usually prefer steep cliff areas, rocky outcrops and ravines, as the camouflage makes it easy for them to ambush a prey. Their main prey is The Helan Shan blue sheep also called bharals, but the increasing number of stray dogs in Kaza near Kibber are giving them a tough competition, as they also prey on the same.
The endangered species is also a source of income in the valley, as youngsters who are trained at the Atal Bihari Vajpayee Institute of Mountaineering in Manali, manage to earn around INR 100 to INR 1,500, for helping tourists and mountaineers sight snow leopards in high altitudes.
Back in 2006, a project to conserve habitat of snow leopards in Spiti valley was initiated by the forest department. Another video of a snow leopard walking in Spiti had also gone viral earlier this month, after being posted by an IFS officer on Twitter.
Related: The Tale Of Chasing Snow Leopards And A Unique Wellness Experience In Spiti!
Written By