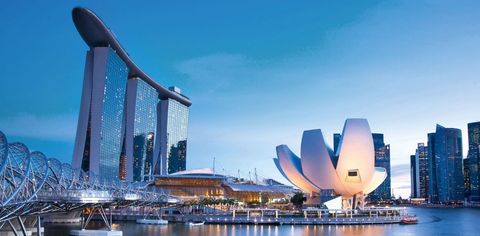 Singapore is a hub of visual arts that can be accessed on the streets, in museums, and even on a mobile phone. Our writer experienced this plenitude just before the pandemic struck last year. By Joanna Lobo
It was a room built for a pandemic-like situation. This apartment of the future was an indication of what life would look like 200 years from now, with extreme weather conditions, rising sea levels, economic uncertainty, and scarcity of resources. It was a compact, self-sustaining space with no knick-knacks or mementoes but with demarcated areas to grow food—edible plants and micro-herbs. There were also books and recipes for cooking insects (roaches). This self-contained Room of Requirement was part of 2219: Futures Imagined, an exhibit at ArtScience Museum in Marina Bay Sands, Singapore. The show was a journey into imaginary future worlds. Little did I realise, standing in that room, that this 'future' was a month away: a future where we would be growing our own food, becoming more conscious about our choices, and adapting to the scarcity of essentials. There's always more to art than meets the eye. I am not an art-lover. I do not claim to understand or appreciate it. But whether you love it or hate it, art has the ability to make you think about the world differently. This is what happened on my maiden visit to Singapore for Singapore Art Week (SAW) in January 2020. I saw spices making a point about the healing power of the kitchen in Sunaina Bhalla's Healing Wall of Spices. I discovered how dust can be used to "paint time" in Min Thein Sung's Time: Dust paintings. I saw how modern civilisation has destroyed harmony with nature in Yang Yongliang's digital installation, The Departure. That one week helped me realise that art doesn't need to be understood, just experienced. With quarantine restrictions still playing spoilsport with most travel plans, this year's SAW reached many people around the world through virtual tours and live events. It made me look back at the thought-provoking, and at times prophetic art I witnessed last year.
VISIONS OF THE FUTURE
The ArtScience Museum is a defining part of Singapore's bay landscape; a pristine white blooming lotus. It looks good from afar, up-close, and in the reflection in Anish Kapoor's Sky Mirror, a stainless-steel artwork set in a pond of lotuses right outside the museum. It is one of Singapore's most exciting museums, blending art, science, and culture in an attractive package. It is here that I encountered 2219: Futures Imagined. The exhibit wasn't limited to self-sustaining rooms but painted a future focussed on human-led adaptations: libraries stocked with necessary books, an architectural plan detailing how Singaporeans can live underground, new modes of transport, and the implications of our social and cultural memories. The interactive installation win><win by German theatre group Rimini Protokoll offered a window to a future where jellyfish are the predominant species on the planet and a threat to all other life. It was telling of the way humans have destroyed the planet.
MAKING SPACE
Art is everywhere in Singapore: in small museums, on the walls of homes, in repurposed warehouses, heritage industrial factory spaces, and conserved colonial barracks (Gillman Barracks). Each space brings its own unique identity, and sometimes architecture, to the art-viewing process. At STPI by Robertson Quay, I found a contemporary gallery and creative workshop space dedicated to printmaking. The Creative Workshop is a laboratory for artists to experiment with print and papermaking techniques. The result is artwork like moss paintings where artist Melati Suryodarmo moulds and shapes pigmented wet pulp. Out on the bustling Orchard Road, packed with high-end stores and malls, a repurposed shipping container became the space for French artist Lionel Sabatté to showcase his fantastical beasts made of dust, ashes, charcoal, dead skin, and tree stumps. In the streets of Kampong Glam, Singapore's Muslim Quarter, I found art painted on or hanging from windows and walls. Over in Little India, the art was focussed on the region's inhabitants. There were the expected peacocks, elephants, and mogra (jasmine), and also a mural of traditional occupations of the Indians who first settled there: dhobis, tiffin-meal businesses, and astrologers. Unexpectedly alongside was a mural of Rajinikanth. This sense of identity and cultural representation, visible all over Little India, finds space at the School of the Arts (SOTA). The annual IMPART Collectors' Show showcases works from private collections. Here, I learned how an artist's identity, history, and culture can translate themselves onto a canvas. Pakistani Adeela Suleman's What Dreams May Come had the filigree tradition of Islamic art imposed on a wooden piece.
Thailand's Jakkai Siributr used popular iconography of Thai culture and worship to create an embroidered wall piece, Hi- So, bright pink and covered with sequins. I've Seen an Elephant Fly had Bharti Kher combine two symbols of Indian culture: the bindi and the elephant. Among these pieces, one portrait stood out, arresting the gaze. It was Kehinde Wiley's life-size portrait, Saint Gregory the Great. The US-based artist is known for his portraits of African Americans—he paints them in proud, aristocratic poses against ornate backgrounds, reminiscent of historical masterpieces. It is his way of questioning the historical under-representation of people of colour and bringing them into the galleries that under-represented them.
DIGITAL ART AND THE ARTIST My greatest discovery of the art scene in Singapore was the use of augmented reality (AR).
As part of Singapore's first public AR walking trail, AR.T Trail, I saw six works of art reimagined using Facebook's Spark AR. The one that stood out was an unassuming tree stump honouring Singapore's tallest tree. Robert Zhao's Time Tree is the largest 3D-printed piece in Singapore. It has spirals marking its own history, and with AR, the spirals turn into text mentioning important events in Singapore's history. The trail was an attempt by creative technology studio MeshMinds Foundation to show that street art isn't for passive viewing. It can tell a story if we
pay attention. Telling stories is what Aliwal Arts Centre at Kampong Glam does best. As part of SAW, they organised the Urban Arts Festival showcasing visual art, alternative music, dance performances, and skateboarding. There, for the first time, I watched skateboarding try-outs and a dance battle. Yet, it was the street art that demanded attention. Everything on display was meant to answer the question: "What if?" For instance, what if graffiti wasn't allowed on blank walls? One night, I got the answer to this question. The street art collective Rscls showed me their 'blank wall art'. Faced with a depleting number of blank spaces to showcase their work, the collective had created AR versions of their art accessed through Instagram. At the National Design Centre, the Atypical Singapore exhibition introduced me to another artist playing with technology. Eugene Soh ('The Dude') takes iconic artworks and recreates them in Singaporean, adding AR for a flourish. In Food for Thought, an interpretation of Raphael's The School of Athens set at the La Pau Sat hawker centre, AR makes the figures move. Similarly, hawkers at Maxwell Food Centre have an animated discussion in The Last Kopitiam, modelled on Leonardo Da Vinci's The Last Supper. There was a different kind of technology at play in the National Museum of Singapore. There, I walked through a 'forest'—an interactive installation by a Japanese digital collective, teamLab. Story of the Forest transforms 69 drawings into 3D animations of Singapore's flora and fauna. I stood in a darkened, domed room while leaves fell all around me, flowers bloomed, and animals bounded about. The exhibit offered me a different lens through which I could view history and connect Singapore's colonial past with its present-day modernity.
This room, much like the one in 2219: Futures Imagined, was a perfect representation of my understanding of art in Singapore: something that is visually stunning, immersive, imaginative, and that uses technology to evoke wonder and spark conversation. GETTING THERE
Most major airlines, like Singapore Airlines, run daily flights to Changi Airport from Indian cities. There is an MRT station that takes you into the city (but requires transfers). The bus is the cheapest option to get around; it allows payment in cash and by card. The MRT is quicker. There are tourist passes for unlimited travel— available for one, two, and three days.
STAY
The Fullerton Hotel Singapore offers views of the Singapore River or Marina Bay. From INR 14,988.
Mercure Singapore on Stevens is a four-star hotel that's centrally located. From INR 7,839.
Related: India & Singapore Have Collaborated To Create Magic At Singapore Art Week
Written By