Explore The Best Of Southern Spain With Shivan Bhatia, Narresh Kukreja & Siddharth Mahajan
A certain Bollywood movie may have pushed Spanish road trips to the cusp of cliche, but that did not stop Siddhartth Mahajan from making his annual ritualistic journey with designers Shivan and Narresh. The trio give us their recommendations from southern Spain. By Siddhartth Mahajan
A hectic fashion week followed by a draining financial-year closing and some serious solar storms affecting our cosmic balances—we had never craved for March 31 more. The only silver lining along this year-long cloud was a Spanish holiday that awaited us at the end of it. With no time whatsoever to plan the holiday, we booked return tickets and winged the itinerary—an MO we will never repeat. While three friends on a road trip in Spain is a bit corny now, given the frenzy Zindagi Na Milegi Dobara sparked, this holiday was about discovering southern Spain in a simpler and easier, albeit chaotic, way. And there were definitely no bulls running behind us.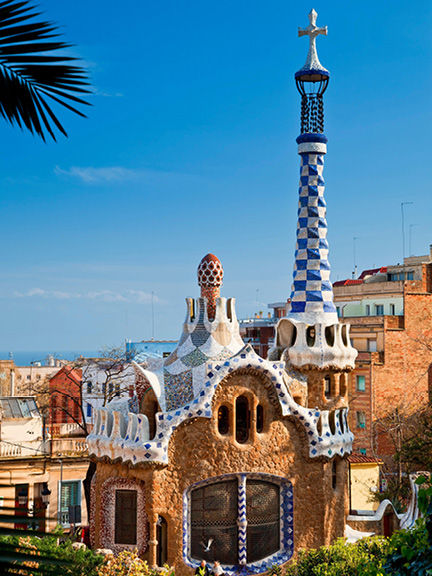 Party Starter
Landing at Barcelona meant that we had to follow the rituals: experiencing Antoni Gaudí's glorious architecture and the (in)famous party scenes synonymous with the city. Barcelona was a bit sleepy because it was the Easter weekend, but that did not deter our spirits—the average party here starts at 2 am and ends at 7 am, on a weeknight! While we painted the town red in the night, we managed some slightly hungover experiences during the day.
Gaudi's Parc Güell, La Sagrada Familia, Casa Milà and Casa Batlló tend to be on everyone's list, but Shivan recommends that you experience the Modernist movement of the 1920s with the German Pavilion by the legendary Mies Van Der Rohe. It's remarkable how simple it is, how ahead of its time, and how it continues to inspire modern architecture till date.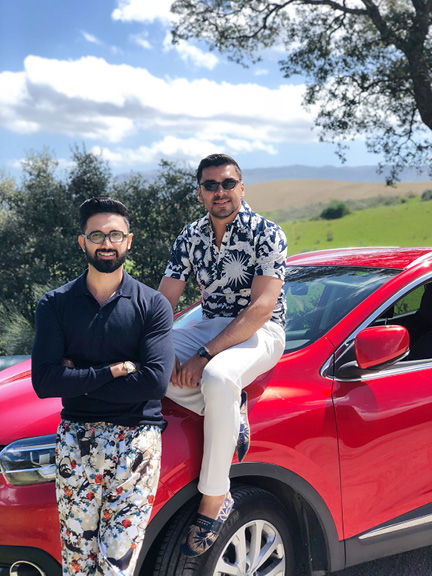 Having lost our way in the streets of Barcelona, we stumbled upon the Plaça De Tetuan—a historical square with a stone sculpture that's a feast for the eyes. But the real joy here was the adorable resident Wire Fox Terrier and his ball. It's not every day that a dog urges you to play catch with him in a public square!
Simply Seville
After spending an eventful weekend in Barcelona, we decided to begin our road trip across southern Spain. The first stop was Seville, a charming town with a long history. From cobbled streets to live Flamenco dances at random street corners, the old town holds magic in store for those who visit it.
Narresh signed us up for a free walking tour of the city that started from Puerta De Jerez; it spared us hours of research. He recommends you do the same. The guides were super friendly and walked us through the streets, dispersing abundant trivia along the way. From life in the medieval times to Gothic architecture to the tobacco factory that was at the centre of the famous opera Carmen, and finally, the development of the city's iconic structures like Plaça d'Espanya for the 1929 World Expo, the walk teemed with the kind of history lessons that we wished we had got while growing up.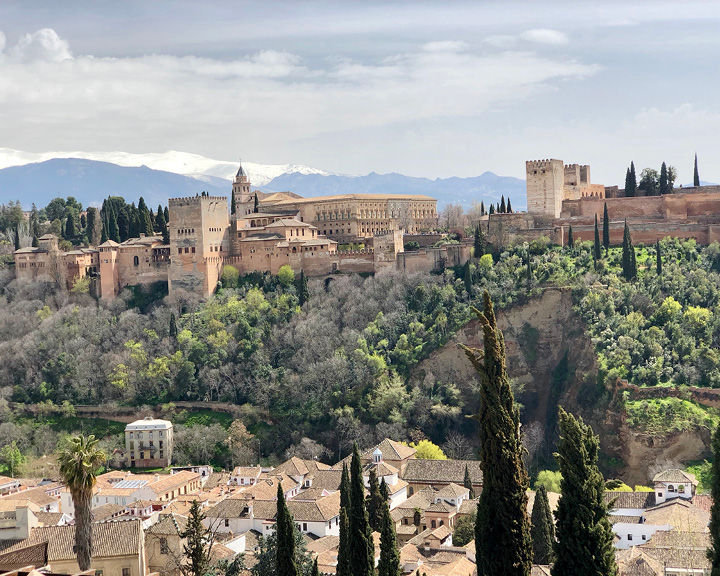 Tapas is huge in Spain, which explains why the streets of Seville are lined with bars serving sangrias and tapas, with locals and tourists alike soaking in the sun. This is where we used our favourite holiday rule: order once at a place—no repeats—and hop to the next. I suggest you go for the platters to experience the whole range. When travelling in summer, try the fresh gazpacho (cold soup) and the popular patatas bravas (sautéed potatoes in or with a spicy tomato sauce). While Seville is home to the largest Gothic cathedral in the world, Catedral de Seville, Shivan recommends that you must also visit the Real Alcázar—the royal palace that features the most striking Moorish influences. Notably, this is also the setting for the kingdom of Dorne in Game of Thrones.
However, there was one experience that we missed out on: an authentic Flamenco performance in the fabled Triana district, where Indian gypsies brought the dance form in the 15th century. We recommend you do not!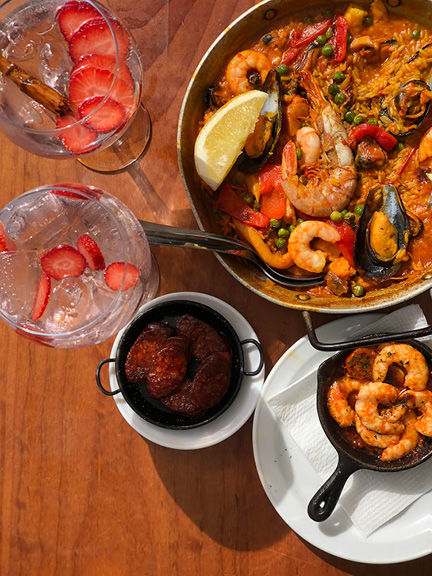 Ronda-bout
The road trip saw us drive through breathtaking Andalusian plains and meadows and make a brief stopover at Ronda, home to the Puente Nuevo bridge. While its name ('new bridge') suggests it is a recent addition, the bridge was completed in 1793 and split Ronda into old and new towns. Although we had set aside half a day for this town, we exited it under 90 minutes. Earmark it as a stopover for tapas in the streets or a lunch by the bridge with a roughly 30-minute hike to a cliff for the most amazing pictures of the bridge.
Granada Gains
A quick Google search on it might paint a picture of a sleepy town. But Granada is much more! With a vibe that is more Milanese than Florentine and history that permeates its streets, Granada was a special milestone on our route. The town exudes a distinct newness with its hip shopping districts, but every now and then, a grand cathedral peeks out from amidst closely-packed buildings and takes your breath away.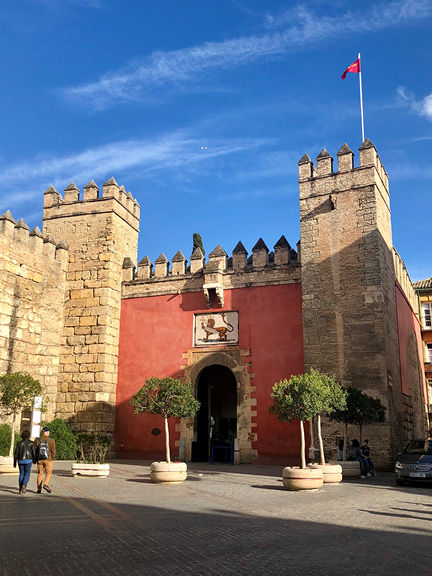 Since our itinerary was unplanned, we missed out on tickets for Alhambara (it's booked out for over three months; blame it on the 300-visitors-per-day rule). However, we did manage another insightful tour that Narresh recommends—a walking tour that started from the Plaza de Isabel la Católica. It went through the Royal Chapel of Granada to the Renaissance-style Granada Cathedral, and finally, the winding streets of Albaicín, the Moorish settlement where every turn showed a moment from the city's past. Head to the plaza right outside Mirador de San Nicolás for a panoramic view of Granada and Alhambra.
Granada is one of the few places in Spain that serves tapas gratis or on-the-house tapas. Bar-hop through Calle Navas and experience a gamut of appetisers, ranging from olives and grilled chicken to cured Iberian ham and chorizo. The best part of Granada's streets for Shivan was their abundance of musical talent. Don't be surprised if a violinist or Spanish guitarist serenades you on a stroll through the town.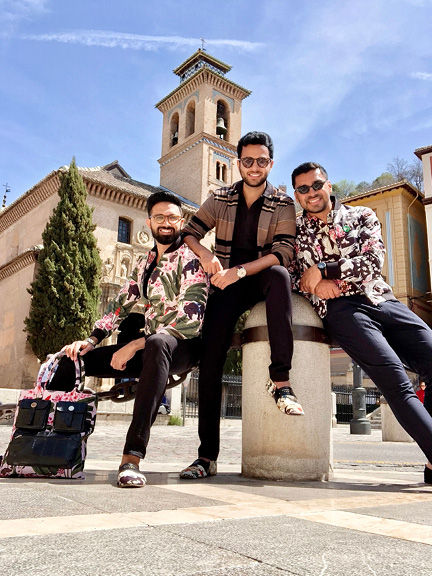 Marbella-cious
Bidding a rather sad adieu to Granada, we headed further south to our last destination—the posh coast of Marbella and Puerto José Banús. Being in the fashion business, we often get customers looking for bathing suits for their "Marbella summers." So we were excited to be at the scene of the crime. Our enthusiasm was greeted with a rather dull vibe—it was slow and sleepy and the season would pick up in June, we were told.
Our walking explorations continued here. Its quaint Mediterranean streets lined with fashion boutiques and bars, Marbella flaunts the easy glamorous life. No wonder so many Europeans decide to retire here. Marbella has two major areas to explore—the old city and the beach promenade. The old city features buzzing streets culminating into the orange umbrella-lined Plaza de los Naranjos (literally 'Plaza of Oranges') where one can while away hours people-watching. The oranges on the trees look deceivingly luscious, but they are extremely bitter—they are shipped to the UK for marmalades.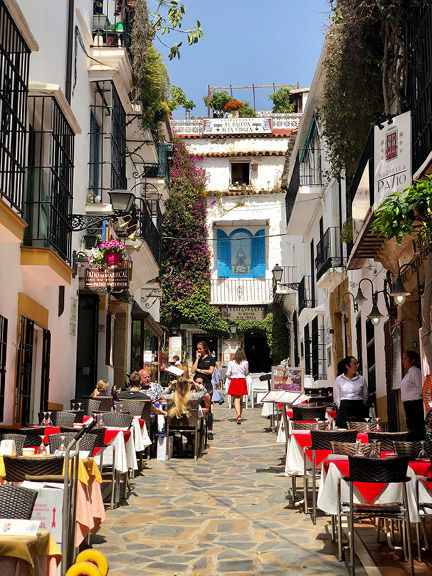 Thanks to Shivan, we knew the beachfront had the Avenida Duque de Ahumada, a walkway lined with tapas bars, lounges and also an open-air gallery featuring 11 Dali sculptures. This is where we discovered the Spanish Pink Gin. As Shivan is a major gin maniac, it was the highlight of the trip for him, with almost every meal featuring this local beverage with soda and fresh berries. A 10-minute drive from Marbella, Puerto José Banús is easily the Spanish equivalent of St. Tropez— glitzy cars, luxury shopping and glam-worthy lounges along a yacht-lined marina. Narresh's pro-tip: visit during the season, starting from mid- June, to experience the real vibe of both the towns.
With the gin-soaked beach towns ended our Spanish road trip that covered five memorable sites in eight days. We did not skydive or scuba-dive, but we came back with ample memories and travel lessons—the biggest being planning a road trip in advance. But, as the saying goes, life begins at the end of your comfort zone.
THE DETAILS
GETTING THERE
Barcelona can be reached easily with Alitalia, Qatar Airways and Turkish Airlines.
STAY
Barcelona: Hotel Arts is a modern property at the Barcelona Beach promenade. From INR 39,000.
Seville: Hotel Alfonso XIII (from INR 43,000) is a stunning heritage property.
For a more modern stay, Hotel Mercer Sevilla (from INR 47,000) and Grand Melia Colon (from INR 29,000) are great options.
Granada: Choose between the Eurostars Washington Irving for a contemporary stay (from INR 24,000) and the Moorish charm-laden Parador de Granada (from INR 27,000).
Marbella: Puente Romano is a Spanish- style property located in the Golden Mile area (from INR 53,000).
Related: If You're Chasing Paella In Spain These Are The 4 Restaurants You Can't Afford…