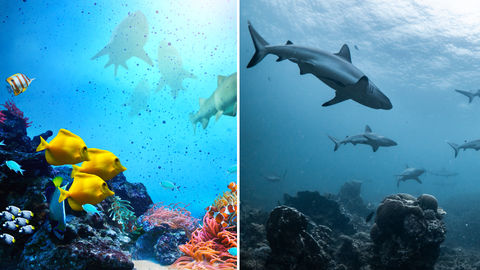 Feels like we just can't catch a break in 2020!

A new study spearheaded by a professor in Canada has revealed that sharks are disappearing and 'functionally extinct' in almost 20 per cent of the world's coral reefs. Here is what we know. By Amitha Ameen
View this post on Instagram
According to a global study authored by Dalhousie University's Professor Aaron MacNeil, sharks are disappearing from our coral reefs. The results were derived from a network of underwater cameras that were deployed in 371 reefs across 58 countries.
Scientists and researchers alike blame the unsustainable and destructive fishing practices along with high population densities near coastal areas for the downfall of shark population — that play an important role in the ecological balance of coral reefs and the marine ecosystem in general.
View this post on Instagram
This global decline of sharks is unprecedented and the recent study showed that almost in 20 per cent of reefs, close to no sharks were seen. "That was surprising. We expect, as a condition without humans, that there should be sharks on every reef in the world. To find 20 per cent of the reefs that we surveyed didn't have sharks is very concerning", said Aaron in a published report in the journal Nature. Additionally, global reports suggest that over 100 million sharks are killed each year for their meat and fins.
Cameras recorded more than 15,000 hours of footage between July 2015 to June 2018 and captured 59 different species of sharks, out of which more than 90 per cent of the species were either resident species or species that frequently visited reefs. And the shark numbers in more than 30 (out of the 58) nations were less than expected, according to the study.
View this post on Instagram
At a time when the planet is already struggling with the effects of climate change, the dwindling reef shark numbers could cause potential long-term consequences for the planet's coral reefs.
"From restricting certain [fishing] gear types and setting catch limits, to national-scale bans on catches and trade, we now have a clear picture of what can be done to limit catches of reef sharks throughout the tropics," said Dr Aaron (as reported on The Guardian).
Related: Antarctica's Snow Turns Green, Thanks To Climate Change
Written By