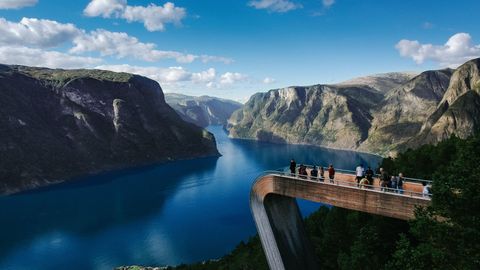 If you've got just a week in Norway, this is the ideal express guide to make the most of the seven days in the Scandinavian country.
Norway is surrounded by sea and oceans, and several mountains in between. Its unique geography often puzzles first-timers looking to maximise their experience in a week. If you are short on time or a multi-country trip, Norway in a Nutshell cruise is a superb way to explore this Arctic nation. However, for a more immersive experience use different transportation modes–cruises, ferries, trains, flights, and cars.
Here's your cheat sheet for a week-long adventure in Norway. This itinerary deviates slightly from the tourist path, combining Norway's best experiences–from the world's most stunning train rides to the most picturesque drives. Considering the variations in daylight hours and weather conditions, Norway exhibits striking differences between its summers and winters. This itinerary is tailored for individuals travelling from May to late September, the months that have abundant daylight and minimal snowfall.
7-day Guide to Norway
Day 1
Arrive in Bergen and drive to Voss Ditch the usual Oslo and make Bergen your launchpad for Norway. With scenic drives, epic mountain vistas, thundering waterfalls, and a gateway to captivating fjords, Bergen is a good start! Opt for a hotel or an Airbnb anywhere between Voss and Flåm (my pick: Elva Hotel and Restaurant) This strategic move reduces driving time, leaving you with more time to explore. With a well-connected airport, Bergen assures a seamless start. What's more — you can even rent a car right at the terminal!
Day 2
Exploring Flåm Begin by heading to Flåm village, a central hub for tourist activities, and opt for a Fjord tour. You can explore the fjord via a large vessel or a faster Rib boat tour. If you like an intimate and agile encounter and don't mind a bit of discomfort, then book a Rib tour. Next, experience the iconic Flåm Railway, a 20-kilometre-long journey through stunning mountains, valleys, waterfalls, and landscapes is one of the most beautiful train rides. The old-style train will lead you from Flåm to Myrdal, completing the roundtrip in approximately two hours. Get a seat with fully openable windows to take perfect shots and get down at the sole stop for a surprise!
Finally, drive to Stegastein viewpoint. Located 15 kilometres from Flåm in Aurland municipality, it's part of the National Tourist Route Aurlandsfjellet. The modern architectural platform extends from the mountainside and offers unobstructed fjord views. Check out one of the world's most beautiful public toilets while you're here!
Day 3
Voss and Bergen On your drive back to Bergen, stop at Voss en route. The Voss Gondola is the largest and most modern gondola in Northern Europe. Enjoy panoramic views of the surrounding mountains and engage in various seasonal activities at the top. Spend the night at The Radisson Blu Royal Hotel in Bergen.
Bergen is a walkable city. Begin by ascending Mount Fløyen using the funicular Fløibanen to experience a panoramic view of Bergen. Stroll along the Bryggen, a UNESCO-listed wharf with vibrantly-hued historic structures. Continue your walk to Nordnes Park, an oasis of tranquil greenery, and conclude at Festplassen and Torgallmenningen squares, both ideal for shopping and dining. But bear in mind that most Scandinavian cities close early.
Day 4
Ålesund and Trollstigen Take an early morning flight from Bergen to Ålesund. Plan to stay near Geiranger or Stranda (such as at this Airbnb) to get away from the tourist trail. Beautiful drives and remote villages await. One such gorgeous drive is Trollstigen. Considered Norway's most famous scenic mountain road, Trollstigen is renowned for dramatic landscapes, steep mountainsides, and breathtaking views of valleys, waterfalls, and peaks. The zigzag road with 11 hairpin bends is both, an engineering marvel and a thrilling driving experience. Keep an eye out for road closures. The stretch is open from late spring to early fall, depending on the weather. At the end of the road, there's a visitor centre, a viewing platform, and some boarded walking trails.
Day 5
Atlantic Ocean Road and Ålesund Today is a day of extended driving. Begin journeying along the Atlantic Ocean Road, ultimately arriving at Ålesund. The total driving time is approximately six hours, depending on your accommodation's location. I stayed at Scandic Parken Hotel.Start your day early, as you will be tempted to make many stopovers.
The Atlantic Ocean Road is an approximately eight-kilometre-long road. It is a testament to human ingenuity and nature's beauty. Winding through islands and skerries, and offering breathtaking sea and cliff vistas, the road meanders through viaducts and the iconic Storseisundet Bridge. Its unique design and incline offer visual illusions and superb photo opportunities.
Day 6
Ålesund and Oslo Start your day early and explore Ålesund on foot for two hours. This small city looks very different from stylish Oslo or historical Bergen. Begin your walk at Brosundet, a charming canal, and admire the colourful buildings and the boats that line the waters. Walk along Apoteker Torget, a small square surrounded by Art Nouveau buildings and visit Jugendstilsenteret, an Art Nouveau Center located in a former pharmacy building. Learn about Ålesund's history and architecture through exhibits and multimedia displays. Head to The Town Park, a peaceful green space in the heart of Ålesund.
For the next leg of the trip, return to Oslo by first taking an afternoon flight to Bergen, followed by a train. The train from Bergen to Oslo takes seven-and-a-half hours. Touted as one of the world's most beautiful train journeys, it is unmissable! The last train departs at 11 pm, making it an efficient tactic to make the most of the midnight summer sun. If you are travelling in a group or with the family, book an entire cabin. It is more cost-effective and gives you privacy, too. Referred to as the Bergen Line, this train voyage takes you through landscapes reminiscent of Antarctica, complete with glacier-clad vistas. The train crosses Finse–famous as the filming location for the American epic space saga Star Wars–which is accessible solely by train, bicycle, or skiing. The journey continues through the Hardangervidda National Park, known for Norway's largest wild reindeer population. It also boasts of Northern Europe's largest mountain plateau. After these remote lands, the train reaches Oslo. Spend the night at Hotel Bristol.
Day 7
Exploring Oslo Oslo is famed for its striking waterfront and the Oslo Fjord. The town is globally recognised for its green initiatives and commitment to sustainability visible at parks, pedestrian-friendly avenues, and efficient public transport that contributes to its high standard of living.
Start at Karl Johans Gate on the main street, meander past shops and landmarks like The Royal Palace, and explore The Palace Park. Check out The National Gallery to admire masterpieces like Edvard Munch's The Scream. After a lunch break, head to Tjuvholmen for modern art and architecture. Observe Oslo City Hall's striking design and sculptures, and if time permits, explore its interiors, too. Reach the Oslo Opera House to marvel at its unique architecture and rooftop panoramas, proceed to the Barcode Project for contemporary skyscrapers, immerse in history at Akershus Fortress, and unwind at the SALT.
SALT is a unique cultural venue and social space located on the waterfront in Oslo. It consists of large, white, nomadic structures hosting various events, performances, exhibitions, and activities. The structures are designed to resemble traditional Sámi tents used by the indigenous Sámi people of northern Scandinavia. There are plenty of Nordic food and beverage options. Make sure to get inside one of the saunas, especially inside a barrel!
Related: How To Spend One Perfect Day In Oslo, Norway
Frequently Asked Questions (FAQs)
– How do I reach Norway?
Airlines such as Qatar Airways, KLM, and Lufthansa offer connecting flights from New Delhi and Mumbai to Oslo. Etihad offers connecting flights from Kochi to Stavanger, while certain airlines like Lufthansa and KLM offer connecting flights from Mumbai to Bergen.
– What is the best time to visit Norway?
In general, coastal areas have relatively mild and wet winters, but with snow in the mountains. The inland regions have cold winters with plenty of snow; and hot and relatively dry summers, especially in the eastern side of Norway. Here, the temperatures normally lie around 20 degrees during summer.
– Is Norway very expensive?
Although it has long been perceived as a high-cost country, Norway is quietly becoming more affordable for travellers, despite rising inflation. Besides, the country has attractions for all kinds of budgets!
Written By