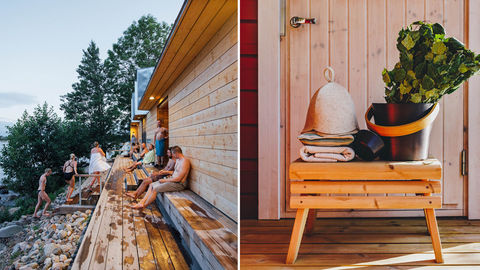 Finland, the pioneer of saunas, has many tales about its therapeutic regimen. Kalpana Sunder takes us through some. By Kalpana Sunder I drape my towel decorously and prop myself on a warm pinewood bench with a delectable smell of wood in the air. Pale light sieves in from the windowpanes. Soon I start glowing with the scalding steam, not surprising, given the temperature's really high! I am spending a day at a sauna cottage in Eastern Finland's Lakeland region, which includes the picturesque Lake Saimaa and many islands dotted with mökki or summer cabins.
To mitigate the harshness of the long and dreary winters here, the Finns invented something to give them warmth and cheer—the sauna. Of course, the sauna has close cousins in other cultures like the Turkish hammam or even the Japanese onsen, but in Finland, it is a national obsession. I am told that there are more than two million saunas all over the country. Even the Parliament House has a spa, where 'sauna diplomacy' is practised.
During sauna diplomacy, international delegations are invited to a sauna before clinching a deal. If there's an impasse, they first sweat it out and then resolve it. There are portable saunas as well, which are carried while camping. Annual sauna championships are also held in Finland, where the person who endures the highest temperature wins. This love for sauna is evidenced by its reference in Finnish culture. According to an old Finnish phrase, "A woman looks her best one hour after a sauna." According to another, "The sauna is the poor man's pharmacy." And then, there's my favourite, "All men are equal, and more so in the sauna!"
The sauna was once a rite of passage. "In earlier times, children were delivered in a sauna (after all, it's a sterile place), women were purified here before marriage, and it was customary to lie in state here," says my local guide, adding that the sauna is so sacrosanct for Finns that it is frowned upon to swear or quarrel here. Those who misbehave are punished by an imaginary elf called the saunatonttu. According to legends, the saunatonttu lives in the sauna like its protector and ensures nobody misbehaves in it. In ancient times, saunas were just shallow fire pits or holes in the ground. Since temperatures could fall to –40°Celsius, a sauna was usually the first room to be built in Finnish homes. Sari, my local friend, tells me that even today, most Finns have mökki by a lake, with an accompanying wood-fire sauna. I get to experience this traditional log wood sauna. Here, water is sprinkled on a huge stove with many burning hot rocks to increase the humidity and to create a wave of volcanic steam called löyly. Inside the sauna, I sit on wooden steps clutching my towel, my body gleaming with sweat. I watch as one of my companions moves to sit on a higher step, wanting to get closer to the searing steam. Although the sauna is usually meant to be a place of quiet contemplation, we talk in hushed tones.
At the sauna, one can avail add-ons like birch twigs, called vihta—used to whisk the skin, and open the pores; loofahs; and scented soaps. Apart from aiding relaxation, saunas also help in improving circulation, strengthening the immune system, easing arthritis pain, and improving cardiovascular health. Irrespective of the type of sauna one chooses, it is important to keep drinking lots of water to cover up for the fluids lost in sweat.
As per the Finnish protocol, a sauna session is followed by an instant endorphin and adrenalin high. Naturally, then, I run outside and jump into the cold water of Lake Saimaa for a swim. My heart races, and my skin feels like it's subjected to a thousand electric shocks. The Finns love alternating between these temperatures, usually jumping into lakes, rolling in snow, or diving into holes cut in ice to cool off. Taking a cue from this, I repeat the process, and take several trips from the warm sauna to the ice-cold lake, finally relaxing with a bottle of beer on the wooden deck and watching the burnished sunset.
This sensory assault makes my nerve endings tingle, but I'm glad to step out of my comfort zone. Finland has managed to convert me into a sauna junkie.
Getting There
Fly to Helsinki by Finnair from New Delhi and drive to Lake Saimaa (225 km) from there.
Stay
Stay at the Holiday Club Saimaa. It has both— luxurious rooms and apartments. You can also book a sauna cottage on the lake for a day. From ₹ 6,800 to ₹ 21,400 per person.
Related: Here's How You Can Trace A Culinary Trail Through The Swedish Lapland
Written By