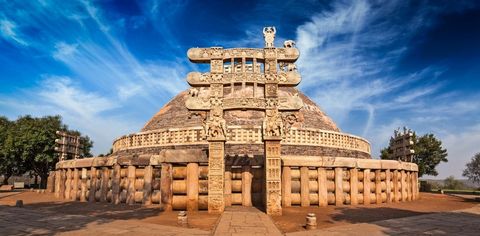 If you admire ancient Buddhist architectural brilliance, then visiting the Sanchi Stupa complex in Madhya Pradesh will take you back in time. By Kashish Arora
Perched on a hilltop, Sanchi Stupa resides inside an old Buddhist Complex of Sanchi town, Madhya Pradesh. Known as the Great Stupa, this construction is the oldest stone Buddhist architecture in India. Built in the third century BCE, this monument with over 2,000 years of history is a UNESCO World Heritage Site with countless spots for history fanatics' admiration.
Commissioned by the Mauryan Emperor, Ashoka, the stupa was constructed to spread Buddhist teachings and philosophies. The idea was to promote Buddhism and its simplistic way of life. The original structure consisted of only a hemispherical monument of bricks. It got reconstructed by Emperor Pushyamitra Shunga, using stone labs. While this prestigious monument is called Stupa No.1, the other two Stupas, Stupa 2 and Stupa 3, also came up in the same period.
View this post on Instagram
A specimen of impeccable Buddhist architectural style, the monument is 54 feet high with a pedestal diametre of about 122 feet. The main dome consists of a basic design where the relic chamber rests on the dome's base. Three superimposed Chhatris (umbrella-like pillars) on the sides of these relics ensure their protection and safety. The umbrella-like structure is called Triantha, also known as the 'Three Jewels' of Buddhism–Buddha, Dharma and Sangha.
The region's cultural history and the monument's architectural sight illustrates the teachings of Buddhism on a deeper level. The Ashoka Pillar, which inspires the national emblem of India, also sits at the Sanchi Stupa Complex.
In addition to the chief monument, the Stupa No.1, there are many other sculptures, pillars, and old Buddhist structures at this destination.
View this post on Instagram
Here are a few of them:
1. Sunga Pillar
2. The Great Bowl
3. Monastery 51
4. Toranas, the four ceremonial ornate gateways representing courage, peace, love, and trust
5. Sanchi Museum
Getting There
The closest railway station is the Sanchi Railway station, about 1.5 km away from Sanchi Stupa. Raja Bhoj Airport is the closest to this destination, located in Bhopal, just 55 km away from the main monument.
The Sanchi Stupa entry ticket is priced at INR 40 for Indian tourists and INR 600 for international visitors.
Related: India's First-Ever Tiger Reserve Hot Air Balloon Safari Launches In Madhya Pradesh
Written By