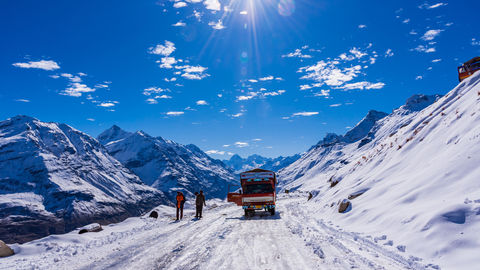 Manali rings with an air of nostalgia capable of luring travellers more than once. And, its proximity to New Delhi only accentuates the charm further. If you are planning to head to this quaint hill town once travel is safe again, allow us to help you get started. We've curated a few resorts for your next rebound road trip to this resort town so that you can #RediscoverParadise in a whole new way!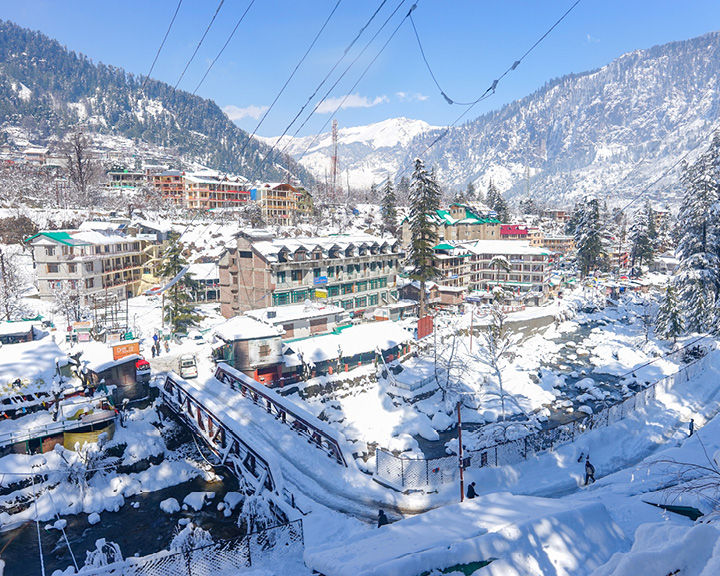 As travel restrictions ease and travellers start to hit the highways once again—keeping all safety precautions in mind—we tell you everything you need to know while you embark on a #TnlRoadTrip from New Delhi to Manali. Plus, Corona India and Thrillophilia have just the right resorts to help you #RediscoverParadise, based on your preferences. What to see?
Manali has many alluring charms in the Himalayan shadows. Begin your vacation with a dip in the medicinal Vashisht hot water springs to help your body relax from the previous day's long overnight journey to the resort town. When here, pay a visit to the nearby Hadimba Temple and Manu Temple, both of which are revered spots among Hindu devotees. To get a closer look at the state's culture and heritage, add a stopover to the Museum of Himachal Culture and Folk Art. Here artefacts like traditional dresses, ornaments, folk arts and more greet. Hiking enthusiasts can head to The Manali Wildlife Sanctuary, a sprawling 31 square kilometre dense forest housing many animals. When here, expect to see Manali log huts amid deodar and walnut trees with cameos by musk deer, brown bears, leopards and snow leopards. End your day by splurging on locally designed woollens, pottery, wooden showpieces and more at the Mall Road. Some of the other notable attractions in the town include Van Vihar, a picnic spot; Jogini Falls, a picturesque waterfall dotted with shrines; and, the Himalayan Nyinmapa Tibetan Buddhist Monastery, a pagoda-style Buddhist temple.
Distance from New Delhi to Manali: 506 kilometres
Duration: 12-and-a-half hours, approximately
Best time to visit: With pleasant weather all year long, the best time to enjoy Manali's cool climate is from October to February, during which the landscape is blessed with a fresh layer of soft snowfall starting mid-December.
Where to stay?
View this post on Instagram
Devico Cottages celebrates the juicy red apples famous to the region, courtesy the expansive apple orchards that hug the fairytale-like resort. When here, whiffs of the luscious fruit linger in the air, all of which you can enjoy from atop an open machan area amid the green landscapes. Apples aside, pomegranates, kiwis, peaches, pears, and many more find a home here as well. Indoors, too, a similar nature-inspired vibe permeates. Picture wooden interiors and sloping roofs in both the cottages, paired with vintage-style rocking chairs, winding staircases, and large glass walls to gaze at the orchards. When here, you can #RediscoverParadise by soaking in the laid back mountain way of life.
Price: Starting at INR 9,000 per villa
Click here for more details.
View this post on Instagram
With a pine forest on one end and a bubbling clear Himalayan stream meandering through the property, Jujurana Stays is ideal for forest lovers. Although the property is dressed in a rustic avatar, the inclusion of modern-day luxuries into the mix makes it a great pick for a comfortable stay. Being located in the National Great Himalayan National Park gives it an extra edge. True forest dwellers, however, leave no chance to get closer to nature, and Jujurana Stays understands this. A private dining space allows guests to eat exotic meals prepared by in-house chefs while simultaneously marvelling at the magnificent valley views. #RediscoverParadise by walking through the forests of Manali, and experiencing the quieter side of an otherwise bustling resort town.
Price: Starting at INR 7,200 per villa
Click here for more details.
View this post on Instagram
A boutique property built in Himalayan-style architecture (think, wood-panelled roofs and spacious rooms), Snow Peak Retreat & Cottages is designed for comfort. Standing tall a stone's throw distance from the town's famous Hadimba Temple, the feeling of peace weaves its way into the property premises as well. When here, pure Himalayan air fills your lungs while views of the mountain's mighty demeanour leave you transfixed. The ideal way to make the most of our mountain stay here is by savouring traditional Himachali delicacies at their in-house restaurant in the company of your loved ones and a romantic candle-lit dinner spread. When here, you can #RediscoverParadise by gazing at the town from a different vantage point, literally!
Price: Starting at INR 1,865 per room
Click here for more details.
View this post on Instagram
When a resort's name translates to nature, you can expect just that. Offering a blend of luxury in the lap of nature, Kudrat – A Boutique Homestay is a traditionally constructed kath-kuni (a Himachali home). Expect to see Deodar wood architecture in every room, paired with animal-inspired names to differentiate, like een (squirrel), shaahi (porcupine), shiyal (fox), and more. You'll hear the gentle lapping of the nearby Tirthan river, melodies of various birds, and the rustle of winds through the Deodar forest. Lucky few may even spot a red fox, flying squirrels, and mountain goats. #RediscoverParadise by getting close to the town's original inhabitants: nature.
Price: Starting at INR 7,645 per room
Click here for more details.
OTHER STAY OPTIONS
These resorts and many more are available to block through Corona India's cool new initiative to revive tourism within the country, in collaboration with Thrillophilia. Click here.
Related: #TnlSupportsLocal: 'Rediscover Paradise' With Corona India's Cool New Initiative To Boost Travel In India
Written By