For many years, Italy's classic cities of Rome, Venice, Florence, and Milan have attracted tourists from around the world while Sicilians quietly produced their wine, grew almonds, pistachios, olives, and citrus, and dined on superb seafood. But word has been getting out about the island's picturesque coastline, historic towns, and many attractions. The large tri-cornered island off the toe of Italy's boot is now recognised for all it has to offer. By Patricia Doherty
From the lively capital in Palermo to the hilltop city of Taormina to Trapani in the west, Sicily is being discovered for the magical destination that it is. The diverse island offers beaches, mountains, active volcanoes, and even skiing in winter. Well-preserved archaeological sites, cathedrals, and buildings show evidence of its history as a home for Greeks, Romans, Arabs, Normans, Spanish, and others. The indigenous Sicanians, about whom little is known, are thought to have occupied the island as far back as 8000 BC, giving Sicily its name.
Here are 10 reasons for you to visit Sicily on your next trip to Italy
The yellow and red flag of Sicily depicts a three-legged woman with the head of the mythical Medusa, called the "Trinacria." The three legs symbolise the three corners of Sicily, and according to legend, the three mythological nymphs who created the island. You'll see this symbol of Sicily everywhere on the island, from its flag to the souvenirs you'll want to take home as memories of your extraordinary vacation.
Delicious food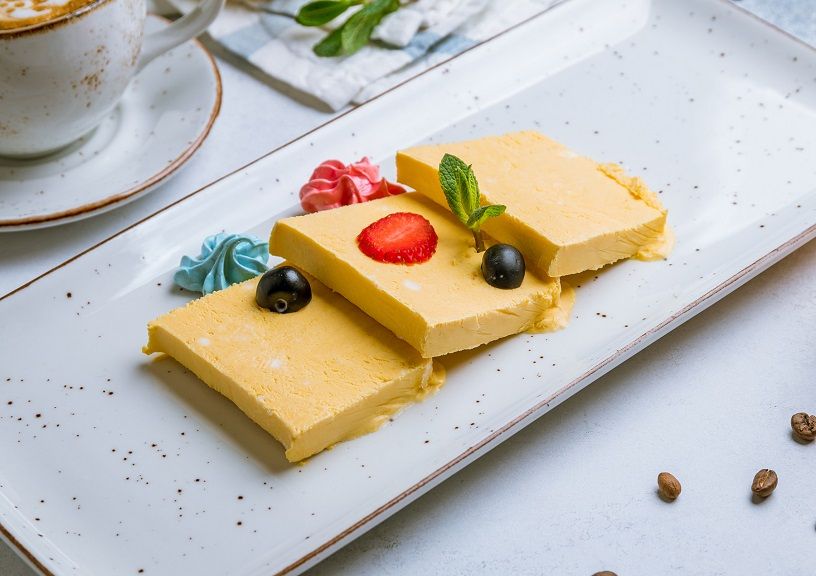 One of the main reasons to visit Sicily is that it has its own style of Italian cuisine, and both its location and history influence its favourite dishes. It's not unusual to see couscous on a menu, reflecting Arabic influences, and pasta is served with a variety of ingredients, with each locale having its speciality. Fresh, delicious seafood is plentiful, with the island's more than 600 miles (965 kilometres) of coastline, and sardines are served on their own as well as in the flavourful pasta con le sarde that also includes fennel, pine nuts, and raisins. Pasta alla Norma features tomato, eggplant, and ricotta salata (salted ricotta cheese). Fried rice balls called arancini are popular snacks, and a favourite antipasto is caponata, a luscious mixture of tomatoes, capers, and eggplant with many variations.
Sicilians love desserts and are known to make the best cannoli — fried pastry tubes filled with sweetened ricotta. Granita, crushed ice flavoured with fruit, almond, or coffee, and cassata, sponge cake with liqueur, ricotta, and marzipan (almond paste) are also favourites. Frutta Martorana, a Sicilian speciality, are miniature fruits and vegetables embellished by hand. Sicily's almonds, pistachios, and citrus appear in desserts like gelato and biscotti. And where else would you encounter the summertime breakfast treat brioche con gelato — gelato in a brioche bun?
Stunning archaeological sites
Sicily is home to some of the world's best-preserved examples of Greek and Roman temples, structures, and art. In the southwest, Agrigento's Valley of the Temples includes the nearly intact Temple of Concordia as well as columns remaining from several other Greek temples. On Sicily's southeast coast, Siracusa — once the leading city of Greece — a massive amphitheatre built around the 5th century BC is still used for theatrical presentations. A 3rd-century AD Roman amphitheatre can also be seen in the area. On the nearby island of Ortigia are the remains of the Temple of Apollo, built in the 7th century BC.
Further north on the coast in the hilltop city of Taormina, the Teatro Greco, dating to the 3rd century BC, was later enlarged by the Romans. Today, the theatre is home to film festivals, concerts, and plays with the audience enjoying views of the Ionian Sea and Mt. Etna along with the performance. In Segesta, a striking Doric temple has stood for more than 2,000 years near a massive amphitheatre. Selinunte, once a major Greek city on the south coast, is another impressive archaeological site. The Regional Archaeological Museum in Palermo contains sculptures and artefacts from throughout Sicily's past.
Luxurious beaches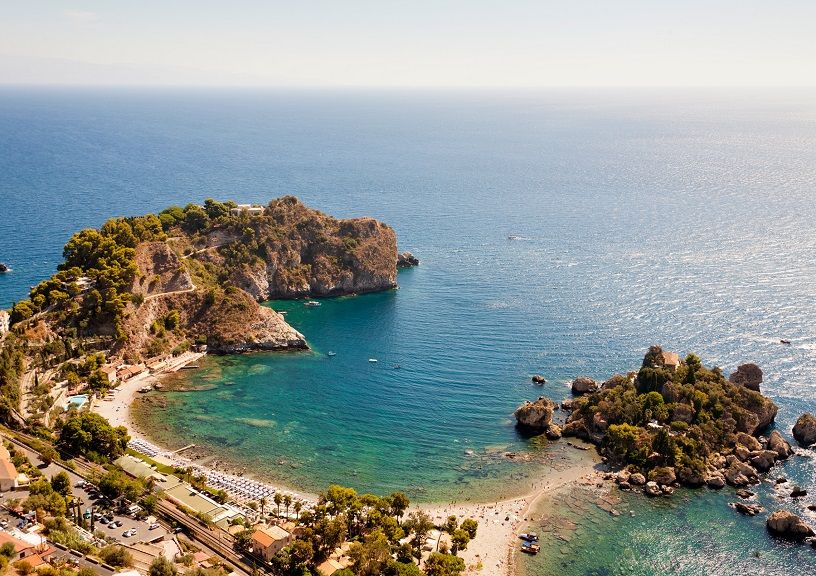 Another major reason to visit Sicily is that it is surrounded by the Tyrrhenian, Ionian, and Mediterranean Seas, Sicily has a long varied and beautiful coastline. Near Taormina, Isola Bella is a gorgeous beach, and it's common for a lido (beach club) to offer umbrellas, chairs, beverages, and dining. A cable car takes visitors from the hilltop to beaches at Mazzaro. The sea is clear and warm, and the sand is pebbly (beach shoes are suggested). Nearby Giardini Naxos offers both lidos and public areas.
Palermo's beaches on the north shore, including Mondello, Magaggiari, and Cefalu, feature sandy shores. About 40 miles (64 kilometres) east of Palermo, Cefalu, once a fishing village, offers several beaches, cafes, restaurants, hotels, and nightlife. Near Ragusa, along the southeastern shore, popular beaches include Fontane Bianche, San Lorenzo, and Marina di Ragusa. Visitors to Sicily will find beaches they love, whether they're looking for a secluded spot or a lively lido.
Complex wines
Sicilian wines have become better known and appreciated in recent years, although winemaking on the island dates back many millennia to the Greeks. Marsala, in the western part of Sicily, produces fortified wines by the same name, categorised by their age and residual sugar. In the Mt. Etna area of eastern Sicily, volcanic soil and favourable climate lead to excellent wines like Carricante (white) and Etna Rosso (red) made mostly from Nerello Mascalese grapes. The widely planted native grape, Nero d'Avola, produces dark, robust, complex wines.
White wines, sometimes called Etna Bianco (white) are based primarily on the Carricante grape. Catarratto, the most planted grape, produces dry wines, and Grillo is another dry white wine with medium body, a lovely accompaniment for seafood. Look for Sicilian wines at home, and when you travel to the island, be sure to sample local varieties for the perfect match to your meal.
Rich culture and traditions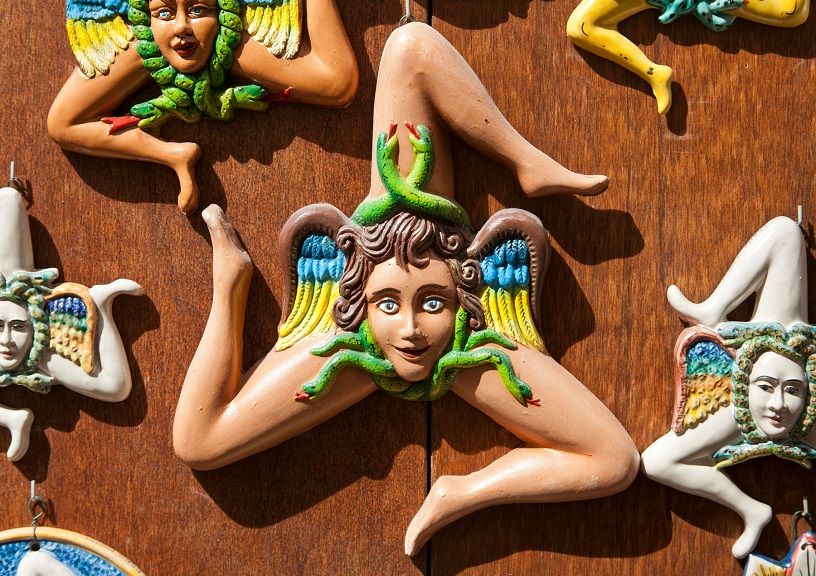 The two-wheeled, horse-drawn cart, painted with bright colours in great detail depicting religious scenes, flowers, and intricate designs, is a recognisable symbol of Sicily. Originally used as transportation, the carts were pulled by horses also decorated with ribbons, bells, or plumes. Skilled craftsmen built and painted the carts, today seen at festivals, museums, and in miniature versions for souvenirs.
Festive events take place throughout the year in Sicily's cities and towns, many honouring patron saints, holidays, or seasons. In Agrigento, the Almond Blossom Festival in spring lasts 10 days with traditional costumes, music, and parades. The Sagra della Ricotta is held in late April in Vizzini, one of Sicily's oldest cities, celebrating the cheese used in cannoli, cassata, and savoury dishes. The Feast of Santa Rosalia in Palermo is a major event in mid-July with music, processions, and fireworks. Easter season brings carnival and Holy Week processions, with a variety of events throughout Sicily. Visitors fortunate enough to arrive during one of these events will feel the authentic nature of Sicily's traditions.
Beautiful islands
Several groups of islands off Sicily's shores offer some of the most spectacular beaches in the area, which is another reason to visit this beautiful destination. The Pelagie Islands are located southwest of Sicily in the Mediterranean. Lampedusa, the largest of these islands, features white sand beaches and clear waters perfect for swimming and snorkelling. The Egadi Islands off Sicily's west coast are accessible for day trips from Trapani. Favignana, the largest of the Egadis, is home to luxury hotels, beaches, and popular diving spots.
Off Sicily's northern coast, in the Tyrrhenian Sea, are the volcanic Aeolian Islands. Lipari is the largest and most popular with tourists who enjoy its hot springs and historic architecture. Small, but also a tourist favourite, is Panarea. Stromboli features an active volcano, and many visitors take guided hikes to its summit. The island of Salina is known for its delicious capers and mountain peak. Off Sicily's west coast, volcanic Pantelleria is a UNESCO World Heritage site with fumaroles, mud baths, and agricultural products that include olives, grapes, and their well-known capers.
Impressive cathedrals and architecture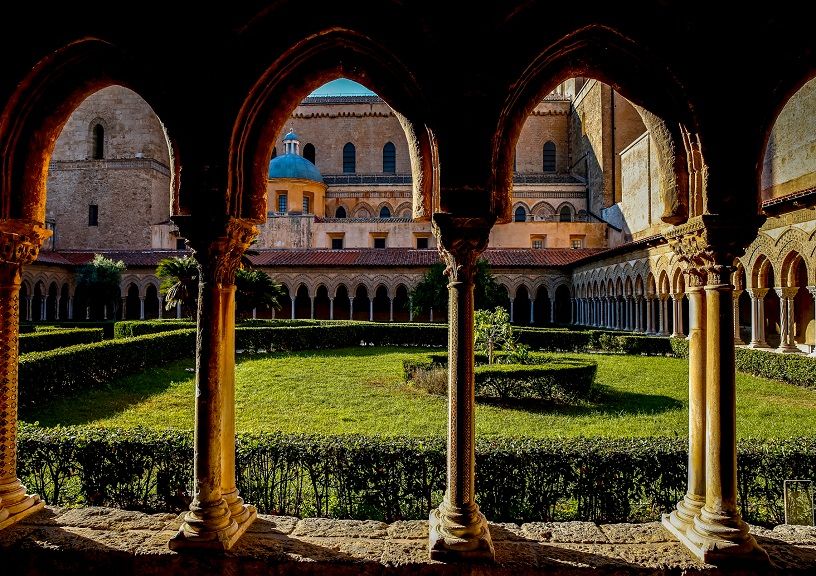 The Cathedral of Monreale, not far from Palermo, is a stunning example of Norman architecture begun around 1171 by King William II of Sicily. Notable for its mosaics, many made of pure gold, its marble floor, and the inlaid detail of the columns in the cloister, it is considered one of the most beautiful in the world. On Siracusa's historic Ortigia island, the 7th-century Cathedral of Syracuse was built on the site of a Greek Doric temple whose columns are still visible on the cathedral's exterior. An expansive piazza enhances the cathedral's facade, an impressive view from one of the many cafes lining the area.
The Cathedral of Cefalu, set on a hilltop above the city, dates to 1131 when King Roger began construction. The Cathedral of Catania, dedicated to St. Agatha, was originally built in the 11th century on the site of ancient Roman baths. After damage by earthquakes and fires, it was rebuilt in 1711 with a Baroque-style facade. Sicily's cities of Palermo, Noto, Ragusa, and Modica all offer spectacular cathedrals in a variety of architectural styles.
Villa Romana del Casale, a UNESCO World Heritage site, dates to about the 4th century and contains an extensive collection of Roman artwork and mosaics. Set in the interior of Sicily, the villa is open for tours.
Welcoming accommodations
From five-star resorts and exclusive villas to casual beach hotels, you'll find the right place to stay in Sicily. Verdura Resort on the south coast offers white sand beaches, golf, spa, and luxurious accommodations. Therasia Resort on the island of Vulcano features an expansive spa, pool, and views of the other Aeolians. The Belmond Grand Hotel Timeo in Taormina is a classic, with elegant rooms, gardens, and views of Mt. Etna and the sea. Or book a grand villa overlooking the sea for a group or family.
Hotels in major cities include the boutique Villa Carlotta and the San Domenico Palace, Taormina, a Four Seasons Hotel in Taormina, the Monaci delle Terre Nere near Mt. Etna, Grand Hotel Wagner in Palermo, and the Baglio Soria in Trapani. For a different experience, enjoy the environment and comfort of a farmhouse stay. Choose a locale by the sea, mountains, or amid olive trees and grapevines. Farmhouse lodging can range from rustic to ultra-luxurious.
If you go
International airports in Palermo and Catania receive flights from most cities in Europe. Eurostar trains from Rome and Naples as well as other cities in Italy arrive in Sicily via a ferry across the Strait of Messina, an enjoyable trip. From Italian ports of Naples, Genoa, Livorno, Civitavecchia, and Villa San Giovanni, ships sail to Palermo, Catania, and Messina. It's even possible to drive from the mainland and other European countries, taking the ferry to Messina.
Related: 10 Secret Islands In Italy That Have All Of The Beauty And None Of The Tourists
This story first appeared on www.travelandleisure.com