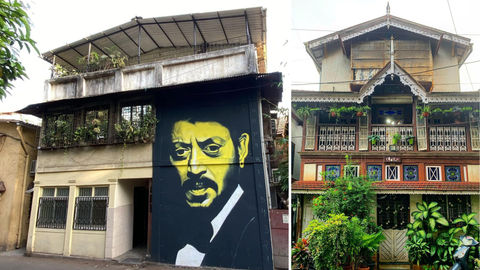 This year has pushed us to be grateful for people who are close to us. The same stands true for travel as well. Instead of circling unknown locations in far off places on the map, we're now using a magnifying glass to find gems in our backyard. And I stumbled upon one in the bylanes of Mumbai's Bandra region — Ranwar village. Text and photographs by Japleen Kaur
Do you know why so many romantic sonnets have been written about Mumbai? Because of its sheer character; the layers of history this city holds; and, the stories waiting to be told, hidden in every nook and corner of this city. Ranwar village is situated just beyond Chapel Road, in the middle of Hill Road and Mt Carmel Road. My friend and I reached this spot after catching a glimpse of it on Instagram. We parked our car and decided to explore this modern village on foot. That's probably the best advice I can give you for exploring this place. At first glance, the village looked straight out of an artist's journal; as if someone had spent a generous amount of time to create it. Small cottages with impeccable woodwork, porches meant for leisurely tea-time, blue and yellow coloured doors with half painted letterboxes aged over decades, petite winding staircases leading you to rooftops, and narrow roads where maintaining social distancing could be a tricky affair. As I admired the Portuguese-influenced architecture of this area, my friend spotted the iconic Irrfan Khan graffiti. Bollywood Art Project or B.A.P has decked up worn-out walls of this neighbourhood with legendary Bollywood characters, elevating the street-art scene of this village to a whole new level. Apart from Khan, you will also find artworks on Sridevi, Rishi Kapoor and others in different areas of Ranwar. There are narrower lanes where you'll find old scooters lying around lazily, Bougainvillea flowers in full bloom, and pets of this neighbourhood napping happily on the pathways. In such interiors, we found artworks of fake news awareness too, Santa Claus gifting world peace this Christmas, and feminism messages portrayed in the right way. Something, that'll make you stop and wonder about the power of an artist's paintbrush. After soaking in all the history and art, you can even grab a bite at Kalpana snacks. A small takeaway spot that serves great puffs, pastries, and many other yummy quick-bites. There is also a newly-opened cafe called Subko Coffee. Classic wooden decor fused with the right amount of greenery — this place celebrates the marriage of modern and vintage. I fell in love with this place! We left Ranwar with two cups of cold brew in our hands after the heat got too much to handle. But in this short excursion, we collected a bunch of fun memories and lessons on my city's glorious history. Related: Kerala's Veli Village Gives India Its 1st Solar-Powered Miniature Train
Written By