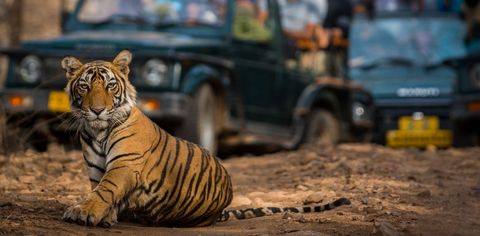 My friends and I are heading towards Ranthambore for a short and thrilling getaway to spot some wild cats. A two-and-a-half hours' drive away from Jaipur, Ranthambore is situated near Rajasthan's Sawai Madhopur town. After some research, we've planned a quick four-day trip and have booked our jungle safaris in advance. By Harpreet Kaur
View this post on Instagram
Formerly the hunting ground of Maharajas, today Ranthambore National Park—recognised as one of India's largest tiger sanctuaries—is home to Royal Bengal tigers. Its dense tiger population assures a higher chance of sighting big wild cats. The national park is also home to reptiles, leopards, wild bears, and other mammals. It is also a great location for bird-watching and spotting rare plant species. The park is filled with waterfalls, canals and a lake, which makes it a perfect getaway from the mundane city life.
While spotting a tiger is purely based on luck, our drivers and guides assure us that they would try their best to get us a good sighting. It is highly advisable to take multiple safaris and not just one or two. On our seven safaris, we spotted six tigers, two sloth bears and a leopard.
Our first safari is an evening safari in zone six, where we don't spot big cats, but get a great sighting of a mother and baby bear, instead. The following day, we head out again in the cold winter morning when the jungle is calm. Morning safaris are bone-chillingly cold, so we are well-equipped with jackets, gloves and mufflers. As we move deeper into the jungle, we spot many birds, deer grazing grass, nilgai, monkeys, peacocks and even crocodiles. As the day progresses, we patiently wait near the lake to hear any sounds of movement.
View this post on Instagram
As the sun starts to get warmer, we hear a calling of a deer (which means the deer has smelled danger; mostly a tiger). The calling grows consistent and louder and is soon followed by the callings of monkeys. Suddenly, tension, fear, and excitement fill the jungle. Our driver begins to rush us to the spot where we assume the sound is coming from and starts looking around for any signs of movement. All tourists and drivers are on alert and are trying to figure out where the tiger is. The experience is extremely thrilling as we know there is definitely a wild cat around.
After about 10 minutes of chasing, there she is—Riddhi, a three-year-old tigress who recently separated from her mother, Arrowhead. Riddhi belongs to the famous Machali lineage. She is walking like a boss-lady who owns the world. I can hear my heart beating in my mouth for the first few minutes, as I can't stop admiring the beauty of this majestic animal. I almost have an innate urge to bow down before her.
We follow her around for almost 45 minutes as she walks around, peeing on trees to mark her territory. She is in no hurry to rush while excited people gather around to click photos of the superstar. Unfortunately for Riddhi, the nearby deer senses danger and runs away.
As we move on with our safari, we also spot some crocodiles soaking in the sun. We get quite lucky during our next safaris as well. We spot Riddhi's sister, Siddhi, and three new cubs at a distance. The same bears grace us again, as does an elusive leopard 50 metres away from our hotel. However, the universe has saved the best for the last.
View this post on Instagram
On the last day of our final safari, we have a close encounter with Machali's granddaughter, Arrowhead, who emerges from the grass behind our gipsy. Arrowhead is known to be a poser, just like her grandmother, Machali. She is currently the star of the jungle, fighting with her daughters to claim her territory. She is just about two metres away from us, looking at us before turning around and walking into the grass. We begin to drive along with her as she walks around the lake. We follow her for almost an hour till it is time to leave the jungle. The experience of spotting this beautiful tiger is absolutely exhilarating!
When to visit?
While the park is open to tourists from October to June, we are told the best time to visit is between November and April. These months offer the best weather in the region and are also a preferred time for tigers to crawl out into the open. It is also the perfect time for bird enthusiasts to visit as some migratory birds flock towards the national park during this period.
Where to book the safari?
View this post on Instagram
Book your safari weeks or months in advance. While there are many private safari tour operators, we opted for the one on the national park's official website.
The website even allows for last-minute bookings. You can choose between a private gipsy, or a big canter shared with other people. We opted for a private gipsy that can accommodate six people, in addition to a driver and guide.
We booked seven safaris spread over four days. Each safari is carried out in two slots: morning and evening. Each slot is about three hours long, with the start and end time differing according to the month. Private full-day (12 hours) and half-day (six hours) tours are available at premium costs, too.
How are the zones allotted and to how to select the right one?
View this post on Instagram
The jungle is divided into 10 zones, and each zone has a different entry point. During your safari slot, you are not allowed to leave your zone. While zone one to five are in the core area, six to 10 are towards the buffer areas of the jungle. While you may think tiger-spotting would be better in the core area, we managed to spot them in other zones, too.
Different zones have different terrains, flora and inhabitants. However, every zone is beautiful and unique in its own way. Personally, I was mesmerised by zone three, which comprises of the beautiful Padam lake. The leopards are mostly away from the tigers, and towards the buffer areas of the jungle. Sambhar deer stay towards the lake, while sloth bears prefer rocky areas of zone six.
The booking and availability of the zones is not under your control. It depends upon availability and accessibility. Therefore, booking early is the best way to get access to the core zones. We managed to get bookings in zones three, four, five and six.
Where to stay?
While there aren't any options to stay inside the park, there are many luxury resorts and hotels in Sawai Madhopur. We realised most of the luxury resorts like The Oberoi Vanyavilas Wildlife Resort, Aman-i-khas, SUJÁN Sher Bagh, and others were sold out. Thankfully, we managed to book our stay at the luxurious Nahargarh Fort, a charming property built to resemble 16th-century style forts. The fort is built like a traditional Rajput hunting palace with gardens.
Related: Plan Your Road Trip From Delhi To Ranthambore With This Handy Guide
Written By