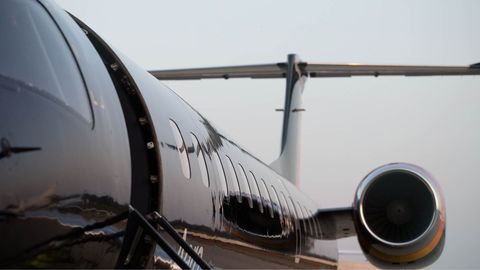 The most lavish sights in Europe are getting wrapped in one glamorous tour, as luxury tour operator Red Savannah just announced its inaugural Grand Tour of Europe by Private Jet with visits to London; Sicily; Santorini, Greece; Dubrovnik, Croatia; and Venice, all aboard a first-class Embraer Legacy ER 135. By Rachel Chang
Whether in the air or on the ground, every bit of this 12-day journey is embellished with the finest touches — and it's reserved for only 15 travellers on its debut departure, set for September 12, 2023.
Itinerary for the private jet Europe tour
The trip starts in London with a dinner at Wellington Arch, which was the original Buckingham Palace entrance, with music played by His Majesty Regiments of Foot Guards' band and a speech by Nicolas Coleridge CBE, chairman of the Victoria & Albert Museum and co-chair of Her Late Majesty The Queen's Platinum Jubilee Pageant. The exclusive experiences continue in Sicily with a private cocktail reception concert in Chiesa del Santissimo Salvatore, a famous church, and an evening at Palazzo Francavilla. Next, over on Santorini, there are visits to the islands of Sikinos and Ios. In Dubrovnik, relax in the cabanas on Šipan island and dine right on the medieval walls. Finally, in Venice, a historian-guided tour goes into secret historic gardens and it all ends with a masked farewell dinner at The Gritti Palace, a Luxury Collection.
And every step in between, the custom-configured jet will serve meals from royal-favourite dining club Mosimann's London, from chef Anton Mosimann, who catered Prince Willam and Kate Middleton's wedding banquet and runs The Dorchester's Michelin two-starred restaurant.
Leading the journey is tour director Julie Montagu, star of YouTube's "American Viscountess," who is married to Luke Montagu, the Viscount Hinchingbrooke' a member of the British aristocracy.
"Travel has the power to inspire, delight, empower, and educate," Montagu said in a statement shared with Travel + Leisure. "But most importantly to me, it gives us the opportunity to connect — with new cultures, new people, and new friends.
The opulent trip starts at USD 139,500 (INR 1,15,32,674) per person based on two-person occupancy if booked before January 31, 2023, after which the price will go up to USD 145,000 (INR 1,19,87,367) per person. The price includes a contribution to the Rainforest Trust to try to offset the trip's carbon emissions. There is a single-room supplement of USD 23,000 (INR 19,01,444). For the first four travellers who book, Red Savannah will also include complimentary first-class round-trip plane tickets.
This story first appeared on www.travelandleisure.com
Main and Feature Image Credit: Karl Hab/Courtesy of Red Savannah
Related: Will Electric Airplanes Be Hitting The Markets Soon? Here's What Experts Have To Say
Written By