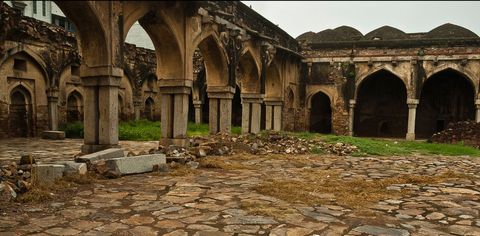 From forts to mosques, dams to shops and even a 'cocktail garden', these spaces dotted around Malviya Nagar in New Delhi will give you a lesson in history. By Ralan Kithan
Malviya Nagar in South Delhi is a hotspot for many historical sites that merge cultural centres, restaurants, and modern-day markets. While the popular Select CITYWALK mall pulls crowds here, Malviya Nagar has much to offer beyond its shopping havens. Venture deeper through its streets to acquaint yourself with a melange of history, art, and culture.
Khirki Masjid Located in the Jahanpanah settlement of Malviya Nagar, Khirki Masjid—or literally the 'window mosque' in Urdu—is known for its unique architectural style and historical significance, notably the perforated windows on the upper floors. Khan-i-Jahan Junan Shah, the prime minister of Feroz Shah Tughlaq, built the Masjid between 1351 and 1354. Today, Khirki Masjid is best-identified for its quadrangular shape that is separated into two parts, each with its own courtyard.
Begumpur Mosque Also situated at the center of the sultanate capital of the Tughlaq dynasty, Jahanpanah, the architectural motifs of the Begumpur Mosque are similar to those of the Khirki Mosque. Constructed entirely of rubble masonry containing 64 domes, the mosque itself is accessible through a single gate on the Eastern side. While there continues to be debate on whether the mosque was built during Muhammad Shah Tughluq's reign or Feroz Shah's, it continues to attract history buffs exploring Malviya Nagar — and Delhi as a whole — even today!
Hauz Rani
Hauz Rani is an abode for all things ceramic. Located near Select CITYWALK mall in Saket, Hauz Rani has a lineup of shops that offers a wide array of handicrafts, flower pots, crockery, and home decor. Many, however, are unaware that Hauz Rani actually dates back to the medieval period. Hauz Rani, formerly called Hauz-i-Rani or the Queen's reservoir, is believed to have been discovered by an unknown queen or princess in the 12th century. Historic records of the Delhi Sultanate also make references of this vibrant space.
Lal Gumbad Lal Gumbad—or 'red dome'—is named after the red sandstone used in its construction. Built during the 1300s, it is the resting place of Sheikh Kabir-ud-din Auliya, a Sufi saint and the 14th disciple of Shaikh Nasiruddin Mahmud, popularly known as Chirag-i Delhi. The four-sided figure rooms complete with weathered walls pay ode to the dome's historic past.
Satpula Satpula is an ancient water harvesting dam built by Ghiyasuddin Mahmud Shah II. Built to tap into Yamuna's river water for irrigation and drinking water, it is one of the remaining examples of waterworks built during the Tughlaq dynasty. Satpula (seven bridges) is built upon seven arches using stone masonry. It even has 11 bays with arched openings. Although weathered, the area is now covered in lush greens which lends the space a quaint rustic charm second to none.
Tughlaqabad Fort Tughlaqabad Fort is an old fort built by Ghiyas-ud-din Tughlaq, the first ruler of the Tughlaq dynasty. Legend has it that Tughlaq wanted to defend the Sultanate of Delhi against the Mongols, and thus built a fort that was seemingly impenetrable. Maybe that's why, then, the fort's high walls stand tall in Malviya Nagar even today— an apt reminder of the city's ancient history. With interesting stoneworks embedded with a rich background, Tughlaqabad Fort is a must-visit for all kinds of history enthusiasts.
View this post on Instagram
Close to these historical sites is Ivoryy Delhi, a hip restaurant described as a 'cocktail garden'—and rightly so! Located in Panchshila Park in Malviya Nagar, Ivoryy Delhi offers an alfresco seating with the lush green foliage surrounding the restaurant and views of a Mughal tomb to add to the old-meets-new vibes. Serving a wide menu of Mediterranean, European, and Asian delicacies, the restaurant is a great space to unwind after a Delhi darshan, catch up with friends over crafty cocktails, enjoy a meal with family, or simply soak in historic views with dimsums and dips to accompany.
Related: TL Reviews: Ivoryy, New Delhi—Where Cocktails Come With Views Of A Mughal Tomb
Written By