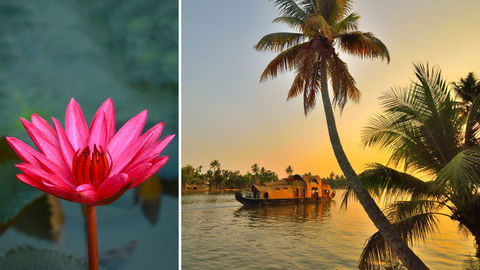 Tourism authorities in Kerala have decided to release the online edition of its iconic Pink Lily Festival 2020, along with other major events scheduled this year, so that you don't miss out on any of it during the pandemic. By Kumar Shree
The blooming pink lilies over the backwater villages of Kerala make for a spectacle sight every year. Thousands of visitors arrive during the monsoon season to witness these flowers in their prime. You can imagine the popularity of the region from the fact that the water lily fields of Kottayam and Malarikkal emerged as the most-photographed tourist attractions of Kerala last year.
View this post on Instagram
However, things are obviously not the same in 2020 because of the ongoing COVID-19 pandemic. Well, thanks to the tourism authorities in Kerala, who are bringing the Pink Lily Festival 2020 to you, via a virtual medium, so that you can enjoy it safely from the comfort of your home.
Latest reports suggest that agencies like Kerala Tourism, India Tourism, and the Malarickal Tourism Society, have filmed guided tours of this event and other such developments across the state. These films will soon be available for online viewing on their official websites.
View this post on Instagram
The tourism authorities had earlier organised online Onam celebrations in August this year. Apart from these, they are also producing videos for you to explore backwater tourism and virtually experience rural life in areas such as Vaikom, Kumarakom, Murinjapuzha and Amballur.
However, after September 21, the authorities might invite a limited number of tourists through the Pazhukkanila water route, provided the government allows such exercise.
Related: Although Low-Key, Here's How Onam 2020 Was Celebrated In Kerala
Written By