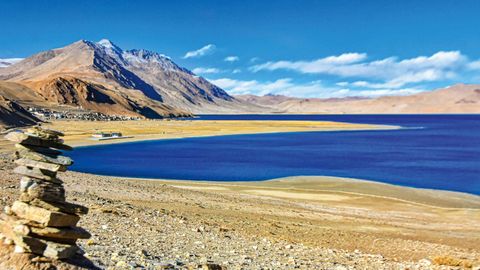 On a journey through the rugged terrain of Ladakh, Travel+Leisure India & South Asia's contributor documents the surreal beauty of Tso Moriri and other enchanting pitstops along the way.
Ladakh in pictures
While living in Ladakh, I embarked on a road trip from Leh to Tso Moriri, a lake in the Changthang Plateau of Ladakh, in a jeep with a few local friends who were headed that way. Since it was off-season, there were no military check posts, and public transportation wasn't available due to the unreliable winter weather. The road trip revealed striking colours of the upper Himalayas, which I had never witnessed with my own eyes before. It was the end of October, and yellow autumn colours had just started to transform into pink, red, and maroon. The snow on the peaks kept getting closer with every mile. We had to stop at a point because there was an avalanche of snow melting on the road. When it got dark, we decided to stop at a village called Chumathang (3,950 m) in the Nyoma tehsil. Not only is Chumathang special for its natural hot springs but is also one of the first villages in Changthang Valley to have a power station of its own as well as a homestay. The Indus beauty
When I woke up the next day at dawn, it felt as though I was in a reverie–nothing was visible until the sun started to rise, and the Indus River sparkled under its rays. The steam from the natural hot springs turned out to be our saviour in the freezing temperature. I hopped from one rock to another as the boiling water splish-splashed around me. Post breakfast, we began the final journey to Tso Moriri. Panoramic views of golden fields dotted with horses and Tibetan asses came to an end at Sumdho village, where the off-roading began. After a thrilling 48-kilometer ride where we encountered a severe dust storm, nomadic Changpa settlements, herds of Pashmina goats, and the striking Kyago Tso lake, I saw from a distance the first glimpse of the dark blue waters of Tso Moriri (4,522 m) near the Indo-Tibet border. As I kept moving upwards to the topmost cliff, the colours of the water changed. The tourist camps and homestays in the village of Karzok by the shores of Tso Moriri were shut, and locals were relaxing and enjoying their downtime. I spotted a few kids playing on a frozen stream. The journey was a visual delight, one that left me wanting to visit again. Related: Through The Lens: Wandering Through The English City Of Canterbury
Written By