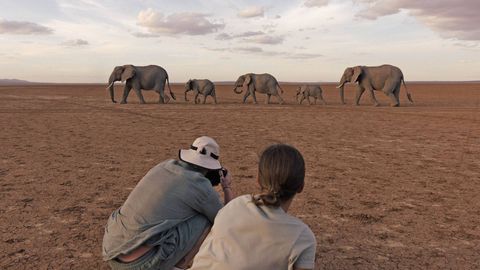 On a 10-day jaunt across the savannahs of Kenya, Travel + Leisure India & South Asia's contributor is humbled by spectacular wildlife and the indomitable spirit of Masai people.
There I was, sitting in a tiny bush plane, looking at the vast wild plains of Masai Mara below me. I was bidding adieu to the savannah, albeit with a heavy heart. On the plane with me were seven strangers that I met for the first time at the beginning of the trip. In the evenings that we spent together, we would gather around the bonfire, share stories, laugh, and eat delicious food. We had turned into a family.
Wildlife and the Masai People in Kenya Everyone on the plane was silent, probably coming to terms with the fact that our wonderful time in the Kenyan bush had come to an end. It did feel like the trip of a lifetime. It ticked every box of what makes travel so special. We were blessed with mind-blowing encounters, one after the other, for 10 straight days. Every day, we would rise at the crack of dawn and drive out into the savannah in search of animal sightings. We began our journey in Amboseli National Park, one of Kenya's most popular parks, where we watched mighty herds of elephants cross the dry lakebed of Kitirua Conservancy in search of food and water. And then in Masai Mara, we spent our days in the company of elusive big cats. We also visited a local Masai village in Amboseli, where we were welcomed with open hearts. I learned that beneath the superficial differences, there are common fundamental aspects of human life that connect us all. During our time there, we also discovered the resilience of the Masai people. From learning to coexist with wildlife to preserving their culture during difficult times, their spirit seemed to be as vibrant as their attire. I was aware of how special these moments were while I was living them. It was as if time was passing in slow motion. I had spent 10 days completely disconnected from the outside world and reached metanoia. It was more than just a photography expedition; it was an exploration of my spirit and the raw beauty of Kenya. All photographs courtesy: Yash Katkar
Related: Through The Lens: Rediscovering Jim Corbett National Park
Frequently Asked Questions (FAQs)
Question: What is Kenya famous for?
Answer: Kenya is known for its diverse wildlife and safari, breathtaking natural scenery, and rich cultural heritage.
Question: What does Kenya's Big Five mean?
Answer: The term 'Big Five' originally referred to the difficulty in hunting the lion, leopard, rhino, elephant and African buffalo. As these five large African mammals were believed to be dangerous, bringing them home was considered a feat.
Question: What are some major challenges faced by the wildlife of Kenya?
Answer: Climate change, habitat degradation and loss, forest depletion, tourism market volatility, human wildlife conflict, changing land use habits of communities that co-exist with wildlife, and wildlife crime are some of the major challenges.
Written By