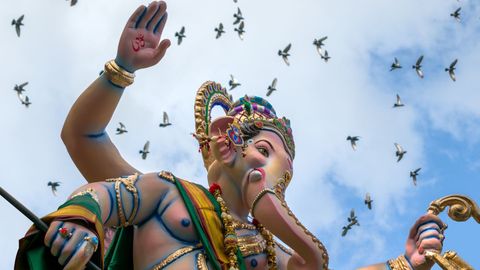 Trotting down a path of nostalgia and reverence, a Delhi-based traveller returns to her hometown just in time for Ganesh Chaturthi, one of Mumbai's most-loved festivals.
Just as the dusk turned into its glorious golden hue, the reverberations of the Ganesha aarti enveloped my entire neighbourhood. It was a beautiful medley, with shouts of joy, and chants that echo a multitude of emotions — it is that time of the year when the Mumbaikar in me returns to my city, no matter where I am, to soak in this festive fervour.
Just as Ganpati Bappa marks the kick-off to the Indian festive season that retains its spirit essentially until the end of the year, Mumbai — the perennial maximum city that somehow is always under construction — decks up in vibrant hues and a cloak of happiness. No amount of rainfall can deter the festive spirit of Mumbaikars as they open their homes and hearts to welcome the elephant god.
The Rise of Ganesh Chaturthi in Mumbai The festival, interestingly enough, was limited only to households across communities in the state, until activist 'Lokmanya' Bal Gangadhar Tilak laid the foundation of it being celebrated in large-scale in the public, during the freedom struggle in the 1890s. It became a way to lend spine in the common man's fight against the oppression of the British Raj.
Today, Maharashtra state's Directorate of Tourism is seeking to position Ganesh Chaturthi as an international festival, and put Maharashtra in the world map as a beacon of cultural heritage. Hence, this year onward, the state's 'official' posters call it the 'International Ganesh Festival'. In this quest for worldwide recognition, the biggest push and promotion invariably comes to the state's two cosmopolitan hubs — Mumbai and Pune. In Mumbai's Ganesh Galli in the Lalbaug area of Lower Parel, the footfall crosses one lakh on each day of the festival, with some of the greatest experiences coming from Lalbaug Cha Raja, Mumbai Cha Raja, and Chinchpokhli Cha Chintamani.
Pandals: A Closer Look As I stepped into the Mumbai Cha Raja pandal, there's no missing the emotions, paired with the nip of joy and a feeling of optimism that spreads across the city at this time — as if like a magic carpet. The famous hub celebrated its 96th year, since inception in 1928. Over the years, it has become increasingly recognisable for unique themes around the pandals. This year, Mumbai Cha Raja showcased the 350th year of Chatrapati Shivaji's coronation ceremony. Add to that is the magnanimous, 45-feet Ganesha idol here — befitting of this place's aura.
To amplify and savour the true spirit of aamchi Mumbai, though, the Siddhivinayak Temple is a must-stop. Built in 1801 by Lakshman Vithu on the request of Deubai Patil as a prayer to appease the deity to rid women of infertility, Siddhivinayak stands tall today as a beacon of faith for the entire city, no matter which school of thought and philosophy you bring. Perhaps it is this resilience that echoes in the air of Mumbai?
Ganpati's Favourite Foods But just as you step out of the Siddhivinayak campus, your olfactory buds are hijacked by the aromas of street food — ranging across a variety of epic proportions. While this holds true any time, food takes an even more integral role in our festivities.
Across Maharashtra, the various communities celebrate the festival by cooking up an extravagant feast for the lord. In the Chitrapur Saraswat Brahmin (CSB) community, the making of madgane — a kheer made of chana dal and patholi — is integral to the celebrations, says Renuka Nadkarni, a member of the CSB community who focuses on documenting their culinary heritage. Just like the myriad culinary heritage dishes across communities pan-India, madgane is savoured best during the festival itself. It is a sweet dish made with rice flour paste spread on turmeric leaves and stuffed with the filling of grated coconut, jaggery and cardamom powder to enhance the flavours, and then folded, steamed and served with a dollop of ghee.
A similar celebratory offering comes from the Pachkalashi or Somavanshiya Kshatriya Pathare community, where a naivedya is made for Gauri Poojan. The nine-item festive spread, true to the strengths of the community, also features mutton curry, crabs and a prawn amti. They also make rushichi bhaji, which Dhani Goregoankar of The Paisley Kitchen says is made from wild, foraged greens. It is this that lends it a personal connect with the community's members of today — and also offers those on the outside with a peek into a personal community tradition. Yet, zooming out entirely, you find an ever-present dish in almost all communities — ukadiche modak, which is made out of rice flour dough stuffed with jaggery and coconut and then intricately shaped and steamed. Making of modaks at home becomes an intimate family activity. In an increasingly fragmented world fabric, it is perhaps this that is a festival's greatest victory today — of ensuring the existence of a family heirloom, and keeping familial bonds intact.
There's also a lot of thought that goes behind what is believed to be Bappa's favourite sweet. Author Saee Koranne-Khandekar says, "Among the Brahmin community in general, the most important offering to Ganpati is the usual suspect of Modak (steamed, rice flour ones in these parts; fried wheat ones in the Marathwada and Vidarbha regions)." Khandekar further adds others. "One of them is Khirapat, also known as Panch-Khaadya. It is a Panjiri-like mix, made using five ingredients starting with the letter "kh" in the devanagari script. These ingredients are Kharik (dried dates), Khobra (dried coconut, toasted), Khadi saakhar (rock sugar), Khuskhus (poppy seeds), and Kismis (raisins). A spoonful of this is placed on the palms of visitors as prasad."
As I wrap up the festive days, there's an unmistakable emotion that is left behind at our homes, and across the entire city. It is this that Ganesh Chaturthi, now over a century old and in its quest to be an international event, does — give the city that never sleeps elixir to dream better, dream greater for an entire year to come, until next time.
Featured image/Hero image courtesy: Sonika Agarwal/Unsplash
Related: Iconic Modak Shops Perfect To Explore And Buy Sweets For Ganesh Chaturthi
Frequently Asked Questions (FAQs)
– What are some of the famous Ganpati pandals in Mumbai?
Siddhivinayak temple, Lalbaug Cha Raja, Mumbai Cha Raja, Chinchpokhli Cha Chintamani, Andheri Cha Raja, GSB Seva Mandal, Khetwadi Cha Raja, and Parel Cha Raja are some of the must-visit Ganpati pandals in Mumbai.
– Where can I eat traditional meals during the Ganpati festival in Mumbai?
You can enjoy traditional meals at:
Nav Mejwani in Dadar (for a Maharashtrian thaali)
Soam Babulnath (for patoli and masala bhaath)
Folk, Kala Ghoda (for ukadichi modak)
Prakash, Dadar (for sabudana vada)
Aaswad, Dadar (for thalipeeth)
Ladu Samrat, Parel (for dahi misal)
Panshikar, Girgaum (for farali misal)
Written By