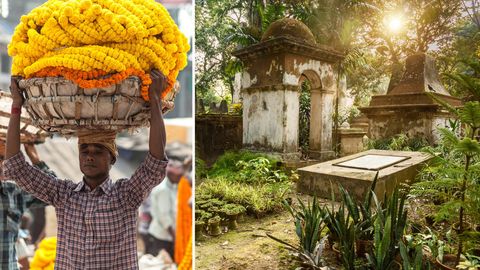 Victoria Memorial, Howrah Bridge, and the quintessential Ballygunge Lake — while these are definitely some of our favourite spots in the 'City of Joy', here are five offbeat places you can visit in Kolkata on your next day out. By Amitha Ameen
1. Chor Bazaar
View this post on Instagram
Anyone who lives or arrives in Kolkata will tell you that they feel like they are equipped with a time machine that lets them travel back and forth through the ages. So, it is only natural that one would want to take back something that reminds them of this timeless city. And this is where Chor Bazaar comes in the picture. Don't get fooled by the name! From electronics to antiques, you can be sure to find some valuable gems at throwaway prices here.
2. Behala Flying Club
View this post on Instagram
How about a helicopter ride over the city? The Behala Flying Club or BFC is offering stunning birds-eye-views of the city through helicopter rides organised by private operators. Whether you want to ride solo or enjoy a romantic ride, you will agree that it is definitely one of the best offbeat experiences in Kolkata.
3. Park Street Cemetery
View this post on Instagram
Definitely not your average cemetery, Park Street Cemetery is a must-visit especially if you are interested in the history of India. It is a great place to head to experience calmness and spend time exploring the few monuments and learning about age-old interesting stories. The cemetery even has its own nursery inside with an array of colourful plants on display.
4. Mallick Ghat Flower Market
View this post on Instagram
Imagine walking into a field full of beautiful flowers for as far as the eye can see, surreal right? This is exactly how you will feel while walking into this flower market, the largest one in Asia. It provides for a unique experience in the city and amazing photo-ops that you can brag about later to friends and family. Trust us when we say it'll be worth it to wake up in the morning at 05:00 am to see a plethora of colourful flowers and catch a whiff of magical fragrances.
5. Tiratta Bazaar
View this post on Instagram
Whether you are a local or not, Tiretta Bazaar must be on everyone's itinerary when exploring the City of Joy. According to certain historical records, the place got its name from an Italian man named Edward Tiretta who lived and owned many plots in this area. Today, it is one of the most well-known Chinatowns in India, and not to mention one of the oldest as the first Chinese people settled here in the late 18th century. The bazaar operates like any other local bazaar but what sets it apart is that it lets you deep-dive into a slice of delicious Chinese cuisine through its hole-in-the-wall places that serve yummy spreads.
Related: Art Connoisseur Shalini Passi Picks Kolkata's Top 5 Art Galleries And Museums
Written By