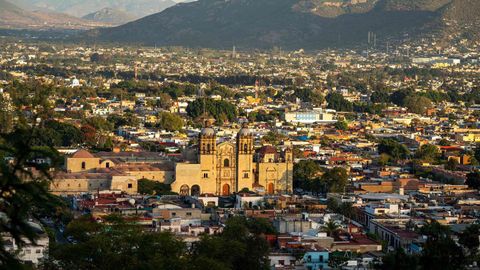 Oaxaca is not just having a moment — it is here to stay. One of Mexico's most enchanting cities, Oaxaca seems to truly have it all, from ancient ruins, excellent cuisine, and fabulous art to indigenous culture, architecture, and dance.
I learned this first-hand back in 2017; I was on a backpacking trip that was supposed to cover all of Mexico, but two months in, I got to Oaxaca and couldn't get myself to leave. I didn't finish the trip itinerary that year, and I have zero regrets.
Of course, I am not alone in my passion for Oaxaca. "It's one of my favourite destinations in Mexico for its incredible combination of precolombian, colonial, and contemporary influences," says Zach Rabinor, CEO of Journey Mexico, a curator of highly personalised and expert itineraries all around Mexico. "Let us not forget that Oaxaca is one of Mexico's biggest states and, like the cultural diversity, its geography is vast, ranging from the high alpine mountains of Sierra Norte and Mixteca to steamy lowland jungles and coastal plains.
Throw in some world-class surfing, kiteboarding, mountain biking, and hiking, and you've truly got something for everyone. While not such a well-guarded secret anymore, you'd be surprised at how few North Americans have actually visited Oaxaca."
Ready to see why we're so hooked on this city? Here are 20 of the best things to do in Oaxaca, Mexico.
The best things to do in Oaxaca
Discover the historic core and Zocalo The entire city of Oaxaca is a UNESCO World Heritage Site, and it makes sense to start your explorations at the historic core. For most cities in Mexico, the zocalo (which translates to public square or market) is at the heart of its historic core, where you're sure to learn about the city's history, admire some of its oldest architecture, and get some good people-watching in. Oaxaca is no exception. Start in the main square and wander the famous landmarks that are nearby.
Walk the Pasillo de Humo in Mercado 20 de Noviembre
Vegetarians, look away! Oaxaca has many interesting markets (more on that in a bit), but perhaps its most famous is the Mercado 20 de Noviembre, particularly for its Pasillo de Humo, which directly translates to "hall of smoke." The name refers to a seemingly endless aisle of carne asada within the market. It's an overwhelming experience for all the senses and a rite of passage for any carnivore.
Make your way through other markets, too Oaxaca has so many different markets to explore, and each one offers a unique experience. Mercado 20 Noviembre is one of the main markets for prepared food and ingredients, like spices, herbs, produce, and meat. But Central de Abastos is the largest market in Oaxaca — if you want it, chances are you'll find it here. Feeling peckish? Find the Doña Vale stall and try her memelas, or fried masa cakes, which are now legendary, thanks to the Netflix show "Street Food." At Benito Juarez Market, shop for souvenirs and more Oaxacan food. If local art is what you seek, head to ARIPO Oaxaca Artisan Market, which abounds with jewellery, crafts, textiles, and other artisan products made around Oaxaca.
Eat your way across the city While we're on the subject of food, we'd be remiss not to mention Oaxaca's impressive cuisine. Mexican food is beloved around the world, but there is something about Oaxacan food that makes it extra special. Try items indigenous to Oaxaca like crispy tlayudas, decadent enmoladas, crunchy, salty chapulines, and, of course, the seven different kinds of mole perfected in Oaxacan kitchens. You can find all of these dishes at the humblest of street carts, or at fine-dining restaurants around the city, where you can pair a dish with a sexy Mezcal cocktail. If you want insider secrets, a food tour with Oaxacking will blow your mind (and your taste buds). Restaurants not to miss are Criollo, El Tendajon, and Origen.
Take a swim in a frozen waterfall at Hierve El Agua One of Oaxaca's most mesmerising natural features is Hierve El Agua. This impressive landmark looks like a gushing waterfall that frozen mid-spill over the edge of a cliff. Of course, it's not actually frozen, but an illusion, thanks to calcified mineral deposits. It's a surreal sight and one of the most popular attractions in Oaxaca. At the top of the falls are natural mineral infinity pools, too, and you can take a dip in them while enjoying mountain and forest views. Make sure your phone is fully charged — you won't want to miss these photo ops.
Walk like a Zapotec at Monte Alban Evidence of Mexico's indigenous past can be found in all regions across Mexico, but Oaxaca has some of the highest concentrations of what is left of the Zapotec and Mixtec empires. The most famous archaeological site in Oaxaca is Monte Alban. The UNESCO World Heritage Site was once the capital of the Zapotec civilisation, and today it's an impressive, preserved collection of palaces, tombs, a ball court, and plazas — all on a hilltop perch with 360-degree views of the valley, mountains, and Oaxaca City.
"Monte Alban, along with other archaeological sites in the region, are a combination of Zapotec and Mixtec, reflecting the various battles and interchanging rule of these warring communities. Mexico's pre-Spanish history is much more than simply the story of the Aztecs and Mayas," Rabinor said. What's more, these cultures are alive and well and have influenced modern-day cuisine, music, art, religion, rituals, and festivals.
Take a spiritual steam Self-care is an integral part of any vacation these days, so why not a little self-care that comes with centuries of history? Temazcal is an ancient ritual that dates back hundreds of years. It comes from a Nahuatl word that means "house of heat," and many of Mexico's indigenous people practised temazcal sweat lodge ceremonies for healing. The practice is still used today, though it can be a lot more commercialised, particularly in more touristy areas. For something a bit more true to its roots, the RenaSiendo Temazcal Ceremony is a three-hour experience, complete with the use of onsite pools.
Count gold at Templo de Santo Domingo At the heart of Oaxaca is the Templo de Santo Domingo, a spectacular Baroque Catholic church. Standing at attention in front of a main square and surrounded by agave plants, this beautiful work of architecture is one of the highlights of Oaxaca. Not to be missed is its interior, which is practically bathed in gold. Entrance to the church is free.
Don marigolds at Day of the Dead A Day of the Dead festival should be on every Mexico itinerary, and Oaxaca's is one of the best and most popular in the country. Dia de los Muertos is one of Mexico's most important celebrations, where departed souls are honoured and celebrated with candles, parades, offerings, art, colour, and music. The festival takes place every year from October 31 to November 2. If you do aim to visit Oaxaca for the Day of the Dead, be sure to book your accommodations well in advance, as this is one of the busiest times to visit the city.
Sip mezcal in its birthplace Born from the agave fields all across the state of Oaxaca, this distant cousin to tequila is known for its smoky taste, though mezcal flavours do range greatly. It's one of the most celebrated beverages throughout the state, and dozens of mezcal bars in Oaxaca are waiting with open bottles to gift you that perfect pour. One of the best is La Mezcalerita Oaxaca, with three intimate rooms and a sprawling rooftop patio.
Shop the best travel experiences here
Explore Mitla If you'd like to see more ruins than Monte Alban, Mitla is a must. This was the religious centre for the Zapotecs, and today's visitors usually go here to see the Column of Life, which is located in one of the tombs. Legend has it that if you wrap your arms around the column, the distance between your hands reveals how much time you have left in life. Believe what you will, Mitla is still a fascinating piece of Oaxaca history.
Get lost among the city's murals Street art is a vital part of Mexican culture no matter where you are in the country, Oaxaca's streets included. Public walls all over the city are adorned with brilliant works of street art. A large part of the work is due to a collective known as Lapiztola, a group that uses art and creativity to spread messages of change to the public.
Soak up all the art and culture Oaxaca has plenty of indoor art, too. The city is peppered with museums and galleries. The Museo Textil de Oaxaca, for example, highlights traditional Oaxacan textiles and handicrafts, while the Museo de las Culturas features 14 rooms that tell the story of Oaxaca's history. And don't skip the Museum of Contemporary Art, or Jacobo y Maria Angeles Workshop, a fascinating, under-the-radar spot that focuses on carved copal wood figures, an ancestral practice native to the Oaxaca region.
Visit the world's widest tree Not far from Oaxaca City is the stunning Templo Santa Maria de la Asuncion in the small town of Santa Maria del Tule. In addition to being a beautiful and peaceful place to visit, the grounds of the church are home to El Tule, a Montezuma Cypress Tree known as the tree of enlightenment — its trunk measures 46 feet in circumference.
Sip some serious hot chocolate Chocolate has always been an important part of Mexican kitchens, and Oaxaca is one of Mexico's top-producing regions for cacao beans, so you can expect the hot chocolate here to be a cut above the rest. Oaxacan hot chocolate is made with water, not milk, and is spun with a whisk to give it a froth on top. Cafe Brujula is a personal favourite — visit the one on C. Macedonio Alcala, and order banana bread to go with it.
Book your stay at Pug Seal Oaxaca via Booking.com
Book your stay at Pug Seal Oaxaca via Agoda.com
Hop the bus to San Jose del Pacifico About three hours south of Oaxaca and nestled in the Sierra Madre mountains is the tiny village of San Jose del Pacifico. A completely different vibe from Oaxaca City, this mountain town is known for its thick pine forests, hippie community and — if I'm being honest — its magic mushrooms. The latter is probably San Jose del Pacifico's biggest draw, and Shamans can guide visitors who are interested in this experience. But you'll find much more to do in San Jose, too, from hiking to temazcal.
Road trip to the coast Continue south from San Jose del Pacifico (another five hours or so) and you will be at the doorstep of some of the best surfing in Mexico. The beach towns along Oaxaca's coast are known for surfing, funky cafes, fresh fruit, and super laid-back vibes. Each beach town is different, but the major ones to hit are Huatulco, Puerto Escondido (home to the Mexi Pipeline), Zipolite, Puerto Angel, and Mazunte. If you want to get to know Oaxaca's coastline on a deeper level, local tour operator The Puerto Experience is your lifeline.
Stay with Oaxaca's indigenous communities While sites like Monte Alban and Mitla tell the stories of the past, the communities responsible for these great wonders are alive and well. Oaxaca is home to a group called Pueblo Mancomunados, which are eight remote and protected villages inhabited by Zapotec people. Visitors can connect with these communities through ecotourism projects, which help develop schools, roads, and healthcare for the communities in the region.
Local guides take travellers on hikes, horseback rides, wildlife viewing excursions, and temazcal experiences. You might also eat home-cooked meals and sleep in simple adobe huts if you choose. It's an experience that will stay with you for a lifetime and one of the best ways to really connect with Mexico's roots.
Celebrate Guelaguetza Each July, Oaxaca's streets explode with the Guelaguetza Festival, one of the largest folk festivals in North America. The event celebrates all regions of Oaxaca and honours the region's diverse food, art, and cultures. The event takes place over two Mondays in July.
Take a break at the botanical gardens Just steps from Templo de Santo Domingo is Oaxaca's Botanical Gardens. This quiet and beautifully landscaped place is an ideal spot in which to take a break from the heat of the day and wander amongst plants native to Oaxaca. Tours are available, or you can visit on your own.
Book your stay at Grand Fiesta Americana Oaxaca via Booking.com
Book your stay at Grand Fiesta Americana Oaxaca via Agoda.com
(Hero and feature image credit: VW Pics/Getty Images)
This story first appeared on travelandleisure.com
Related: 20 Best Things To Do In Turks And Caicos, According To Locals
Written By