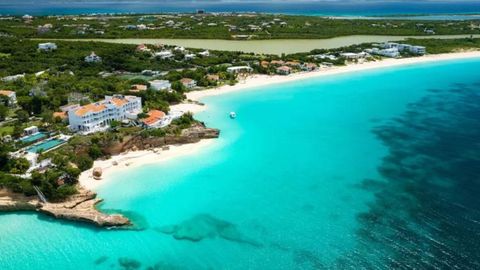 Stunning beaches, incredible resorts, and the undeniable mystique of exclusivity have made the tiny island of Anguilla a fixture on Travel +Leisure's list of 25 Favorite Islands in the Caribbean, Bermuda, and the Bahamas for several years running. The best part of Anguilla? It preserves the untouched beauty and laidback vibes of what the Caribbean used to be.
Even as the rest of the region heats up with travellers escaping icy winters, "Anguilla is never overly crowded, as many other neighbouring islands can be," says Stacey Liburd, director of tourism at the Anguilla Tourist Board. It's a sentiment repeated by many a local and return visitor: this island isn't one where you'll ever have to worry about elbowing your way down the beach.
Anguilla's seasons fall into three main categories:
High Season: November to April
Shoulder Season: May to July
Low Season: August to October
Before booking your flight to Anguilla, keep in mind that the island experiences an unusually quiet low season. Shuttered resorts in September and October can limit accommodation options and experiences for travellers. "Flights to Anguilla are offered year-round, but more options exist during the high season, November through April," says David Zipkin of Tradewind Aviation, which brings flights to the island from San Juan, Puerto Rico.
Read on to learn about the best times to visit Anguilla for sailing, diving, and festivals — and why it's always the perfect place to escape crowds.
A guide to Anguilla to escape the crowds
Best times to visit Anguilla for smaller crowds December through April is Anguilla's high season, with a marked increase in travellers over the holidays. However, "Anguilla is never busy — even in our busy season, you're walking to the beach by yourself most days. It's a different idea of what busy means," says Shannon Kircher, longtime Anguilla resident and marketing director at Frangipani Beach Resort, which was voted among T+L reader's top 25 resorts in the Caribbean this year.
The crowds, even by Anguilla's standards, die down significantly in late spring and early summer. "May and June are my personal favourite months to visit Anguilla as a traveller," says Kircher. "The seas are calm, the weather is almost guaranteed to be perfect, and it's a little bit less busy."
Best times to visit Anguilla for good weather
For ideal weather, visit Anguilla during the drier months, which are December through April. While it's warm in Anguilla year-round, with temps hovering in the low 80s most of the year, December through April are slightly balmier and much sunnier. It's the ideal time to visit for beach hopping and enjoying the island from the water.
Best times to visit Anguilla for lower prices After the holiday-season travellers pack their bags, prices decrease slightly in late January, though nothing like they do come the shoulder season. Prices will drop by late April or May as seasonal residents and travellers escaping cold winters head home and Anguilla's shoulder season unfolds.
Travellers can enjoy even lower prices during Anguilla's off-season, in September and October. However, off-season means the island's larger resorts and many restaurants shutter entirely. Prospective travellers often decide that visiting Anguilla during these months may not be worth the savings.
Book your stay at Zemi Beach House, LXR Hotels & Resorts via Booking.com
Book your stay at Zemi Beach House, LXR Hotels & Resorts via Agoda.com
Best times to visit Anguilla for sailing
Sailing is Anguilla's beloved national sport, both a constant pastime and a necessity on this tiny island — many visitors still arrive by boat from neighbouring St. Martin.
Travellers planning a sailing trip to Anguilla should aim for the calmer spring months when still waters and sunny skies are the norm. "The Caribbean has pretty steady sailing conditions year-round," says Dan Lockyer, chief commercial officer of Dream Yacht Worldwide, an outfit offering charters to Anguilla out of St. Martin. "Calmer seas in the spring make it easier to hop from beach to beach for snorkelling and to visit Anguilla's off-shore cays, like Prickly Pear, for a lobster lunch."
Rougher seas and frequently passing storms make the Atlantic hurricane season more challenging for sailing in the Caribbean. Hurricane season stretches from June through November, but peaks in September and October. While sailing isn't out of the question during these months, plans are much more susceptible to last-minute weather changes.
Shop the best travel experiences here
Best times to visit Anguilla for diving
The pleasant weather that makes December through April the ideal time for sailing also makes this the best time to enjoy Anguilla's incredible diving. While PADI says that "excellent visibility is the norm" in these waters, December through April is the best time to dive at the island's storied Spanish galleon wreck site, El Buen Consejo, or at any of the protected marine parks that encircle the island.
Rainfall is at its lowest in February and March, making these months the best for underwater visibility and calmer currents. And there's no need to don a wetsuit for diving in Anguilla; even during the slightly cooler months, average water temps hover in the low 80s (26.66 degrees Celsius).
Best time to visit Anguilla for festivals
May tends to be a festive season on the island, with two annual celebrations that could bookend a memorable vacation in Anguilla. In the middle of May, the island celebrates the Anguilla Regatta, considered among the best regattas in the Caribbean. Anguilla Day on May 30 marks the island's independence from St. Kitts and Nevis and is just as festive with parties, boat races, parades, and more.
Anguilla celebrates its annual summer carnival, also known as Anguilla Summer Festival, with a packed itinerary of parades, parties, concerts, and boat races stretching from late July to early August. The first Monday in August, known as "August Monday," is the height of the celebration. These events are a memorable way for visitors to experience the island's culture and traditions first-hand. Just note that sometimes the celebrations lead to temporary shop and restaurant closures.
Worst times to visit Anguilla
September and October mark the height of the Atlantic hurricane season and a distinct decline in tourism in Anguilla. Many resorts, hotels, and restaurants close up entirely in September and October; visiting Anguilla during these months is a markedly different experience than it would be the rest of the year.
Visitors will find a handful of smaller hotels that remain open, but with most restaurants and larger resorts closed, it can be challenging to truly experience the richness of the island this time of year. Locals say there's talk of this off-season starting to change, but in the meantime, skip September and October to get a better taste of all Anguilla has to offer.
Book your stay at Four Seasons Resort and Residences Anguilla via Booking.com
Book your stay at Four Seasons Resort Anguilla via Agoda.com
(Hero and feature image credit: Cdwheatley/Getty Images)
This story first appeared on travelandleisure.com
Related: 20 Best Things To Do In Anguilla — Stellar Snorkelling And Live Music Included
Written By