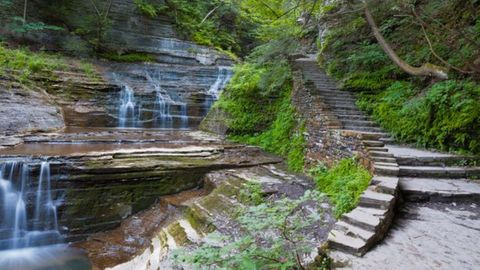 In the heart of the Finger Lakes region, Ithaca, New York, offers visitors the chance to explore stunning natural attractions and vibrant local culture. Known for its cascading waterfalls, breathtaking gorges, and sweeping views of Cayuga Lake, Ithaca is a perfect destination for nature lovers but is also said to have more restaurants per capita than New York City, per Visit Ithaca. (Plus, the Finger Lakes was named one of the best places to travel in 2022 by Travel + Leisure editors.)
"Original art, original music, locally grown foods, locally produced craft beverages — this is who we are and what we appreciate, and we want to share it with everyone who visits Ithaca," said Peggy Coleman, VP of Tourism for the Ithaca/Tompkins County Convention & Visitors Bureau, in an interview with T+L.
Ithaca is a great starting point for travellers looking to explore the popular Finger Lakes wine trails. There are a number of local wineries lining the nearby lakes, many specialising in riesling, which the region is known for because it has a similar growing climate to Germany.
Ithaca is often likened to cities like Boulder, Colorado, or Burlington, Vermont, because of its independent, bohemian spirit. It's a vibrant, diverse destination, and a college town — home to both Cornell University and Ithaca College. Here's how to explore this city, where "gorges" puns run rampant and you're never more than stumbling distance from a great hike.
The best travel guide to experience the city of Ithaca
Best hotels Coleman said she's seen an explosion of short-term rentals in the past decade and even more unique accommodations like farm-stay experiences as the tourism industry grows. She mentioned the Canopy by Hilton, located downtown, as a popular option for visitors who want to be centrally located.
Argos Inn is located just off the Ithaca Commons, with 13 rooms and one of the best cocktail bars in Ithaca in the lobby. This historic inn feels elegant yet cosy: a tucked away retreat that's very walkable to downtown Ithaca.
About 20 minutes outside of town, the Inns of Aurora Resort and Spa is a campus of six high-end, peaceful inns located right on Cayuga Lake. This luxury hotel was voted the No. 1 resort in New York state by T+L readers in our 2022 World's Best Awards. The Inn at Taughannock Falls is another cosy retreat near the lake and is a popular spot for weddings and large events.
For those looking to embrace the natural beauty Ithaca has to offer, Firelight Camps have glamping tents, with trails close by leading directly to some of the best waterfalls in town. Firelight Camps CEO Robert Frisch told T+L what visitors can expect when they stay.
"Sitting with a cocktail by the evening campfires blazing near our lobby tent is a really fun, casual social atmosphere," he said. "Then, walking down the paths to your tent in the woods, and waking in the morning to birdsong is super relaxing and unique."
Frisch said he has been lucky to see the tourism industry blossom over the past decade he's been in business in Ithaca. Firelight Camps are celebrating their 10th anniversary in 2023.
"We've seen a huge boom in development in the urban downtown, but also a continued focus on outdoor experiences," he said. "I've been so impressed with the city and town's focus and commitment to growing in an intentional, sustainable manner."
Book your stay at Inns of Aurora Resort & Spa via Booking.com
Book your stay at Inns of Aurora Resort & Spa via Agoda.com
Things to do The main attraction in Ithaca is undoubtedly the local scenery. Visitors can explore the town's waterfalls and gorges, including popular spots like Buttermilk Falls State Park and Taughannock Falls State Park, both with cascading waterfalls surrounded by verdant forests. Near Cornell University, amateur and pro bird watchers alike will enjoy the easy trail through Sapsuker Woods.
Coleman recommended the centrally located Cascadilla Gorge trail, right off the Commons, as well as Mulholland Nature Preserve.
"I like that I can be surrounded by nature just a few minutes from downtown," she said. "I also like to visit the Covered Bridge in Newfield — there's a cute little shop right next to the bridge, the Covered Bridge Market, where I like to grab a snack or picnic to go."
The Ithaca Farmers Market operates every weekend from April to December. Vendors include local craftspeople, farms with fresh produce, and local wineries. This open-air marketplace, along the Cayuga inlet, has been a staple of this town since 1973.
For Frisch, one of his favourite local getaways is East Shore Park on the lake, which is popular among local families.
"They have a great big public grill there, so we love having a simple BBQ and letting the kids run around there," he said. "The revamped Stewart Park playground is also a stunning place to let your kids run around."
He's also a fan of Ithaca's local music scene. He hopes visitors check out shows at some of the great smaller venues like Deep Dive and the Downstairs. The State Theatre of Ithaca is a popular stop for many musicians, as is the Hangar Theatre for musicals.
"Visitors should expect a relaxed adventure, be it breathtaking nature, an extensive variety of restaurants, live original music, and mind-expanding exhibits," Coleman said.
For families looking for an engaging list of activities, check out the Discovery Trail, a partnership between top Ithaca attractions, including the kid-friendly Sciencenter — an interactive museum with hands-on exhibits — the Cayuga Nature Center, the Cornell Botanic Gardens, the Museum of the Earth, and more.
Visitors can also take a break from savouring Ithaca's natural beauty to instead savour some of the finest wines in the region at nearby wineries. Six Mile Creek Vineyard's tasting room offers panoramic views of the vineyard, award-winning cabernet franc, and live music on Thursdays. On the west side of Cayuga Lake, oenophiles can taste at wineries like Americana Vineyards and Thirsty Owl Wine Company. South Hill Cider is another of Coleman's favourites. The couscous salad is as light and refreshing as the crisp, bubbly Baldwin cider. Or, pair the smoky, barrel-aged Farmhouse cider with the pulled pork sandwich. There's also live music and yoga classes on weekends during the summer.
The Ithaca craft cider scene has expanded in the last 20 years, Coleman said. Finger Lakes Cider House is a worthwhile stop on Cayuga Lake, and Bellwether Cider and Wine sells at the Ithaca Farmers Market. "The craft cider scene is finally being recognised for the high quality being produced here," she said. "As winemakers engage the terroir, so do our cider makers."
Shop the best travel experiences here
Best Restaurants Ithaca is home to a wide range of options that cater to every palate, with hundreds of local restaurants showcasing almost every type of cuisine.
Moosewood Restaurant is one of the most famous Ithaca establishments, known for its delicious vegetarian and vegan dishes, using locally sourced ingredients. This destination spot has been a staple in the Ithaca community for more than 40 years, and recently underwent a full renovation. Another great dinner option is The Heights, near Cornell University, for high-end Mediterranean-inspired cuisine, or try Le Café Cent-Dix on The Commons for elegant French-inspired fare.
Frisch named Gola Osteria as his top spot in town for a nice dinner out, and Lev Kitchen on the Commons downtown for a more casual meal — "so tasty," he said.
Visitors can also head to the Ithaca Beer Company taproom to enjoy a seat outside while dining on a robust farm-to-table menu and sampling beers made with local hops. For lunchtime sandwiches and breakfast options, find the nearest Ithaca Bakery or Collegetown Bagels (call it CTB to sound like a local) — there are several throughout town.
For dessert, make sure to stop at Purity Ice Cream, where, rumour has it, the ice cream sundae was invented. Operating in Ithaca since 1936, they have a mix of classic and unique flavours. Or, if you're craving ice cream while touring the wineries on the west side of Cayuga Lake, hit Cayuga Lake Creamery — they also have a location on the commons.
Best time to visit Ithaca is home to a year-round adventure. In spring, the waterfalls will be roaring to life thanks to the snowmelt, and flow generally from May until early October. In the fall, colourful foliage, milder temperatures, and fewer visitors make for a relaxing respite. And despite the colder temperatures, winter can be especially beautiful, with frozen lakes, falls, and winter activities like snowshoeing.
Summer is certainly the most popular time to visit, with warm weather and plenty of outdoor activities. The college students clear out in the summer, which makes the area surprisingly crowd-free.
Ithaca also has many seasonal festivals and celebrations, including Porchfest, held every fall in the Fall Creek neighbourhood, a music festival celebrating artists who play, yes, from house porches; Apple Harvest Festival, also in the fall, which brings together cider-makers, local farms and more for a celebration of all things apple (the cider doughnuts are a can't-miss); and Chili Cook-Off, in the late winter, with plenty of hot, delicious samples to warm up in the frigid upstate air. Check out the calendar of Downtown Ithaca events for more.
Book your stay at Argos Inn - Ithaca's Boutique Hotel via Booking.com
Book your stay at Argos Inn - Ithaca's Boutique Hotel via Agoda.com
How to get there
Visitors to Ithaca can fly into Tompkins Regional Airport, which offers convenient access to the town and surrounding areas. As of summer 2023, the airport only operates flights to/from New York's JFK International Airport and Newark Liberty International Airport via United and Delta, but connections in the past have included Detroit and Philadelphia, and there are plans to possibly expand as far as Chicago and Los Angeles in the future.
If the flights to Ithaca are too limited for your travel plans, fly into Syracuse Hancock International Airport, which is about an hour's drive from Ithaca and has a wider range of flight options.
From New York City, the drive up to Ithaca can take about four hours. Because of the large college population, there are also frequent bus routes into Ithaca from NYC. There's a Greyhound station, and Cornell's campus-to-campus bus service, which is available to the public.
Neighbourhoods to visit The Commons: Downtown Ithaca is where visitors will find the pedestrian-friendly blocks known as The Commons, home to tons of restaurants and shops.
Collegetown: Situated just outside of Cornell University is Collegetown, with a number of bars and eateries. Visitors who hike up the Cascadilla Gorge trail can reward themselves with a delicious beer or bagel from CTB.
South Hill: South Hill is where you'll find Ithaca College, with Buttermilk Falls State Park flanking the west side, and Six Mile Creek natural area on the east.
Fall Creek: This charming neighbourhood has its namesake creek, homes of every shape and size, tree-lined streets, and the gorges — sorry, had to — Ithaca Falls.
How to get around Once in Ithaca, most visitors will find that having a car offers the most flexibility, but the town also has a robust bus system called the TCAT that runs frequently.
Rideshare services are available, but with fewer drivers than in larger cities, it can take quite a while to get an Uber, so make sure to plan ahead and schedule rides if possible. For larger groups wanting to safely dive into all the Finger Lakes wineries have to offer, there are a number of bus and shuttle companies in the area. Make sure to check each winery's group policy before arrival. You can find recommended group transportation services from the Finger Lakes Wine Country Tourism Association and the Finger Lakes Tourism Alliance.
Book your stay at Canopy By Hilton Ithaca Downtown via Booking.com
Book your stay at Canopy by Hilton Ithaca Downtown via Agoda.com
(Hero and feature image credit: MichaelStephenWills/Getty Images)
This story first appeared on travelandleisure.com
Related: The Best Times To Visit New York City For Lower Prices, Fewer Crowds, And More
Written By