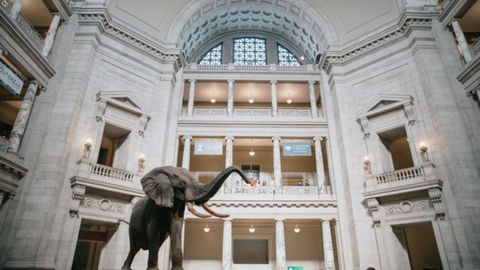 The capital of the US is a veritable treasure trove of sights and experiences. The city's always-evolving cultural scene, combined with its historical roots, make it an eclectic destination where centuries-old monuments and landmarks stand alongside sleek new museums and neighbourhoods — and a great meal or exciting live performance is never too far away.
"DC has vibrant neighbourhoods with unique characters, such as Georgetown, Adams Morgan, and Dupont Circle," says Brian Salley, chef concierge at Waldorf Astoria Washington DC. "These areas offer a mix of shopping, dining, nightlife, and cultural experiences." And don't forget about the urban centre's myriad parks and green spaces, where nature lovers can relax and unwind.
Planning a trip to this historic city? We polled several concierge teams in some of DC's best hotels on the most exciting things to do and see on your next getaway to Washington, DC.
The best things to do in Washington DC
Head to the Old Post Office Pavilion's clock tower Occupying prime real estate in downtown DC, the Old Post Office Tower soars 270 feet above Pennsylvania Avenue, and it offers breathtaking views of some of the capital's most famous landmarks, including the White House, US Congress, Washington Monument, and the Lincoln Memorial. The beautiful 19th-century building, which also houses the Waldorf Astoria Washington DC, is open for self-guided tours daily.
Climb "The Exorcist" steps in Georgetown Tucked between a stone wall and a brick building, this steep climb was made famous by the 1973 horror movie "The Exorcist." The steps connect Canal Road N.W. with Prospect Street N.W. above, where you'll also find MacNeil's house on the 3600 block.
Snap a selfie with Transformers
In the same area, head to 3614 Prospect St. NW to check out life-sized statues of Bumblebee and Optimus Prime. The Transformers guard the residence of Georgetown University professor Newton Howard; while the three statues (the third one is on his rooftop, and it's visible from the street) have drawn mixed reactions from Howards' neighbours, visitors and university students who seem to like them.
Visit Washington National Cathedral This imposing gothic building took 83 years to complete, and it boasts 215 stained glass windows and 112 gargoyles, some more famous than others. "See if you can catch a glimpse of the Darth Vader gargoyle," suggests Adrian Renart, assistant director of services at St. Regis Washington, DC. You might need binoculars to spot the sculpture of the Star Wars villain; it's set on one of the cathedral's northwest towers. The cathedral is also the final resting place of President Woodrow Wilson.
Book your stay at The St. Regis Washington, DC via Booking.com
Book your stay at The St. Regis Washington, DC via Agoda.com
Explore the Tidal Basin by peddle boat Once warmer weather arrives in Washington DC, lots of locals and visitors rent pedal boats at the Tidal Basin, a man-made reservoir that's about 10 feet deep. You can get your heart rate up by pedalling to the Thomas Jefferson Memorial, the Martin Luther King Jr. Memorial, and the Franklin Delano Roosevelt Memorial. Or opt to cruise at a slower pace and simply admire the Basin, which is where the annual Cherry Blossom Festival takes place.
Place an order at Ben's Chili Bowl This has to be DC's most iconic dining spot — it's been a defining part of our capital's culinary (and cultural) scene since 1958, feeding people from all walks of life, including celebrities and presidents. The most popular menu item is the half-smoke grilled sausage, served with spicy chilli sauce, onions, and mustard. Don't leave town without trying one.
Catch a show in the garden at the National Gallery of Art "This concert series offers a variety of musical performances, including jazz, Latin fusion, bluegrass, and more," says Tiffany Gary, chef concierge at Riggs Washington DC. The popular events take place every Friday, from May 19 through August 4, in the serene sculpture garden of the museum. Entry is free but your name must be pulled from a lottery to attend; register here.
Tour President Lincoln's home "President Lincoln's Cottage, where he lived for more than a quarter of his presidency, is a historic site and museum located in the northwest of the city," Gary explained. Instead of the White House, Lincoln resided in this idyllic two-storey home, where the Emancipation Proclamation was born. Visitors can learn more about Lincoln's life and work through guided tours and interactive exhibits.
Visit Ford's Theatre This is the venue where, on the evening of April 14, 1865, President Lincoln was shot during a performance of the play "Our American Cousin." The historic theatre reopened in 1968 and exhibits inside explore the aftermath of the assassination, as well as its impact on US history. Ford's Theater also produces plays and musicals and has a seasonal calendar of shows that start in September and continue through May.
Catch an interactive exhibit in Artechouse Immersive and mind-bending interactive exhibitions that blend art and technology make the DC outpost of Artechouse Studio an absolute must-see for travellers. With no permanent exhibition, but rather a rotating list of fascinating experiences that changes every three or so months, each visit here is sure to be a memorable one.
Enjoy a live concert at Martin Luther King Jr. Memorial Library
"Libraries are not usually places one thinks of for parties. However, we guarantee no librarians will 'shh' you during these events," Gary says. Seasonal musical performances at Martin Luther King Jr. Memorial Library in Penn Quarter feature local bands and some pretty fantastic city views from the lush rooftop garden.
Stroll through Hillwood Estate, Museum, and Gardens
While most visitors focus on the Smithsonian museums in downtown DC, travellers looking for an equally impressive venue that's a bit more under the radar should head here. This site features a museum, sprawling gardens, and an estate once the home of philanthropist, heiress, and businesswoman Marjorie Merriweather Post. "We suggest spending the day exploring the house, collections, special exhibits, and grounds," says Gary. "We often imagine how lucky former DC glitterati was to receive an invitation to one of Ms Post's legendary garden parties. The Fabergé eggs are a must-see – as is an iced tea enjoyed when strolling the gardens."
Book a spirit tasting at Silver Lyan The first American bar of British mixologist Ryan Chetiyawardana, Silver Lyan is often named one of the world's best bars. Located in the Riggs Hotel, the bar hosts exclusive spirit tastings in a secret bank vault throughout the year. "This is a must for aficionados of whisky and other spirits; expect rare gems, special edition bottles, and a few [things] you won't find anywhere else," Gary says.
Book your stay at Riggs Washington DC via Booking.com
Book your stay at Riggs Washington DC via Agoda.com
Visit the National Portrait Gallery and linger in the courtyard Some people assume this museum isn't for them because of the specific art form found inside — do not make this error. You will view spectacular pieces here, including Barack and Michelle Obama's official portraits, which people line up to see, and you can enjoy the museum's modern courtyard as well, which features a "floating" canopy of glass and steel that was added in 2004. It's the perfect spot to take a break from sightseeing and to have lunch or a snack.
Explore Theodore Roosevelt Island One of the most serene and lush places in DC, Theodore Roosevelt Island is an 88-acre natural retreat on the Potomac River. "Explore the trails, take in the scenic views, and learn about the conservation legacy of President Theodore Roosevelt," suggests Brian Salley, chef concierge at Waldorf Astoria Washington DC.
Hike the trails at Kenilworth Park and Aquatic Gardens Located on the banks of the Anacostia River in northeast DC, this tranquil 700-acre park features 45 ponds and unique habitats bursting with wildlife, including many aquatic species. "Explore the beautiful aquatic gardens with their blooming lotus flowers and water lilies," Salley says. "The park also offers walking trails and birdwatching opportunities."
Spend time at The Wharf DC's newest neighbourhood, The Wharf, is located along the Potomac River and offers waterfront dining, boutique shopping, five-star hotels, live entertainment, and activities like kayaking and paddleboarding. The area is also home to The Municipal Fish Market, which opened in 1805 and lays claim to being "the oldest continuously-operating open-air fish market" in the country.
Shop the best travel experiences here
Tour Embassy Row
Over 170 embassies line the quaint streets of Embassy Row, an area in northwest DC between Dupont Circle and Observatory Circle. Book a guided tour to learn all about the stunning Beaux-Arts mansions here — they house some of the world's most influential diplomats — and the stories they hide.
Tour the US Capitol Inspired by the grandeur of the buildings in ancient Rome and Greece, the US Capitol is arguably the most iconic building in the country. The structure houses the US Congress, and you can take a free guided tour through its beautiful halls. Tour participants will see the Crypt, a legendary vaulted space with 40 Doric-style columns; the Rotunda, fashioned after the Pantheon and often the site of official ceremonial events; and the National Statuary Hall, a stunning amphitheatre with marble columns and towering statues.
Meet the animals at the National Zoo Home to more than 2,100 animals and nearly 400 species, Smithsonian's National Zoo is a 163-acre property in Rock Creek Park and a favourite of visitors and locals alike. From the always popular Asia Trail to the kid's farm and Africa Trail, it's easy to see what makes this zoo one of the most visited landmarks in DC. Entry is complimentary, but check the zoo's website for information about timed passes and parking directions.
Explore the National Air and Space Museum This venue is still undergoing a multi-year, top-to-bottom renovation (slated for completion in 2026), but it is partially reopened now, with eight new exhibition spaces housing aviation artefacts. If that's not enough, you can head to the affiliated Udvar-Hazy Center in Chantilly, Virginia (a 40-minute ride from downtown DC), to peruse legendary aircraft like the Discovery space shuttle and a Lockheed SR-71 Blackbird. Keep in mind that the Air and Space Museum in DC needs a timed entry pass, so book yours well in advance, especially if you're visiting on a weekend.
Book your stay at The Hay - Adams via Booking.com
Watch a live show at a local concert venue
DC is an entertainment hub, so save some time for a comedy, theatre, or music show. Alejandra Castillo, guest services and client experience manager at Hotel Washington suggests checking the schedules at local venues like DC Improv and The Anthem for comedy or taking in a big show at Capital One Arena or Kennedy Center. Recently, Dave Grohl of The Foo Fighters (who's a Virginia native) celebrated the opening of his own venue, The Atlantis, a 450-person intimate space for live shows; it's a replica of a popular 1980s venue in DC.
Peruse the incredible works in the National Gallery of Art As one of the top art museums in the world, the halls of the National Gallery of Art are lined with tens of thousands of works of art spanning centuries, including pieces by Vincent van Gogh, Leonardo da Vinci, Piet Mondrian, Vermeer, and so many more. The striking East Building of the museum, designed by Chinese-American architect I.M. Pei, houses the institution's contemporary and modern art collection and a rooftop terrace with views over Pennsylvania Avenue.
Tour the White House
You could just snap a picture of the most famous address in the country from behind its fence, but what fun is that? Though it requires some advance planning, touring the White House is possible; submit a request through your representative in Congress at least 21 days before the desired tour date. The self-guided tours take approximately 45 minutes, during which you will see the East Room, the State Dining Room, and the Blue Room. Presidents have sometimes surprised visitors on these tours, so you may even meet the President.
See the Lincoln Memorial The Lincoln Memorial is a National Mall highlight. Overlooking the Reflecting Pool, the imposing building where the 19-foot tall statue of seated President Abraham Lincoln is located has been the setting for some of our country's most memorable demonstrations, including Dr Martin Luther King Jr.'s "I Have a Dream" speech. Visit the monument at night when it is beautifully illuminated and crowds are much smaller.
Museum hop at the National Mall You can't visit the National Mall without taking advantage of all the free museums. The National Museum of Natural History is always a hit with kids, and other highlights include the National Museum of the American Indian (note that there's a playground on the second floor), the National Museum of American History, and the fantastic National Museum of African American History and Culture (timed-entry passes are required here).
Explore the sculpture gardens of the National Mall
Aside from housing a world-class collection of modern art (including five works by Yayoi Kusama), many visitors come to the Hirshhorn Museum to enjoy its sculpture garden, where more than 30 works are displayed. For more of this art form, head to the National Gallery of Art Sculpture Garden, which is only a few minutes away and features art by the likes of Marc Chagall, Joan Miró, and Mark di Suvero.
Hike in Rock Creek Park When you've had enough of the hustle and bustle of downtown DC, head to Rock Creek Park, a 1,754-acre haven for outdoor enthusiasts. With more than 32 miles (51.49 km) of hiking and biking trails, plus a dozen miles of horseback riding trails, this is a true escape. There are many kid-friendly facilities here, too, including a planetarium and a nature centre with age-appropriate exhibitions.
Dine at a José Andrés restaurant
James Beard Award-winning chef and founder of World Central Kitchen, José Andrés, has six restaurants in DC, many of which are within walking distance from downtown. From classic Spanish tapas at Jaleo and authentic Mexican flavours at Oyamel Cocina Mexicano to the Mediterranean Zaytinya, Andrés's eateries are excellent dining options. His latest dining concept, Bazaar by José Andrés, opened to glowing reviews earlier this year at the Waldorf Astoria Washington DC.
Take in the views from the Washington Monument
As the tallest building in DC, the Washington Monument provides stunning views over the capital. A 70-second elevator ride takes guests 500 feet up to the observation deck and museum, from where visitors enjoy spectacular, unobstructed views of the National Mall, the U.S. Capitol, and the Smithsonian Museums. Tickets are free, but advance reservations are required.
Explore DC's murals "Many local artists express their creativity through murals all over DC," Castillo explained. "One [tour] that I often recommend is with Jason Bowers, who is behind DC Mural Tour." The tour takes place in the NoMa neighbourhood and around Union Market, where you will see more than 20 beautiful murals. This formerly industrial area is quickly becoming one of the trendiest places to hang out in the capital, thanks to its many restaurants and boutiques.
Shop for designer goods at CityCenterDC
CityCenterDC is a premiere shopping destination in Washington DC, where brands like Louis Vuitton, David Yurman, Dior, and Chanel all have boutiques — and some of these stores have private shopping rooms for the ultimate VIP experience. If you're staying at the adjacent Conrad Washington, DC, Jeff Morgan, the hotel's chef concierge and president of the Washington Area Concierge Association (WACA), can book those shopping experiences for you.
Book your stay at Conrad Washington DC via Booking.com
Book your stay at Conrad Washington, DC via Agoda.com
(Hero and feature image credit: Victoria Chamberlain/Travel + Leisure)
This story first appeared on travelandleisure.com
Related: The 30 Best Things To Do In Las Vegas, From Gondola Rides To Epic Stage Shows
Written By