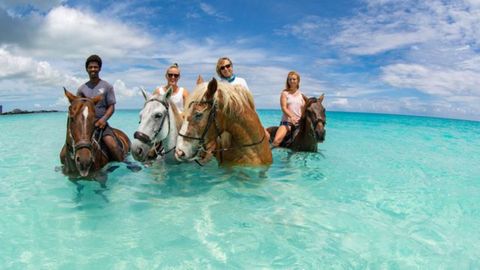 White-sand beaches, turquoise waters, and life at a leisurely pace are common discoveries in the Caribbean islands. But each destination in the region also has its own unique set of characteristics and offerings. St. Barts is known for its five-star hotels and luxury shopping, St. Lucia has incredible hiking, and Anguilla is perfect for honeymoons and couples trips.
Along with its reputation for stunning beaches, Turks and Caicos — an archipelago made up of 40 islands and cays — is where to go if you want to explore your aquatic surroundings (and, of course, relax on the beach).
"One common misconception [about Turks and Caicos] is that there is nothing to do on the islands aside from sit at the beach or pool," says Karen Whitt, vice president of sales and marketing of The Hartling Group, which owns The Palms and The Shore Club. Whitt, who has lived on Providenciales (or "Provo") for the last 18 years, suggests travellers "get on the water" for activities such as "snorkelling, scuba diving, fishing, and boating." Val Kalliecharan, founder of Luxury Experiences Turks & Caicos, echoes her statement, noting that being on the water is "the best way to experience [the] islands." "You look around," he says, "and you're literally seeing 360 degrees of turquoise with a dozen shades of blue."
Whether you're planning your first trip or you're ready for a return visit, we compiled the best things to do in Turks and Caicos, with some help from three local experts.

The best things to do in Turks and Caicos
Linger at Grace Bay Beach There's no shortage of beautiful beaches in Turks and Caicos, but it's worth noting that Grace Bay Beach was named the best beach in the world in 2022. While there, "relax on the soft sand, take a dip in the crystal-clear turquoise waters, and soak up the sun," says Whitt.
Eat conch, in its many forms "Turks and Caicos is known for its abundant conch population, and many restaurants serve freshly caught conch," says Whitt. "Whether it comes in the form of fritters, salad, ceviche, fresh off the beach or fried, every visitor needs to try this island favourite." Her go-to spot? Da Conch Shack.
Wayne Hall, owner and operator of Ocean Vibes & Grand Turk Shore Excursions, recommends "the local conch fritters at Mr Groupers [and] some conch salad at Froggie's." Kalliecharan, on the other hand, says that the coconut cracked conch at Bugaloos is a must-try dish.
Take a boat tour To get an insider's view of Turks and Caicos, you'll want to schedule a boat tour. "This is a great way to appreciate the beauty of the coastline, visit secluded cays, and even spot wildlife like dolphins or migrating humpback whales," says Whitt. The tourism board recommends several charter companies, including Moana Charters, Sail Beluga, and Island Adventure TCI.
Explore island caves Hall, who's originally from Grand Turk and spent most of his childhood on Middle Caicos, suggests "[visiting] the twin islands of North and Middle Caicos and [exploring] the natural, unspoiled beauty and the caves." Conch Bar Caves and Indian Cave — which are dry cave systems — are open to the public.
Plan a spa day Relaxation is paramount in Turks and Caicos, so it should come as no surprise that a spa day is among the best things to do in the destination. "Many of our islands' experienced wellness therapists combine global wellness practices with the traditional healing practices of the islands, and natural ingredients sourced from the surroundings and the Caribbean," says Kalliecharan. For example, The Spa at The Palms offers treatments that incorporate a Mother of Pearl scrub, "which uses a precious blend of hand-crushed local queen conch shells and aromatherapy to gently revitalise and soften skin," explains Whitt. "It's a true island-inspired escape."
Explore one of the world's largest barrier reefs Turks and Caicos boast the third-largest barrier reef — measuring about 340 miles (547.17 km) in total — and both Hall and Whitt have it on their must-do list. "It [provides] some of the best snorkelling and diving experiences, showcasing a vibrant ecosystem with colourful fish, coral formations, and even the chance to spot sea turtles and dolphins," says Whitt.
Book a photo session
A photo will last a lot longer than your Turks and Caicos sun tan, so you'll want to ensure you get a few amazing shots during your trip. Instead of taking them with your iPhone, schedule a quick session with a photographer (check out Brilliant Studios or Paradise Photography). Kalliecharan says that scheduling your shoot "about 1.5 hours before sunset" will guarantee excellent lighting.
Spend a day at Grand Turk Grand Turk, the second-most populated island in Turks and Caicos, has plenty to see and do — including Cockburn Town, the capital. "You can explore its colonial past, see pink flamingos up close, and swim with Atlantic humpback whales (when in season)," says Hall. Grand Turk Light House, built in 1852, is a historic landmark, and there's a chance you'll see endangered flamingos while there.
Swim with humpback whales If you want to see the humpback whales that Hall mentioned above, you'll have to visit Turks and Caicos from January through April, during the annual humpback whale migration. Grand Turk and Salt Cay are the best places for whale sightings but remember to keep your distance when swimming or snorkelling — humans should not chase the whales or get too close.
Visit the Turks and Caicos National Museum
Travellers can familiarise themselves with the islands' history during a visit to the Turks and Caicos National Museum. There are two locations — Grand Turk and Provo — and both offer tours, events, and classes. The Provo museum also has a "Heritage House," which recreates how the region's islanders lived in the past.
Book your stay at The Shore Club Turks & Caicos via Booking.com
Book your stay at The Shore Club Turks & Caicos via Agoda.com
Try your hand at kiteboarding Whitt says that Long Bay Beach on Providenciales is best for kiteboarding; the island's "consistent trade winds and calm, shallow waters" lend themselves beautifully to the sport. If you've never tried kiteboarding before, book a lesson with Big Blue Collective or Kite Provo.
Go on a horseback ride "For an unforgettable way to explore Turks and Caicos, I recommend booking a tour with Provo Ponies," says Whitt. "The company offers guided horseback rides along the beautiful beaches of Providenciales. Guests can enjoy a leisurely ride along the shoreline, taking in stunning views of the turquoise waters and white-sand beaches."
Have a cocktail at sunset "As the sun begins to set, head to a beachfront bar or restaurant to enjoy a refreshing cocktail or a cold local beer," says Whitt. "Many places offer sunset views, live music, and a festive atmosphere. And, if you're lucky, you might see the orange-coloured sky and the green flash," says Kalliecharan. The latter is a rare and stunning phenomenon that occurs when sunlight is refracted through the atmosphere into different frequencies.
Book your stay at Rock House via Booking.com
Book your stay at Rock House via Agoda.com
Shop around Middle Caicos Co-op If you want to take home a handcrafted souvenir from Turks and Caicos, explore the offerings at Middle Caicos Co-op. Visitors will find more than 60 island artisans selling their wares here, including straw and sewn work, as well as conch shell crafts, paintings, model sailboats, and jewellery.
Attend an island fish fry
"Travelers should visit the local Fish Fry, which [has] a good variety of Caribbean restaurants, as well as authentic Turks and Caicos cuisine," says Hall. Held every Thursday from 5:30 pm until 9:30 pm at Diamond Plaza in the Bight, the Fish Fry brings local food, drinks, and entertainment together for family-friendly fun. Admission is free, but you'll need cash for many of the stalls.
Shop the best travel experiences here
Indulge in the catch of the day
If you can't make it to the weekly Fish Fry, that's okay — but you'll still want to add freshly caught fish to your lineup of meals. Hall's top suggestion? Crackpot Kitchen's grilled or fried fish paired with peas and grits.
Kayak through the mangroves If you prefer a smaller boat and a slower pace, try kayaking in Turks and Caicos. "You can kayak from Providenciales straight into the mangroves, which are the breeding ground for marine life and birds, as well as a protective barrier for coral and other marine ecosystems," says Whitt. If you have a keen eye, you might get to "see juvenile turtles, sharks, rays, and other small sea creatures," adds Hall.
Look up at the stars Sundown may signal the end of a beach day, but it also means it's time to stargaze. "The clear skies of Turks and Caicos offer incredible views of the stars and constellations," says Whitt. "Take a moment to appreciate the tranquillity and beauty of this island paradise before calling it a night."
Keep an eye out for Turks and Caicos rock iguanas Hall recommends visiting Half Moon Bay to see "native rock iguanas in their natural habitat." The three-quarter mile beach is found between Little Water Cay and Water Cay, and the iguanas are known to come out onto the beach's dunes.
End your trip with an elevated dinner
"We have an incredible array of culinary experiences here in Turks and Caicos," says Kalliecharan. Dinner at the Chef's Table at Provence by Eric is number one on his list, but other fine-dining options include Grace's Cottage, Coco Bistro, and Caicos Café.
Book your stay at Wymara Resort & Villas via Booking.com
(Hero and feature image credit: Provo Ponies)
This story first appeared on travelandleisure.com
Related: 20 Best Things To Do In Anguilla — Stellar Snorkelling And Live Music Included
Written By