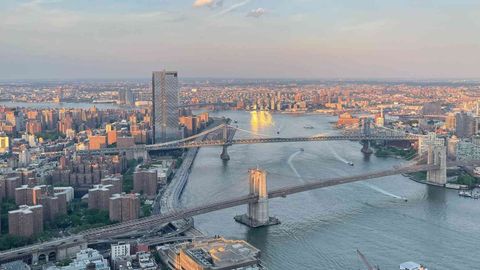 It's no secret that New York City is one of the best cities in the US and in the world. A hub for food, culture, architecture, entertainment, and so much more, "The City That Never Sleeps" truly does offer something for everyone.
Take it from Fora co-founder and travel advisor Henley Vazquez, who describes New York City as "a true melting pot of cuisines, architectural styles, and things to do." Travel advisor Camila Alfonso of Valerie Wilson Travel, a Virtuoso agency, echoes that sentiment, telling Travel + Leisure, "The city's energy is unparalleled, and its allure is simply irresistible. Each time I visit, I'm captivated by its unique charm and the myriad of experiences it offers."
However, with so many things to see, do, and explore while in town, planning your trip can be overwhelming. To help you uncover all the amazing attractions and sights this beloved destination offers, we've rounded up 35 of the best things to do in New York City, including a handful of local-approved activities.
A guide to do the best things in New York City
Hit the beach Just an hour-long ferry ride from downtown Manhattan, Rockaway Beach in Queens attracts locals and travellers alike with its sandy shorelines and surf. Besides, says Vazquez, "It's closer than the Hamptons and far more affordable." If you plan on staying the night, the travel pro recommends booking a room at the chic Rockaway Hotel — a T+L It List award-winner — which offers stylish rooms and suites, a rooftop pool, and free bike rentals so you can cruise the boardwalk in style.
Stroll the Brooklyn Bridge "I love walking or jogging across the Brooklyn Bridge," says Vazquez, who adds that "everyone should do it at least once." The iconic landmark offers some of the best views of Manhattan and Brooklyn, making it one of the top (and most popular) things to do in New York City. To avoid crowds, visit as early in the morning as possible, and be sure to wear comfortable shoes — the walk is about an hour (1.3 miles/2.09 km) each way, assuming you're going at a leisurely pace.
Visit Fotografiska Museum NYC Whether you're a local or a first-time visitor, Fotografiska Museum NYC is a must for its fascinating photo exhibits. Housed in an eye-catching, Renaissance Revival-style building in Gramercy Park, Vazquez tells T+L that the museum is especially great for tweens and teens. Don't leave without checking out one of the on-site drinking and dining venues, including Chapel Bar (housed in a 19th-century chapel) and the swanky Veronika bar and restaurant located on the museum's second floor.
Check out Little Island This new-ish public park along the West Side Highway spans just under two-and-a-half acres. Despite its small size, this magnificent floating structure — made up of 280 tulip-like concrete structures — is home to more than 350 species of flora. Little Island hosts a slew of events, including DJ sets, drag bingo, dance parties, and live musical performances.
Wander around The Met Cloisters Make your way to Washington Heights in uptown Manhattan to check out The Met Cloisters. The museum, which is part of The Metropolitan Museum of Art, is America's only such venue dedicated specifically to Middle Ages art and architecture. You can easily spend an entire afternoon wandering its indoor and outdoor spaces.
Head to the New York Botanical Garden The New York Botanical Garden (NYBG) in the Bronx feels worlds away from the bustling city, and the 250-acre site boasts more than one million plants. The blooms vary depending on the time of year. We recommend visiting in the spring, when peonies, daffodils, magnolias, and lilacs are all in season. Other highlights include the rose garden (May through October), the azalea garden (year-round), and the extensive orchid collection (also open year-round).
Peruse Manhattan's best art museums It's no secret that Manhattan is home to incredible art museums, including The Whitney (known for its collection of 20th-century American works) and The Museum of Modern Art (MoMA), which boasts nearly 200,000 works from across the world. Other must-visit museums include the Frank Lloyd Wright-designed Solomon R. Guggenheim Museum, an oasis for contemporary art lovers, and The Metropolitan Museum of Art. One of the world's largest fine art museums, the latter is home to an impressive collection of works, some of which date back thousands of years.
Stroll through Socrates Sculpture Park Socrates Sculpture Park is a favourite of Vazquez's for its tranquil riverfront locale and "great installations." Once an abandoned landfill, this outdoor museum hosts year-round events, including yoga and meditation sessions, kids dance classes, and even kayaking in nearby Hallet's Cove.
Retreat to Snug Harbor Cultural Centre & Botanical Garden Staten Island is the city's least populous borough, but don't let that deter you from visiting. The Snug Harbor Cultural Center & Botanical Garden is, by far, one of the area's best attractions. The waterfront site, set within an 83-acre park, is comprised of 28 historic buildings, 14 botanic gardens, a two-acre farm, and plenty of picturesque scenery.
Walk down Arthur Ave Arthur Avenue has gained a reputation as being the city's lesser-known Little Italy, and Vazquez calls it "the real deal" for its abundance of "Italian bakeries and red sauce restaurants." A few can't-miss spots include Tino's Delicatessen for stuffed heroes, Casa Della Mozzarella for fresh mozz, Dominick's for large plates of pasta, Tony & Tina's for pizza, and Madonia Brothers Bakery for cannoli.
Sit down for afternoon tea Put those pinkies up for afternoon tea at splurge-worthy NYC staples like Palm Court at The Plaza Hotel, The Whitby Bar at the Whitby (an especially fitting spot, given the hotel's British roots), or the Grand Salon at the Baccarat Hotel. For a more budget-friendly experience that's still quite special, check out Alice's Tea Cup, Brooklyn High Low, or Kings' Carriage House.
Pack a picnic and head to Central Park Central Park offers plenty to see and do within its 800-plus acres, which include grassy lawns, eight lakes and ponds, and even a zoo. But the best way to experience the park and its vast natural beauty — an oasis amidst towering skyscrapers — may be to simply sit on the grass or a park bench to enjoy a picnic lunch. While you snack, you're sure to find the people-watching equally enjoyable. To make your picnic even more memorable, consider working with Perfect Picnic NYC, one of several luxury picnic companies that transform basic spreads into gourmet lunches and soirees.
Have dim sum in Flushing's Chinatown Though it's often overlooked in favour of Manhattan's Chinatown, this location is just as vibrant. Venture here to feast on delicious dim sum dishes like soup dumplings, pork buns, chicken feet, spare ribs, and shumai, to name a few. While you can't go wrong with any of the restaurants in this neighbourhood, we especially love Asian Jewel, Shangai You Garden, and Nan Xiang Xiao Long Bao.
Explore Governor's Island This 172-acre island is an eight-minute ferry ride from downtown Manhattan and a five-minute ferry ride from Brooklyn Bridge Park, making it an excellent day-trip destination. Travelers will find plenty to do here year-round, including a wellness-centric spa and a centuries-old fort. The island also boasts a handful of eclectic drinking and dining venues, a lavender field (open seasonally), and New York City's only glamping property (also seasonal).
Escape to Coney Island Coney Island is a hotspot for families with its abundance of nostalgia-inducing amusement park rides, charming 2.7-mile-long (4.34 km) boardwalk, and wide sandy beaches. No trip here is complete without a visit to the New York Aquarium, where you can encounter marine life like sharks, rays, otters, octopus, and more, followed by a hot dog and fries at the flagship Nathan's Famous.
Have a drink at a few rooftop bars "Indulge in the chic and enchanting atmosphere of New York City's rooftop bars, offering stunning views of iconic landmarks like Times Square or the Empire State Building," says Alfonso, who especially loves Magic Hour Rooftop in midtown. Other year-round options abound, including Westlight at The William Vale in the hip neighbourhood of Williamsburg, the rooftop at Royalton Park Avenue, and Panorama Room at the Graduate New York on Roosevelt Island (the views alone are worth the tram ride here).
Shop the best travel experiences here
Visit Ellis Island and the Statue of Liberty These two New York City landmarks are only accessible via ferry. The Statue of Liberty represents freedom and hope, and visitors can climb to its crown, so as long as they don't mind trekking 160-plus steps. Ellis Island, which welcomed 12 million immigrants into the country, is equally fascinating; today, it's home to the National Immigration Museum, which houses historical artefacts and exhibits.
Sip vino at an urban winery
You don't have to travel to the Finger Lakes or the North Fork of Long Island to sip and savour some of the Empire State's best wines. Instead, head to one of NYC's innovative urban wineries. A few of our favourite spots include Rooftop Reds (set on a rooftop in the Brooklyn Navy Yard), Brooklyn Winery (which offers tours and tastings three days a week), The Redhook Winery (a warehouse-turned-winery that uses locally grown grapes) and City Winery, which is a restaurant, winery, and live music and entertainment venue rolled into one.
Set sail on New York Harbor Some say that New York is best explored on foot, but we'd argue the city is even more magical when viewed from the water. Don't just take it from us, though. "Embark on a captivating boat ride through New York Harbor to bask in breathtaking views of the city's skyline and the majestic Statue of Liberty," says Alfonso. "This iconic experience allows you to appreciate the city from a different perspective."
Stroll the High Line The High Line, which stretches through the Meatpacking District and Chelsea in Manhattan, is one of the city's most unique public parks — it's an elevated rail track that's been transformed into a greenery-filled walkway spanning 1.45 miles (2.33 km). The park boasts 500-plus species of plants and trees, as well as several striking pieces of art. You'll find plenty of places to sit and lounge, good people-watching, and great vantage points for snapping skyline photos.
Attend a Broadway show One of the few places you can spot native New Yorkers and tourists from all over the world mingling together is at a Broadway show. People flock to the city's Theatre District to catch one (or more) of its two-dozen-plus performances, ranging from classics like The Lion King and Wicked to newer titles like Shucked and Here Lies Love.
Shop in SoHo SoHo, which stands for "South of Houston Street," is among New York City's coolest neighbourhoods. With chic boutiques, eclectic galleries, and hip eateries galore, you can spend hours wandering the streets here and popping in and out of shops. And speaking of shopping, your options abound, from big-name brands like Rag & Bone and Anine Bing to local favourites like Kirna Zabête and Henrik Vibskov Boutique NYC.
Book your stay at The Langham, New York, Fifth Avenue via Booking.com
Book your stay at The Langham- New York- Fifth Avenue via Agoda.com
Taste your way through the Tin Building Open since September 2022, the Tin Building by Jean-Georges is New York City's latest and greatest food hall. Located in lower Manhattan, the 53,000-square-foot oasis is a haven for culinary connoisseurs. Expect a handful of stylish sit-down restaurants, bars, and fast-casual spots serving everything from Chinese cuisine to French fare and more. Don't miss the sprawling food market, either.
Visit the National September 11 Memorial & Museum Located in the World Trade Center, the National September 11 Memorial & Museum aims to educate visitors on the impact and significance of 9/11 through a combination of media and artefacts, plus personal stories of loss and tragedy coupled with those of unwavering hope and resilience. While the outdoor memorial is free and open to the public, you'll need to purchase tickets to enter the museum. Guided tours are also available.
Visit the American Museum of Natural History The American Museum of Natural History on Manhattan's Upper West Side captivates visitors of all ages with its impressive collection of 32 million specimens and cultural artefacts. Prepare to be dazzled by the now-iconic blue whale model, enchanting dinosaur exhibits, and the fascinating display of extinct mammals. This past May, the museum debuted the Richard Gilder Center, which boasts striking architecture and features such as an insectarium and butterfly vivarium.
Take in the city views from One World Observatory Travellers can experience the city from new heights by visiting One World Observatory, which is considered the city's highest point. In addition to panoramic city views, you'll find a handful of shops, exhibits, and restaurants. Even the 47-second elevator ride to the 1,268-foot summit is thrilling, as it features a CGI timelapse of Manhattan from the 16th century to the present day.
Visit the Empire State Building The Empire State Building has become one of the city's most recognisable landmarks since its 1930 construction. Today, tourists worldwide come here to marvel at the city vistas from the iconic 86th-floor, open-air observatory deck. There's also the 102nd-floor observation deck, where floor-to-ceiling views (and on a clear day, up to 80 miles (128.74 km) of visibility) await.
Explore DUMBO Brooklyn already takes the cake for being the city's coolest borough, and DUMBO (a.k.a., Down Under the Manhattan Bridge Overpass) may just be its coolest neighbourhood. The historic waterfront area is teeming with high-end eats (snag a seat outside at Cecconi's to feast on handmade pasta in style) and shopping (the Brooklyn Flea, which takes place here each Sunday, is perfect for picking up hidden treasures).
You'll also find myriad galleries, including Klompching, which showcases incredible contemporary photography, and coffee shops galore (we love Zaruma Gold Coffee, which serves excellent Ecuadorian coffee). Brooklyn Bridge Park is a prime place for people-watching, and it's also where you'll find Jane's Carousel, a must for little ones.
Venture to Astoria An easy subway ride from Manhattan, Astoria is chock-full of unique eats and attractions. Film buffs should not miss the Museum of the Moving Image, where they'll learn more about the art, history, and technology of movies. From there, grab a bite at one of many Greek eateries, including the always-buzzing, seafood-forward Taverna Kyclades. Other neighbourhood hotspots include Astoria Park (which spans almost 60 acres along the East River), The Bonnie for creative cocktails and bar bites, and the aforementioned Socrates Sculpture Park.
Book your stay at The Ritz-Carlton New York, NoMad via Booking.com
Book your stay at The Ritz-Carlton New York, NoMad via Agoda.com
Check out the Edge Located in Hudson Yards, the Edge prides itself on being the highest outdoor sky deck in the Western Hemisphere. The thrilling attraction is perched more than 1,000 feet above the sidewalk, and its glass-bottom floors take the adrenaline-pumping experience to an entirely new level. The outdoor viewing area spans 7,500 square feet and is accessible via a 52-second elevator ride.
Grab breakfast at Tiffany's Channel your inner Holly Golightly and splurge on breakfast (or lunch, afternoon tea, or dinner) at Tiffany's — seriously. Inside the jewellery brand's flagship Fifth Avenue location is The Blue Box Café by Daniel Boulud, where the elegant, Tiffany Blue-hued interior sets the scene for a swanky meal. Menu offerings include Holly's Favorites (a croissant, butter and jam, fruit juice, coffee or hot chocolate) and the trademark Blue Box Celebration Cake, an Instagram-worthy treat shaped like the brand's iconic blue box.
Enjoy a Michelin-starred meal As of 2022, there were a whopping 72 Michelin-starred restaurants in the city, which means many mouthwatering meals await. The now-vegan Eleven Madison Park is a favourite among foodies and celebrities alike, while Eric Ripert's Le Bernardin dishes out spectacular seafood. Outside of Manhattan, there's Aska in Williamsburg, which serves seasonal Scandinavian fare, and Mexican haunts like Claro in Gowanus and Casa Enrique in Long Island City.
Catch a comedy show If you love to laugh, be sure to catch at least one stand-up or improv performance when in town. The city is home to dozens of venues, ranging from nationally renowned staples like the Comedy Cellar, Stand Up NY, and Gotham Comedy Club — all of which are in Manhattan — to hidden gems like The Tiny Cupboard in Bushwick.
Take a helicopter ride While the Big Apple is beautiful from every angle, seeing it from up above is an experience like no other. Catch a birds-eye view of your favourite NYC landmarks by embarking on a helicopter ride. The good news is that it won't cost an arm and a leg: Both HeliNY and Liberty Helicopter offer tours starting at less than USD 200 (INR 16,543) per person.
Indulge in a bathhouse visit When you need a break from the city's bustle, retreat to one of a handful of uber-sleek bathhouses for a rejuvenating soak. The aptly named Bathhouse in Williamsburg is housed in a former 1930s-era factory. Today, it's a sleek space to relax and unwind, with amenities like thermal pools, heated marble hammams, saunas, a steam room, and treatments like massages and body scrubs — not to mention a stylish on-site bar and restaurant.
AIRE Ancient Baths in Tribeca, which, like Bathhouse, occupies a restored building that was originally a textile factory, is another favourite for its wellness-centric offerings and chic ambience.
Book your stay at Casa Cipriani New York via Booking.com
Book your stay at Casa Cipriani New York via Agoda.com
(Hero and feature image credit: Alessandra Amdio/Travel + Leisure)
All currency conversions were done at the time of writing
This story first appeared on travelandleisure.com
Related: The Best Times To Visit New York City For Lower Prices, Fewer Crowds, And More
Written By