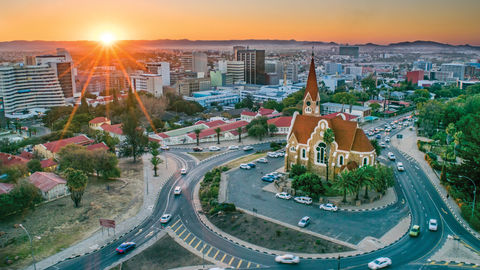 The country with abundant natural beauty and home to the world's oldest desert, Namibia is all set to welcome travellers who can furnish a COVID-19 negative test report. That surely is #SomeGoodNews for those who cannot wait to witness the blessed wildlife of this South African nation. By Kumar Shree
Namibia in South Africa is the latest addition to the list of countries that are now reopening for tourism. Joining the likes of Brazil, Egypt, etc., Namibia is also ready to welcome travellers from this week onwards, for which the Hosea Kutako International Airport in Windhoek is prepping to resume operations.
View this post on Instagram
However, before you decide to plan a visit, there are some rules and regulations that you must know about. All the tourists will have to provide a COVID-19 negative test report taken within 72 hours of their flight's departure time. They will also need to fill a health questionnaire upon arrival at the airport. All passengers will be made to undergo a temperature scan at the airport, and those who show any symptoms related to Coronavirus will be asked to take a test. If you are planning a trip to Namibia anytime soon, authorities prescribe having a health insurance, and a local number registered in the country. The visa rules remain the same i.e. travellers from many countries can arrive without any visa, or even avail the visa-on-arrival facility.
"We asked you not to travel then, so you can travel later and "later" is NOW! Let's all embark on this new journey together, safely and excitedly. Celebrate and share your next destination with us! #ShareSouthAfrica #SouthAfricanTourism," South African Tourism's official Instagram handle stated.
View this post on Instagram
Furthermore, the country's Health Ministry has already marked and certified hotels where tourists will need to stay for the initial seven days. They will be allowed to use all the facilities, and a second test for the Coronavirus will take place on the fifth day. Those who procure negative results even in this test will be allowed to go out and explore the country from the seventh day. They can also check out from the prescribed hotels and stay at a property of their choice.
Related: This Namibia-Based Animal Sanctuary Tells Us How Our Furry Friends Are Coping With The Lockdown
Written By