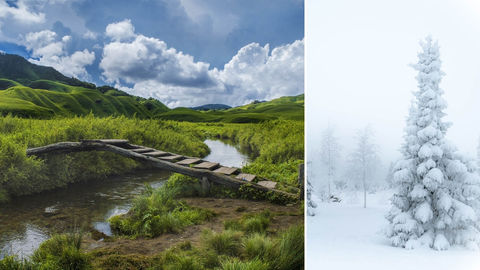 Zunheboto, Kiphire, Tuensang and Phek — the four districts of Nagaland witnessed snowfall on January 2 and 3. This wintry affair occurred in the state after nearly four decades. By Ritika Dixit
Villages in the aforementioned districts of Nagaland woke up to a sheet of snow on a Friday morning. The cold wave has not just swept through North India but also several parts of the Northeast including Guwahati, Shillong and the commercial hub of Nagaland — Dimapur.
While Guwahati recorded temperature as low as 9-degree Celsius, Shillong was at five, and the minimum temperature in Dimapur was eight-degree Celsius. Other extreme temperatures were recorded in Itanagar, which was the coldest city in the Northeast on January 6 with a minimum temperature of 2.9-degree Celsius. Imphal recorded the second lowest temperature of the season at 3-degree Celsius.
With pictures and videos of the villages covered in blankets of snow doing rounds all over social media, claims suggest that the state has witnessed such unprecedented intensity and volume of snowfall for the first time after a long gap of nearly four decades. According to reports, snowfall in Nagaland was quite common back in the days of thick and pristine rainforests. Whereas, in recent years, snowfall was only witnessed in the forested areas and mountain tops, which makes this one an unusual occurrence.
The weather is expected to be dry and cold at the beginning of the week, followed by light and moderate rainfall. A warning has been issued by the weather department against extremely dense fog in all states of the region including West Bengal, Sikkim, Odisha, Assam, Meghalaya and Nagaland.
Related: Say Hello To The Beautiful Tuophema Tourist Village In Nagaland
Written By