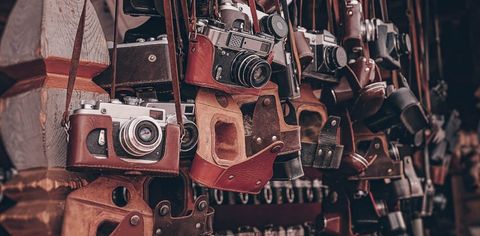 Hyderabad's Moughal Arts & Decoration House has been around since the 80s. A vintage shop that's packed to the rafters with antique pieces curated from royalties, particularly the Nizams, this store is a sight to behold. At the doorway, gramophones, typewriters, radios, pendulum clocks and more lie haphazardly—a fitting entrance that often spills out on the streets. Mirza Azhar Ali Baig, the owner, coasts from one collectable to another, proudly displaying his collection of Nizam's portraits; Lubitel cameras; and 100-year-old porcelain crockery from China, Japan and Germany. By Sunaina Patnaik "Back in the day, we've hosted quite a few private exhibitions," says Baig, "and that's how Tabu, Rekha, Alok Nath, Raj Babbar, and the likes discovered Moughal Arts." I am told some of his customers, including these film stars, have been visiting since the '90s. Everything at the store is around 60-100 years old, while older artefacts are sourced on request. Whether it's a chandelier or an Italian marble figurine, Moughal Arts can unearth them. "I collect the oddest of things and I can't stop," he admits as he pulls out an album with letters from the Nizams, stamps, currency, and postcards with monograms that date back to the 18th Century. "They don't make stuff like this anymore," he remarks as he refers to their warehouse upstairs that houses furniture made from Rangoon wood, rosewood, and teak. From diwan cots and chests to bookshelves and dressing tables—it's heartening to watch them stand the test of time. His miniature artefact collection ranges from marionettes and a 70-year-old compass to weighing scales and clocks. And then there are Parkers and Mont Blancs for pen lovers, and types of vinyl and cassettes for music lovers. Most artefacts are in a good shape. If you were to purchase one, it's cleaned, polished, and then delivered. Baig is usually around for a conversation and offers insightful suggestions to those who're keen on picking art for their homes. "I am not in the business of making money. I want my customers to take home an antique that has a story. For me, that's more important," he says as he proceeds to play a Mohammed Rafi vinyl. Baig says this third-generation business is no longer the same after his father's death. "We've moved from a bigger space. My brother and I split, but we still work together for some curations," adds Baig who also repairs vintage pieces. Some of his loyal customers ship radios and televisions for a fix. All said, he's past his prime and things aren't the same as his heyday. He's unsure what the future holds because his children aren't interested in the shop. But then he adds, "the younger generations are curious, they coax me to tell stories and it bolsters faith in me that vintage will last, at least for those who see value in the bygone past."
Related: Ditch The Charminar & Explore These 3 Hidden Gems Of Hyderabad, Instead
Written By