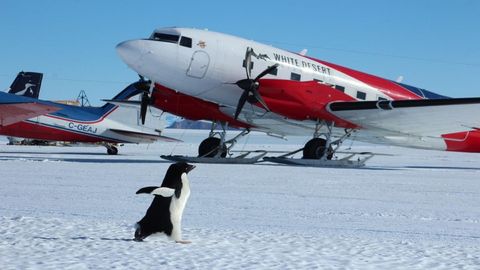 When it comes to travelling, there's a reason people say that the journey is often as important as the destination. After all, it helps to start your trip on an exciting note. But if you're the kind who doesn't look forward to air travel, we don't blame you – most commercial airports have the same busy vibe and airport runways can seem unassuming. However, there are a few that stick out of the crowd, thanks to their impressive and downright unique airstrips.
All the time spent on an airport runway is lost in anticipation of finally taking off or landing. There are some exciting exceptions to this rule, as a few runways from around the world will certainly have you glued to your window, should you visit them. From Lakshadweep's Agatti Airport which sits peacefully among cerulean waters to Antarica's ice runways, here's a list of the world's most impressive and one-of-a-kind airstrips that are worth checking out!
10 most impressive airport runways across the world
Donegal Airport (Aerphort Dhún Na nGall), Ireland
There are plenty of reasons to travel to Ireland – from its rich history to rugged landscapes, the country is teeming with sights and sounds that are sure to leave you enthralled. If you find yourself making your way here through the Donegal Airport, then your adventure starts right from the get-go. The airport's stunning runway finds itself nestled on an archipelago, surrounded by white sand and azure waters on both sides, which makes for quite the fitting welcome to a country known for its beautiful coastlines.
Velana International Airport, Maldives
57 years of connecting the world to Maldives! Thank you to everyone who has made Velana International Airport, gateway to the perfect holiday destination.#VelanaAirport pic.twitter.com/HhxVYgr6pi

— Velana Airport (@VelanaAirport) April 12, 2023
What started out as a small airstrip on an uninhabited island, is now arguably one of the most popular airports visited by tourists from all over the world. Maldives' Velana International Airport is located on Hulhulé Island and despite its rather humble beginnings, the airport is extremely well connected to major airports, serving as the gateway to Maldives. It certainly lives up to that moniker, seeing that landing on the island is every visitor's first brush with all things that make Maldives so special – sun, sand and crystal blue waters. But don't let the island persona fool you, as this airport is well equipped to handle 1 million passengers annually.
Tenzing-Hillary Airport, Nepal Often known as the Lukla Airport or the Mount Everest Airport, the Tenzing-Hillary Airport is also classified as an altiport. Altiports are airports that cater to smaller aircraft, often located in mountain terrain with steep runways. While the topography certainly lends itself to amazing views and a unique flying experience, it is not for the faint of heart, as these runways are considered to be rather dangerous, even with experienced pilots at the helm. On account of this, the Tenzing-Hillary Airport functions on the basis of the weather and during daytime hours only.
The airport itself has an interesting history – it was built under the supervision of Sir Edmund Hillary, on land that he purchased from local sherpas, who were also a part of the construction process. The airport was later named in his and Sherpa Tenzing Norgay's honour, an ode to their feat of conquering Mount Everest and their efforts towards building the airport.
Courchevel Altiport, France
At an altitude of 6,588 ft, nestled in the French Alps, landing at the Courchevel Altiport is nothing short of a magical experience. While its main purpose is to serve the Courchevel ski resort, the airport does serve one commercial airline – Alpine Airlines. As scenic and stunning as the altiport may seem, flying here comes with risks, on account of a short runway of 1,762 ft, no go-around procedures or lighting aids.
Innsbruck Airport (Kranebitten Airport), Austria
While being situated in the Swiss Alps makes airports like Innsbruck seem surreal, there certainly are a few downsides to it. Recognised as one of the most dangerous airports to land at in the world, owing to the landscape and weather, safety measures here are as strict as it gets, with only captains allowed to operate the aircraft. However, this hasn't deterred tourists over the decades, all of whom flock to the Alps to make the most of the skiing season.
Barra Airport, Scotland
Functionality is key when it comes to airports, with strict regulations and schedules. But, delays are often commonplace, with the weather being the main culprit. Except for the Isle of Barra, Scotland, where the terrain calls the shots. Possibly one of the most unique airport runways in the world, the Barra Airport's said runway serves another purpose – it is actually Traigh Mhòr Bay's beach! Yes, you read that right – the beach doubles up as a runway for flights during low tide. While the sand and short runway can be tricky to manoeuvre, this airport usually serves tiny Twin Otter aircraft, manned by Loganair.
Agatti Airport, India If you're planning to fly to Lakshadweep and soak in the beauty of India's archipelago, you will encounter the island's only airstrip – Agatti Airport. Flying into the airport is quite an experience seeing that the island is basically encompassed by the short runway, greenery and deep blue waters all around. It makes for quite the picturesque view, amping up the whole 'island getaway' vibe. A number of Indian airlines operate at this airport, making it accessible and certainly worth visiting the next time you need some sun, sand and vitamin sea.
Wolf's Fang Runway, Antarctica
View this post on Instagram
For those who consider themselves to be true blue adventurers, travelling to Antarctica certainly makes for quite the expedition. Interestingly enough, the icy escapades begin right from the time you land here as the aircraft make their way to Wolf's Fang Runway in Queen Maud Land, Antarctica. While this runway is functional only during summer, what makes it unique is the fact that it is a blue ice runway – made of literal, sturdy ice, that can support aircraft that have wheel landings. The prerequisite for these airport runways is that the area where it is being constructed should have no annual snow accumulation, in order to ensure a clear path. When it comes to unique terrain, this one certainly is a cut above the rest and is as cool as it can get – literally!
Gibraltar International Airport (North Front Airport), Gibraltar A majority of the airstrips on this list have one factor in common – their location and topography that contribute to each runway's uniqueness. From beaches to islands, mountains, valleys and even plains of ice, the natural geography of these locations contributes to the runway's beauty and difficulty to navigate. While natural settings elevate these runways, there is one that deals with the perils of an urban landscape instead.
The Gibraltar International Airport, also known as the North Front Airport in Gibraltar, is certainly a cut above the rest, as the runway has a highway running right across it. While it carries the title of being the only commercial airport in the world to have a highway running through it, the operations here are nothing short of hectic, with the highway shutting down in the event of a landing or takeoff. If you find yourself running late in Gibraltar, you can certainly blame it on the air traffic.
Juancho E. Yrausquin Airport, Saba Island
Short airport runways mean that there is no room for error during landings and take-offs and certainly add to the pressure. There's a good reason Saba Island's Juancho E. Yrausquin Airport keeps pilots on their feet – it is home to the shortest commercial runway after all, at just 1,132 ft. While piloting aircraft here requires a good degree of experience and skill, there is a definite thrill to making your way down the runway, thanks to the scenic view on all sides. Surrounded by deep blue waters on three sides and the tall cliffs and greenery of the island on the other, the Juancho E. Yrausquin is nothing short of spectacular. While Winair is the airline that currently operates here, it is also known to cater to chartered flights.
Princess Juliana International Airport, Saint Martin
If you find yourself sunbathing on Maho Beach, don't be too surprised if your tanning hours are interrupted by an aircraft overhead – the Princess Juliana International Airport's runway starts right off the shore of Maho Beach. A favourite among plane spotters, aircraft flying into Princess Juliana International Airport come in dangerous low while making their way to runway 10, which is quite a thrill for people on-ground and in the landing flights as well.
(Main Image Credit: hial_airports/Instagram; Feature Image Credit: white.desert.antarctica/Instagram)
Related: The 10 Best Centurion Airport Lounges In The World
Written By