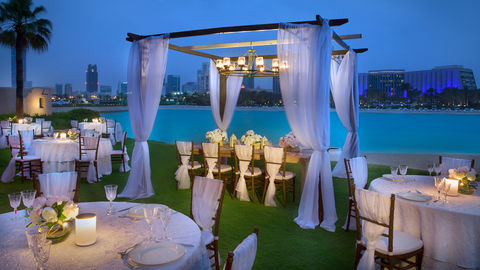 Only a few places can nail opulent celebrations like the Middle East. We tell you to where to get engaged, say your vows, and throw an after-party during a regal Middle Eastern wedding. By Ano Patel
BAHRAIN Kickstart your celebrations at the luxurious island retreat of The Ritz-Carlton, Bahrain. The swanky waterfront hotel is packed with serene villas, sandy white beaches, and lush gardens blessed with year-round sunshine and a breathtaking view of Manama's skyline. You can choose between the magnificent ballrooms, an outdoor tent looking out at the sea, or the hotel's heavenly private island to host your engagement ceremony and a beachfront gala sangeet to be remembered by not just you but all guests in attendance.
What We Like The hotel recently launched tailored packages for family boat excursions to explore hidden enclaves and sandy inlets of Bahrain's 33 islands. If you're lucky, you may even get to see dolphins.
T+L Recommends
► Organise a traditional crafts workshop for both families at the Crafts Centre Gallery in Manama and learn to weave, make palm-leaf paper, pots, and ironwork.
► Sign up for exclusive cooking classes with chefs of hotel restaurants and create signature dishes at the property.
► For adventure enthusiasts, one of the most popular activities is pearl diving. Take a quick scuba lesson from experts and dive to collect your oysters. This is also a magical way for the groom to present the ring to the bride before the actual ceremony.
DUBAI
Head to Dubai's One&Only Royal Mirage for a grand wedding. The property includes awe-inspiring Arabesque interiors, a beautiful roof terrace, a kilometre-long private beach, flood-lit tennis courts, swimming pools surrounded by palm trees, an unrivalled view of the sea, and a skyline dotted with skyscrapers. Charming restaurants with world cuisines allow you to lounge in Bedouin luxury. The hotel's illuminated esplanade makes the perfect venue for a mehendi ceremony. You can choose from a fortress, an amphitheatre, a royal ballroom or a majestic courtyard with manicured lawns to turn your wedding fantasy into reality. What We Like
The hotel has eight restaurants, each offering a distinctive culinary experience. Bond with your family as you savour international cuisines.
T+L Recommends
► Visit the world's first Bollywood-themed amusement park in Dubai Parks and Resorts for a day filled with Bollywood music, dance and rides. You can also enjoy the perfect wind and waves on a family picnic at the Kite Beach and watch kite surfers.
► Learn the art of Arabic henna with a local artist using an icing pen to make different patterns and floral designs. ► Book the traditional Oriental Hammam (steam bath) for both families to rejuvenate before the D-day.
ABU DHABI Let Abu Dhabi's sun-kissed landscape of Rub' al Khali, or the Empty Quarter dazzle you as you nest in the ultimate luxury of Qasr Al Sarab Desert Resort by Anantara. The far-flung resort looks nothing less than a Sultan's palace and has free-form pools flanked by palm trees, gourmet dining, a world-class spa and private villas that come with a butler, outdoor shower and private pool. Whether you host a cocktail party on the Dune Terrace with golden dunes and dazzling blue skies to look at, or hold an elegant reception in a traditional Bedouin setting at Al Fahaj, the 'mirage palace' gives you a choice of indoor and outdoor venues to raise a toast to the married couple.
What We Like
The resort has a selection of rooms, suites, and private villas, each with a unique view of the sand dunes. T+L Recommends
► Guests can learn falconry, the desert's unique hunting sport with magnificent, trained falcons soaring in the desert air, only to rocket back and land on your shoulder.
► Organise a gala post-wedding party on a full moon night, in an isolated desert setting and celebrate your union.
► Use fat-tyre bike racing on the sand dunes as a competitive sport between two families.
Written By