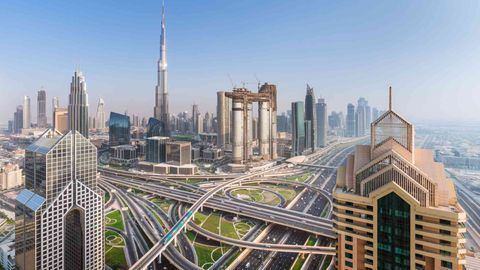 Dubai is one of the most popular travel destinations in the Middle East, known for its iconic mix of cutting-edge glitz and traditional culture found in its souks and cafes. The best —and most popular— time to visit Dubai is from November to March when temperatures are pleasant and outdoor activities abound.
Summer months get a bad rap because of the extreme heat, but Chef Kelvin Cheung, chef and partner at Jun's, finds joy in both seasons. "During the winter months, my son and I bundle up and build sandcastles in the sun, while in the summer we jump in Jacuzzi-temperature waters in the early morning or late evenings, searching for sea creatures."
The shoulder season is a much-overlooked time to visit Dubai offering milder temperatures (in the 80s and 90s) and less-crowded streets. Founder and editor of Near + Far, a new independent travel magazine for Middle East travellers, Isabella Sullivan says, "I genuinely believe Dubai is a year-round destination. Of course, winter has the best weather, but I love the heat, and the shoulder months are my favourites, as you don't need a jacket at night."
High Season: November to March
Shoulder Seasons: April to May and September to October
Low Season: June to August
These are the best times to visit Dubai for the best weather, fewer crowds, and more.
This is your travel itinerary to Dubai
Best times to visit Dubai for smaller crowds Many visitors fall in love with Dubai because of the people — the city is home to diverse residents and attracts tourists from all over the world. That said, the city can get so crowded that it can be difficult to obtain tickets to attractions or score reservations at the latest dinner spots if you visit during the high season. Plus, fewer crowds coincide with more favourable accommodation rates. If you're looking to avoid crowds, your best bet is to visit anywhere from April to October. This falls within shoulder and low seasons when residents have left the country and tourists are few and far between. It's the perfect time to see the sunset at the Burj Khalifa, get a photo at the Dubai Frame without anyone else in it, or finally score tickets to see the Museum of the Future.
Best times to visit Dubai for good weather
It shouldn't come as a surprise that the best time to visit Dubai for good weather coincides with a high number of tourists. November through February is a beautiful time to visit as temperatures range from the high 70s to the low 60s. "In the winter, the weather is so fantastic," Sullivan says, "few regions in the world can offer such consistent weather, with a 99 percent chance the day will be sunny and blue-skied." The wintertime is also the perfect season to experience the city's diverse topography. "With consistently beautiful weather in winter, you can be at the beach, in one of the world's most dynamic, futuristic cities, and then into the rolling, peaceful dunes of the desert all in a matter of hours," adds Sullivan. The weather during these months usually allows for T-shirts during the day and long sleeves or a light jacket in the evening.
Shop the best travel experiences here
Best times to visit Dubai for lower prices The summer months of June, July, and August — when most people have fled the country because of the heat — are when you will likely score the best deals on Dubai hotels. It's also the perfect time to explore the plethora of indoor attractions Dubai has to offer. "I think only recently has summer evolved into a season that's worth visiting. You can get a great hotel deal during summer, and sitting by the pool or swimming outside is entirely possible. The city isn't crowded, so you can get a booking at the most coveted restaurants or beach clubs. I think summer in Dubai will only get more attractive as the years go on," says Sullivan.
Book your stay at Five Jumeirah Village via Booking.com
Book your stay at Five Jumeirah Village via Agoda.com
Best times to visit Dubai for festivals and events
Festivals and events occur throughout the year — in hot, warm, or mild temperatures — so the best time to visit depends on your specific interests. Sullivan says she's impressed that "Dubai goes out of its way to create things for people to do. They've just launched Dubai Summer Surprises, a lineup of events across the city running through summer".
Many enjoy visiting in December for one of the most-anticipated celebrations in the city, UAE National Day. Others love being in the city during Ramadan; Dean Hayter, travel product manager at Origin, says, "The city comes alive! There is such a wonderful sense of festivity. The buildings are covered in lights, there are so many great locations to meet with friends for Iftar, the meal that breaks the fast; it's always my favourite time to be in Dubai."
Worst times to visit Dubai Unlike most places in the world, June to August is the worst months to visit the city as temperatures are unbearably hot with highs that can reach over 105 degrees Fahrenheit (40.55 Degrees Celsius) and lows of only around 90 degrees (32.22 Degrees Celsius). The hottest temperature ever recorded in Dubai was 131 degrees Fahrenheit (55 Degrees Celsius). In addition to the scorching heat, high humidity plays a role in how hot and sweaty you'll feel during the summer months. "The summer can be very tricky because the humidity can be exceptionally difficult (100%) and the temperatures often go above 120 degrees Fahrenheit (48.88 Degrees Celsius), however, I spent every summer in Dubai, and you can still have a fantastic experience if you know where to go and how to avoid the heat.
Luckily, everywhere has AC (even the bus stops)," says Hayter. Sullivan makes a salient point that Dubai works hard to accommodate its residents and visitors during this much-dreaded season. "They know summer is hot, and people often leave to go elsewhere, so they build indoor sports centres and facilities and run summer-long initiatives," says Sullivan.
Book your stay at Raffles The Palm via Booking.com
Book your stay at Raffles The Palm via Agoda.com
(Hero and feature image credit: Theerawat Kaiphanlert/Getty Images)
This story first appeared on travelandleisure.com
Related: The Best Times To Visit The Bahamas For Fewer Crowds, Lower Prices, And More
Written By