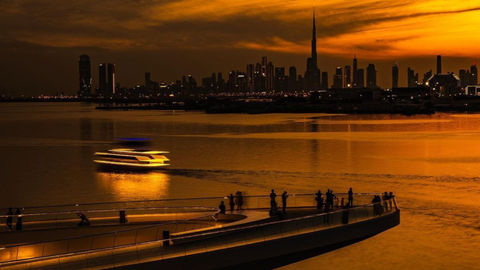 Sometime in 2014, the phrase "You think money can't buy happiness? Habibi, come to Dubai" began trending on social media. Since then, this assertion has been used thousands of times across multiple reels featuring the Dubai we have come to know and love – glamorous, elegant, refined and aspirational.
Dubai, one might say, is not just a city in the UAE but a state of mind. With its five-star hotels, Michelin-starred restaurants, the Burj Khalifa, the Burj Al Arab, the Palm Jumeirah archipelago and shockingly well-constructed roads, the city has become synonymous with luxury. There's even a show about it on Netflix if you must know, though most Dubai citizens are of the firm belief that their beloved city isn't just about the shine.
Because truly the city is so much more. Established in the 18th century as a small fishing village, Dubai has a rich history stretching back to the time of the Indus Valley civilisation and Mesopotamia. And while it is noted for being the city of bling and the great outdoors, there are many indoor activities that you can include in your itinerary should you choose to see another side of the grand city.
We have curated a list of experiences that are a must-try in Dubai, especially if you're travelling during the hotter months.
The Coffee Museum Legend has it that around 850 CE, an Ethiopian goatherd named Kaldi began noticing that his goats had started to act strange after chewing on some beans. He shared his story with local abbots in a monastery and these beans helped them stay awake during their nightly prayers. It is said that Muslim pilgrims brought these coffee beans to Yemen and began brewing and roasting coffee. The stories of this strong black beverage intrigued European travellers and by the 17th Century, coffee had become a popular beverage even though some took offence at its bitterness. Today, coffee is easily one of the world's favourite drinks and Dubai thrives on coffee. The Coffee Museum in Dubai's heritage Al Fahidi district aims to celebrate the bean's rich legacy.
It is also famously the Middle East's first museum showcasing the history of the popular beverage. The relaxing venue hosts a wide range of antique items that illustrate the regional and international influences that coffee has had on almost every culture in the world. There's also a cafe at the museum which allows customers to enjoy various kinds of brew while the gift shop contains beautiful souvenirs. It's an educational experience especially because the service is extremely personalised. And hey, who doesn't like a good cup of coffee?
Museum of the Future
How does one even begin to describe the Museum of the Future? It is a veritable paradise for those who enjoy science and the world around us. The exceptional architecture and generated user experiences help visitors journey through possible futures and bring hope and knowledge back to the present. The Museum has something for everyone but our personal favourite would have to be the Library of Life which contains the genetic codes of thousands of species in LED-lit glass tubes. It's a surreal experience, to say the least, right out of a science fiction movie or a Harry Potter film.
There is also a phenomenal mixed reality recreation of the Amazon rainforest where you can witness the intricate non-verbal conversations between hundreds of species which are otherwise invisible to the human eye. And even though the Museum of the Future does foresee technology as a saving grace for our planet, the Al Waha wing explores the future of wellness through sensory therapy. If you thought that was all the Museum had to offer, think again. The architectural marvel also hosts Ameca, the humanoid robot that has quite a sense of humour and the social-media famous Robodog which has 3D vision, 17 joints and uses 360 degree perception. On the ground floor, stay alert and you may get a glimpse of Festo, the flying penguin who is a delight.
Book your stay at Raffles The Palm, Dubai via Agoda.com
Book your stay at Raffles The Palm, Dubai via Booking.com
La Perle by Dragone Immersive, exciting, fantastical and a joy to view, La Perle is Dubai's first permanent show located at Al Habtoor City. A fusion of natural talent, imagery, technology, awe-inspiring stunts and special effects, the show will render you speechless. While the story itself is intriguing (featuring a cast of talented actors and acrobats), it is the Cirque du Soleil-esque diving, the waterfalls (you'll understand when you see it), the ubiquitous pool around which the show is staged and the floods that make it a must-watch. The dress code at La Perle is smart casual so be prepared. Men can opt for chinos and a casual shirt or a fitted suit while women have a plethora of options from tailored jumpsuits to gowns and dresses. The service at La Perle is perfect with an onsite concierge on hand to escort you to your seat and a full medical team will be on-site at all times.
Theatre of Digital Arts (ToDA) Nestled within the vibrant Souk Madinat in Jumeirah, The Theatre of Digital Art (ToDA) stands as a distinguished haven for the exhibition and celebration of digital art, while also serving as an esteemed venue for captivating digital theatre experiences. Spanning an impressive expanse of 1,800 square meters, this immersive sanctuary transcends conventional boundaries, enchanting visitors with its symphony of surround sound and sprawling projection screens adorning every ceiling and wall. Presently, the ethereal sanctuary plays host to a mesmerizing multimedia film, chronicling the life and masterpieces of the legendary street artist, Banksy.
At ToDA, the essence of digital art manifests in three sublime forms: the mesmerizing tapestry of contemporary immersive installation art, the captivating tapestry of multimedia exhibitions, and the immersive tapestry of virtual reality art. Moreover, ToDA offers a resplendent display of classical art, skillfully enhanced by enveloping harmonies and mesmerizing visual effects, seamlessly transporting patrons into realms both known and unknown.
Ski Dubai Ready to chill? Then Ski Dubai is the place for you. Who would have thought that a place like Ski Dubai could exist in a desert city like Dubai? But well, the city is full of surprises. The snow park at Ski Dubai, located within the Mall of the Emirates operates at -1 degree to 2 degrees Celsius throughout the year. This indoor ski resort is spread across an impressive 22,500 square meters. The resort has everything you'd expect from a ski area – an 85-metre-high indoor mountain, five ski slopes, the world's first indoor black diamond run, chairlifts, a 3,000-square-metre Snow Park play area and more.
Book your stay at Five Jumeirah Village, Dubai via Agoda.com
Book your stay at Five Jumeirah Village, Dubai via Booking.com
Shop The Best Travel Experiences Here
This story first appeared here.
Hero & Feature Image Credits: Essa Zahidi on Instagram
Related: UAE Visa: All You Need To Know About The 5-Year Multiple Entry Visa
Written By