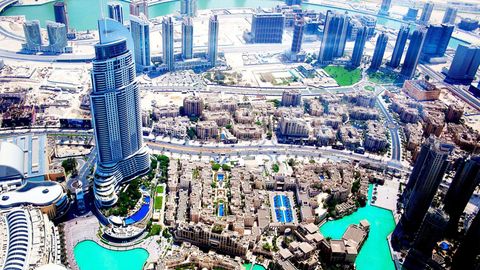 Looking out of an aircraft window close to descent, Dubai rises out of the vast expanse of the uninhabitable desert like a mirage. Sand morphs into neatly organised housing clusters with swimming pools of all sizes and shapes. Snaking roads cut through dizzyingly tall buildings punctuated with patches of beautifully manicured green. Dubai is undoubtedly a city that makes an impression even before you have touched down.
Known to pull out all stops, Dubai is a consistent crowd-puller and it's easy to see why. In this mega city, there's something to do for people of all ages and with varying interests. Change is a constant in this metropolis where even before one project is completed, the next one is set into motion. That's why when you think you have seen it all, the city throws up something new enticing you to visit again. For some inspiration to plan your first visit or the next, here are 10 of the best things to do in Dubai.
Best time to visit Dubai
While Dubai gets visitors all year round, the best time to visit is from November to April when the daytime temperatures are moderate. The winter months of December to March are a delight with nippy days and deliciously cool nights.
Things to do in Dubai
Hit the beach Best free thing to do
A long stretch of beach with aquamarine waters in a desert city is not what you would expect, but then again, this is Dubai we are talking about. Of the city's many beaches, Kite Beach remains a firm favourite with tourists and locals. With the Burj Al Arab Jumeirah Hotel providing a regal backdrop and colourful kites crowding the skies, Kite Beach is a photographer's delight. Find a spot on the 2.3 km stretch of sand and claim your patch of sunshine. Sports enthusiasts have plenty to choose from – kitesurfing, wakeboarding and stand-up paddle boarding – and the required equipment can be hired easily right there. If being a beach bum is your thing, then just sit back and enjoy your surroundings. When you're peckish try one of the small eateries or food trucks lining the beach. The burgers from SALT come highly recommended.
Party the night away at BLA BLA Best thing to do at night
The Walk, a promenade at Dubai's Jumeirah Beach Residence, also known as JBR Walk, is not new to being a party hotspot but with the opening of Bla Bla in 2021, things went up a notch. An entertainment destination unlike any other, Bla Bla Dubai has 21 bars, a beach club and an all-day restaurant all rolled into one. Have a drink at the maze of bars on the first floor and then, make your way to the tent on the ground floor — a space that's three storeys high, with an additional nine bars and that can fit in 2000 people. The massive stage at one corner comes alive with live bands and guest DJs. If the beach beckons hit the Beach Bar where going shirtless is totally acceptable.
Book your stay at Hilton Dubai The Walk Hotel in Dubai at Booking.com
Book your stay at Hilton Dubai The Walk Hotel in Dubai at Agoda.com
Go on a Helicopter ride Best thing for thrill-seekers
Ever wondered what it feels like to see Dubai from above, then jump out of an aircraft at the ever-popular Skydive Dubai? If that's too nerve-racking then opt for a helicopter ride. From a short 12-minute ride to one that's an hour long, experience the thrill of exploring Dubai's iconic sites from the skies, seeing them like never before. You won't just fly beside the Burj Khalifa, the tallest building in the world, but circle it. The 40-minute ride comes with in-flight narration by the pilot and a souvenir photo. While there are several companies that run tours, Helicopter Tour Dubai is a decade-old company that you can trust.
Experience the magic of the desert Best thing to do with family and kids
It's easy to forget that you're in a desert in Dubai, but don't miss out on experiencing the magic of being in one. Thrill seekers can tame the undulating dunes on the back of ATVs or buggies. Follow this up with a stomach-churning dune bashing ride and watch an ethereal sunset on the dunes. For those who wish to stay longer, Sand Sherpa provides everything you need to spend a night in the heart of Dubai Desert Conservation Reserve, a 225 sq km area that has been protected for 23 years. All you have to do is show up and Sand Sherpa takes care of the rest, from providing a tent, camping accessories to utensils and more.
Enjoy a winter wonderland Best thing to do in summer
When the temperatures outside soar make your way to Ski Dubai, the city's very own winter wonderland housed in the Mall of the Emirates. Skiers can make the most of the 85-metre indoor mountain that has five slopes with varying gradients. For those not inclined to ski, there's a Snow Park that offers a host of fun activities — zorb ball, bobsled, tubing run, bumper cars, a snow plough play area and climbing wall; and a cafe serving hot chocolate. Cap the experience with a heartwarming penguin encounter – a fun way to learn about the magnificent King and Gentoo penguins, their unique habitat and the conservation efforts needed to protect the species.
Discover Downtown Dubai Downtown Dubai looks its best in the evenings when thousands of fairy lights come on. Start from the Burj and walk in the direction of the Opera House. The dhow-shaped building is an ode to Dubai's maritime heritage and hosts iconic shows from around the world. Go down the steps and head to Burj Park — the perfect place to catch your breath and take in the mesmerising fountain show against the backdrop of the Dubai Mall.
Back on the boulevard, for some added fun get on e-scooters and cruise past quirky street art and larger-than-life light installations. Enjoy a meal at one of the many al fresco restaurants or make your way to the TimeOut Market at Souk Al Bahar. With 17 restaurants and 3 bars to choose from, get a taste of some of the best food the city has to offer. There are regular live music gigs and a host of other events.
Book your stay at Ramada Downtown Dubai Hotel on Booking.com
Book your stay at Ramada Downtown Dubai Hotel on Agoda.com
Shop, eat and have fun at Dubai Mall Best things to do in the city's most luxurious mall
Indulge in retail therapy in a city that takes shopping very seriously. At the sprawling Dubai Mall, you will find it all and then some. Punctuate all the shopping with a visit to the Dubai Aquarium and underwater zoo which has over 140 species. Go shark diving, cage diving, feed stingrays, interact with otters or come face-to-face with crocodiles – there's a lot on offer besides just viewing the gigantic water tank. Seekers of the cold can hit the ice in Dubai Mall's Olympic size ice skating rink where you can skate to the tunes of a DJ. Speed junkies can have a go behind the wheel at Ekart Zabeel. And if you are hungry, there are plenty of dining options to choose from. The dim sums at Din Tai Fung are to die for and the restaurant offers fantastic views of the Burj Lake.
Go back in time to the Al Fahidi Historical District Best offbeat thing to do
Stroll through the sand-coloured houses of Dubai's oldest neighbourhood and get a sense of what life was like before the discovery of oil. A community of fishermen and pearl divers, back in the day it was the ocean that provided all means of livelihood. Look out for the coral block bricks used in the walls of homes that have been carefully restored and repurposed. The quirky XVA Cafe and Hotel is a perfect pitstop for some coffee or a refreshing lime mint cooler. The gallery hosts artists from across the region, and the shop sells products inspired by Arabic art and heritage. At the Sheikh Mohammed bin Rashid Al Maktoum Centre for Cultural Understanding sign up for a meal, that's preceded by a guided walk through the neighbourhood.
Get a feel of Dubai's glorious outdoors at Hatta Best thing to do in winter
When the weather is too good to stay indoors, head to Hatta, an exclave of the emirate of Dubai. Situated high up in the Hajar mountains and sharing a boundary with Oman, Hatta provides a beautiful backdrop to experience the outdoors in the UAE. Hiking trails abound as do camping sites and offbeat accommodation options such as trailers and bubble tents. Go kayaking or boating in the dam or rent mountain bikes and set off into the hills. The Hatta Wadi Hub offers activities to keep adventure enthusiasts busy. Don't miss having a go at the Hatta Drop-In – a set of multiple slides leading into a plunge pool. A visit to the Hatta honey farm is a fun family activity, where you can learn about bees and the entire honey-making process.
Hire a yacht and set sail Best romantic thing to do
Set sail on a luxury yacht through the glitzy Dubai Marina, past the Blue Waters Island home to Ain Dubai, going up all the way to the salmon-coloured Atlantis. Enjoy the view with a cool ocean breeze for company and against the backdrop of a spectacular sunset. Decide what kind of yacht you want, the type of cuisine and the route, and leave the rest to GoToDXB – a company that specialises in planning activities on land, air and sea. Don't hesitate to make requests, as anything from a private chef to a live performance can all be organised. Your wish is their command.
Shop the best travel experience here
(Hero and feature image credit: Xemag/Pixabay)
Related: Bookmark This: 10 Exciting Stops To Elevate Your Dubai Trip
Written By